Southern California youth display skills at MLB RBI clinic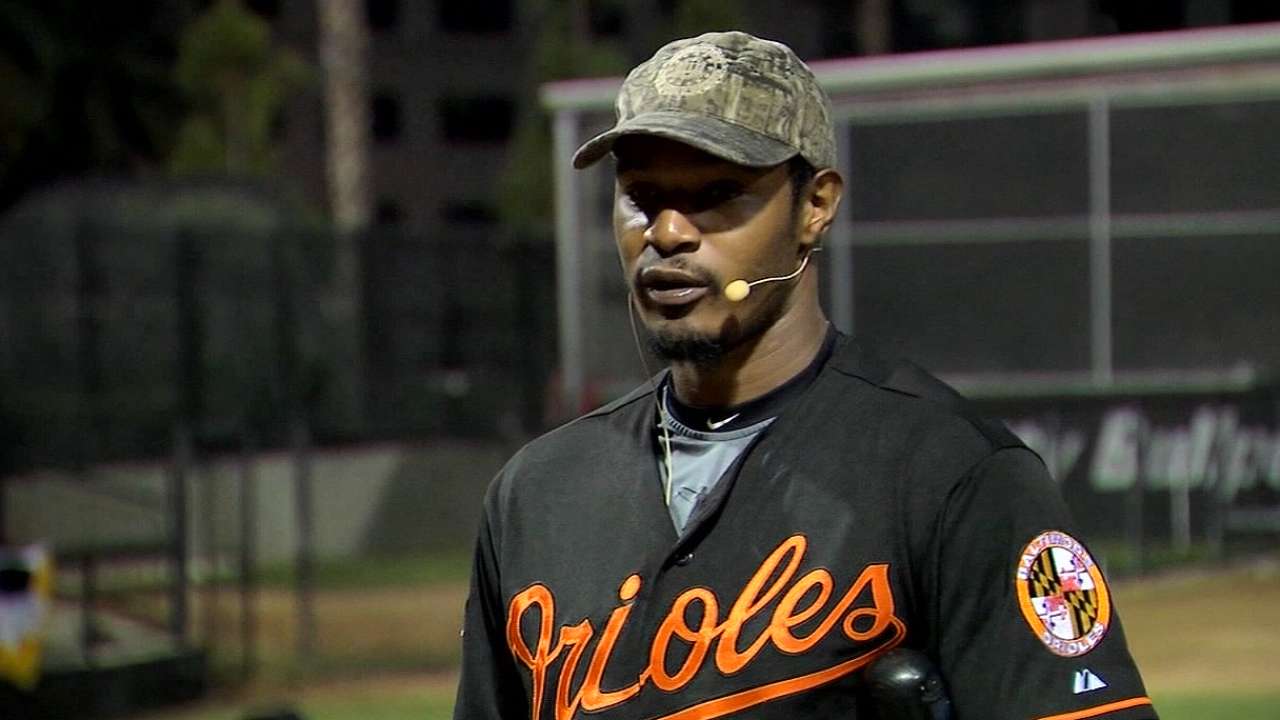 I'm not exactly sure who "Coach Curry" is.
But I know he is making a positive difference.
Coach Curry came up four times in a span of 15 minutes Tuesday evening at San Diego State's Tony Gwynn Stadium as Major League Baseball hosted a youth clinic for almost 300 Southern California youth involved in Padres-backed Little League and MLB's Reviving Baseball in the Inner Cities (RBI) program.
Given the reverence that several youth had for Coach Curry, his first name is unnecessary.
"Coach Curry helped me to throw the right way," said 13-year-old Aaliyah Henry, who has gone from watching from the sidelines to planning to play softball at Helix High.
"RBI baseball and Coach Curry have helped my confidence," said Ben Williams, another East County 13-year-old whose love of baseball has grown through RBI.
An eighth-grader at Spring Valley Middle School, Williams is looking forward to playing baseball at Monte Vista High.
"I play everywhere and I play baseball almost every day," Williams said Tuesday while playing catch on the field. "I play shortstop a lot, but I'll play anywhere. And I can play catcher. I just want to play."
Williams joined the RBI program last year after playing in the Valley De Oro Little League.
"My friends were in it first," said Williams. "I joined because I got to hang out with my friends and have fun. But I've learned a lot. I've got the confidence to do it now."
Tuesday's program had three elements.
The first was a showcase camp for more than 40 top RBI program players from throughout Southern California. The players went through drills as scouts from the Major League Baseball Scouting Bureau looked on. The players were 14 to 18-year-olds from RBI programs run by the Padres, Dodgers and Angels.
The second element was a skills clinic conducted by San Diego State coaches and players for 7 to 13-year-olds from San Diego's RBI and Little League programs.
After that, Adam Jones, who has gone from sandlot fields in San Diego to the outfield of the Baltimore Orioles, and former Major Leaguer Harold Reynolds gave a hitting exhibition.
"The RBI program is great for baseball," said Jones, who grew up playing baseball at the Jackie Robinson Boys Club as well as the Memorial and Southcrest recreation centers.
"Programs like RBI weren't as big back then," said Jones. "I'd practice by throwing a ball against a wall. I could do that all night. Watching these kids, I like seeing them play baseball. RBI is great for baseball."
And for youth like Henry and Williams.
"My mom got me involved," said Henry, an eighth grader at the Language Academy. "She wanted me to play for a summer. When I started in RBI, I threw sidearm. Coach Curry helped me learn to throw the right way."
The RBI program also introduced Henry to new things. She walked on the field at Petco Park last season during RBI Day at Petco Park.
"I started thinking about playing more softball," said Henry.
Williams said he has never stopped thinking about baseball.
"It's my game," he said. "But I learned more about baseball in RBI. And I can play in RBI until I'm 18."
Bill Center is a contributor to Padres.com. This story was not subject to the approval of Major League Baseball or its clubs.