Santa paws: Hank spreads holiday cheer
Brewers' popular pup draws awareness to Humane Society's cause
MILWAUKEE -- Hank, the lovable stray dog adopted by the Brewers during Spring Training who became an instant fan favorite, continued to use his celebrity status to spread holiday cheer for a charitable cause.
Dressed as "Santa Hank," the ballpark pup made an early-morning appearance Thursday delivering toys and supplies at the Wisconsin Humane Society, a beneficiary from the sale of Hank-themed merchandise.
"It's such a wonderful fairy tale of this little dog, scruffy and dirty and homeless and alone who's now in the Major Leagues," said Anne Reed, CEO of the Wisconsin Humane Society. "We knew it was a really amazing story, and yet every day we keep learning again how incredible it is."
Reed said Hank's impact surpasses the greatly appreciated monetary donation, which this year has been more than $150,000.
"The Brewers contribution has been incredible," Reed said. "Twenty percent of the revenue of all the Hank-themed gear comes to us. But to me, even more than that, every time somebody is touched enough to buy a Hank-themed item, that person has connected more to our cause. And, Hank has inspired donations and support and enthusiasm and belief in our cause in a way that goes far beyond the actual financial impact."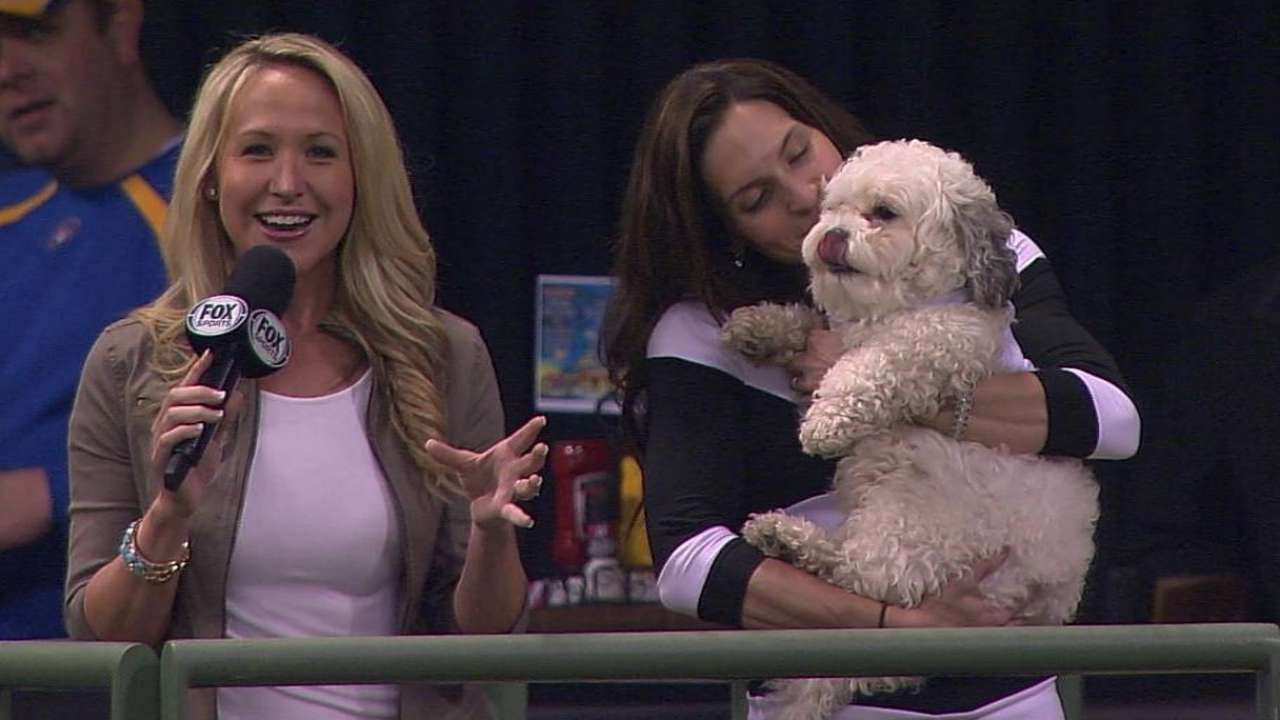 While Reed and Brewers officials addressed the pre-sunrise media, Hank was in full-fledged star mode, wandering amongst the TV crews and graciously stopping to be petted at every opportunity.
The event, which also included other dogs from the Humane Society dressed as "canine elves," coincided with December being one of the busiest months for adoption.
"The number that's in my mind is just last Saturday alone, 79 adoptions just in one day," Reed said. "So, our community really wants to help homeless animals get home for the holidays."
Along with a limited-edition Hank holiday ornament, which is included with the purchase of two Holiday 4-Packs Brewers ticket packages, the team unveiled the newest Hank holiday item, the "Hank Ugly Sweater" in the team colors of blue, gold and white, with an image of the pup's face as part of the design.
#SantaHank has helped to decorate the tree @WiscHumane w/ his #BallparkPup ornaments (available w/ Holiday 4pks). pic.twitter.com/OPckfSH0BB

- Milwaukee Brewers (@Brewers) December 11, 2014
The admittedly surprising popularity of the Hank-themed merchandise has encouraged a quick and continuous response to meet the demand, said Rick Schlesinger, the Brewers' chief operating officer.
"I'll give you a little perspective," Schlesinger said. "When we trade for a player, it often takes longer to get a player T-shirt with the new player's name and number than it did to get Hank T-shirts. I think that just is a reflection of the pent-up demand for the Hank product."
The Brewers' contribution to the Humane Society is expected to increase, Schlesinger said, because the interest level in Hank and corresponding merchandise sales continues to grow.
"One thing we've found is even if you don't love baseball, a lot of people love dogs," Schlesinger said. "We've created, I think, fans of the organization who maybe could not tell you who Jonathan Lucroy is, but they can tell you everything about Hank that you'd ever want to know."
#SantaHank, slip a chew toy under the tree for me...Hank visits @WiscHumane: http://t.co/JrErmGsyxx #BallparkPup pic.twitter.com/VutT8gWGZw

- Milwaukee Brewers (@Brewers) December 11, 2014
Hankmania has helped increase awareness of the Wisconsin Humane Society's mission, and of homeless animals in general, Reed said.
"I think the Brewers recognized the power of Hank's story from the very beginning and understood that it went beyond just one little dog," said Reed, sporting one of the new Hank sweaters. "Through the partnership, we've been able to tell Hank's story. And the way his story has touched people's hearts has been deeply moving for thousands of people and has just connected people in a way that is different to all homeless animals beyond Hank, himself."
Jim Hoehn is a contributor to MLB.com. This story was not subject to the approval of Major League Baseball or its clubs.