MLB.com Columnist
Lyle Spencer
Move for Heaney about sustainability for Halos
Giving up Kendrick not easy but promising left-hander too good to pass up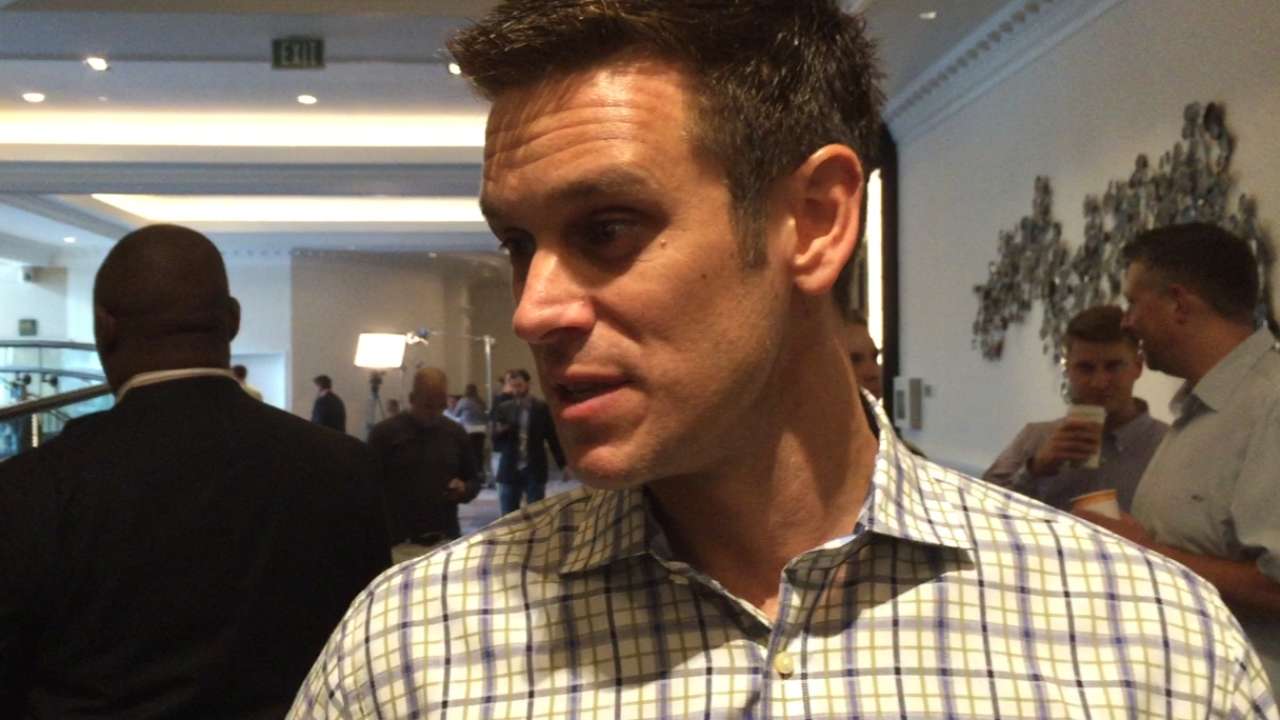 SAN DIEGO -- Like their geographical rivals to the north, with whom they completed a rare swap late Wednesday night, the Angels appear intent on expanding their horizons, living with one eye cast on the future while striking the balance of staying in the moment.
The watchword for general manager Jerry Dipoto is sustainability in the wake of the swap of longtime pillar Howie Kendrick to the Dodgers for promising left-hander Andrew Heaney. The mission is to stay competitive now -- minus one valued weapon -- while building a firm foundation for the future. If it seems to conflict with the motives of their high-profile signings of recent years, so be it.
"The heaviest criticism of the Angels over the last 10 years [is] that we're getting older, or that we're in a short window to win," Dipoto said as the deal was announced. "I think we're more sustainable than that."
Heaney, an Oklahoma State product with all the right stuff, is ranked No. 18 among Major League prospects by MLB.com. The Marlins sent him to the Dodgers as the centerpiece of the deal involving Dee Gordon hours before he learned he was an Angel.
.@Heandog8: deemed the Marlins' #1 prospect, the #30 prospect by Baseball America & the #18 best prospect by #MLB.com pic.twitter.com/aJKRvQ2LzV

- Angels (@Angels) December 11, 2014
Heaney adds to a supply of starters so deep there is no urgency in rushing Garrett Richards back in his recovery from knee surgery. With Jered Weaver, C.J. Wilson, Richards and Matt Shoemaker on board, Heaney will compete with Hector Santiago and Nick Tropeano for the fifth spot in the rotation, as Tyler Skaggs recovers from Tommy John surgery performed after he'd shown quality stuff in 18 starts.
"It's like a broken record," manager Mike Scioscia said. "But I just know myself, and in talking to other managers, I don't think there's a night you go to sleep where you're not thinking about your starting rotation. And when you wake up in the morning it's the first thing that pops in your mind -- who's pitching, how's the health. I think that's the heartbeat of your club, is the rotation."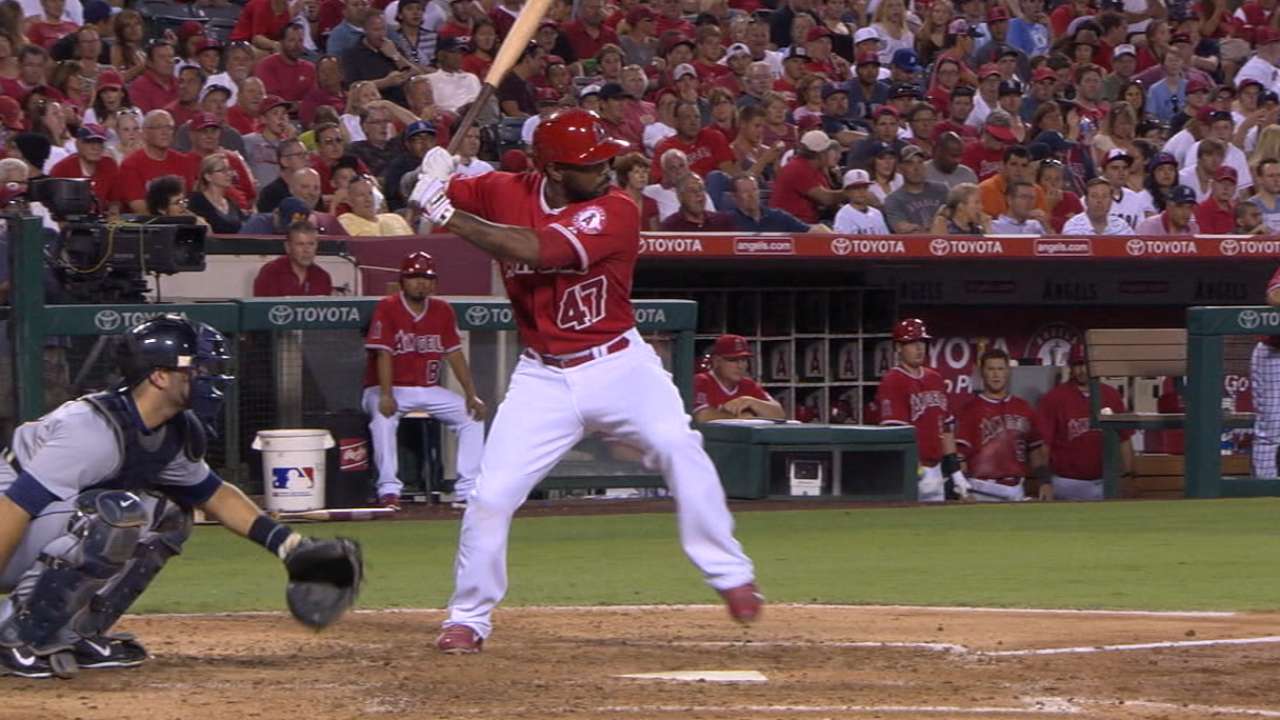 There is no need for the Angels to invest any of their savings from detaching Kendrick, a season away from free agency, on pitching. The bullpen is deep and productive. They might use some of the money on free agent Gordon Beckham, who knows the turf now and could add to competition for the vacated second-base role with Grant Green and newly acquired Josh Rutledge.
"This has always been about finding ways to get younger, to get more sustainable, to build something that builds now and will extend onto the future," Dipoto said. "The fact that we have flexibility perhaps opens the door to things that didn't exist. But again, we're not in a rush to go out and spend money in the free-agent market."
Replacing Kendrick's all-around value will be no easy task. Durable, productive, low maintenance, he has been a rock alongside shortstop Erick Aybar going back to the Angels' three-year run as American League West champions ending in 2009.
A hitter in the Derek Jeter mold, slashing opposite-field gappers and driving in runs, Kendrick takes his .292 career average and solid glove to the Dodgers. They will look for the brand of production (75 RBIs, 94 runs created) he gave the 98-win Angels in 2014.
"In order to get players or prospects the quality of Andrew Heaney, you have to give," Dipoto said. "We understand the quality of what Howie did here and how difficult that is for us to reproduce. We'll be open to various ways we can do that, but as we discussed throughout, we make up for a lot of things with the general depth and consistency of our group.
"The desire is to extend that to 2015 and beyond. It will be difficult to replace Howie. No joke about that. We're going to do what we can to fill in, and he's one of the more productive players at the position in the league. We just felt like one year of control of Howie as a pending free agent after the '15 season, [it] was impossible to walk away from Heaney and six years of control."
Thank you, Howie, for the last 12 years of dedication to this team. We wish you all the best! pic.twitter.com/QDg8JQO2TF

- Angels (@Angels) December 11, 2014
In Kendrick's absence, the Angels will need increased production from the likes of Josh Hamilton and David Freese if they plan to repeat as AL West champs.
With the prospect of Mike Trout moving into the No. 3 spot in the order behind Aybar and Kole Calhoun, Hamilton could drop to fifth, after Albert Pujols. It might relieve some pressure on the gifted left fielder.
"There's no particular message for Josh," Scioscia said. "He gets it. He understands it. He wants to achieve. I don't think there's anybody that was more disappointed with his performance last year. A lot of it was because he missed so much time with the thumb injury. He wants to contribute. He understands how important he is to us. And he'll be ready to go in Spring Training. He'll be better."
Dipoto knows the mission, underscored with a statement: "Our duty, as the custodians of the organization, is to make sure it lasts -- and that's what we're going to do."
Lyle Spencer is a reporter for MLB.com. This story was not subject to the approval of Major League Baseball or its clubs.