MLB.com Columnist
Barry M. Bloom
Black 'comfortable' heading into final year of contract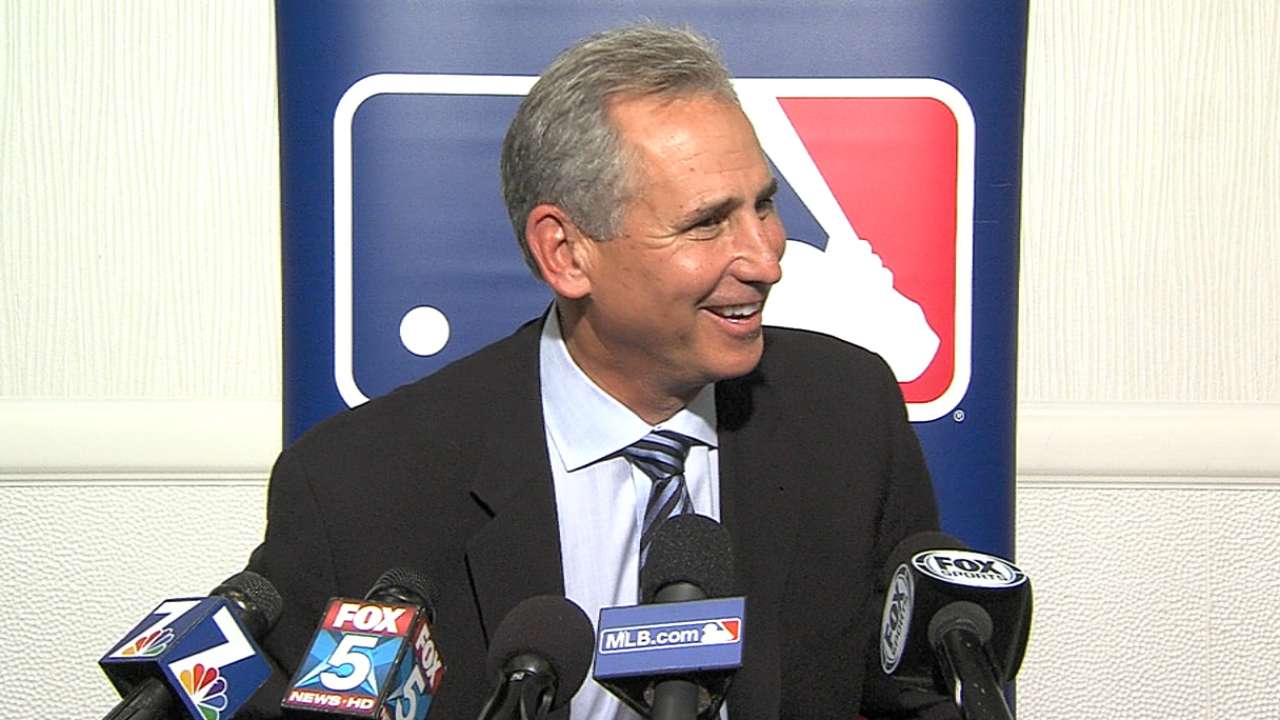 SAN DIEGO -- As the Padres move forward this offseason, trying to greatly improve a team that hasn't been to the playoffs since 2006, new upper management has yet to progress on one major issue: extending manager Bud Black's contract.
Black, who has been through massive changes in ownership, management and player personnel, finishing just one game out of the postseason in 2007 and '10, is going into the final year of his deal. He has been the constant as ownership has changed from John Moores to Jeff Moorad and now to Peter and Tom Seidler. Black has also witnessed a revolving door of general managers since replacing Bruce Bochy as skipper in 2007, going from Kevin Towers to Jed Hoyer to Josh Byrnes and now to A.J. Preller.
Black is one of the most respected managers in Major League Baseball, and by all rights he should be locked in for the long term. But he said this week as the Winter Meetings took place in the Padres' backyard that there has been no discussion with Preller about an extension.
"I'm comfortable with this. I'm comfortable managing," Black told a group of reporters during his media session on Wednesday. "I think those of us in this game realize at certain points contracts will be worked out if they're going to get worked out. I think we've seen over the years a lot of managers go into the last year, head coaches go into the last year of a contract and everything is fine. It's all good. I'm good with it."
This all depends on a person's temperament, and certainly these matters change from era to era.
After the 1985 season in San Diego, late Hall of Fame manager Dick Williams decided he didn't want to return to the Padres for the 1986 season with only one year left on his contract. By virtue of a .520 winning percentage, he raised the heretofore doormat Padres to respectability. They had four .500 or better seasons and won the 1984 National League pennant in Williams' four-year tenure. Prior to that, the Padres had only enjoyed one winning season in the first 13 years of the franchise's existence, 1978 under Roger Craig.
Williams wanted the security of a long-term contract, felt he deserved it and was very public about it. It never happened. There was a highly publicized summit after the 1985 season at owner Joan Kroc's La Jolla, Calif., mansion that included Williams, general manager Jack McKeon and club president Ballard Smith, then Kroc's son-in-law. When the smoke began billowing out of her chimney, reports varied. At first, Williams was out. Hours later, they all emerged smiling. Williams would honor his contract. There would not be an extension.
But when the club reported for Spring Training only months later in Yuma, Ariz., Williams was nowhere to be found. The club called a news conference back in San Diego and announced that Williams was resigning. He was replaced days later by Steve Boros.
There has been no such intrigue this offseason surrounding Black, who always seems to keep his composure through the good times and bad and will be there in Peoria, Ariz., when the Padres go to camp in February. He has a .476 winning percentage in eight seasons as manager, and that may be more a product of the Padres' historical whirling dervish approach to player and coaching personnel than anything else. For example, the Padres are on their seventh hitting coach since moving into spacious Petco Park in 2004. The new guy, Mark Kotsay, was a player on the team only two seasons ago.
Comparatively, Bochy, the man Black replaced, has a 20-year record of only 14 games over .500, largely because he was 24 games under .500 during his 12 years with the Padres, despite four division titles and the 1998 pennant. And Bochy has widely been touted now as a Hall of Fame manager after leading the Giants to three World Series titles in the past five seasons.
One wonders what Black might have accomplished with the same kind of Minor League system and continuity of management Bochy has had in his eight years with the Giants. Bochy has a .515 winning percentage in San Francisco with 50 more wins during the same period both men have been in their respective jobs.
But everyone has to keep moving forward. One can only look back for patterns and perspective.
This is all happening within the backdrop of the Padres working a trade to bring Matt Kemp down the freeway from Los Angeles along with catcher Tim Federowicz in exchange for catcher Yasmani Grandal, pitcher Joe Wieland and Minor League hurler Zach Eflin.
Again, in terms of Padres history, Kemp will be the highest impact right-handed power hitter to play in San Diego since Dave Winfield left for the Yankees via free agency in 1980. Nate Colbert, another right-handed hitter, is the all-time Padres home run leader with 163, and he last played for the club in 1974. Kemp already has 182 homers in nine years playing for the Dodgers.
Even with the fences pulled in at Petco Park, it's still perceived as a pitcher-friendly yard. Free-agent right-handed hitter Pablo Sandoval and Cuban defector Yasmany Tomas previously shunned the Padres for Boston and Arizona this offseason, leading Preller to explore the trade market to fill the need for a power bat.
Black said any decision by a free-agent hitter about whether to sign with the Padres might have been just as much a function of money as it is about the perception that Petco is a tough park in which to hit.
"I think probably to your broader point, we've been able to attract pitchers here and not free-agent hitters," Black said. "I don't know whether the ballpark plays a factor in that, I'm not sure -- somewhat, maybe. I think more than anything we have a lot to offer here in San Diego. But, again, I think that if you ask all players, pitchers or position players, I think this is a desirable place to play."
It's also a desirable place to manage. Just ask Black or Bochy, the only managers to don Padres colors in the past 20 years.
Barry M. Bloom is a national reporter for MLB.com and writes an MLBlog, Boomskie on Baseball. This story was not subject to the approval of Major League Baseball or its clubs.