MLB.com Columnist
Bernie Pleskoff
Breaking down the top prospects in AFL
Bernie Pleskoff takes a look at the Fall League's top stars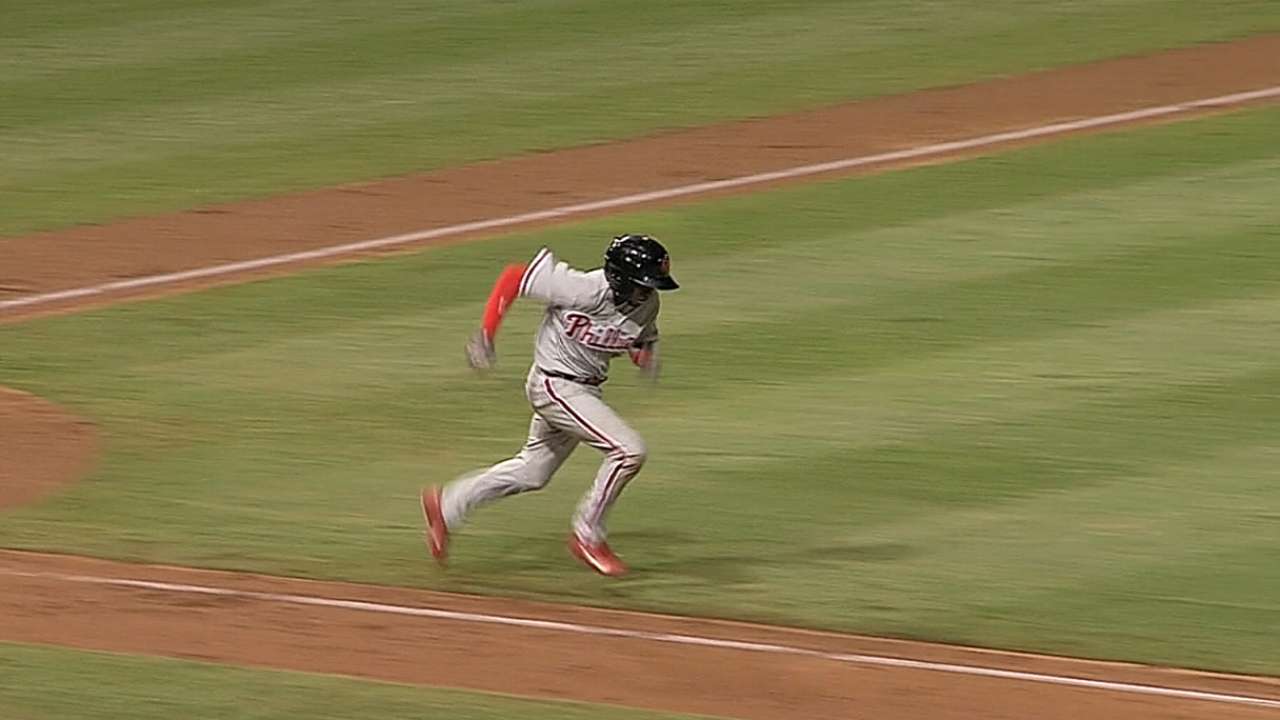 The Arizona Fall League has announced their 2014 Top Prospects Team. In previous articles since the conclusion of the AFL season I highlighted most of the same players on my personal top AFL hitters and top AFL pitchers list. The announcement by the AFL provides another opportunity to share my thoughts:
Outfielders
Jesse Winker (Cincinnati Reds) Bats L
The batting champion of the league with a .338 average, Winker has a very reliable line drive stroke. He uses the entire field and makes contact consistently. Power is emerging. Top of the order type hitter.
Eddie Rosario (Minnesota Twins) Bats L
Can play second base, but spent most of his time in left field. Showed a very nice combination of consistent contact and speed. Hit .330. Sprayed the ball from foul pole to foul pole and didn't give away at-bats.
Roman Quinn (Philadelphia Phillies) Bats Both
A speed demon from the top of the order, Quinn has to work on making more consistent contact. Still raw, his on-base percentage is critical to success. Bunts well. Defensively, he closes on balls well in the outfield.
Hunter Renfroe (San Diego Padres) Bats R
A dangerous hitter with emerging power, he punished pitchers with a .569 slugging percentage in the AFL. Has ability to drive the ball to the gaps or over the well. Has a middle-of-the-order, game-changing RBI bat.
Byron Buxton (Minnesota Twins) Bats R
Buxton is a true five-tool player but had to leave the league early due to finger injury. Showed blazing speed, very solid defense, and flashes of his top shelf bat. If he stays healthy he can achieve All-Star status.
Steven Moya (Detroit Tigers) Bats L
Outstanding success vs. right-handed pitching. Scuffles a bit versus lefties. Still raw, but powerful bat can break up a game. Some current swing and miss exists, however upside as middle-of-the-order basher.
Brandon Drury (Arizona Diamondbacks) Bats R
He has drawn comparisons to Matt Williams from scouts who saw him in Arizona. Barrels pitches to the gaps with short, compact swing. Has hit everywhere he played but in AFL scuffled a bit recognizing pitches.
Hunter Dozier (Kansas City Royals) Bats R
He's a big, strong gap hitter. Had a high 2014 strikeout rate at Class A Advanced and Double-A, but his ability to hit doubles and drive in runs will be a welcome addition in the middle of the order.
Shortstops
Daniel Robertson (Oakland Athletics) Bats R
Showed skill on both offense and defense in AFL. Hit for average with some power and finished with .398 on-base percentage. Defensively, quick first step and made plays with good range and strong arm.
Corey Seager (Los Angeles Dodgers) Bats L
Tall, athletic shortstop who may outgrow the position and play third base in the future. Solid bat with upside. Still raw and will improve once he recognizes pitches and is more selective. Upside of a multiple-tool star.
Second Basemen
Darnell Sweeney (Los Angeles Dodgers) Bats Both
Very versatile, athletic player. Can excel at shortstop and in the outfield as well as second base. Has outstanding power/speed combination that puts pressure on the defense. Is still young, but advancing very quickly.
Tony Renda (Washington Nationals) Bats R
On the small side at 5-foot-8, 180-pounds, Renda hits for average and makes outstanding contact. Doesn't waste an at-bat. Can foul off pitches until he sees what he likes. Very good speed and takes extra bases.
First Basemen
Greg Bird (New York Yankees) Bats L
Hit one of the longest home runs I have seen to dead center. Has prolific power, especially versus right-handed pitching. Could be a major force aiming for short right-field porch at Yankee Stadium.
Matt Olson (Oakland Athletics) Bats L
Left AFL early due to injury but made an impact with his loud, powerful bat before his departure. Hit four homers in 11 games and had a .686 slugging percentage. Lots of strikeouts, but power upside is obvious.
Catchers
Justin O'Conner (Tampa Bay Rays) Bats R
Hit .303 in 17 games, but really showed off a tremendous feel for catching with outstanding, advanced mechanics. Strong, accurate arm stood out as he nailed runners trying to steal. A complete, solid player.
Peter O'Brien (Arizona Diamondbacks) Bats R
Currently an offense-first catcher with power. Hit home runs to all parts of the field. Crushes pitcher's mistakes. Still learning and growing as a catcher. Footwork and blocking balls a work in progress. Strong arm.
Designated Hitters
Aaron Judge (New York Yankees) Bats R
Huge, strong 6-foot-7, 230-pound outfielder/designated hitter that looks like he'd be at home on the football field. Can power a ball out of any park if he gets his pitch. Very strong, accurate arm from right field.
Scott Schebler (Los Angeles Dodgers) Bats L
Powerful, pull-hitting impact outfielder with a career record consistently hitting doubles, triples and home runs. Speed is very good for his 6-foot-1, 208-pound size. Can hit in any size park.
Starting Pitchers
Mark Appel (Houston Astros) Throws R
Opened eyes with very consistent, very polished approach. Threw strikes and got ahead. Struck out 24 in seven starts covering 31 innings. Showed nice repertoire with good movement and deception.
Joely Rodriquez- (Philadelphia Phillies) Throws L
Traded from Pirates to Phillies, Rodriguez finished the AFL season with 2.38 ERA in seven starts. Very tough to hit. Poised and confident on the mound with repertoire to miss bats. Still young, but emerging.
Relief Pitchers
Steven Okert (San Francisco Giants) Throws L
Has completed three seasons in relief for the Giants. In 10 Fall League appearances he finished with an ERA of 0.75. Changes eye-levels well and gets ahead in counts. Can get the strikeout when needed. Advancing.
Chris Bassitt (Oakland Athletics) Throws R
Traded to Athletics from White Sox, can pitch in rotation or in relief. Has improved command and control and gained confidence as the fall season progressed. Struck out 22 in 13 innings. I think he can start.
Bernie Pleskoff has served as a professional scout for the Houston Astros and Seattle Mariners. Follow @BerniePleskoff on Twitter. This story was not subject to the approval of Major League Baseball or its clubs.