Detroit makes splash on last day of Meetings
Detroit lands Cespedes, Simon on last day of Winter Meetings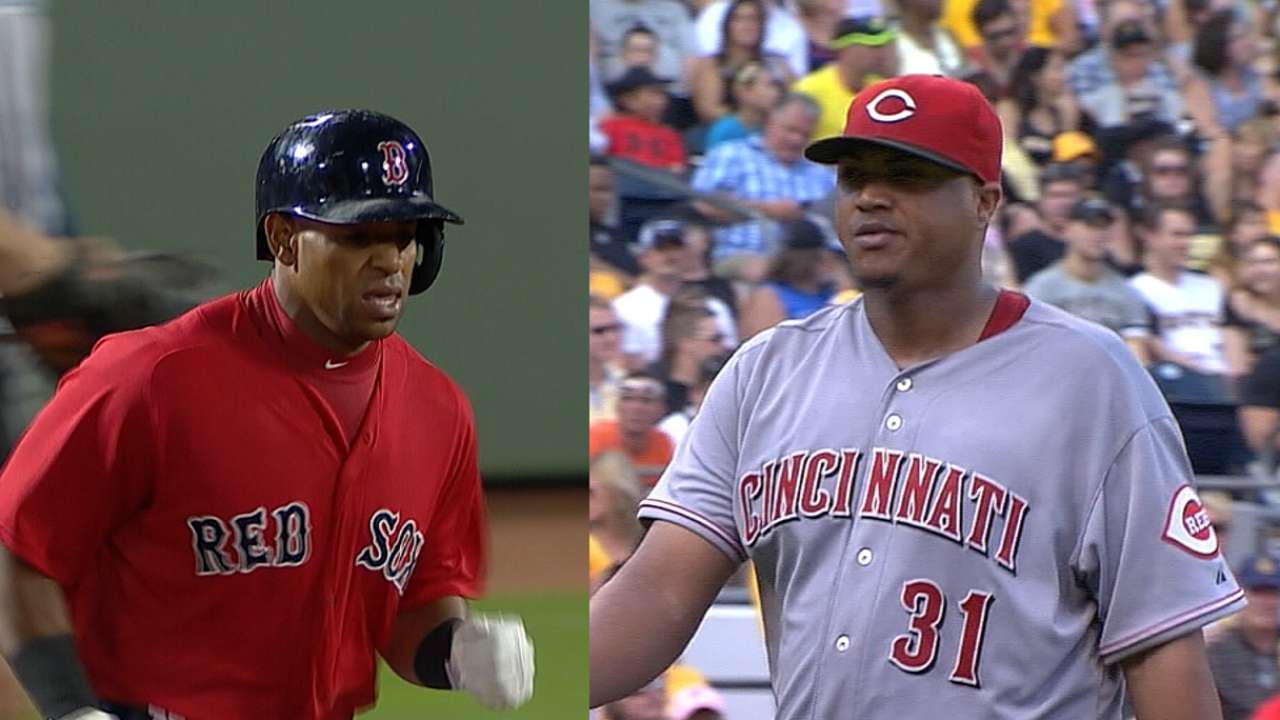 SAN DIEGO -- The Tigers were dormant for all but a handful of the 80 or so hours of baseball's Winter Meetings. That handful of hours of activity, however, could be what determines whether the Tigers have another World Series run in them.
They wanted to add one more offensive cog, and they liked Yoenis Cespedes, but they didn't want to create a void in their rotation to do it. They wanted to work around that, but they didn't have an abundance of prospects to help them out.
They ended up with two major trades so close together that they actually announced the arrival of Rick Porcello's replacement before they officially bid Porcello farewell. They took the risk of breaking up another part of their vaunted rotation for an opportunity to add some power and athleticism to their lineup.
"We replace Rick in the rotation with Alfredo Simon," team president/general manager Dave Dombrowski said, "and in turn added an offensive bat like Cespedes to the lineup."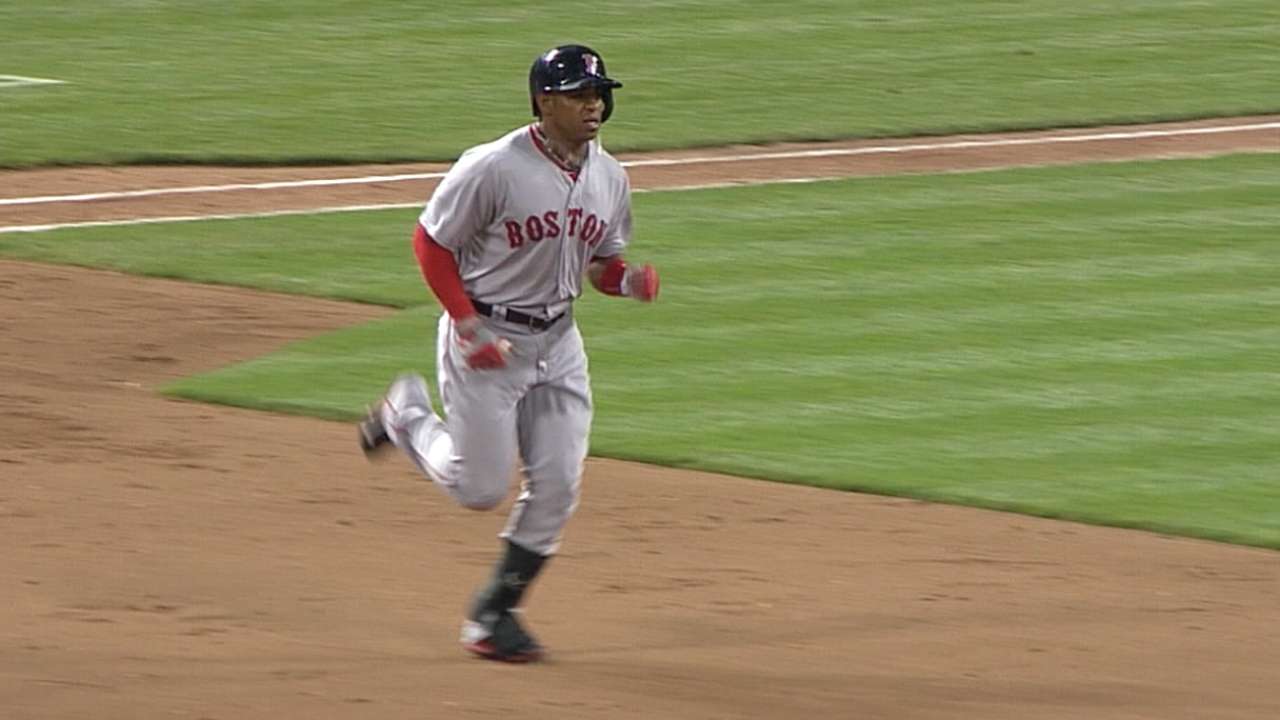 Depending on Simon, it could leave the Tigers' rotation with more questions than they've ever had during their run of American League Central titles. If it works out, the Tigers could have the most prepared postseason team of their run.
"The one big thing that did kind of stick in my craw," manager Brad Ausmus said, "was we really kind of hadn't replaced Torii Hunter's offense. Torii drove in 80-something runs. That's a good chunk of offense that we had to replace. And I think this guy clearly does it."
---
Winter Meetings action
Day 4: Dec. 11
Transaction
Official?
OF Matt Kemp
C Tim Federowicz
Traded to Padres
No
C Yasmani Grandal
RHP Joe Wieland
RHP Zach Eflin
Traded to Dodgers
No
OF Yoenis Cespedes
RHP Alex Wilson
Traded to Tigers
Yes
RHP Rick Porcello
Traded to Red Sox
Yes
RHP Ervin Santana
Four-year deal with Twins
No
LHP Mat Latos
Traded to Marlins
No
RHP Anthony DeSclafani
C Chad Wallach
Traded to Reds
No
RHP Justin Masterson
One-year deal with Red Sox
No
RHP Alfredo Simon
Traded to Tigers
Yes
RHP Jonathon Crawford
IF Eugenio Suarez
Traded to Reds
Yes
LHP Ross Detwiler
Traded to Rangers
No
OF John Mayberry Jr.
One-year deal with Mets
No
RHP Andre Rienzo
Traded to Marlins
Yes
LHP Dan Jennings
Traded to White Sox
Yes
It's a big enough move that Ausmus found himself doing one of his predecessor's favorite pastimes. Like Jim Leyland in offseasons past, Ausmus was filling out lineups and batting orders.
He added the aggressive-swinging, athletic Cespedes to Miguel Cabrera, Victor Martinez, J.D. Martinez and Ian Kinsler, and saw the run production portion of his batting order get a little deeper.
"To be honest with you, last night I did start writing things down," Ausmus said. "It's probably not going to end up being a prototypical lineup in the sense of having a prototypical two-hole hitter, so to speak, at this point -- and this could change. But at some point, the opposing pitchers are going to have to go through some combination of Miggy, Victor, Cespedes, J.D. You can put Nick [Castellanos] in there. And just stick Kinsler in front of that.
"At some point, pitchers are going to have to go through that stretch of hitters, which is a pretty powerful part of the lineup, probably as powerful as any part of any lineup in the game."
In a division that now boasts a bevy of frontline starters, including the addition of Jeff Samardzija to the White Sox, the Tigers are banking on that separating them from the pack.
"It's hard to beat good pitching, so you're just going to see more of it," Dombrowski said. "But they're going to see good pitching from us, too."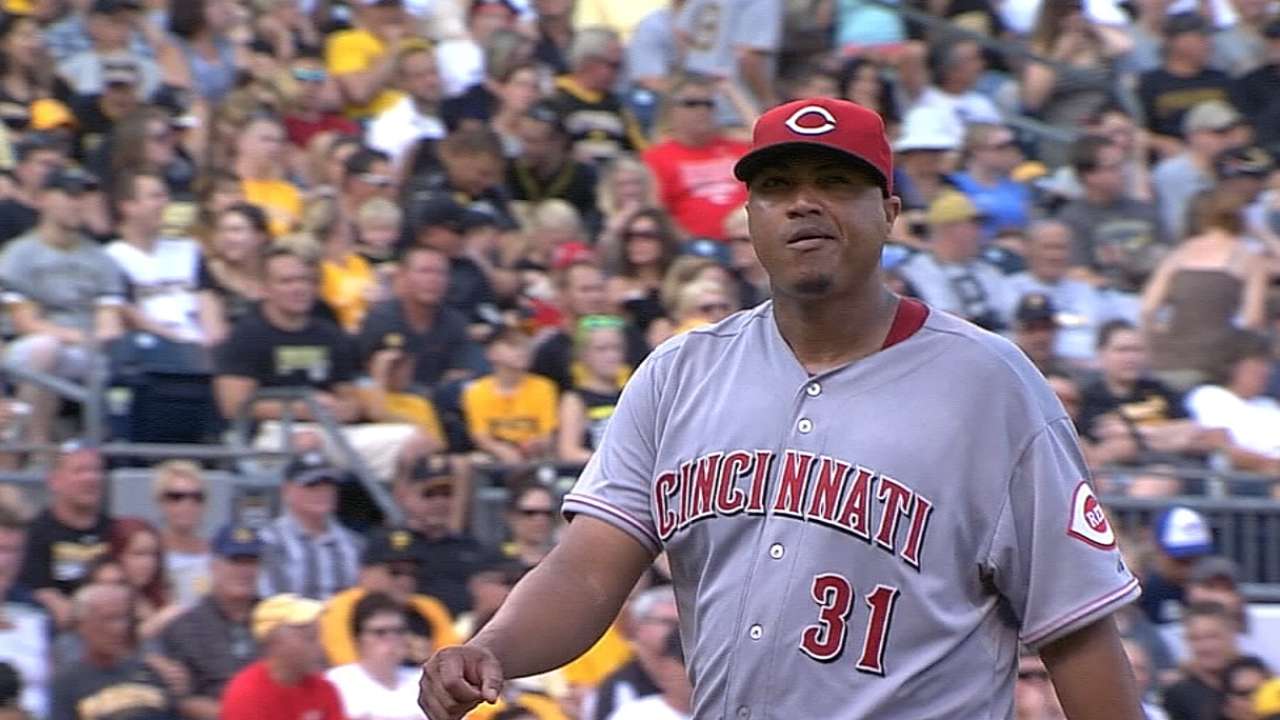 Deals done
Acquired Cespedes and right-handers Alex Wilson and Gabe Speier from Boston for Porcello. Acquired right-hander Simon from Cincinnati for shortstop Eugenio Suarez and right-hander Jonathon Crawford.
Rule 5 Draft activity
None in the Major League portion. The Tigers had a full 40-man roster, so they couldn't draft anyone. They didn't lose anyone either, managing to sneak 6-foot-8 right-hander Edgar De La Rosa through the Draft without losing the hard-throwing Class A right-hander.
Detroit did select right-hander Jheyson Manzueta in the Minor League portion of the Draft. Manzueta has been in the Marlins' system since 2008 and worked mostly as a reliever.
Goals accomplished
The Tigers solidified the middle of the order and firmed up their outfield with the addition of Cespedes. They also fulfilled a longtime goal of becoming more athletic in their lineup, though the 29-year-old Cespedes has stolen just seven bases in each of the last two years. They added a bullpen arm in Wilson, who isn't a prospect but could potentially fill a role as an extra reliever.
Unfinished business
Wilson aside, the Tigers have yet to add to a bullpen that was a large part of their undoing in the postseason. They're more likely to do that with smaller deals, maybe even Minor League contracts, than anything long-term, likely waiting until the next tier of the market shakes out after the holidays. Then there's free agent Max Scherzer, whom the Tigers continue to downplay their chances of signing, but won't completely shut the door until and unless he signs elsewhere.
Bottom line
"I've had a lot of people call me about Rick, which would not surprise you. He's a quality pitcher. It would make sense that they would inquire about him. But he's also one of the few guys that really makes sense that he had the ability to be able to acquire Cespedes." -- Dombrowski
Jason Beck is a reporter for MLB.com. Read Beck's Blog and follow him on Twitter @beckjason. This story was not subject to the approval of Major League Baseball or its clubs.