Rox happy with additions, have more to do
Relievers add depth; Colorado still seeking starting pitching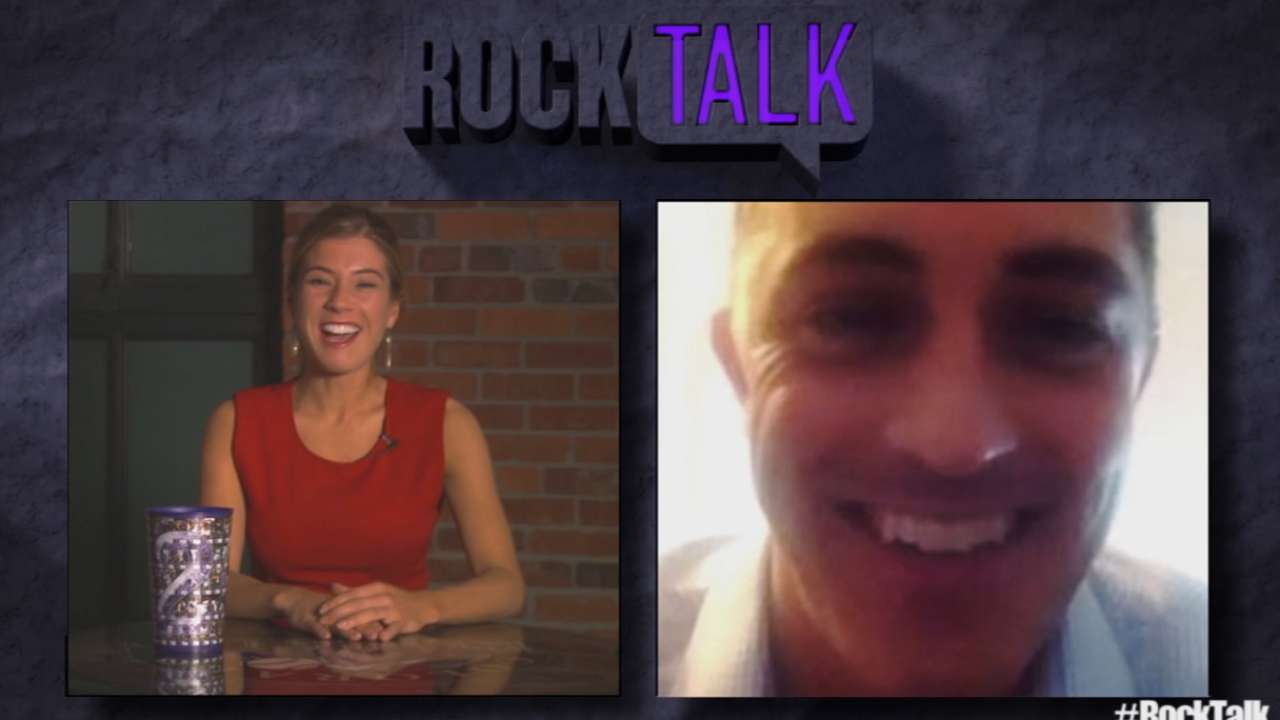 SAN DIEGO -- Jeff Bridich said before his first Winter Meetings as the Rockies' general manager that he wouldn't fall for the "fool's gold" of simply trying to make a splash. And Bridich isn't returning to Denver with a trove of riches.
The Rockies aren't empty-handed. Their moves during the Meetings consisted of a trade for Angels right-hander Jairo Diaz, a hard-thrower who could make the bullpen but may need Minor League time, and the pickup of Minor League right-hander Austin House from the Athletics.
But Bridich, who took over in October for Dan O'Dowd and Bill Geivett, saw no requirement to make headlines during a small, but high-profile, snippet of the offseason. Deals tend to happen with all the teams and all the game's media present, but Spring Training isn't until February and the season doesn't start until April.
Talks with the Mets about right-handed starter Dillon Gee weren't completed. The Marlins have attempted to pry defending National League batting champion Justin Morneau to be a left-handed-hitting threat at first base, but the notion exists that the Rockies want more than the Marlins are willing to offer. Still, the teams are communicating. The Rangers expressed interest in catcher Wilin Rosario, but appear to be putting more effort into acquiring a starting pitcher.
The Rockies, who are pushing for starting pitching themselves, were under no requirement to do something just because all the teams were together Sunday evening through Thursday morning.
Deals done: Diaz, 23, acquired from the Angels for backup infelder Josh Rutledge, has a fastball that averaged 97 mph during a five-game big league look last season and an intriguing slider.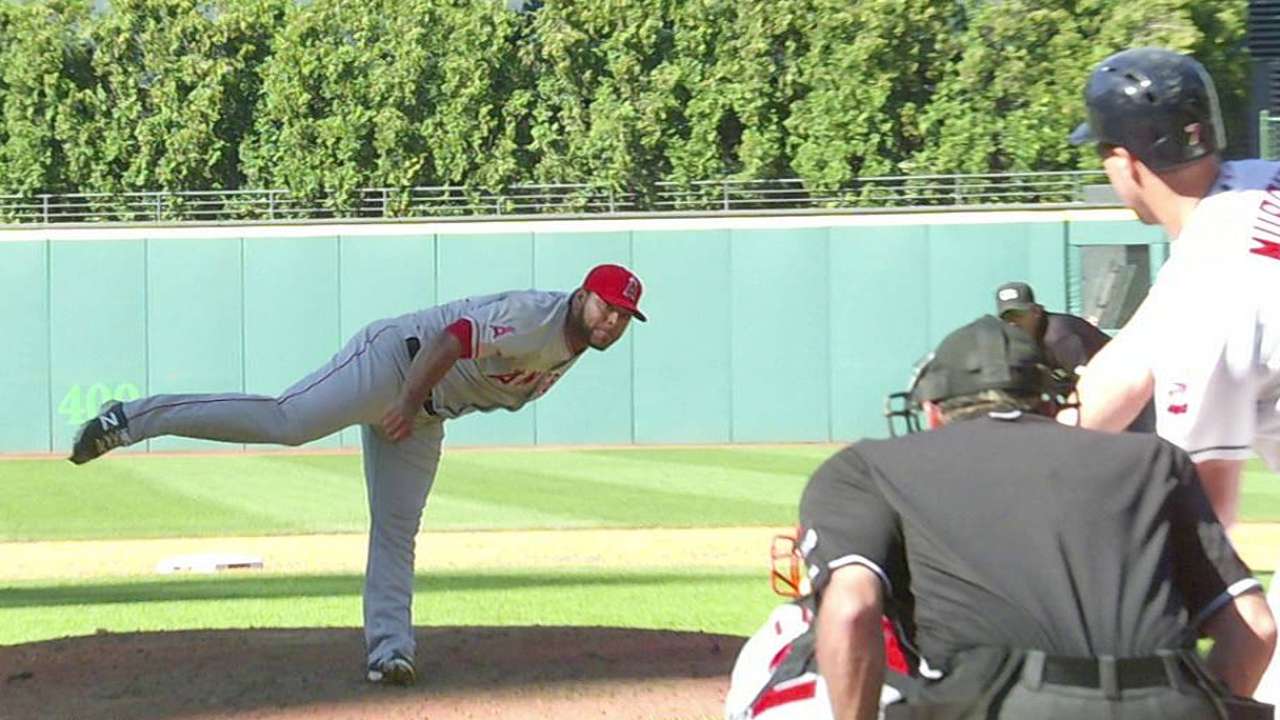 "There are two 'plus' pitches there, the fastball and the slider that he can throw for strikes and throw for outs -- swings and misses," Bridich said. "He greatly improved his ability to be in the zone over the past season. He got a cup of coffee in September so he knows what the big leagues are like, at least in September. He repeats well. In his delivery there's effort but everything is on line."
Diaz also has all of his Minor League options, so over the next three seasons they can develop him if necessary.
House, the Athletics' 14th-round pick in 2012, spent much of the year at Class A Advanced before making four scoreless appearances in Triple-A at the end of the season.
Rule 5 activity: The Rockies drafted first baseman Mark Canha from the Marlins with the second overall pick, then sent him to the A's for House. The Rockies lost righty Daniel Winkler -- who was excelling at Double-A Tulsa before suffering a season-ending elbow injury -- to the Braves and infielder Taylor Featherston to the Angels. The Cubs drafted Featherston and traded him to the Angels.
In the Triple-A phase, the Rockies picked up Phillies righty Kyle Simon (combined 5-4, 3.93 ERA in 46 relief appearances at Double-A and Triple-A) and lost onetime supplemental first-round pick Peter Tago, a right-hander, to the White Sox.
Goals accomplished: House and Simon add relief depth, which is always a plus.
Unfinished business: The Rockies came to San Diego to get starting pitching and still need it. They also need back-of-the-bullpen arms. If they deal Rosario, they'll seek a veteran defensive catcher. In that respect, nothing has changed.
What may be finished is the idea that the Rockies could trade shortstop Troy Tulowitzki or outfielder Carlos Gonzalez, their All-Star but rehabbing assets. The Mets didn't bite on Tulowitzki. Besides a couple of intriguing ideas that didn't rise to the level of rumor that responsible media could comfortably throw against the wall, there was little idea that the Rockies would make such a bold move. Of course, a text or call could make things interesting.
Beyond Morneau and Rosario, outfielder Drew Stubbs and lefty reliever Rex Brothers -- reportedly desired by the Mets -- might be most likely to be moved.
The Rockies also have been eerily quiet on the free-agent front, even though they say they can expand the payroll if necessary.
Rockies' bottom line: "I feel good about the experience here. We did some things. It's tough to say that we accomplished absolutely everything that we wanted to in these days. There's more to do in the offseason. So it's not like we're going to stop aggressively trying to better our club. But I think that our Meetings were an effective one in a lot of ways. Certainly being in San Diego, it's not a bad place to do it." -- Bridich.
Thomas Harding is a reporter for MLB.com. Read his blog, Hardball in the Rockies, follow him on Twitter @harding_at_mlb, and like his Facebook page, Thomas Harding and Friends at www.Rockies.com. This story was not subject to the approval of Major League Baseball or its clubs.