Tribe hopes first move a precursor to many more
After acquiring Moss on Monday, Indians still looking for pitching depth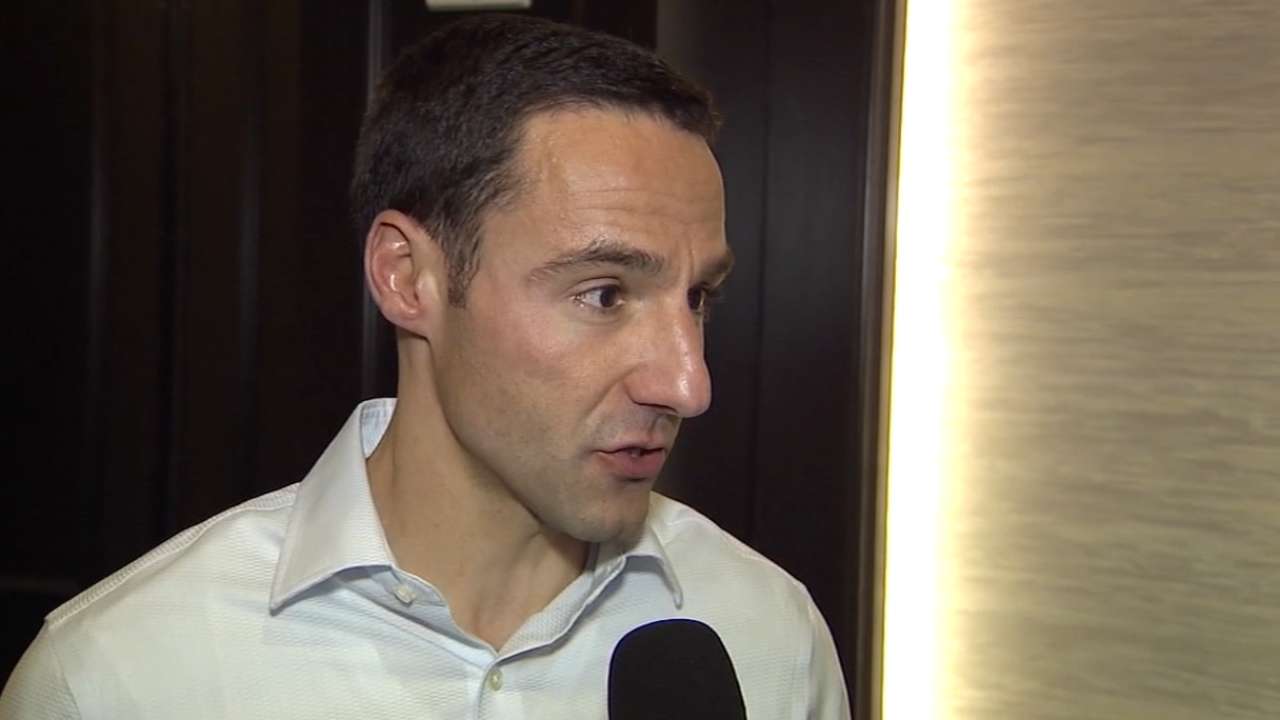 SAN DIEGO -- It was a head-spinning Winter Meetings in terms of transactions. There was so much movement around baseball over the final few days that it would be easy to forget that it was the Indians who sparked the action with the first deal.
Cleveland reeled in slugger Brandon Moss in a trade with Oakland on Monday morning, sending Minor League infielder Joe Wendle to the A's to complete the swap. That was the highlight of the week for the Indians, who then watched the White Sox, Tigers, Royals and Twins each make moves that could make for a tight American League Central race in 2015.
"We thought the deal for Brandon made sense," Indians general manager Chris Antonetti said. "We are getting one of the better power hitters in the game."
---
Winter Meetings action
Day 4: Dec. 11
Transaction
Official?
OF Matt Kemp
C Tim Federowicz
Traded to Padres
No
C Yasmani Grandal
RHP Joe Wieland
RHP Zach Eflin
Traded to Dodgers
No
OF Yoenis Cespedes
RHP Alex Wilson
Traded to Tigers
Yes
RHP Rick Porcello
Traded to Red Sox
Yes
RHP Ervin Santana
Four-year deal with Twins
No
LHP Mat Latos
Traded to Marlins
No
RHP Anthony DeSclafani
C Chad Wallach
Traded to Reds
No
RHP Justin Masterson
One-year deal with Red Sox
No
RHP Alfredo Simon
Traded to Tigers
Yes
RHP Jonathon Crawford
IF Eugenio Suarez
Traded to Reds
Yes
LHP Ross Detwiler
Traded to Rangers
No
OF John Mayberry Jr.
One-year deal with Mets
No
RHP Andre Rienzo
Traded to Marlins
Yes
LHP Dan Jennings
Traded to White Sox
Yes
The Indians are now in the market for pitching depth to help fortify what was one of baseball's elite rotations in the second half last season. Cleveland wants to have a deeper mix of arms to protect itself from the unpredictable elements that often arise throughout a year, and the team knows it can't be complacent, given what is happening around the division.
During the Winter Meetings in San Diego, the White Sox signed closer David Robertson and acquired starter Jeff Samardzija, building upon what looks like an up-and-coming club. The Tigers traded for outfielder Yoenis Cespedes and pitcher Alfredo Simon in an effort to chase down a fifth straight Central title. The Royals reportedly signed designated hitter Kendrys Morales, and the Twins inked starter Ervin Santana.
Indians manager Terry Francona isn't sweating the competition just yet.
"Right now, we're all even," Francona said. "You don't know. It's December. When the Meetings are over, everybody's like, 'Here are the winners, here are the losers, here's the guy.' The season hasn't started yet. Teams aren't complete. There are some really good pitchers that are still out there and, when that starts to unfold, you'll start to know where people are going to lean toward thinking who is going to win.
"But our division is tough. I think the whole league is tough. When you look at the schedule, it just seems difficult."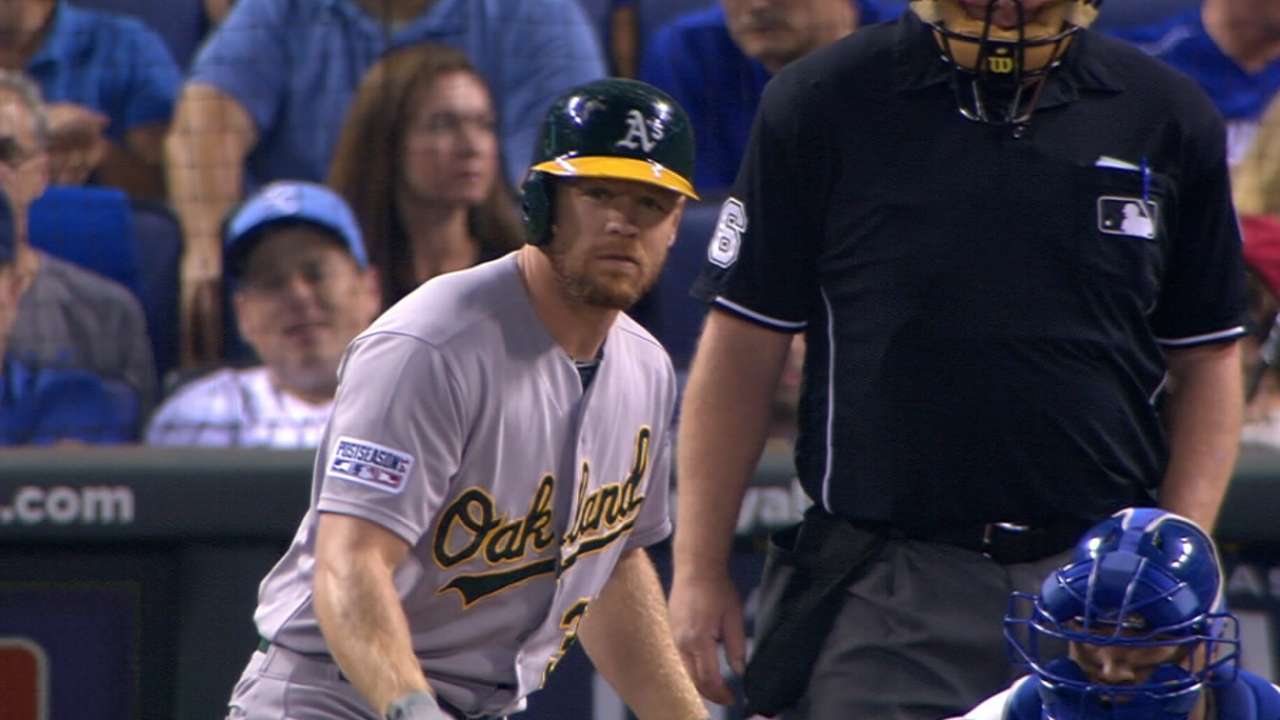 In Moss, the Indians have a player capable of hitting 30-plus home runs, especially because he is moving out of O.co Coliseum and into the lefty-friendly confines of Progressive Field. Moss had 25 home runs, 81 RBIs and a .772 OPS in an injury-marred, down season in 2014, and he ranks ninth among qualified Major League batters with a rate of a home run per 15.93 at-bats over the past three years combined.
The Indians plan on inserting Moss into the heart of the lineup and finding at-bats for him in right and left field, along with first base and designated hitter.
"It's been a productive Meetings," said Carter Hawkins, the Indians' director of player development. "We had that trade on Monday, which was exciting, but it's very tough to lose a guy the quality of Joey Wendle. We hate to see him go, but we're excited to add to the Major League roster at the Meetings."
Deals done
The Indians exited the Winter Meetings in each of the previous four years without making a Major League roster move. This year, Cleveland made a splash by acquiring the 31-year-old Moss from Oakland in a one-for-one trade on Monday, kicking off what has been an extremely busy week for transactions. That brought a impact bat to the Tribe's lineup, addressing one of the items on the team's offseason wishlist.
Rule 5 activity
The Indians are at capacity with their 40-man roster, so the team did not select any players in the Major League phase of Thursday's Rule 5 Draft. Cleveland also did not lose any players to other clubs. In the Triple-A phase, the Tribe selected 22-year-old Delvi Francisco from Philadelphia's Double-A Reading roster. Francisco had a 7.44 ERA with 47 strikeouts and 32 walks in 52 innings between two Class A levels last season.
"He's a big right-handed arm," Hawkins said. "We felt like he was the kind of guy that might be able to impact us at some point down the line. He's a converted outfielder, so he's got a fresh arm. We feel like he's a guy our coaches can work with, and we're excited to get him in the organization."
Goals accomplished
Cleveland completed its deal for Moss and also made progress behind the scenes in other trade and lower-tier free-agent negotiations. The Indians continued to discuss their options for filling the vacant bullpen coach job (Kevin Cash was hired to manager the Rays). That role will likely be filled by an internal candidate.
Unfinished business
The Indians are not necessarily done addressing their offense, especially considering there is a glut of corner outfielders on the roster with the addition of Moss. Cleveland is exploring trades to potentially free up that jam. A higher priority right now is finding ways to improve the pitching depth both in the rotation and bullpen. For those needs, the Tribe is not expected to be a major player in free agency.
GM's bottom line
"Right now, we could go to camp the way we are and open the season with the team we have. [Acquiring Moss] gives us a lot of versatility and depth to our team. We'll see what other opportunities present themselves." -- Antonetti
Jordan Bastian is a reporter for MLB.com. Read his blog, Major League Bastian, and follow him on Twitter @MLBastian. This story was not subject to the approval of Major League Baseball or its clubs.