Although quiet, Braves working on deals, seek value
Uptons, Gattis garner numerous inquiries at annual Winter Meetings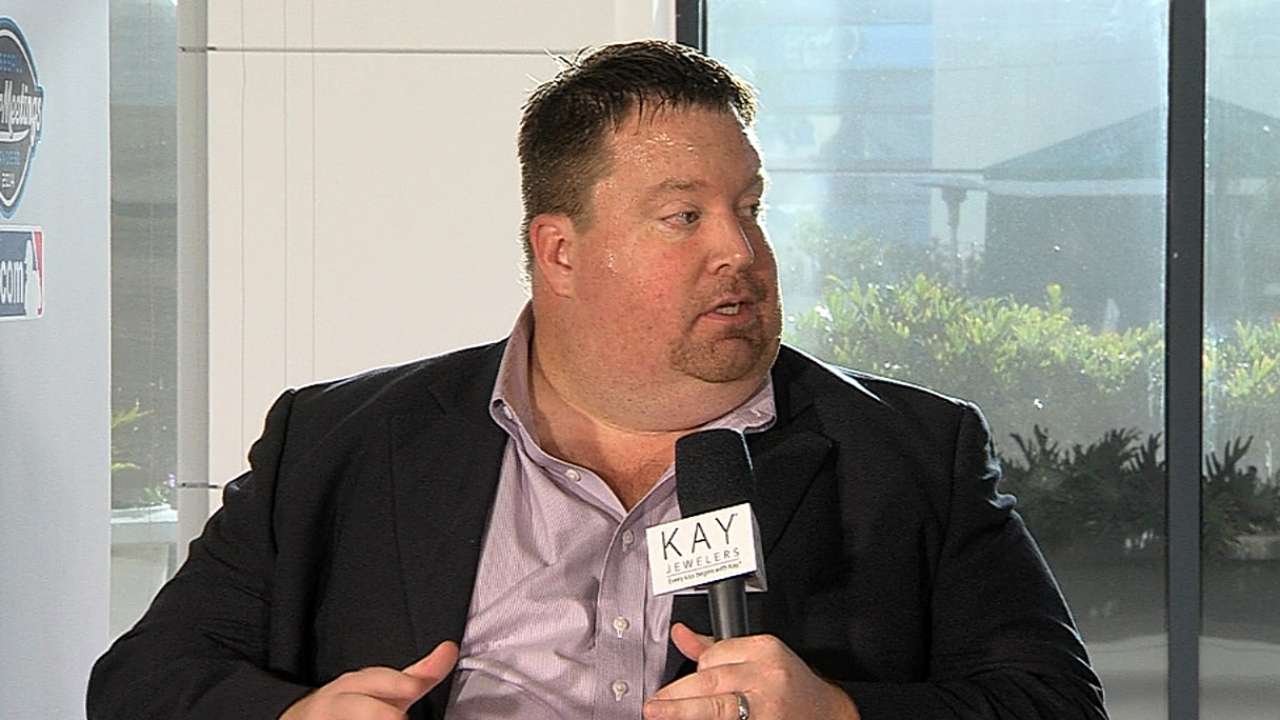 SAN DIEGO -- Though the Braves did not make much noise before this year's Winter Meetings concluded on Thursday, they headed home feeling confident that the patience they showed this week might lead them toward the value they are truly seeking with deals that could be completed over the next couple of weeks.
"It's fun if you have the big trade or the big signing, but sometimes that doesn't work out," assistant general manager John Coppolella said. "The largest free agent we [signed recently] was B.J. Upton. It was fun and we had all the fanfare. But up until this point, it hasn't worked out the way we had hoped.
"What we're trying to do and what we're trying to build is not about trying to make a big splash. It's about doing what is best long term for the Braves and trying to really find good value in every move that we make."
While there might be some faint hope that a club might eventually be willing to do a bad-contract swap that would include Upton, much of the talk surrounding Atlanta this week surrounded potential trades that would involve Justin Upton or Evan Gattis.
Though the Braves have spoken to the Astros, Rangers and Royals about Gattis at different points over the past few weeks, it still seems more likely that Atlanta would deal Justin Upton, who is owed $14.5 million in the final year of his contract.
Justin Upton's value is discounted by the fact that he could prove to be just a one-year rental, but the Padres, Giants, Mariners, Rangers and Royals have continued to express interest in the right-handed slugger.
While the Braves would gain some much-needed financial flexibility that would allow them to expand their search for at least one more starter, they have made it known that they are not willing to deal him or Gattis unless they gain a significant return that would provide benefit beyond the 2015 season.
"We don't need to trade Justin," said Coppolella. "We don't need to trade anybody off of our roster. We are, at this point, under our budget. We feel good about the team we have. If the right deal comes along, we'll talk it through and just see if it makes sense. I don't think we're forced to make any trades. I think sometimes the best trades are the ones you don't make. We feel like we have some real good assets on our club."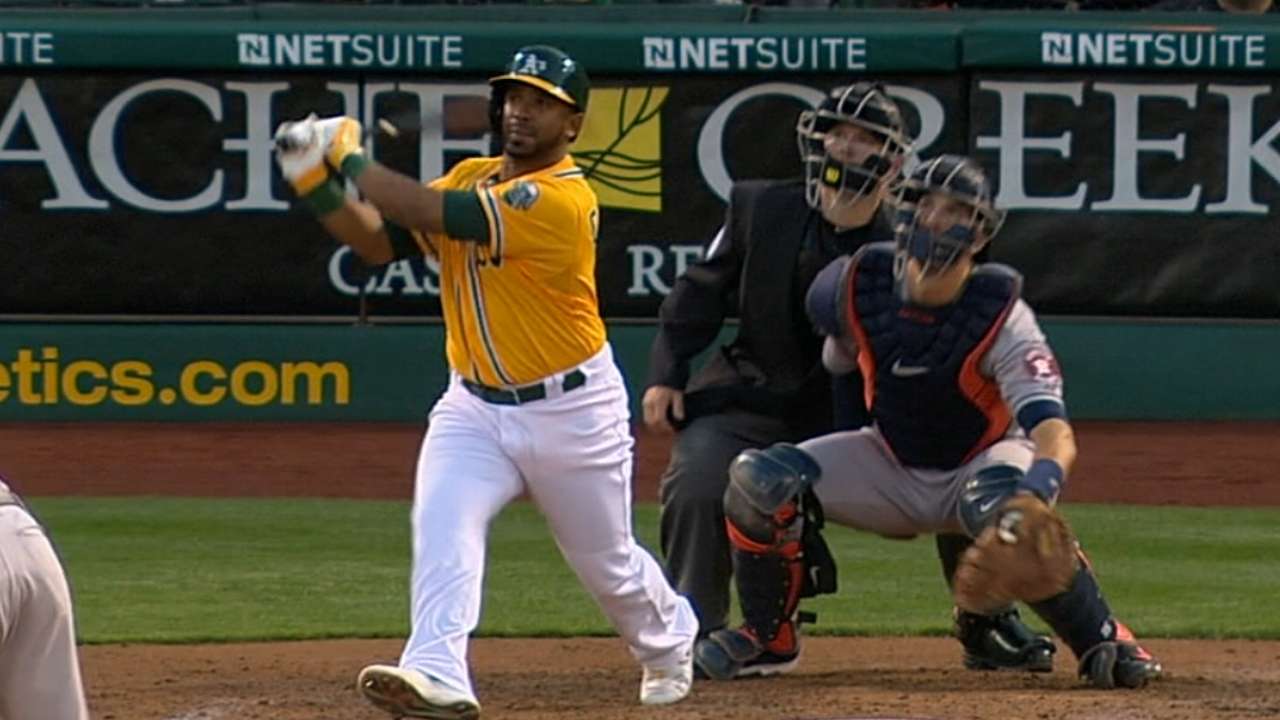 Deals done
Atlanta satisfied its need for a short-term second baseman by agreeing to terms on a one-year, $3 million deal with Alberto Callaspo. The club also added to its outfield depth this week by agreeing to terms on a Major League deal with Cuban outfielder Dian Toscano. The signings of Callaspo and Toscano will be announced when they complete their physicals and all necessary paperwork.
Rule 5 Draft activity
The Braves selected right-handed pitcher Daniel Winkler out of the Rockies' system and lost J.R. Graham to the Twins during the Major League phase. Within the Minor League phase, Atlanta strengthened its catching depth by taking Steven Rodriguez, a former D-backs farmhand who will likely begin next season with Triple-A Gwinnett.
Winkler, who is recovering from the Tommy John surgery he underwent in June, will likely spend the entirety of next season on the disabled list. To avoid allowing the Rockies to reclaim him, the Braves would then be required to keep the 24-year-old pitcher on their active roster for at least 90 days in 2016.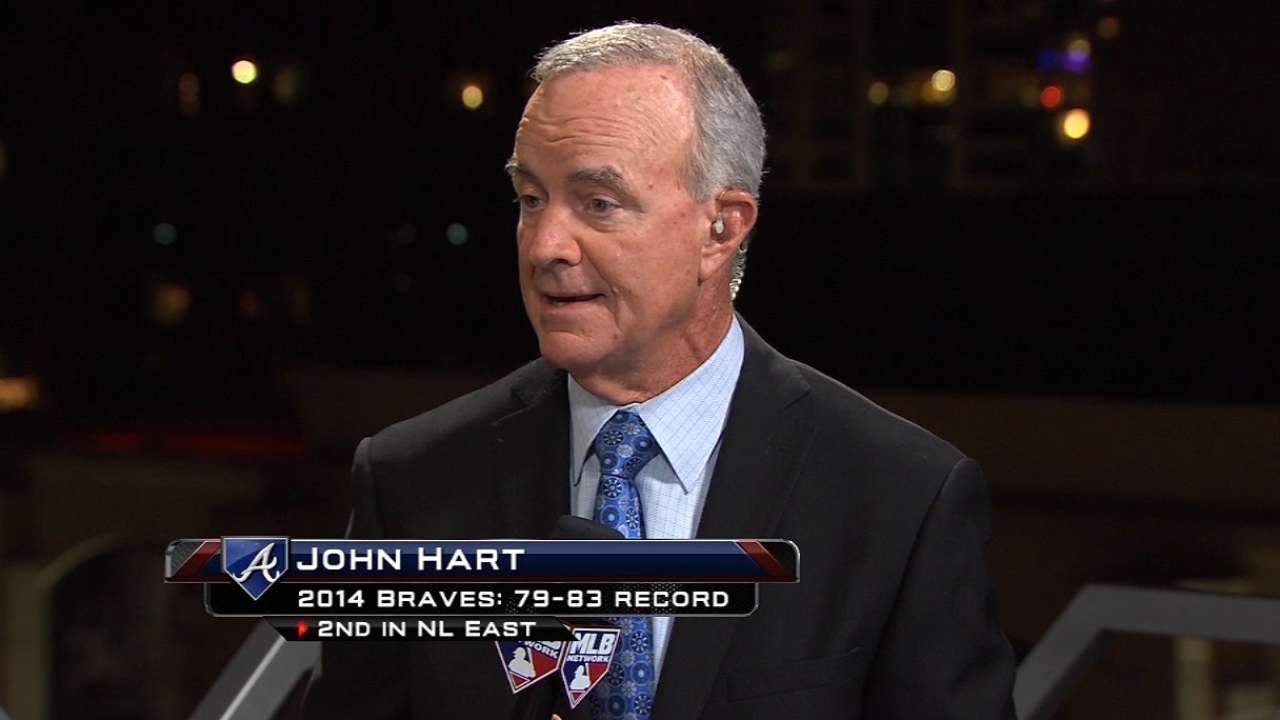 Goals accomplished
Callaspo provides Atlanta with the short-term solution the club was seeking to play second base until top prospect Jose Peraza is deemed to be Major League ready. Like Nick Markakis, who was signed last week, Callaspo is a consistent contact hitter who could benefit what has been a strikeout-heavy lineup the past few years.
Unfinished business
The Braves have a definite need to gain one more starting pitcher, and they have the desire to strengthen their bench with an experienced pinch-hitter. They will also continue to explore how they might enrich their future with the returns that could be garnered by dealing Justin Upton or Gattis.
Team's bottom line
"We'll keep talking to other clubs and other agents. I think the whole offseason, you have seen we're looking for value." -- Coppolella
Mark Bowman is a reporter for MLB.com. This story was not subject to the approval of Major League Baseball or its clubs.