Dodgers have fun with radical roster shakeup
Kasten says team accomplished goal of moving toward youth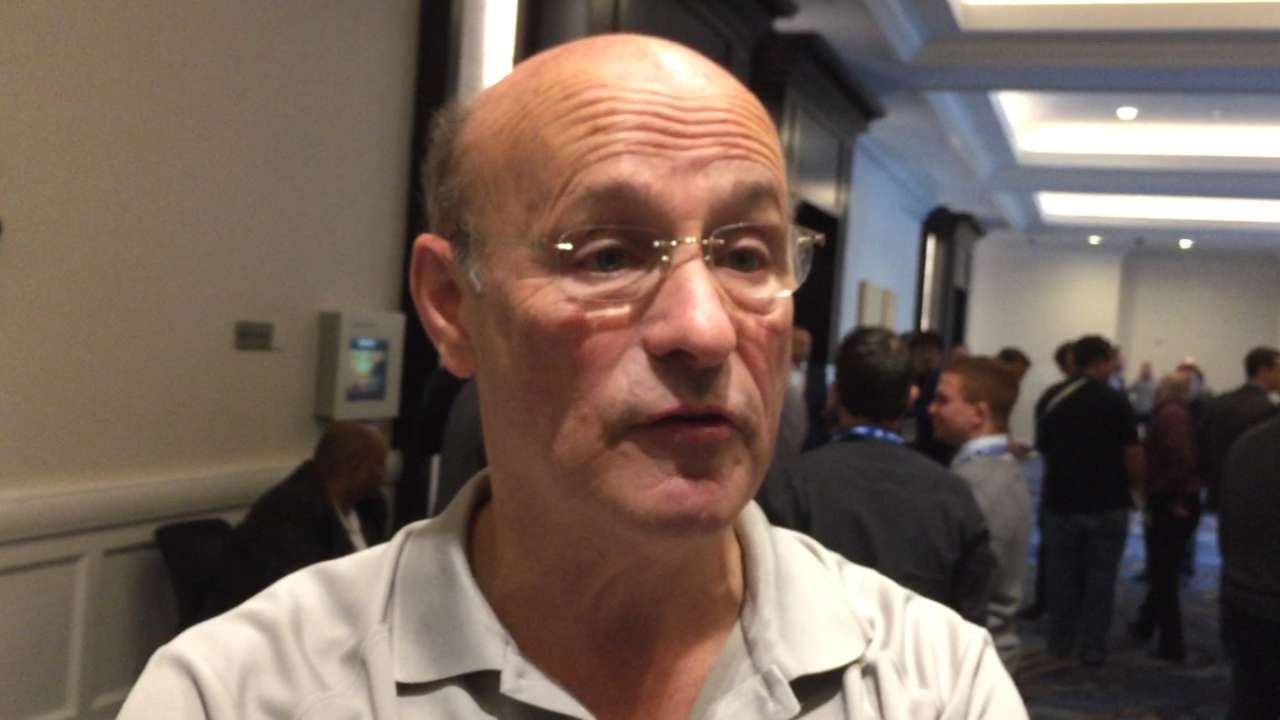 SAN DIEGO -- As the dust began to settle on the Dodgers' extreme makeover Thursday, team president Stan Kasten said the flurry of transactions has better positioned the club to win now and in the future.
"We feel the steps we've taken, and those to come, will be extremely productive and consistent with both goals," Kasten said.
Having previously run the Braves and Nationals, as well as NBA and NHL teams, Kasten said he's never had a more enjoyable job than he has now, especially this week, when the Dodgers took over MLB's Winter Meetings.
His club confirmed the acquisition of second baseman Howie Kendrick from the Angels and reliever Chris Hatcher from Miami and awaits physical exams before deals become official to net shortstop Jimmy Rollins from the Phillies, free-agent starting pitcher Brandon McCarthy and four prospects from Miami and San Diego to restock the farm system.
Leaving are/will be Matt Kemp, Dee Gordon, Dan Haren, Miguel Rojas, Tim Federowicz and young pitcher Tom Windle. Financially, the Dodgers save about $75 million in Kemp salary, but send $44 million in offset salary to San Diego and Florida while spending $48 million for four years on McCarthy.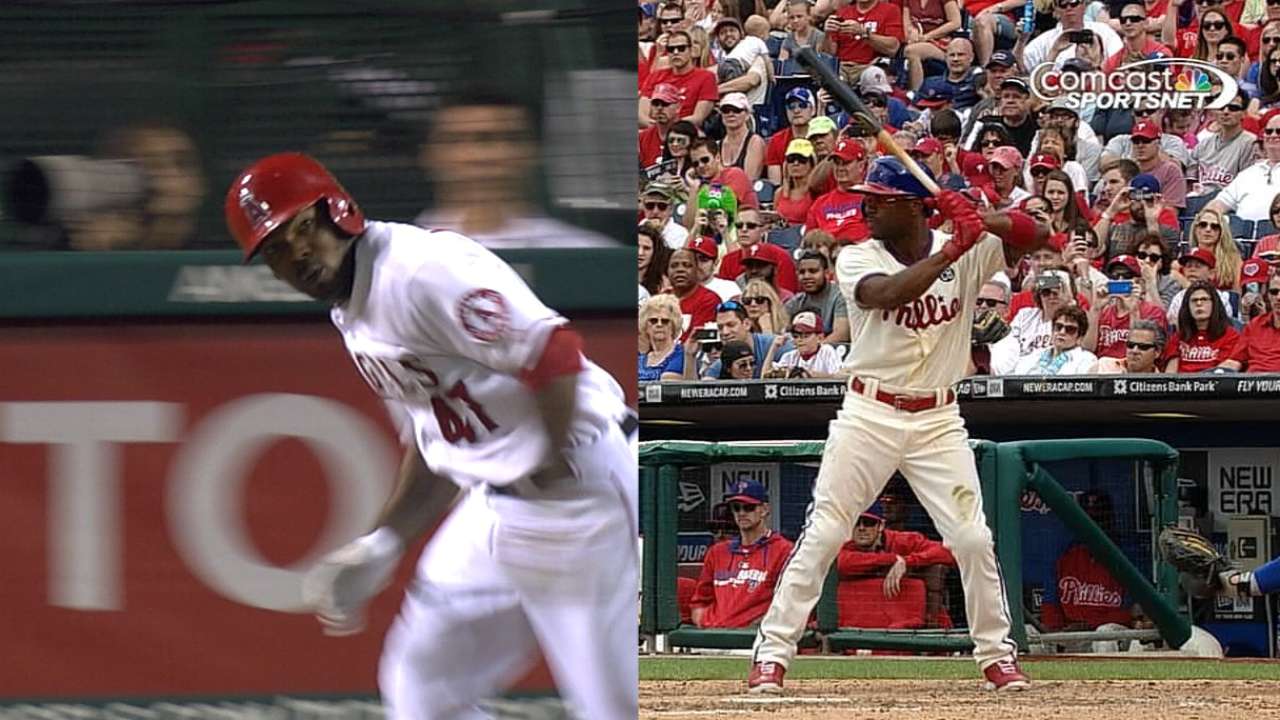 They need one more back-end starting pitcher, as talks for Cole Hamels have cooled and the Dodgers are not targeting elite free agents Max Scherzer or James Shields. They still want to move outfielder Andre Ethier.
But the heavy lifting is mostly done, Kasten relishing the frenzied media that unknowingly aided the Dodgers with a fog of Twitter rumors as his aides orchestrated the interconnected deals.
Kasten said his new management team, led by president of baseball operations Andrew Friedman, threaded the needle with deals to keep the current club at a championship level and prepare for a transition to a younger roster.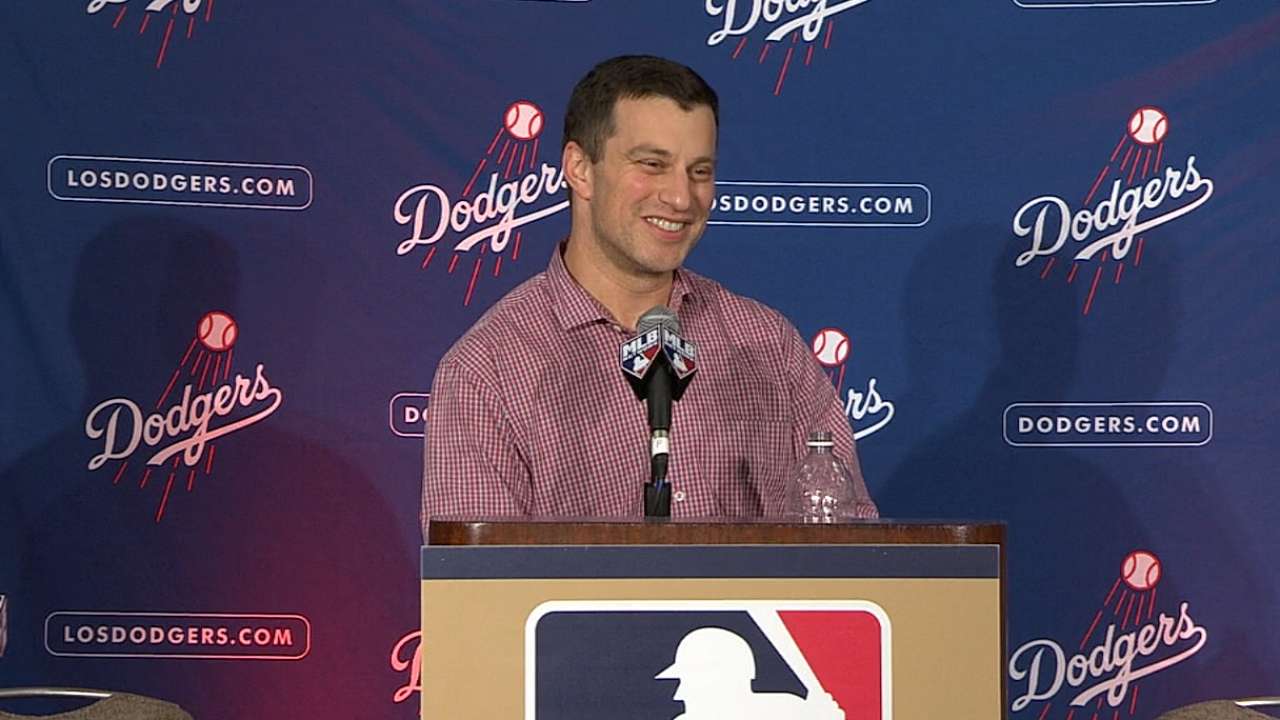 Kasten said he wasn't hesitant making such dramatic changes to a 94-win team because "that was last year."
He said an eventual reduction in last season's record $240 million payroll is not the primary goal of turning to younger players, but the natural byproduct of developing home-grown talent.
In the nearly three years of ownership by Guggenheim Baseball, the farm system hasn't promoted to the Major League club a current starting pitcher or current starting position player, unless Joc Pederson snaps that drought.
The Dodgers soon will have a younger outfield and catcher to share duties with A.J. Ellis, but also a 30-something infield, with Rollins, Kendrick and Juan Uribe free agents after next season. That should open a job for 20-year-old Corey Seager, among others.
"I always stress becoming younger," Kasten said. "Payroll is a byproduct of youth. You don't want to wake up one day to find out you can't compete, you're too old. You need to avoid that, and this week we took tangible steps to fulfill our overarching goal to become more reliant on our infrastructure and player development."
Moving Kemp (and eventually Ethier) will allow Yasiel Puig to play right field, leaving Carl Crawford and Scott Van Slyke to platoon in left field with rookie Pederson and Chris Heisey platooning in center, unless Pederson is ready to play every day.
The Dodgers were able to make these moves without losing any of their top three prospects -- Pederson, Seager or left-handed pitcher Julio Urias.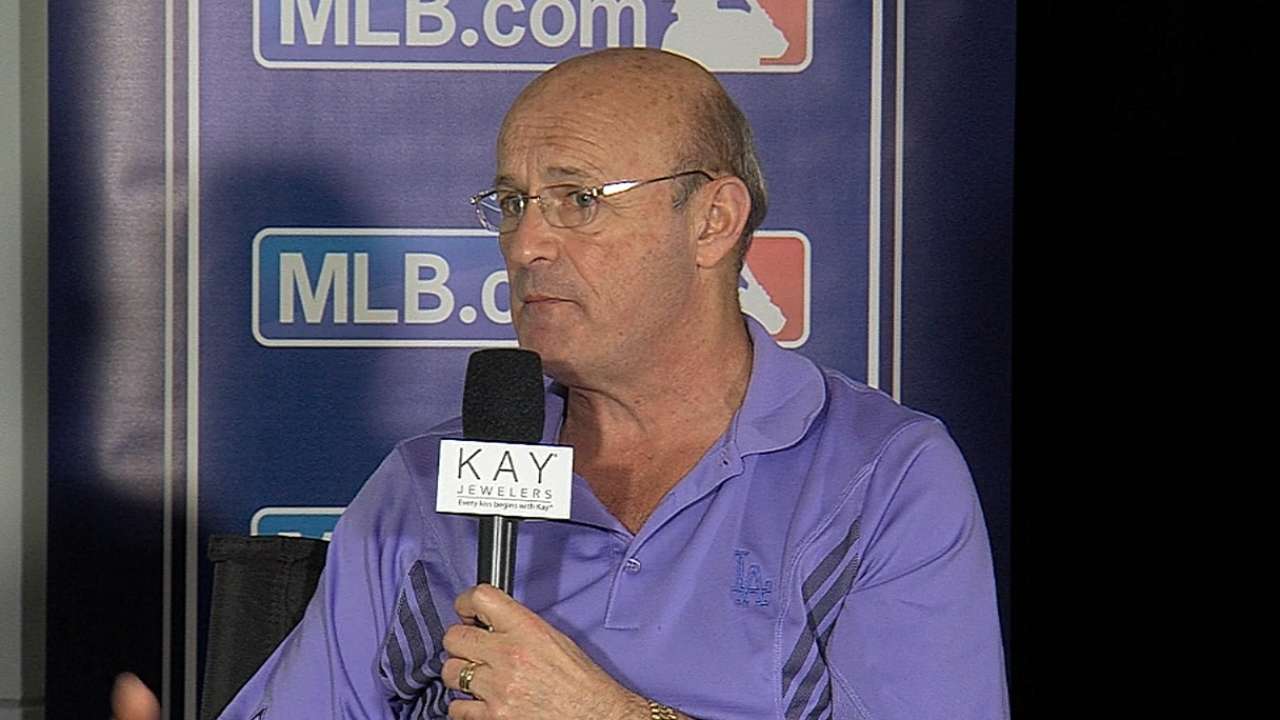 Deals done: Traded Gordon, Haren plus cash considerations and Rojas to Miami for pitcher Andrew Heaney, Hatcher, catcher/infielder Austin Barnes and utility man Enrique Hernandez. Traded Heaney to the Angels for Kendrick. Designated catcher Ryan Lavarnway for assignment.
Rule 5 Draft activity: The Dodgers did not take or lose any player in the Major League phase. In the Triple-A phase, they drafted outfielder Peter Lavin from Philadelphia, Alexander Santana from Baltimore, Randy Fontanez from the Mets and Nathan Samson from Arizona.
Goals accomplished: Relieved outfield congestion and gained payroll flexibility with pending trade of Kemp. Upgraded shortstop with pending acquisition of Rollins. Replaced Haren in the rotation with pending signing of McCarthy. Beefed up offense from the catcher spot with pending acquisition of Yasmani Grandal. Added middle relief with Hatcher. Augmented Minor League depth in trades with Miami and San Diego.
Unfinished business: Unannounced deals pending physical exams -- trade Kemp and Federowicz to San Diego for Grandal and pitchers Joe Wieland and Zach Eflin; trade Eflin and Windle to Philadelphia for Rollins; sign McCarthy. In addition, the Dodgers are still looking for a starting pitcher, a relief pitcher and to trade another outfielder, most likely Ethier.
Dodgers' bottom line: "That was fun. Just 24 hours ago we were being gently criticized for not doing anything. With what we've done already, and what's yet to come, it suggests a smooth-functioning, well-prepared front office." -- Kasten.
Ken Gurnick is a reporter for MLB.com. This story was not subject to the approval of Major League Baseball or its clubs.