Skipper quips: Winter Meetings quotes from all 30 managers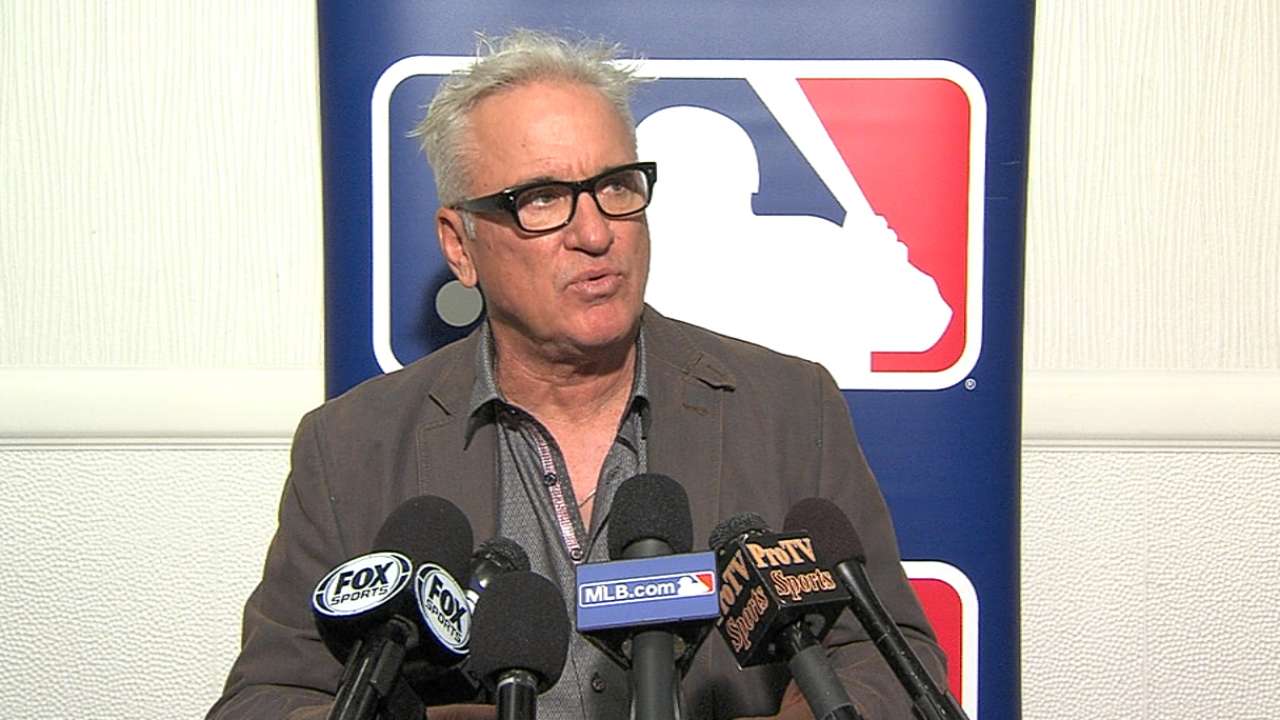 SAN DIEGO -- A regular feature of any Winter Meetings is the rotation of meet-and-greets with the media by every big league manager. Each half-hour session is a wide-ranging discourse of retrospection and anticipation, and yields one definitive observation.
With that in mind, here are some of the best managerial qoutes from the 2014 Winter Meetings:
Joe Maddon, Cubs: "Who doesn't love the underdog? You really like to beat the boys from the big city. And now I'm in the big city."
Mike Matheny, Cardinals: "I don't see anybody in the [National League] Central going anywhere except getting better. You're watching every team commit to trying to push the needle forward."
Mike Scioscia, Angels: "Right now, we like our team and we certainly like where we are. And I think the pieces that will come over that are going to add depth are going to be important. It's obviously not that splash of having Josh Hamilton or Albert Pujols come over."
Bruce Bochy, Giants: "It's a very unselfish group. They play for each other. They play for their fans. And I think when your cause is big enough, there's movement. And their movement was, 'Hey, we don't want to go home.' I'll tell you, nobody wanted [the World Series] more than [the Giants players] did."
Brad Ausmus, Tigers: "I'd probably give [Rays rookie manager Kevin Cash] the same advice that five or six different people told me last year this time: Be yourself. If you try to be something you're not and act like someone you're not, that's going to backfire."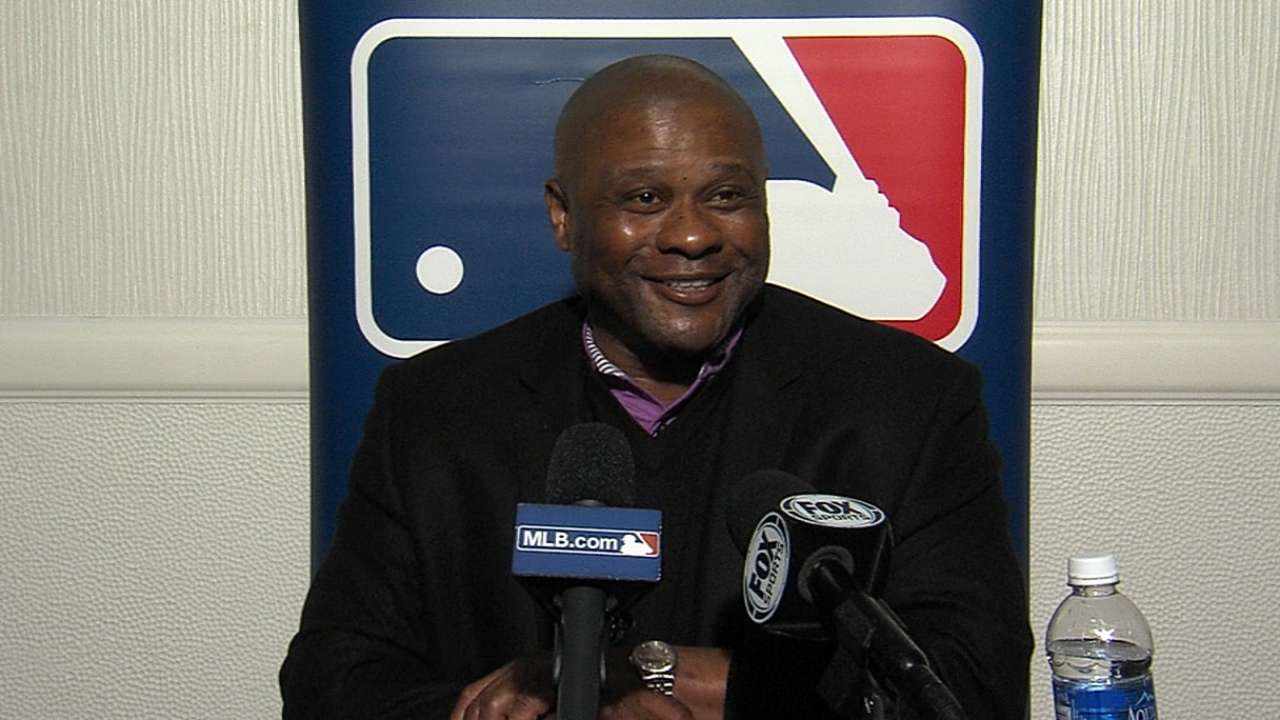 Lloyd McClendon, Mariners: "I don't want to get caught up in expectations. I want to get caught up in preparation."
Buck Showalter, Orioles: "God bless [the Red Sox, Yankees and Blue Jays for spending]. If we were in their shoes, we'd do the same thing."
Joe Girardi, Yankees: "I think our guys will handle [the distractions of Alex Rodriguez's return] well. I think our guys are up for it and have the experience and know-how to handle it, and we'll handle it."
Bob Melvin, A's: "I don't know whether you can fully get over [the loss in the American League Wild Card Game to Kansas City]. Looked like we had it for a while and then had it again and then didn't. Those are awfully difficult to get over."
Clint Hurdle, Pirates: "It's a good, tough division. I'm sure every division would say that about themselves, but there is a lot of evidence in [the NL Central] that there's going to be no games to take for granted."
Mike Redmond, Marlins: "You ask any of these managers, they're going to tell you the same. We all want another bat. We all want another pitcher or two or three."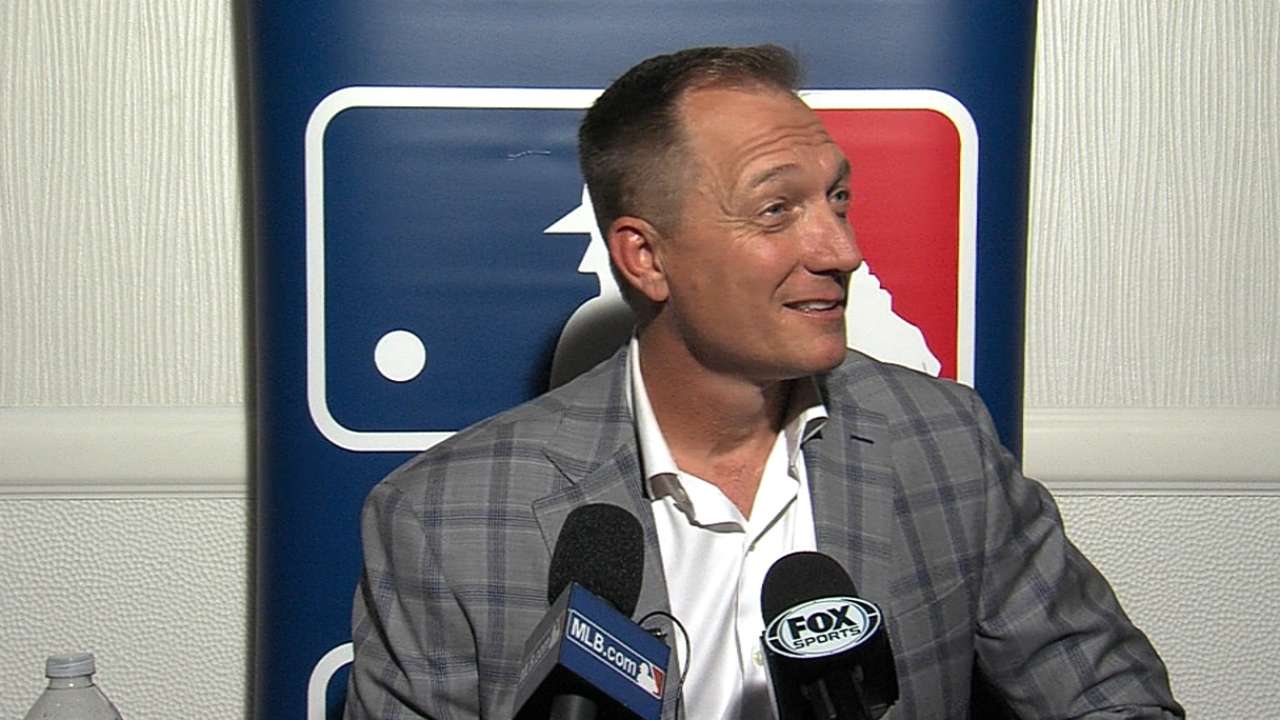 Jeff Banister, Rangers: "There are only about 280 miles between my current house [in Houston] and where my new house is going to be ... 280 miles in the state of Texas is like going next door."
John Farrell, Red Sox: "[Hanley Ramirez is] excited to be back here [and] take on the challenge of left field. The biggest thing is his attitude and his willingness to embrace the position change."
Ned Yost, Royals: "Everything was about winning this game ... And they embraced it and they were extremely successful doing it. So with that experience, I'm really excited to see what they can accomplish next year."
Chip Hale, D-backs: "From the seventh inning on, there are so many games you can win by just being able to make the plays defensively or getting the guy over, getting him in from third base."
Paul Molitor, Twins: "(A)fter 10 years being out of the Major Leagues ... to see the things that go on [in the clubhouse] ... it's become a lot more individualistic and not as blended. I would like to stir that up just a little bit if I can."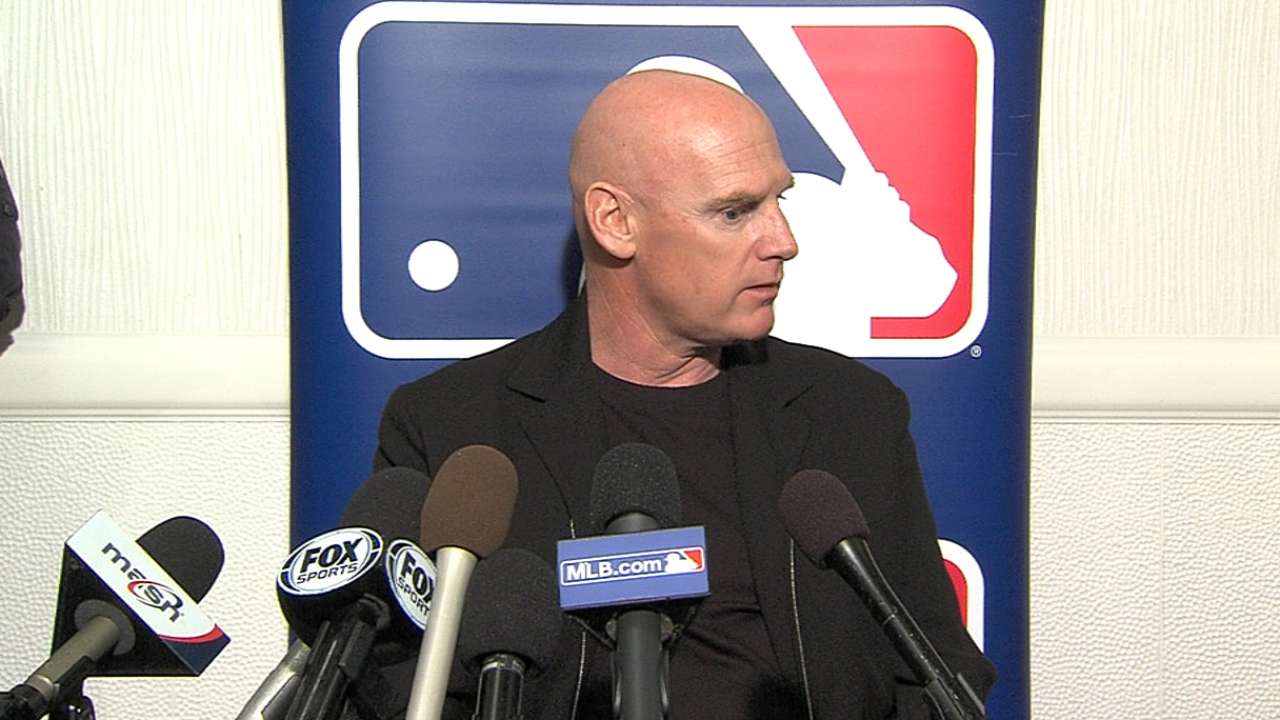 Matt Williams, Nationals: "I think [Bryce Harper] is ready to take the following step, get to the point where he's hitting in the middle of the order and he's shouldering that load and being more of a vocal leader at times."
A.J. Hinch, Astros: "I got a taste of [managing] in Arizona. The taste wasn't always great. I look forward to that new challenge again."
Ron Roenicke, Brewers: "You look at [an NL Central] Division with every team [having] the possibility of being in the playoffs. You know you're going to have to put it together and play a great season for six months. We had a nice four months last year."
Ryne Sandberg, Phillies: " There's no way that [GM Ruben Amaro] is going to just give away a player. I mean, we'd have to be wowed to give up a guy like Cole Hamels, which would be a wow that would help us go in the direction that we want to go."
Robin Ventura, White Sox: "It's a gutsy move. You're giving up some good players to go get a guy like Jeff [Samardzija]. You look around at our division and you see the starting pitchers [you're] facing all the time, and we feel like [the Samardzija trade is] something we had to do."
Walt Weiss, Rockies: "I feel like we didn't want to go that rebuilding route, because there is enough talent on our club that if we can keep it intact keep it on the field, we feel like we're in a good position [to contend]."
Terry Collins, Mets: "It's time. I've done nothing for the last four years but preach to our fan base to be patient. Well, I think we've got the pieces. It's time to step up."
Bryan Price, Reds: "We had enough talent on the team to win more than we did. And that begs the question, 'What could we have done differently, or what could I have done differently as a manager?'"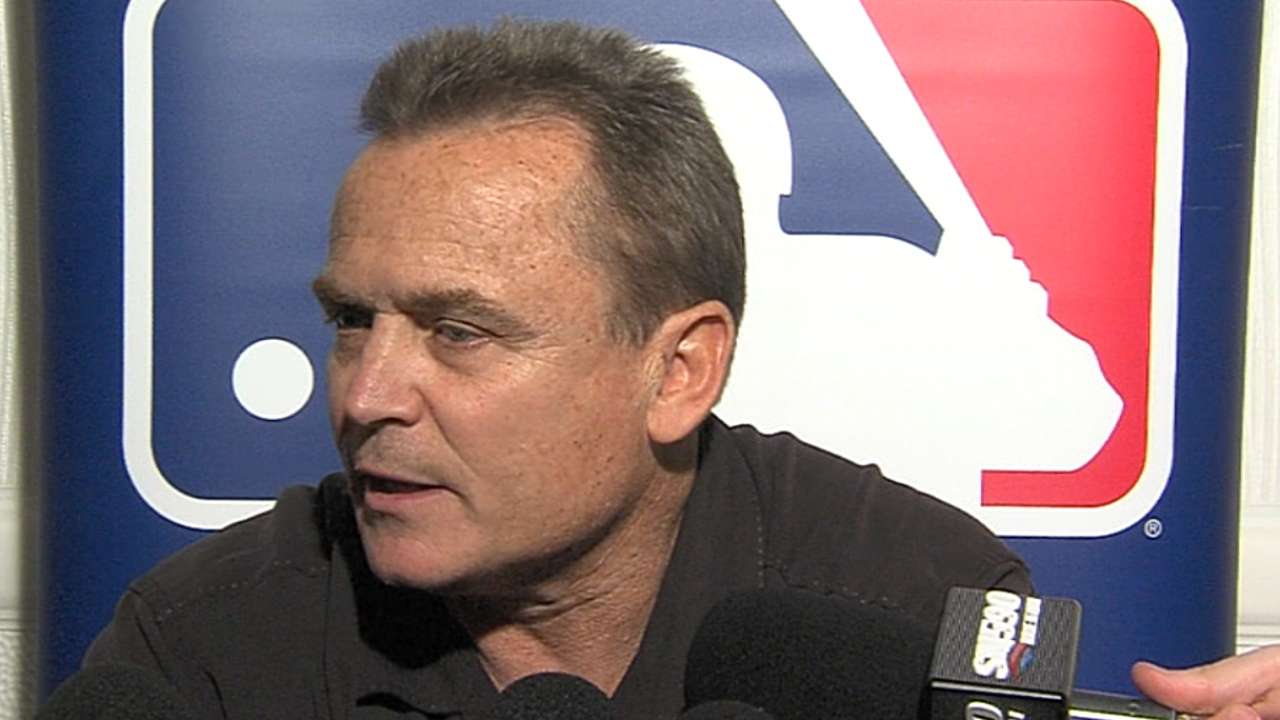 John Gibbons, Blue Jays: "Everything we've heard, [newcomers Russell Martin and Josh Donaldson are] both gamers. I don't think the clubhouse was what cost us the last couple of years ... but you get some guys that have been proven winners, that can only help you."
Kevin Cash, Rays: "I look at it more as kind of an honor to be following [Maddon] and what he's done over the course of his career here."
Terry Francona, Indians: "I always felt like a good game was a good game, and nobody complained about the time. If we're trying to keep a younger audience, we may have to make some adjustments [to pace-of-game rules]."
Fredi Gonzalez, Braves: "I feel if the season started tomorrow and you've got the club that you've got right now, you feel pretty good about it."
Bud Black, Padres: I find it hard to believe that the Winter Meetings haven't been here since 1985, right? It's crazy. This is a great spot. It's been good stuff. I'm proud of our city. How about that?"
And, a bonus byte, from those 1985 Winter Meetings:
Gene Mauch, Angels: "I put on four pounds during Thanksgiving and my knees started hurting. I knew it was time to say, 'Let's go.' I'll be spending the rest of the winter doing the same thing -- waiting."
Tom Singer is a reporter for MLB.com and writes an MLBlog Change for a Nickel. Follow him on Twitter @Tom_Singer. This story was not subject to the approval of Major League Baseball or its clubs.