MLB.com Columnist
Jim Callis
Breaking down Rule 5 Draft selections
Jim Callis gives scouting reports on the 14 players selected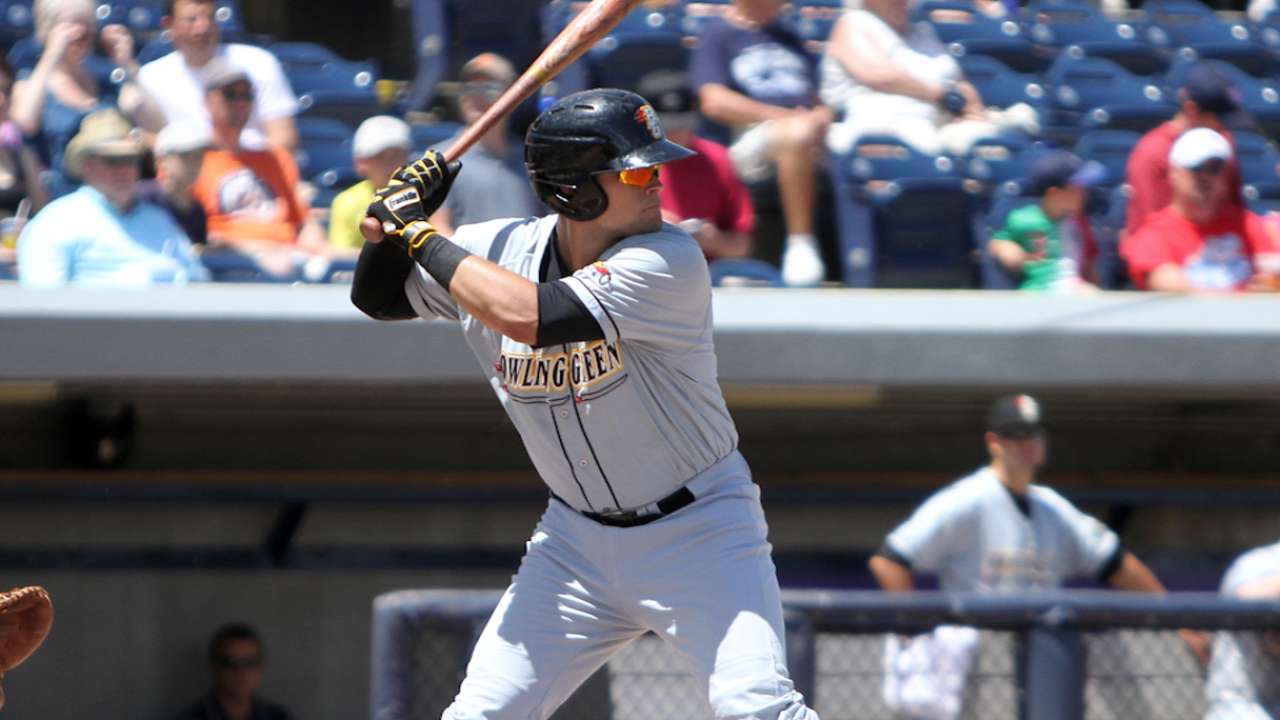 SAN DIEGO -- After trading Miguel Montero to the Cubs on Tuesday, the D-backs were left with one catcher on their 40-man roster: Tuffy Gosewisch, who has all of 174 big league at-bats. Arizona added a second with the top pick in the Rule 5 Draft on Thursday, though Oscar Hernandez has yet to play above low Class A.
Signed out of Venezuela in 2009 by the Rays, Hernandez first popped up on the prospect radar two years later when he recorded one of the finest seasons in the history of the Rookie-level Venezuelan Summer League. He hit .402/.503/.732 to lead the circuit in all three slash stats, and won the triple crown as well with 21 homers and 66 RBIs in 69 games. He hasn't approached numbers like that since, however, and batted .249/.301/.401 in 94 games in low Class A this year at age 20.
Hernandez has some intriguing tools with his raw power and arm strength -- he threw out 41 percent of basestealers this year -- but his hitting and receiving lack consistency. He has a long right-handed swing and is more notable for strength than bat speed.
Hernandez needs regular playing time to further his development, and if he sticks with the D-backs, he probably won't get much in 2014. Rule 5 mandates that all picks in the big league phase must stick on Major League rosters throughout the following season. They can't be sent to the Minors without clearing waivers and then getting offered back to their original team for half of the $50,000 Draft price.
Below are scouting reports on the other 13 players selected in the Major League phase of the Rule 5 draft:
Mark Canha, OF/1B/3B, Athletics (from Marlins via trade with Rockies): A seventh-round pick in 2010, he has offered consistent production throughout the Minors and batted .303/.384/.505 with 20 homers in Triple-A this year at age 25. Canha might be a .270 hitter with 15-plus homers with regular playing time, but his below-average speed and athleticism limit his defensive value.
Delino DeShields Jr., OF, Rangers (from Astros): He may have hit just .236/.346/.360 in Double-A this year at age 21, but he also stole 54 bases, hit 11 homers and drew 61 walks. The No. 8 overall pick in the 2010 First-Year Player Draft and the son of the former big leaguer of the same name, DeShields is loaded with tools. He's a well above-average runner with more pop than a typical speedster, on-base upside and showed defensive promise in his first year in center field after moving from second base.
Jason Garcia, RHP, Orioles (from Red Sox via trade with Astros): A 17th-round pick in 2010, he posted a 6.16 ERA in his introduction to full-season ball in 2012 and had Tommy John surgery in 2013. When Garcia returned this year, he opened eyes with a mid-90s fastball and a low-80s slider. He went 3-2, 3.67 with 59 strikeouts in 56 1/3 innings as a 21-year-old at short-season Lowell and low Class A Greenville this season.
J.R. Graham, RHP, Twins (from Braves): He shot from the fourth round of the 2011 Draft to Double-A by the end of 2012, but he hasn't been the same since straining his shoulder the following season. The 24-year-old Graham's fastball has dropped from the mid-90s to sitting around 90 mph, and his slider isn't as sharp. He went 1-5, 5.55 with 50 strikeouts in 71 1/3 innings in Double-A this year.
Jandel Gustave, RHP, Royals (from Astros via Red Sox): A classic Rule 5 pick, he regularly touches 100 mph with his fastball but has a 5.73 ERA since signing out of the Dominican Republic in 2010 and has yet to appear above low Class A. The 22-year-old Gustave can run his slider into the high 80s as well, but he lacks a reliable secondary pitch and command.
Taylor Featherston, 2B/SS, Angels (from Rockies via trade with Cubs): Part of Texas Christian's first-ever College World Series team in 2010, he signed as a fifth-rounder a year later and has climbed to Double-A. Featherston hit .262/.324/.442 with 16 homers and 14 steals at age 24 in Double-A this season. He doesn't have a plus tool, but he can do a little bit of everything and profiles as a useful utilityman.
Odubel Herrera, 2B/OF, Phillies (from Rangers): He had the best 2014 season of any Rule 5 pick, winning the Texas League batting title at .321/.373/.402 and getting ranked as the Double-A circuit's best defensive second baseman in a Baseball America survey of managers. Signed out of Venezuela in 2008, the 22-year-old Herrera has natural hitting ability and plus speed, though he doesn't provide much in the way of power or walks.
Andrew McKirahan, LHP, Marlins (from Cubs): He has overcome humble beginnings as a 21st-round pick in 2011 to record a 2.16 ERA with 128 strikeouts in 120 2/3 pro innings, reaching Double-A at age 24 this year. McKirahan's innings have been limited because Tommy John surgery cost him most of 2012 and 2013, but he worked at 92-96 mph this season and throws strikes, giving him a better chance at sticking in the Majors than most of the Rule 5 selections.
Sean Gilmartin, LHP, Mets (from Twins): A Braves 2011 first-round pick, he advanced to Triple-A by the end of his first full pro season but has yet to reach the big leagues. While the 24-year-old Gilmartin has a solid changeup and command, the rest of his arsenal is fringy and he doesn't project to miss a lot of bats in the Majors. Traded to Minnesota last offseason for Ryan Doumit, he went 9-7, 3.71 with 133 strikeouts in 145 2/3 innings between Double-A and Triple-A in 2014.
Daniel Winkler, RHP, Braves (from Rockies): For a guy who led the Minors with 175 strikeouts in 2013, he didn't engender a lot of love from scouts because he's more about deception and control that pure stuff. A 20th-rounder in 2011, Winkler lacks a plus pitch and relies on an 88-91 mph fastball, a cutter and a changeup. The 24-year-old's success continued in 2014, when he went 5-2, 1.41 with 71 whiffs in 70 Double-A innings -- until he had Tommy John surgery in June.
David Rollins, LHP, Mariners (from Astros): Seattle drafted Rollins twice out of San Jacinto (Texas) JC in 2009 and 2010 and finally got its man via the Rule 5 draft. He signed with the Blue Jays as a 24th-rounder in 2011 and joined the Astros in a 10-player trade a year later that had little impact for either club. The 24-year-old sinker/slider guy went 3-4, 3.81 with 77 strikeouts in 78 Double-A innings in 2014, with his fastball velocity rising to 91-95 mph when he shifted to the bullpen in August.
Logan Verrett, RHP, Orioles (from Mets): He doesn't have dazzling stuff but has ridden his combination of four averagish pitches and fine control to Triple-A since signing as a third-round pick in 2011. The 24-year-old Verrett's best pitch is his slider, and he uses has an 88-91 mph fastball, a curveball and a changeup. He went 11-5, 4.33 with 119 strikeouts in 162 innings as a Triple-A starter in 2014.
Andrew Oliver, LHP, Phillies (from Pirates): He signed for an above-slot $1,495,000 as a Tigers second-rounder in 2009 and surfaced in Detroit in his first two pro seasons in 2010 and 2011 but hasn't been back to the Majors since. Traded to the Pirates for Minor League catcher Ramon Cabrera after the 2012 season, Oliver still throws 93-96 mph but doesn't have a reliable second pitch and doesn't throw strikes. He had a 2.53 ERA with 85 strikeouts and 47 walks in 64 Triple-A innings this year at age 23.
Jim Callis is a reporter for MLB.com and writes a blog, Callis' Corner. Follow @jimcallisMLB on Twitter. This story was not subject to the approval of Major League Baseball or its clubs.