Busy at Winter Meetings, Angels aren't done 'getting better'
Club has surplus of starting pitching, is well under luxury-tax threshold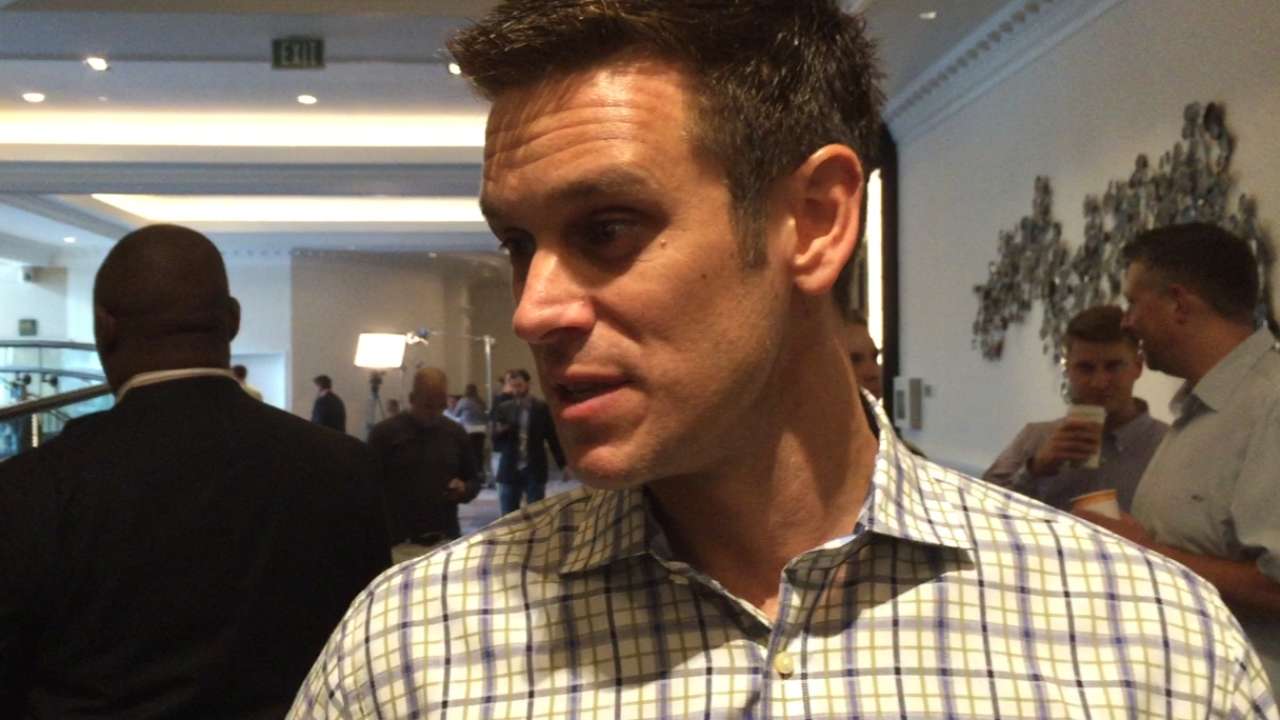 SAN DIEGO -- The Angels didn't go into the Winter Meetings expecting much activity, then they traded their longtime second baseman, acquired one of baseball's best pitching prospects, found a left-handed bat, a backup catcher and a couple of utility infielders.
Now the Angels have a wealth of starting pitching depth -- who would've envisioned that 12 months ago? -- and are roughly $15 million below the luxury-tax threshold, which begs the question: What's next?
Just before heading back home to Orange County, Angels general manager Jerry Dipoto called the offseason "an ongoing story" and said, "We're not done getting better." But he also said he has "no immediate plans" to engage in any free agents -- besides infielder Gordon Beckham, whom he wants to bring back -- and talked about how the Angels will probably try to make up for the loss of Howie Kendrick in-house.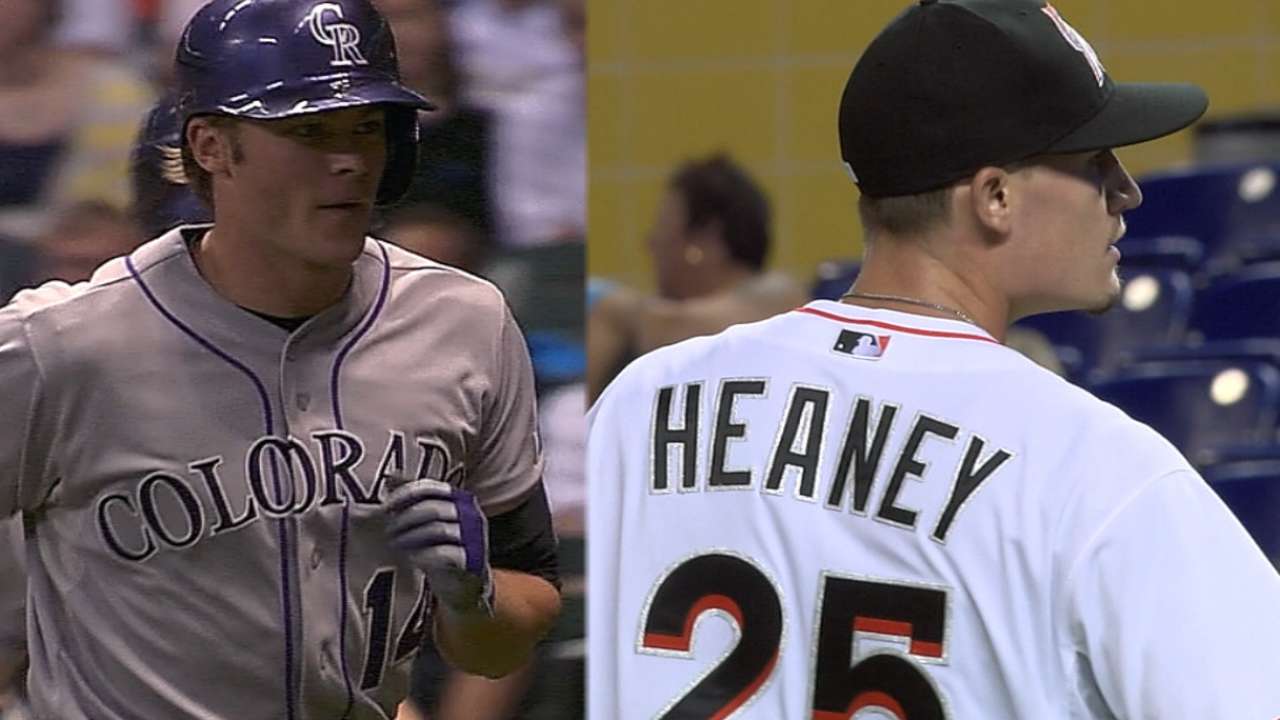 Dipoto said the same thing at around this time last year, when Mark Trumbo was dealt in the three-team trade that brought Hector Santiago and Tyler Skaggs, and the Angels finished the season with the Major League lead in runs scored.
"Not to say it will work as well as it did this past year, but it worked pretty well this past year," Dipoto said. "We are of the belief that healthy contributions from the players we have are going to make us a better team. They will go a long way in conjunction with the guys we picked up to replace Howie, but there's a reason why Howie was coveted as a trade target. We're not going to have one name that will replace Howie."
The Angels have Josh Rutledge, Grant Green, Alex Yarbrough and Taylor Featherston in the mix to be the starting second baseman and the utility infielder, with Dipoto saying flatly that he isn't interested in free-agent infielders like Stephen Drew or Jed Lowrie.
He's hoping for a more consistent Josh Hamilton and he's banking on David Freese replicating his production down the stretch over the course of a full season, but Dipoto also left the door open for capitalizing on another opportunity.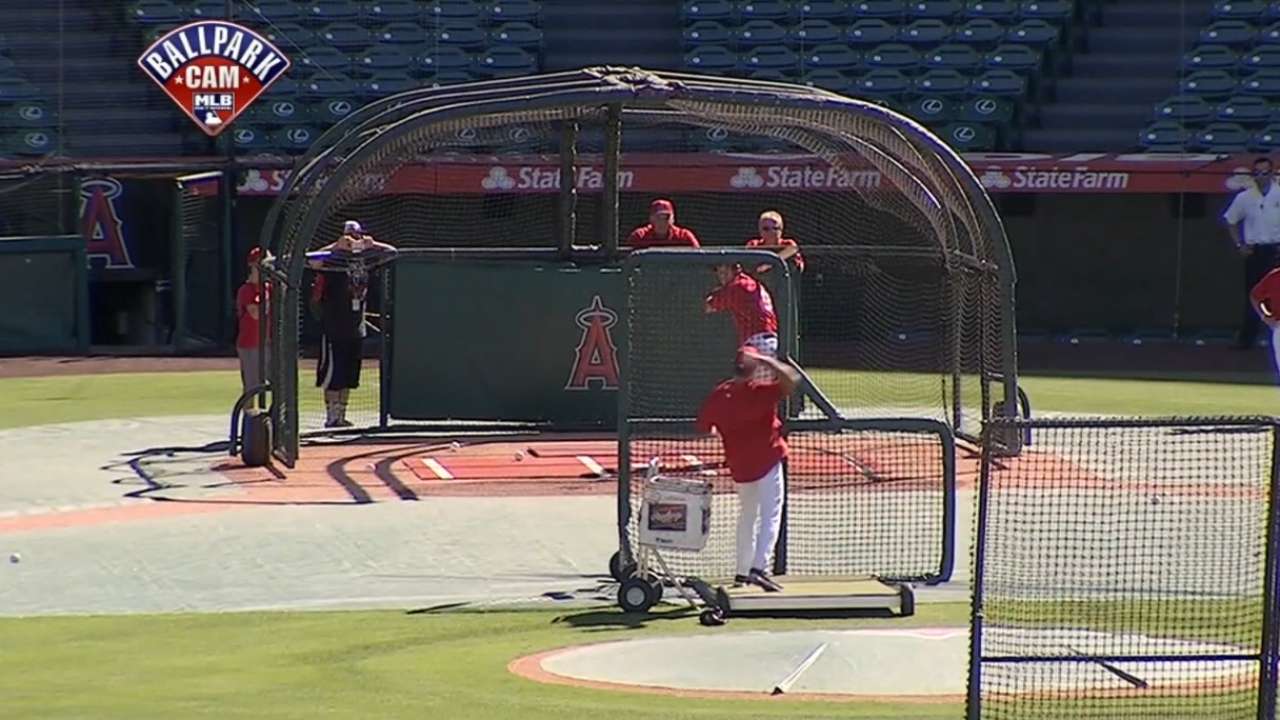 "I don't know how the spider web is going to go," he said, "but however it comes, we'll try to capitalize."
Deals done: Left-handed-hitting first baseman and outfielder Marc Krauss was claimed off waivers by the Astros on Monday, backup catcher Drew Butera was acquired from the Dodgers for a player to be named or cash considerations on Tuesday and the Angels made their big splash late Wednesday night, sending Kendrick to the Dodgers for pitching prospect Andrew Heaney and acquiring Rutledge from the Rockies for relief prospect Jairo Diaz. Heaney will compete with Santiago and Nick Tropeano for the fifth spot of the rotation.
Rule 5 activity: The Angels got Featherston in a prearranged deal with the Cubs, who selected him from the Rockies' system earlier in the Draft. They also selected infielders Chris Curley (from the White Sox) and Pedro Ruiz (D-backs) and outfielder Kentrail Davis (Brewers) in the Minor League phase.
Goals accomplished: The Angels' moves this week, and basically their focus since the end of the 2013 season, revolve around making them a more sustainable contender. Yes, they have a lot of money tied to aging players like Albert Pujols, Hamilton, Jered Weaver and C.J. Wilson, but they also have Mike Trout, Garrett Richards, Kole Calhoun, Matt Shoemaker and Heaney producing in the early stages of their prime.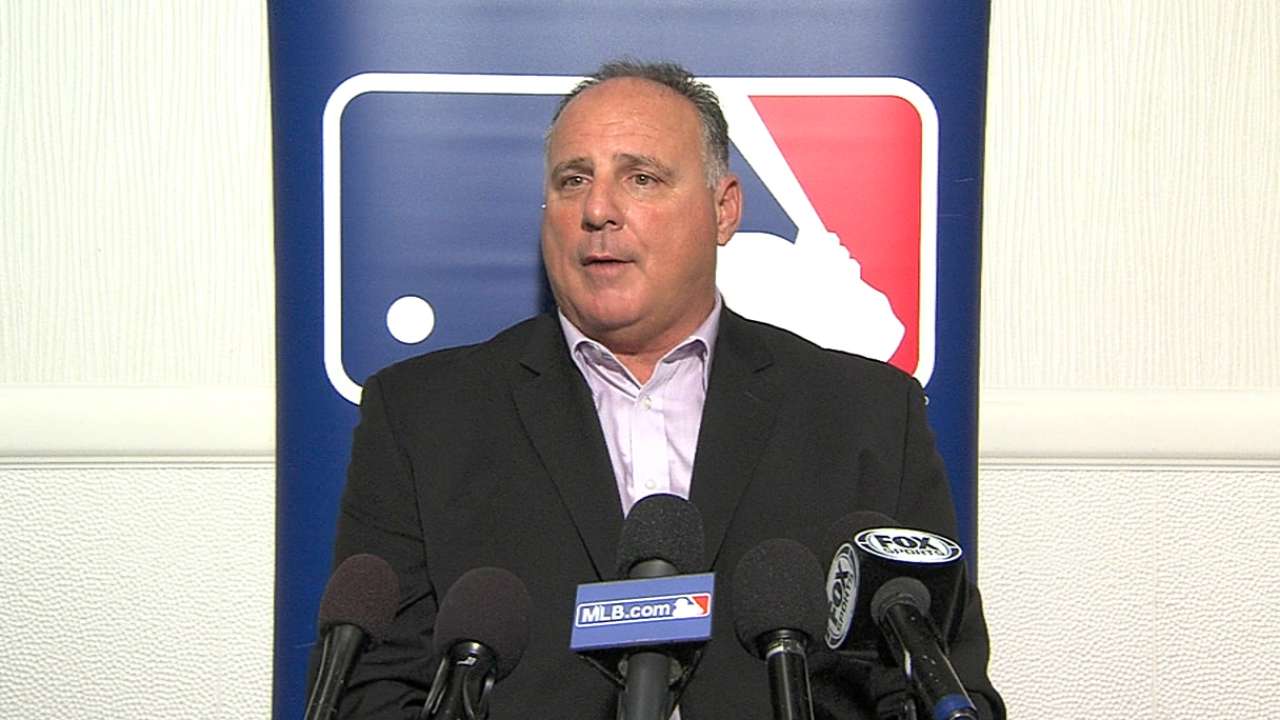 "That has been the public commentary, whether it be suggestion made in these types of settings or just the general vibe -- that we're a very good team, we have the ability to go out and compete for a World Series, but our window is not particularly long," Dipoto said. "That's not lost on us. We're constantly trying to figure out how to extend our window."
Unfinished business: Dipoto likes his roster, wants to give his young players opportunities and said Wednesday, "If we've made our last move of the offseason, we're perfectly fine with that."
But don't expect that to be the case.
Dipoto has more payroll flexibility, plenty of starting pitching depth and the realization that there is a hole in his lineup, saying: "Obviously we need to find a way to replace Howie's production. I'm not going to sit here and tell you it's not a concern."
It'll be interesting to see where he goes.
Team's bottom line: "We are younger, we are more athletic, we are deeper and we are more cost-efficient. Now we have some flexibility in a lot of different areas, including the player talent up in the organization that we didn't have prior to this week here. I'll view the offseason to date as an ongoing story." -- Dipoto
Alden Gonzalez is a reporter for MLB.com. Read his blog, Gonzo and "The Show", and follow him on Twitter @Alden_Gonzalez. This story was not subject to the approval of Major League Baseball or its clubs.