Quiet Meetings result of Brewers' early moves
Club content with roster after already filling holes, waiting to add final bullpen pieces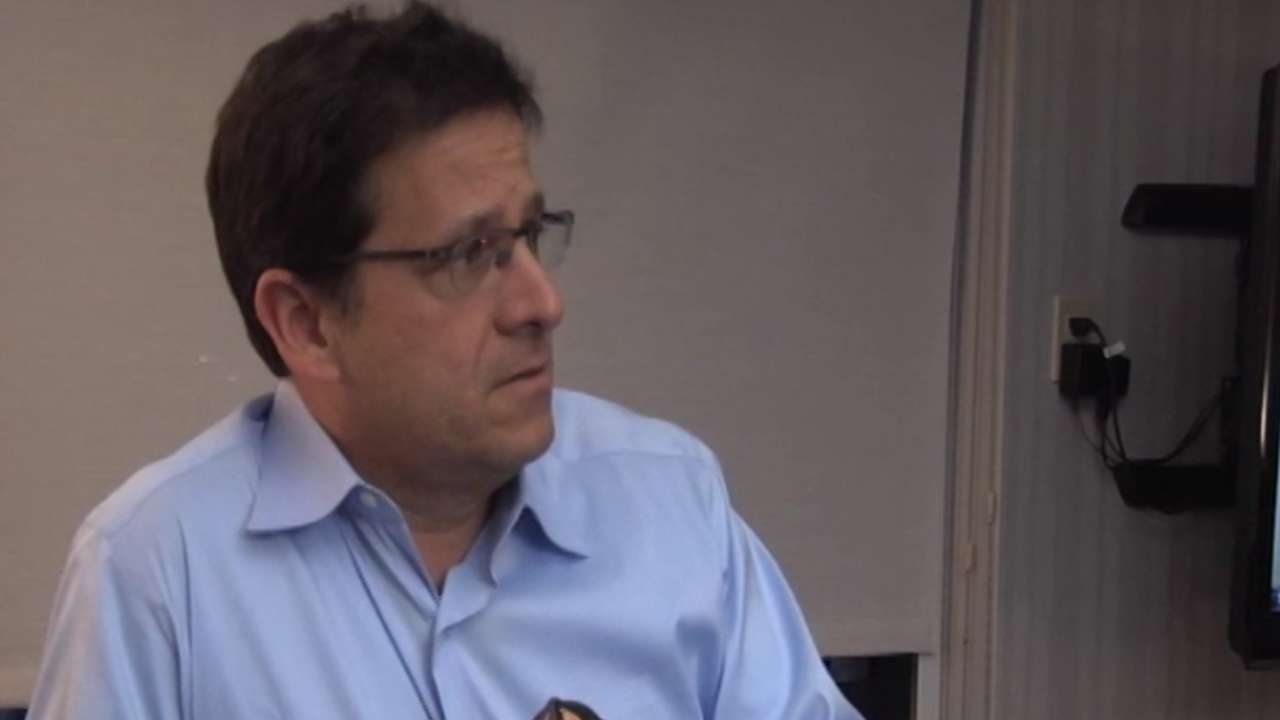 SAN DIEGO -- If public relations alone fueled the Brewers' decision-makers, general manager Doug Melvin might have added to the frantic finish to these Winter Meetings. The event closed Thursday not with the usual whimper but with a flurry of deals, including the division-rival Reds shipping off two starting pitchers and the Cardinals adding Mark Reynolds to their bench, plus All-Stars Matt Kemp and Yoenis Cespedes reportedly on the move in trades and Ervin Santana becoming the latest pitcher to cash in with a four-year free-agent contract.
Brewers officials departed quietly and made no apologies for it.
"You have to make good decisions," said special assistant Craig Counsell. "You're always going to face choices, and it's important you make quality ones. It's a process, and you have to stick to that process."
---
Winter Meetings action
Day 4: Dec. 11
Transaction
Official?
OF Matt Kemp
C Tim Federowicz
Traded to Padres
No
C Yasmani Grandal
RHP Joe Wieland
RHP Zach Eflin
Traded to Dodgers
No
OF Yoenis Cespedes
RHP Alex Wilson
Traded to Tigers
Yes
RHP Rick Porcello
Traded to Red Sox
Yes
RHP Ervin Santana
Four-year deal with Twins
No
LHP Mat Latos
Traded to Marlins
No
RHP Anthony DeSclafani
C Chad Wallach
Traded to Reds
No
RHP Justin Masterson
One-year deal with Red Sox
No
RHP Alfredo Simon
Traded to Tigers
Yes
RHP Jonathon Crawford
IF Eugenio Suarez
Traded to Reds
Yes
LHP Ross Detwiler
Traded to Rangers
No
OF John Mayberry Jr.
One-year deal with Mets
No
RHP Andre Rienzo
Traded to Marlins
Yes
LHP Dan Jennings
Traded to White Sox
Yes
In his public comments in recent weeks, Melvin has attempted to explain the Brewers' current thought process. It goes something like this:
After a thorough review in October, the Brewers determined that their late-season fade after 150 days in first place was caused not by some fundamental problem of talent or philosophy, but by a hitting slump in which critical run-producers Ryan Braun and Aramis Ramirez delivered only one home run and five RBIs apiece.
"It's as simple as that," Melvin said this week.
Having generally decided against a total roster overhaul, the Brewers moved early to fill their most glaring hole -- first base and a lack of left-handed power -- with a Nov. 1 trade for Adam Lind, and committed to retaining last year's midseason acquisitions Gerardo Parra and Jonathan Broxton while exercising options to bring back Yovani Gallardo and Ramirez.
In just those four players, the Brewers committed about $42 million in 2015 payroll. Figuring in their costs for arbitration-eligibles and minimum salary players yet to sign, the payroll already projects to approach $110 million, which is at the very high end, principal owner Mark Attanasio said, of where the club can go and still be a viable business.
So a couple of club officials bristled a bit this week when presented with the notion that they "aren't doing anything."
"At every metric you look at, it was the offense that disappointed, and ... if you look at the team, it's hard to see where you would upgrade if you wanted more offense," Attanasio said. "Where would you do it?
"Honestly, we don't have a good reason to change. And I'm not saying we have a good reason not to change, other than we don't have a better alternative. It's very hard to acquire players. We actually took a lot of pressure off ourselves by getting Gerardo Parra and Jonathan Broxton [last season] and signing Adam Lind. It's hard to go out and get players."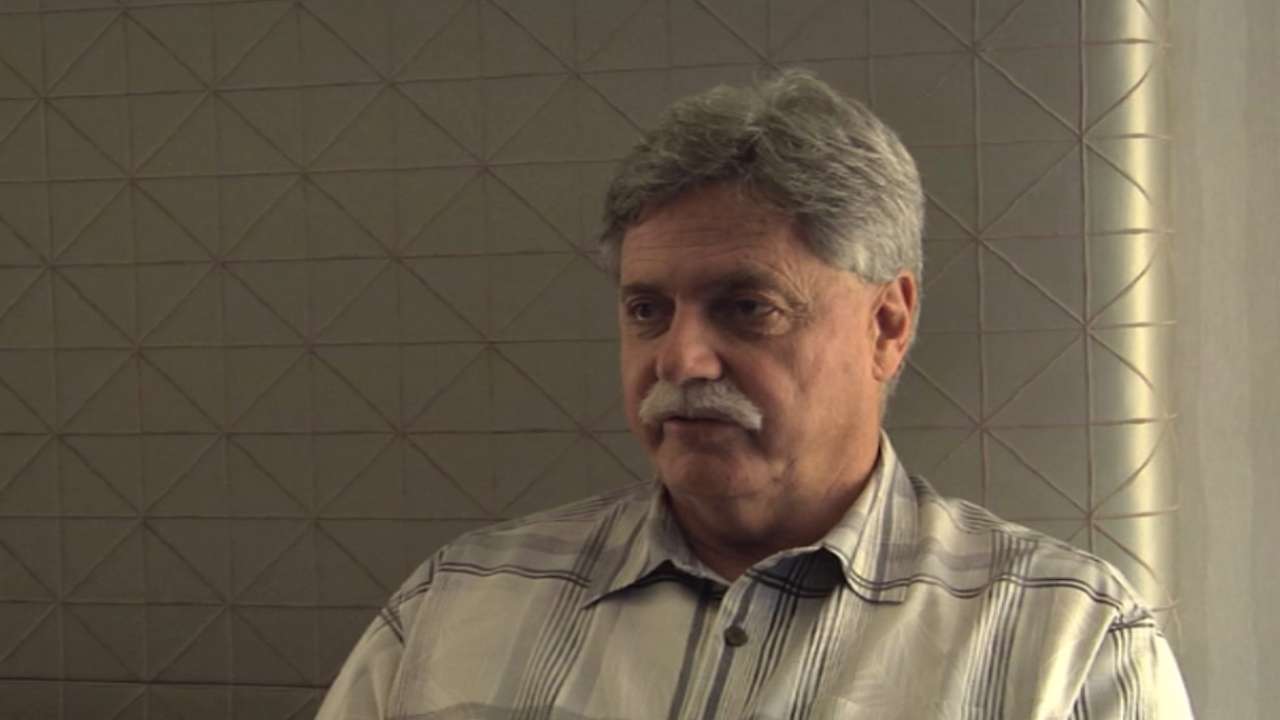 Here's a roundup of the Brewers' week:
Deals done: None.
Rule 5 Draft activity: The Brewers passed in all three phases of the Draft and did not lose any players in the Major League phase, but they did see the Orioles claim utility man Sean Halton and the Angels take outfielder Kentrail Davis in the Minor League portion of the event. That was expected, according to assistant GM Gord Ash, who said the Brewers purposely dropped Halton and Davis to the Double-A roster before the Draft to accommodate their requests for changes of scenery.
Goals accomplished: Groundwork. While Ash met with agents for potential non-roster invitees, Melvin communicated with fellow GMs to identify potential trade partners. The Brewers have a number of intriguing possibilities on this front since Gallardo, Broxton, Parra, Lind and Kyle Lohse are entering the final guaranteed years of contracts. Gallardo, due $13 million in 2015, and Lohse, due $11 million, could be traded for controllable talent if the Brewers are confident that Mike Fiers and Jimmy Nelson can hold down the back end of a starting rotation that currently has six pitchers for five spots.
"I would have liked a little more action than what we got, but the good role this week plays is that everyone knows where you stand and what you can do and can't do," Ash said.
Unfinished business: Melvin said he intends to wait to fill the final spots in the bullpen, eschewing the urgency that led to multiyear deals for relievers at the Winter Meetings in favor of late-winter bargains. The Brewers would love to find another Zach Duke, who was an $850,000 bargain last season after winning a job in Spring Training as a non-roster invitee.
"Those things don't happen every year," Ash said. "You would love them to, but I think what it does is cements in agents' and hopefully players' minds that if you come in under those circumstances, you'll get a chance to make the club.
"We have great opportunity in the bullpen, and we have great opportunity in the outfield, so I would expect to hear quite a bit from a lot of players who have been reluctant to this point. I think they look at our outfield situation with four outfielders [right fielder Braun, center fielder Carlos Gomez, left fielder Khris Davis and Gold Glove Award-caliber extra Parra], but we have nothing after that. So there's a great opportunity if there's injury or non-performance."
Team's bottom line: "We've [historically] made a lot of acquisitions between now and Spring Training. I always say, there's going to be players on your club that I can't address [now] because I don't know who they are. We had Nyjer Morgan one year. Zach Duke last year signed in January. So you don't know. You just stay available, keep your flexibility." -- Melvin
Adam McCalvy is a reporter for MLB.com. Read his blog, Brew Beat, and follow him on Twitter at @AdamMcCalvy. This story was not subject to the approval of Major League Baseball or its clubs.