Picture clearer for Blue Jays after Meetings
Trades might be best avenue for Anthopoulos to snag relievers, second baseman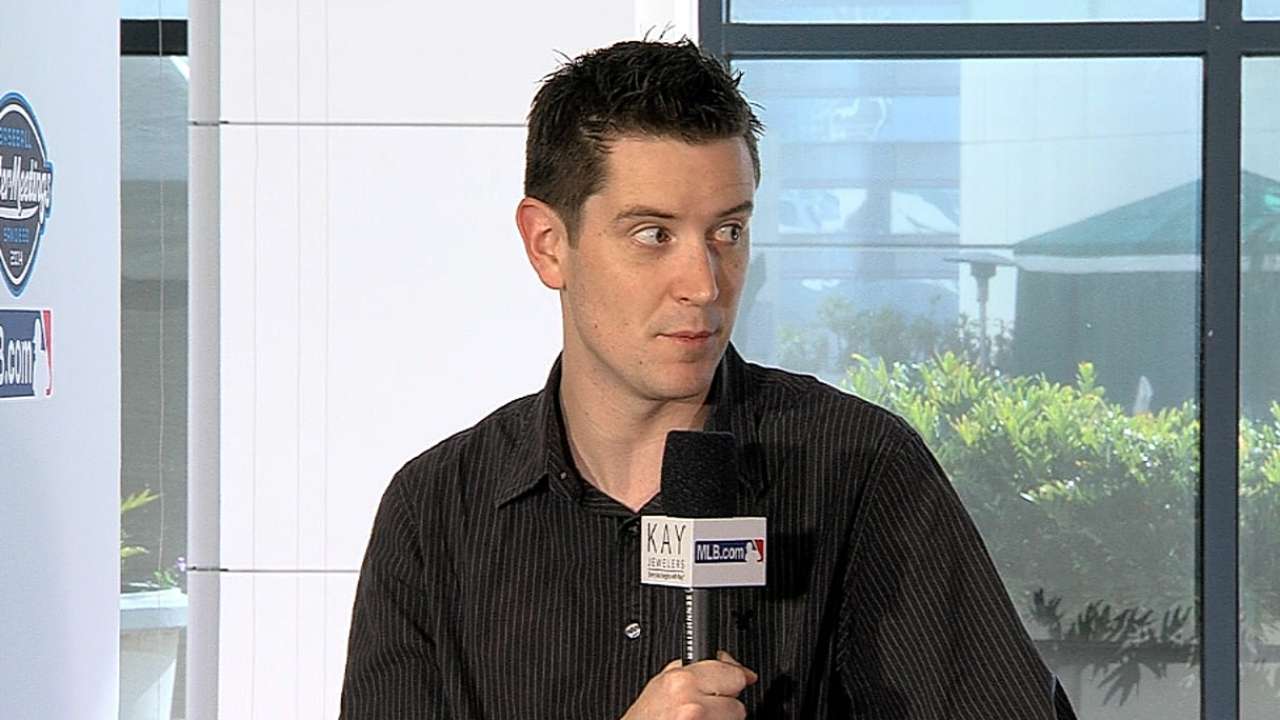 SAN DIEGO -- The Blue Jays' contingent departed the Winter Meetings on Thursday morning without anything to show for the trip to the West Coast, but the hope is that there's more clarity about how to move forward.
Toronto is clearly focused on upgrading its bullpen, but when a number of relievers went off the board this week -- David Robertson signed with the White Sox, while Pat Neshek and Luke Gregerson joined the Astros -- the Blue Jays declined to get involved.
That shouldn't come as a major surprise as Toronto general manager Alex Anthopoulos typically doesn't make a lot of moves at baseball's annual event. Anthopoulos usually does most of his work either before or after the Meetings, and that was the case this year.
"I think we're at the same place," Anthopoulos said this week. "You get more information when you're down here, but I don't know that anything has changed from before we left [Toronto]. Maybe some guys have signed or been traded in terms of the landscape, but in terms of what we're trying to do, we're not any closer to doing anything than we were before we left."
The Blue Jays were one of the most active teams early in the offseason, signing Russell Martin to a five-year contract worth $82 million and following that deal by pulling off a blockbuster trade with Oakland for Josh Donaldson. Later, Toronto acquired outfielder Michael Saunders from Seattle.
It was going to be tough to top those early moves. It appears the Blue Jays will be content to add a couple of relievers and continue to monitor the trade market for catcher Dioner Navarro. But as Anthopoulos and the rest of his front office departed San Diego, it's evident that no moves are imminent.
Deals done
The only move that Toronto made this week was claiming first baseman Chris Colabello off waivers from Minnesota. Colabello is expected to begin the year at Triple-A Buffalo, but he'll be allowed to compete this spring with Justin Smoak for the starting job at first base. At the very least, Colabello will provide depth that the organization didn't have before.
Rule 5 Draft activity
The Blue Jays declined to make a selection in either the Major League or Minor League portion of the Rule 5 Draft after Anthopoulos said earlier in the week that they didn't expect to draft anyone. Toronto also didn't lose anyone to another team. Right-hander John Stilson would have been an attractive option, but a shoulder injury likely stopped other organizations from using a pick on him.
Goals accomplished
The organization likely has a slightly better feel for who's available through trade and what the asking prices are. Anthopoulos' work is far from over, and the talks he had in San Diego will continue in the coming weeks.
Unfinished business
Anthopoulos still needs to acquire at least two relievers. The first major order of business will be acquiring a closer, or at the very least, adding someone to compete for that role. Finding an upgrade at second base also remains a secondary priority. The Blue Jays would prefer to add someone on a short-term deal, and a buy-low candidate remains an option. One name that surfaced this week was 33-year-old Japanese infielder Takashi Toritani. Agent Scott Boras confirmed he has talked to Toronto about his client, but it does not appear as though the two sides have exchanged proposals.
Team's bottom line
"We're probably turning our attention a little more to trades right now in terms of the relievers. That's not to say that's how we'll ultimately end up, but we're focused a little more on that right now. ... We're exploring some trades right now that might make a little more sense for us." -- Anthopoulos
Gregor Chisholm is a reporter for MLB.com. Read his blog, North of the Border, and follow him on Twitter @gregorMLB. This story was not subject to the approval of Major League Baseball or its clubs.