Roster set, Cards use Meetings to lay foundation for future
St. Louis adds corner infielder Reynolds, will keep eye on starting-pitching market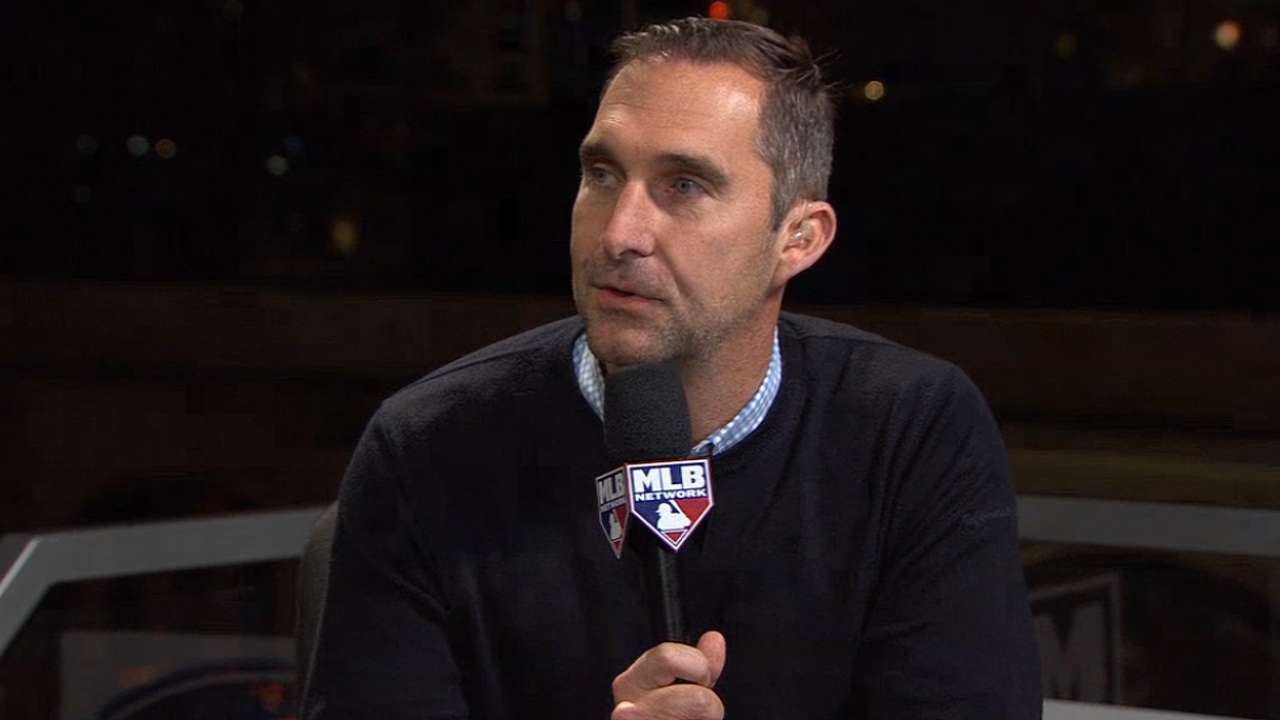 SAN DIEGO -- It wasn't all that long ago that the Cardinals found themselves under the brightest of Winter Meetings spotlights while they attempted to re-sign a franchise first baseman. The club has yet to come close to generating that sort of Winter Meetings interest since.
Over their last three years, the Cardinals have operated mostly invisibly, coming into the Winter Meetings with a roster already largely built and focused merely on laying the groundwork for future activity. This year's stay was another such week, where the Cardinals left the Winter Meetings without an official transaction, something that couldn't be said of most clubs after their four-day stays in San Diego.
Nevertheless describing the week as productive, general manager John Mozeliak did meet with several agents, some of whom represent players within the organization who have contract issues to resolve and others on behalf of free agents.
---
Winter Meetings action
Day 4: Dec. 11
Transaction
Official?
OF Matt Kemp
C Tim Federowicz
Traded to Padres
No
C Yasmani Grandal
RHP Joe Wieland
RHP Zach Eflin
Traded to Dodgers
No
OF Yoenis Cespedes
RHP Alex Wilson
Traded to Tigers
Yes
RHP Rick Porcello
Traded to Red Sox
Yes
RHP Ervin Santana
Four-year deal with Twins
No
LHP Mat Latos
Traded to Marlins
No
RHP Anthony DeSclafani
C Chad Wallach
Traded to Reds
No
RHP Justin Masterson
One-year deal with Red Sox
No
RHP Alfredo Simon
Traded to Tigers
Yes
RHP Jonathon Crawford
IF Eugenio Suarez
Traded to Reds
Yes
LHP Ross Detwiler
Traded to Rangers
No
OF John Mayberry Jr.
One-year deal with Mets
No
RHP Andre Rienzo
Traded to Marlins
Yes
LHP Dan Jennings
Traded to White Sox
Yes
It seems that during those discussions, the Cardinals found a fit, as a Thursday morning report from CBS Sports and later confirmation by MLB.com revealed a contract agreement in place with Mark Reynolds. Any official announcement by the club will come after Reynolds takes a physical and Mozeliak returns to St. Louis.
"When we came out here, we knew we weren't necessarily going to leave here with something," Mozeliak said. "But we were hoping to have a lot of conversations, and I think we've done that. I've always said that there are always opportunities to improve your club. You don't just have to look at a Christmas deadline as to when you have to have your roster completed."
The Cardinals had the luxury of showing up in San Diego without the urgency to act because of their decision to move quickly to address needs this offseason. The team's November trade with Atlanta addressed holes in right field and the bullpen with the additions of Jason Heyward and Jordan Walden. The signing of Matt Belisle further fortified the 'pen.
As a result, this sets up to be the second straight offseason in which the bulk of the Cardinals' activity will have happened before the Thanksgiving holiday. And they'll end December with a roster already built for season competition.
With members of the Cardinals' organization headed back to St. Louis on Thursday, here is a rundown of how their week was spent and what still lies ahead:
Deals done
Officially, none, though an agreement with Reynolds, even if announced in the coming days, would be a byproduct of negotiations in San Diego.
Rule 5 Draft activity
The Cardinals did not make a selection in the Major League portion of the Rule 5 Draft but did take Minor League right-hander Tyler Waldron from the Pirates' organization in the Triple-A phase. The acquisition required a $12,000 payment to Pittsburgh.
"[Waldron] missed a lot of time last year with a rib injury, but we feel he's completely healed," Mozeliak said. "He has the ability to get a lot of ground balls and he adds depth to our system. We're excited to acquire him."
Drafted in the fifth round of the 2010 First-Year Player Draft, Waldron features a sinker/slider mix and advanced as high as Triple-A last season. He logged 51 innings over three levels and didn't pitch after June. Because of the time missed in 2014, Waldron will be limited in workload next season, meaning his most likely fit would be as a reliever.
The Cardinals did not lose a player in any of the three phases of the Rule 5 Draft.
Goals accomplished
Once the Reynolds deal is finalized, the Cardinals will have checked the final box off their winter to-do list. They had been exploring ways to add power off the bench and a right-handed bat as insurance behind Matt Adams at first base. Reynolds brings the defensive versatility to also play third base.
Unfinished business
Though the Cardinals are ready to give Carlos Martinez and Marco Gonzales a chance to pitch out of the rotation, they will keep an eye on how the starting-pitching market develops in the coming weeks to see if it makes sense for them to get involved. Any such move would likely not happen until January, and Mozeliak has indicated it won't involve the pursuit of St. Louis-native Max Scherzer.
If the Cardinals were to add a starting pitcher before Spring Training, it would be more for depth purposes, giving them additional coverage and flexibility in how Martinez and Gonzales are used.
Bottom line
"Clearly, we did a couple moves early on, and subsequently when we got here, we didn't have the urgency to do anything in the sense of where we had to. Now, I'm still optimistic we will do some things before we get to Jupiter." -- Mozeliak
Jenifer Langosch is a reporter for MLB.com. Read her blog, By Gosh, It's Langosch, and follow her on Twitter @LangoschMLB. This story was not subject to the approval of Major League Baseball or its clubs.