MLB.com Columnist
Mike Bauman
Marlins build on momentum of Stanton contract
Acquisitions of All-Star Gordon and starter Latos show team ready to compete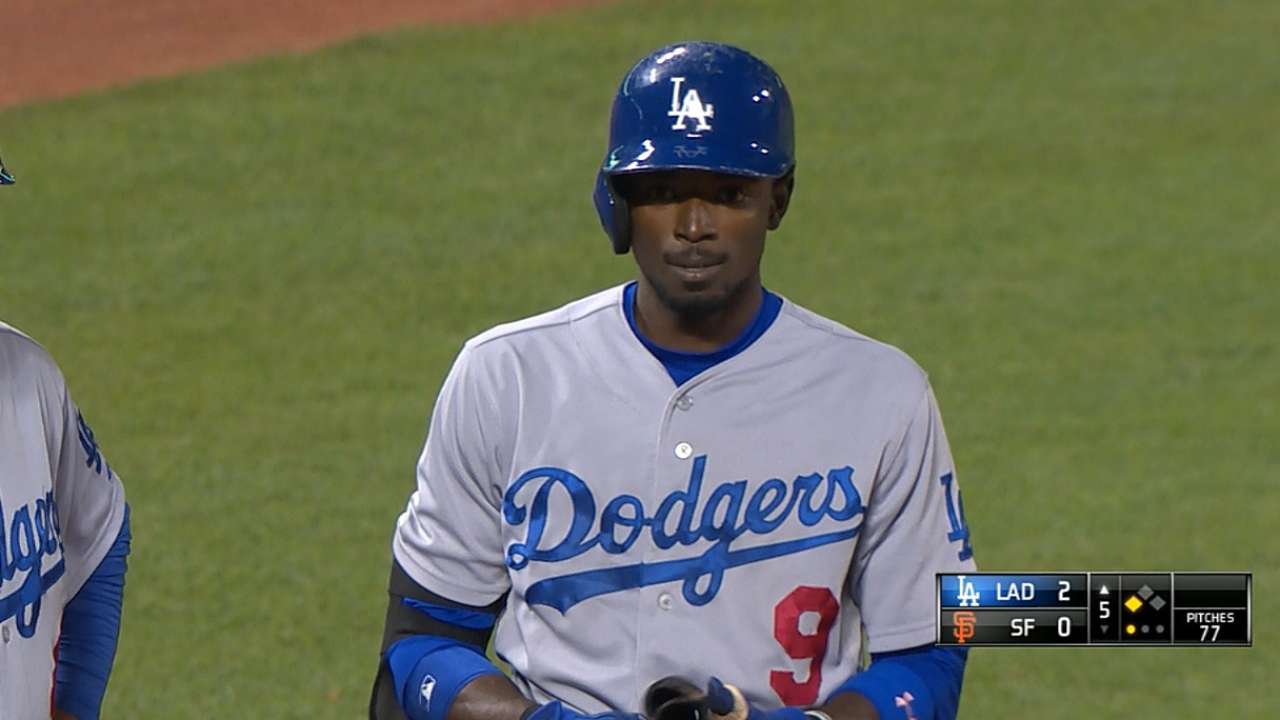 SAN DIEGO -- A genuinely optimistic outlook for the Miami Marlins became even more positive at the Winter Meetings this week.
The Marlins, who turned a corner with the 13-year, $325 million contract for the massively talented Giancarlo Stanton, retained their momentum at the Meetings.
A seven-player deal with the Dodgers netted the Marlins the dynamic talent of All-Star second baseman Dee Gordon, who led the Major Leagues with 64 stolen bases this past season. Miami had to give up significant talent, including a top pitching prospect in Andrew Heaney. But it was worth it to obtain Gordon, who should have a big impact on the Marlins' offense.
"It's sort of a change in philosophy as we've approached this offseason," Marlins president of baseball operations Michael Hill said. "We've drafted well. We've developed well. Now we're using that inventory to help us win at the Major League level. In this game, you have to give to get. We knew we were accessing talented players. We had to give up talent in return. We gave up a good young pitcher in Andrew Heaney."
On Thursday, the Marlins acquired starting pitcher Mat Latos, who has won 14 games in three of the past five seasons, in a deal with the Reds.
These moves indicated that the Marlins' commitment to winning would extend well beyond the Stanton deal. This was already a group headed in the right direction. Miami, building around some terrific young talent, made a 15-game improvement in the standings from 2013 to '14.
The quality of that young talent is indisputable. The Stanton contract provided the clearest kind of evidence that this franchise is on a positive path. What Stanton means to the Marlins on the field is obvious. Now, his contract and his continuing presence offer a psychological boost for the organization and everybody in it.
"This is a franchise player," Marlins manager Mike Redmond said. "I mean, this is a guy who brings so much to the team, so much to the organization. He's a homegrown guy. I think it's very important for the Marlins to sign a guy like that -- a guy that's come up through the organization, and to know that he's going to be here and be in a Marlins uniform for a long time.
"It sends a great message to our players that we want this guy around and want him to be here for a long time. And at the end of the day, there wasn't a scenario out there where we were better without him. So it really was a no-brainer.
"But at the same time, you have to go through the process, and throughout the negotiations, Giancarlo asked some great questions, and he was plugged in and it worked out, and it was great for all of us."
In developing its young players, Miami has done the right thing, even though sometimes it was also the painful thing. The club took its lumps in the standings while young players got the necessary experience at the big league level.
"If you look at the things that we did right, even though losing a hundred games [in 2013], we were able to allow [shortstop] Adeiny Hechavarria to play," Redmond said. "We were able to bring up [center fielder Marcell] Ozuna and [left fielder Christian] Yelich at times to give them some at bats, which kind of prepared them for this last season.
"I think we realize how special some of our young players are, because we allowed them to go out and play. We knew that record wise it could be tough, but if we allow these guys to go out there and play and develop, then we'll really, truly see how good these guys are, and I think we did. I think we saw that.
"So we're very encouraged going forward, and we know that the ceiling for these guys is high, including Giancarlo, who I feel still has his best years to come, and that's encouraging for us. You look at individual things. Things that are important to me are chemistry. We don't quit. We play nine innings. We have a lot of fight in us. Our guys are hungry. They're hungry to win. They're hungry to compete. They show up every day ready to go. Those are all characteristics of teams that I've been on that have had success, and we know we're headed in the right direction."
Now, as the Marlins look for that continued growth from their impressive foundation of young players, they have put themselves in a position to bolster their club with acquisitions.
"We feel like we have a great core group of young players," Redmond said, "and now we've just got to figure out some pieces that can help and help these guys develop and to win."
The Marlins have put themselves in a place where when they talk about winning, the discussion is completely realistic.
Mike Bauman is a national columnist for MLB.com. This story was not subject to the approval of Major League Baseball or its clubs.