Rangers grab speedy outfielder DeShields in Rule 5 Draft
Son of ex-big leaguer could earn backup role; Texas acquires lefty Detwiler in trade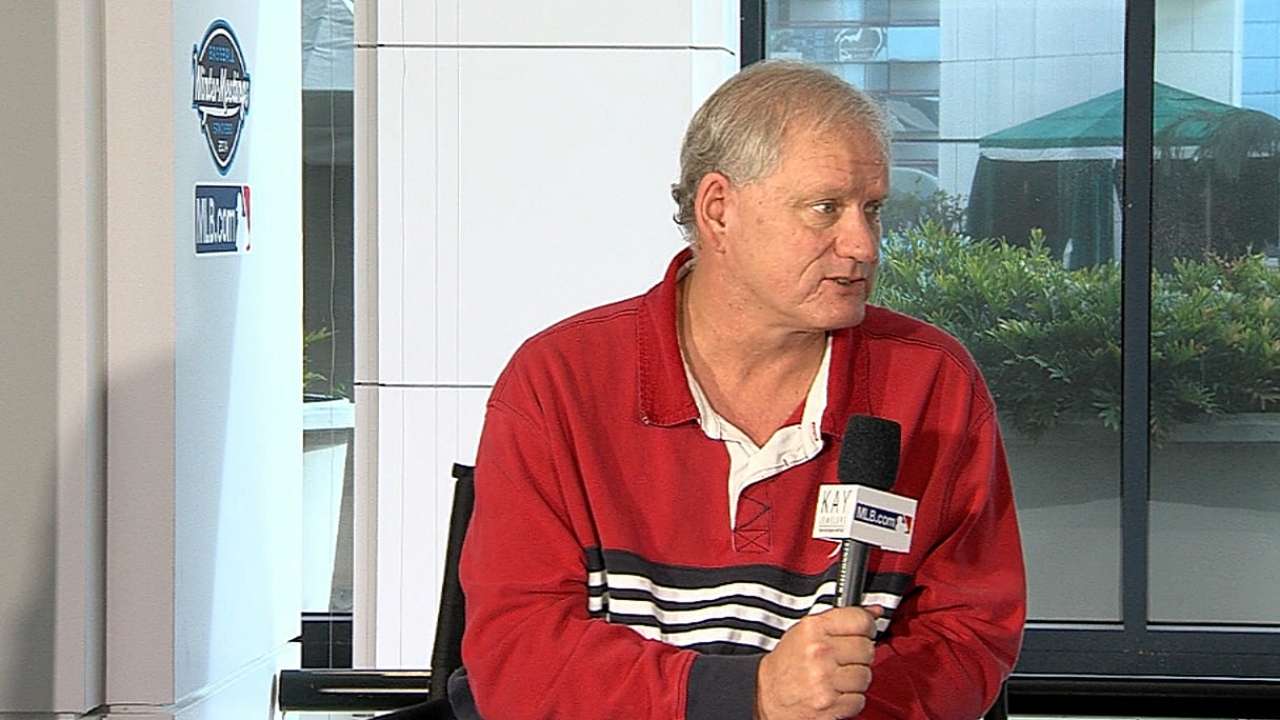 SAN DIEGO -- The Rangers came to the Winter Meetings looking for starting pitching and left with an outfielder taken in the Rule 5 Draft. It could be a significant selection.
The Rangers took outfielder Delino DeShields Jr. from the Astros with the third pick. DeShields, whose father was a Major League infielder for 13 seasons, was the eighth overall pick in the 2010 First-Year Player Draft. He has yet to develop offensively, but has tremendous speed. He has 236 stolen bases over the past four full seasons, with a high of 101 in 2012.
DeShields could be Texas' fourth outfielder and back up Leonys Martin in center field.
"We like the combination of now and the future," general manager Jon Daniels said. "He's got a chance to earn a role on the team and be another center field option. He has a really unique speed tool with instincts to use it. He is a good fit for our roster. In the Rule 5 Draft, you are usually looking to find a guy to fill a role right now or a guy who has upside for the long-term. We feel this checks both boxes."
The question about DeShields seems to be a tendency not to play hard all the time. Daniels acknowledged the Rangers have heard those reports.
"We are certainly aware of that," Daniels said. "He has a unique opportunity here. We'll sit down and talk about our expectations. He has an opportunity to play in the big leagues and all that comes with that. It has to be earned, but it is a unique motivation."
DeShields, 22, spent last season at Double-A Corpus Christi and hit .236 with a .346 on-base percentage and 54 stolen bases. Those numbers were down from his 2013 season at Class A Lancaster (.317, 51 steals) and his 2012 season when he hit .287 with a .389 on-base percentage and stole 101 bases between Class A Lexington and Lancaster.
DeShields was drafted as an outfielder in 2010, moved to second base and then back to the outfield this past season. In addition to his speed, he hit 11 home runs last year at Corpus Christi.
"I don't know really know what to think," DeShields said. "I mean, I'm excited that I got selected and everything. It's like bittersweet. I grew up in the organization that I wanted to be a part of and I'm glad for the opportunities and all that, but I guess it's time to try to move on and get a new start somewhere else. I'm just thankful for everything the Astros have given to me and the opportunity the Rangers have given to me."
DeShields was excited about the chance to make a Major League roster.
"That's all I never wanted was just get an opportunity to show guys that I belong and I could play in the big leagues," he said. "It's what I've lived for, for my whole life, and to be able to get the chance to play and that's all I've ever wanted. I'm ready for the shot and the opportunity and we'll see where it takes me."
The Rangers also lost a player in the Rule 5 Draft as infielder Odubel Herrera was selected by the Phillies.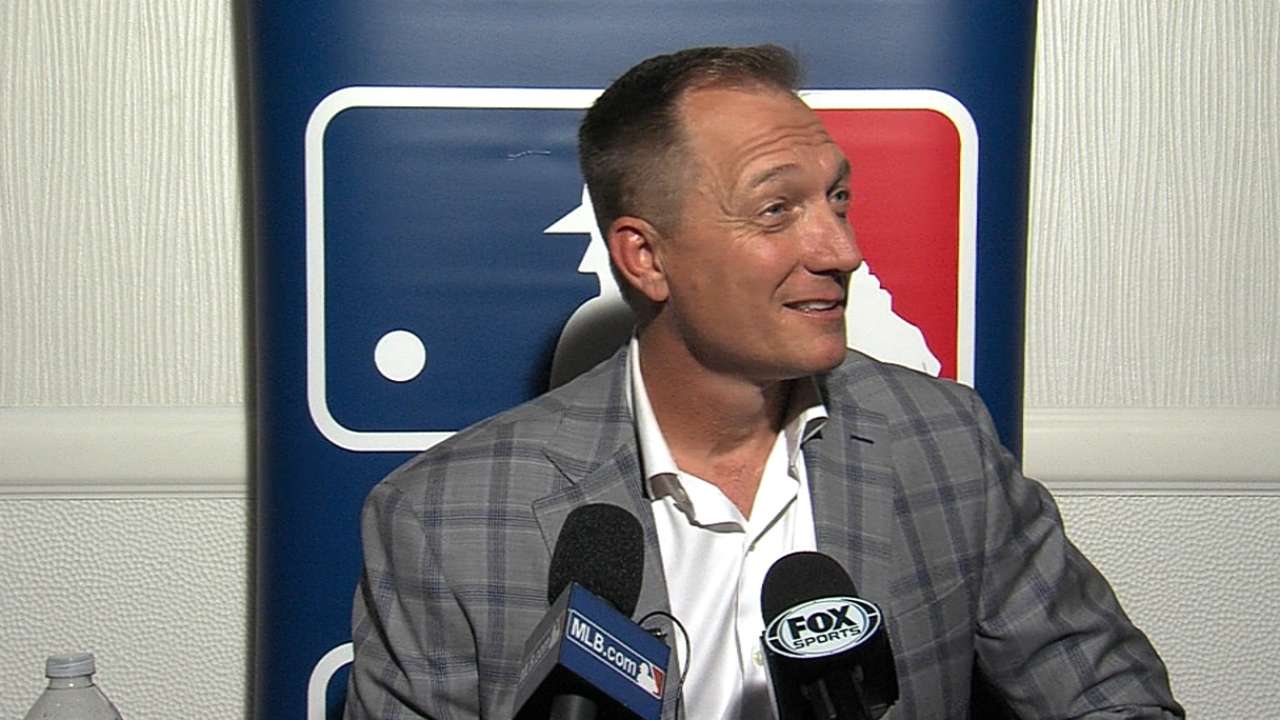 Deals done: The Rangers signed three players to Minor League contracts on Thursday: pitchers Anthony Bass and Ross Wolf and outfielder Antoan Richardson.
Bass has pitched in parts of four seasons with the Padres and Astros, going 5-9 with a 4.37 ERA in 96 games, including 18 starts. The Padres took him in the fifth round of the 2008 First-Year Player Draft. Bass throws about 94 mph with a slider and a changeup in his repertoire.
Richardson is a 5-foot-8 switch-hitter with speed. He has 344 career stolen bases in 10 Minor Leagues seasons along with a .277 batting average, a .380 on-base percentage and a .348 slugging percentage. He is 7-for-20 in limited Major League experience with the Braves in 2011 and the Yankees last season. He is one of six Major League players who were born in the Bahamas.
Wolf pitched for the Rangers in 2013, going 1-3 with a 4.15 ERA in 22 games. He spent last season pitching in Korea and was 2-2 with a 4.85 ERA in 13 starts and 10 relief appearances for SK Wyverns.
Rule 5 Draft activity: In addition to DeShields, the Rangers took outfielder Rock Shoulders and infielder Hiram Martinez in the Minor League phase. Shoulders, 23, batted .223 with 16 doubles, 12 home runs and 42 RBIs over 91 games with high Class A Daytona in the Cubs' organization. Martinez, 22, combined to bat .229 over 31 games with Class A Greensboro and short-season Batavia in the Marlins' system in 2014.
Goals accomplished: The Rangers landed just one pitcher on the Major League roster, claiming left-hander Scott Barnes on waivers from the Orioles. He will compete for a spot as a setup reliever.
Unfinished business: The Rangers are still looking for a starting pitcher and now the question is if they are serious contenders for free agent James Shields or just hoping that his price will fall to their level of spending.
"That is unlikely," Daniels said. "He is not going to fall through the cracks."
Before leaving the Winter Meetings on Thursday, the Rangers acquired lefty Ross Detwiler from the Nationals for a pair of Minor Leaguers. Detwiler is expected to get a chance to start, but may end up in a setup relief role.
Team's bottom line: "The majority of things with the guys coming off the board, we weren't involved with. There are a couple guys who have been traded we were involved with, but we just didn't like the fit." -- Daniels
T.R. Sullivan is a reporter for MLB.com. Read his blog, Postcards from Elysian Fields, and follow him on Twitter @Sullivan_Ranger. This story was not subject to the approval of Major League Baseball or its clubs.