Busy week for Phillies, but rebuild just starting
Pending Rollins trade highlights Winter Meetings; Bastardo dealt to Pirates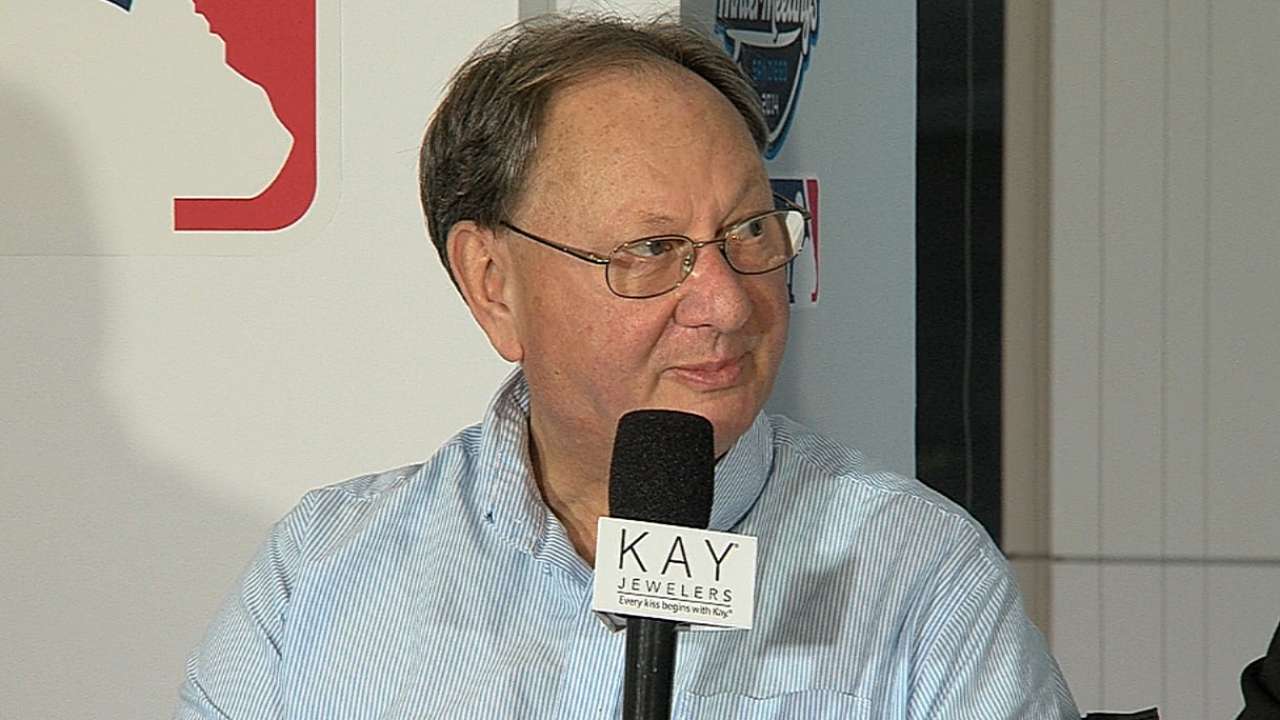 SAN DIEGO -- Phillies general manager Ruben Amaro Jr. left the Winter Meetings on Thursday without a word.
Is he pleased with the work the Phillies accomplished this week in Southern California? Does he think the rebuild is headed in the right direction? Does he anticipate more changes before Spring Training?
---
Winter Meetings action
Day 4: Dec. 11
Transaction
Official?
OF Matt Kemp
C Tim Federowicz
Traded to Padres
No
C Yasmani Grandal
RHP Joe Wieland
RHP Zach Eflin
Traded to Dodgers
No
OF Yoenis Cespedes
RHP Alex Wilson
Traded to Tigers
Yes
RHP Rick Porcello
Traded to Red Sox
Yes
RHP Ervin Santana
Four-year deal with Twins
No
LHP Mat Latos
Traded to Marlins
No
RHP Anthony DeSclafani
C Chad Wallach
Traded to Reds
No
RHP Justin Masterson
One-year deal with Red Sox
No
RHP Alfredo Simon
Traded to Tigers
Yes
RHP Jonathon Crawford
IF Eugenio Suarez
Traded to Reds
Yes
LHP Ross Detwiler
Traded to Rangers
No
OF John Mayberry Jr.
One-year deal with Mets
No
RHP Andre Rienzo
Traded to Marlins
Yes
LHP Dan Jennings
Traded to White Sox
Yes
Amaro is expected to share his insights once Jimmy Rollins is officially traded to the Dodgers for a pair of Minor League pitchers. That could happen in the next couple of days.
There are multiple reports the Phillies will receive Minor League right-hander Zach Eflin, who went 10-7 with a 3.80 ERA in 24 starts last season with Class A Advanced Lake Elsinore. The former first-round pick is part of the trade that sent Matt Kemp to San Diego, which is part of the delay in the announcement of the Rollins trade. The Commissioner's Office needs to approve the money sent to the Padres as part of the deal before it becomes official. CSNPhilly.com also reported the Phils will receive Minor League left-hander Tom Windle, who went 12-8 with a 4.26 ERA in 26 appearances (25 starts) with Class A Advanced Rancho Cucamonga. He is a former second-round pick.
The Phillies hope those two pitchers perform to their potential. They have not had much success trading veterans for prospects in recent years, including Cliff Lee for Phillippe Aumont, Tyson Gillies and J.C. Ramirez in 2009; Hunter Pence for Nate Schierholtz, Tommy Joseph and Seth Rosin in 2012; and Shane Victorino for Josh Lindblom, Ethan Martin and Stefan Jarrin in 2012. They desperately need to hit on Eflin and Windle, considering their need to inject young talent in the system. Rollins' iconic status -- not only in Phils history, but Philadelphia sports history -- is also a major factor.
But what happens after the Rollins trade is announced?
The Phillies are still looking to trade the rest of their veterans, but there are considerable challenges ahead. There has been plenty of speculation that Cole Hamels will be traded, but the Phils will not simply give away their ace. They need at least one or two top prospects for the left-hander.
There also is Ryan Howard, Chase Utley, Marlon Byrd, Jonathan Papelbon and Carlos Ruiz. Each of those players has shortcomings of one form or another.
That is the challenge for Amaro and his front-office advisors. They know they have to do much more than what they have done, but they also know it is going to be difficult.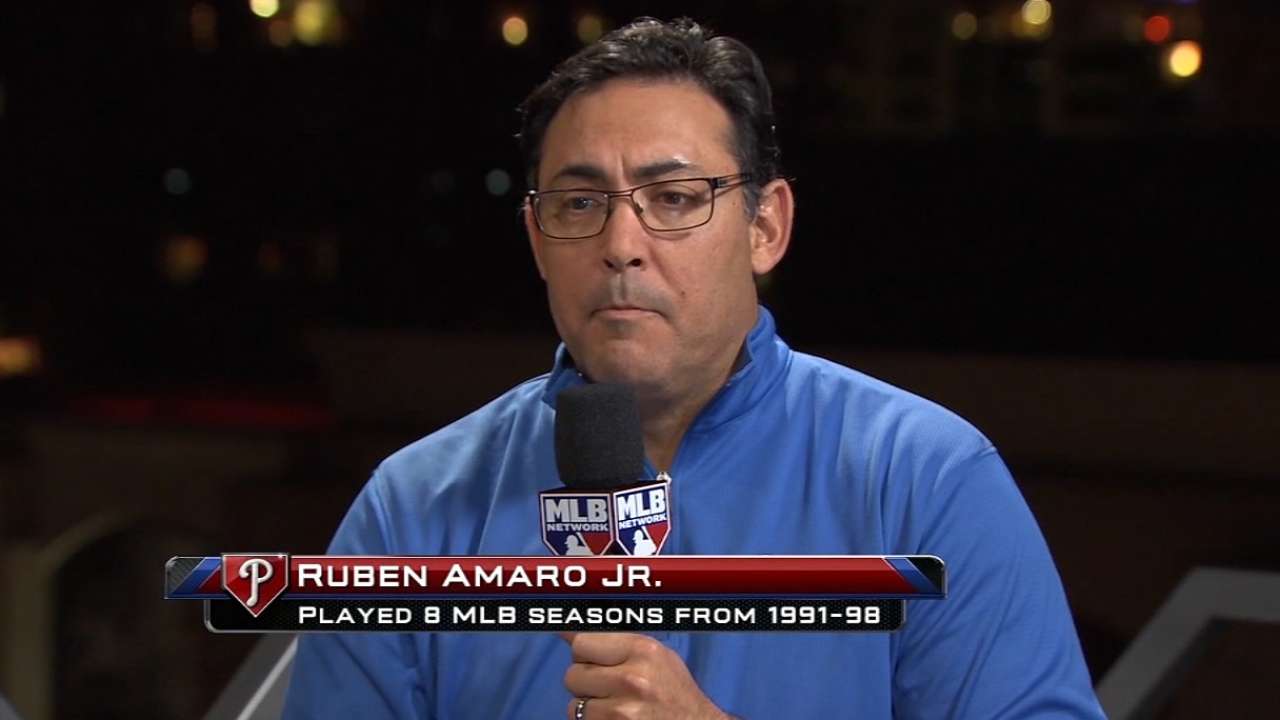 Deals done
Rollins will be traded to the Dodgers, but the deal is not finalized yet. They are expected to receive Eflin and Windle. The Phillies have traded left-hander Antonio Bastardo to the Pirates for Minor League left-hander Joely Rodriguez, whom the Phils project as a starter.
Rule 5 Draft activity
The Phillies are excited to have outfielder Odubel Herrera, whom they selected with the eighth pick from the Rangers. He has played both the infield and outfield, but the Phils consider him an outfielder. One scout afterward raved about his hitting ability, which is something Philadelphia also touted. The Phillies also selected left-hander Andy Oliver from the Pirates. He has a big arm, but he also has control issues.
Goals accomplished
The Phillies acquired a 23-year-old pitcher in Rodriguez, and they are set to acquire two more young pitchers for Rollins. It is an OK start in what is expected to be an extensive rebuild.
Unfinished business
The Phillies still have a host of veterans on their roster. Hamels tops the list. Howard, Utley, Byrd, Papelbon and Ruiz follow him. If the Phils want to get really young, it would behoove them to keep going and keep trading. But it takes two teams to make a trade, and it is going to be difficult to trade Howard ($60 million owed, plus declining offensive and defensive skills), Utley (10-and-5 no-trade rights, plus injury considerations and a poor second half last season) and Papelbon ($26 million owed if a 2016 club option vests, plus clubhouse concerns).
Team's bottom line
The Phillies need more than three young pitchers to rebuild an organization that does not expect to contend again until 2017 at the earliest. They have taken a step in that direction, trading an iconic shortstop, but more is needed.
Todd Zolecki is a reporter for MLB.com. This story was not subject to the approval of Major League Baseball or its clubs.