Hernandez first pick in Rule 5 Draft, but Rays hope for return
Prospect selected by D-backs; Tampa Bay takes two in Minor League portion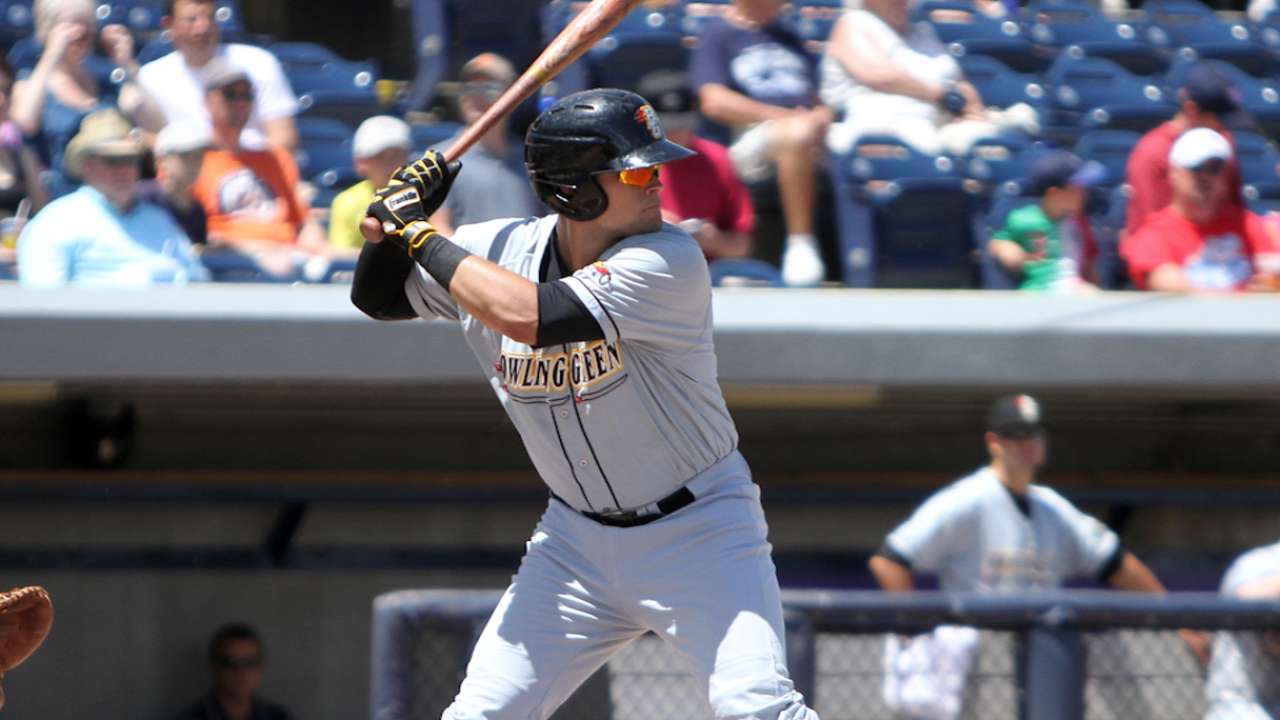 SAN DIEGO -- The Rays saw one of their prospects announced as the top pick of the Rule 5 Draft on Thursday morning, but they believe there's a good chance Oscar Hernandez will be back with the organization.
Hernandez, 21, hit .249 with nine home runs and 63 RBIs for Class A Bowling Green in 2014. He is said to have impressive tools, but he is raw in his development.
"It's in the eyes of the beholder," said Rays farm director Mitch Lukevics when asked about losing Hernandez. "You have X amount of openings on a 40-man roster. You go through a thorough evaluation of all of our players who are eligible. You prioritize. ... It hurts to lose Oscar, because we think he is a prospect. But again, it's in the eyes of the beholder. You only have so many spots."
In order for Hernandez to remain with the D-backs, he must remain on the team's Major League roster for the entire 2015 season.
"[Hernandez has] to stick," Lukevics said. "[A player selected in Major League phase of the Rule 5 Draft] has to make the 25-man Major League roster. ... I'm hoping [we get him back]. We want to continue to develop Oscar."
Lukevics said Tampa Bay had projected Hernandez to be the catcher for Class A Advanced Charlotte of the Florida State League this season.
The Rays also selected two players in the Triple-A phase of the Rule 5 Draft.
First, they selected right-hander Luis Urena, 22, from the Pirates' organization. He is a converted outfielder from Loma de Cabrera, Dominican Republic.
"He's a conversion, up to 94 [mph]," Lukevics said. "Strong-armed Dominican. He was the No. 1 player/pitcher we had earmarked for this Draft. Others were taken ahead of him, so we were happy."
Lukevics projected Urena to begin the 2015 season at extended spring camp.
"He has great upside, and we look forward to challenging our pitching coaches with that upside," Lukevics said.
Also selected was right-hander Michael O'Brien, 24, whom Tampa Bay plucked from Baltimore's Minor League organization. He went 4-5 with a 4.40 ERA for three teams in 2014.
"He's a steady right-handed pitcher that will probably start out at our Double-A club and possibly help out our Triple-A club down the road," Lukevics said.
Bill Chastain is a reporter for MLB.com. This story was not subject to the approval of Major League Baseball or its clubs.