Dee-lighted! Gordon embraces trade to Miami
Excited that family can watch him play, Florida native ready to join 'team on the rise'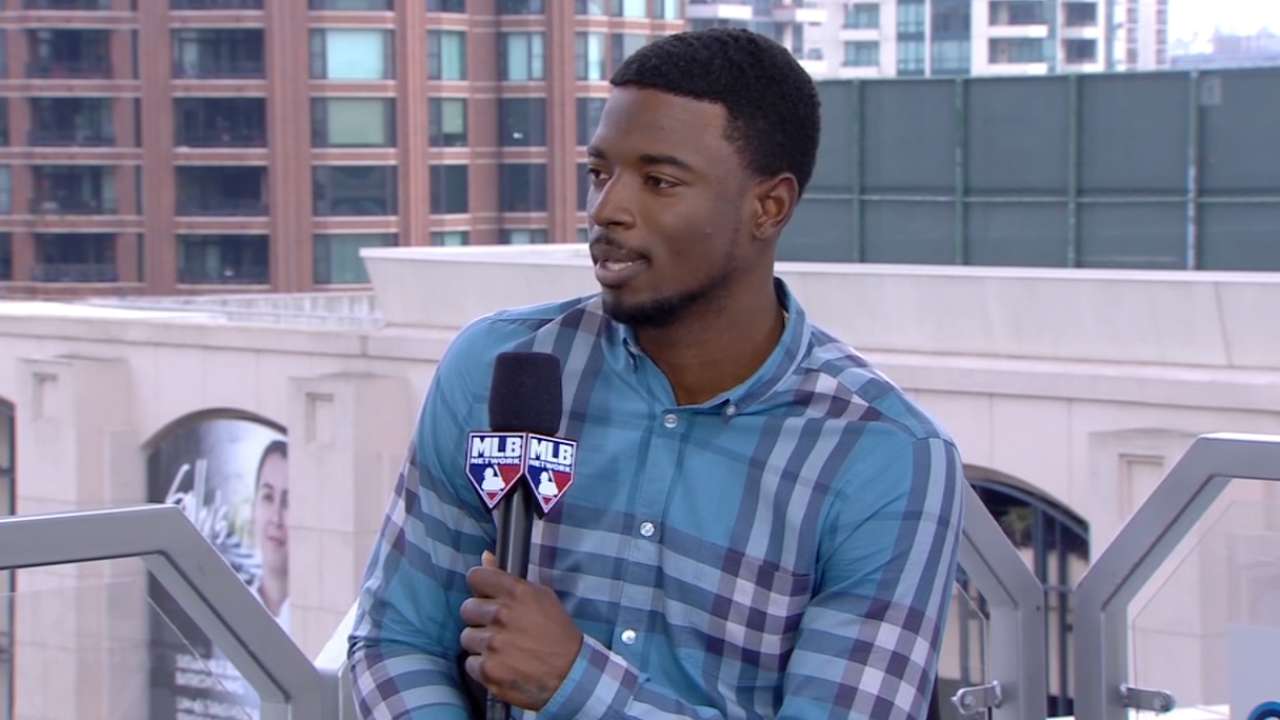 SAN DIEGO -- In the offseason, Dee Gordon still lives five minutes from his parents' house in central Florida, dropping in for breakfast every morning before heading to his workout. He was born in Windermere, Fla., and played his high school ball in Avon Park.
Now, the speedy 26-year-old second baseman -- baseball's reigning stolen-base king -- is headed back to his home state.
"It's going to be amazing," said Gordon, who was acquired by the Marlins in a seven-player trade with the Dodgers on Wednesday night. "I've got grandmothers who haven't been able to leave to see me play. To have all my family get to see me now is pretty cool."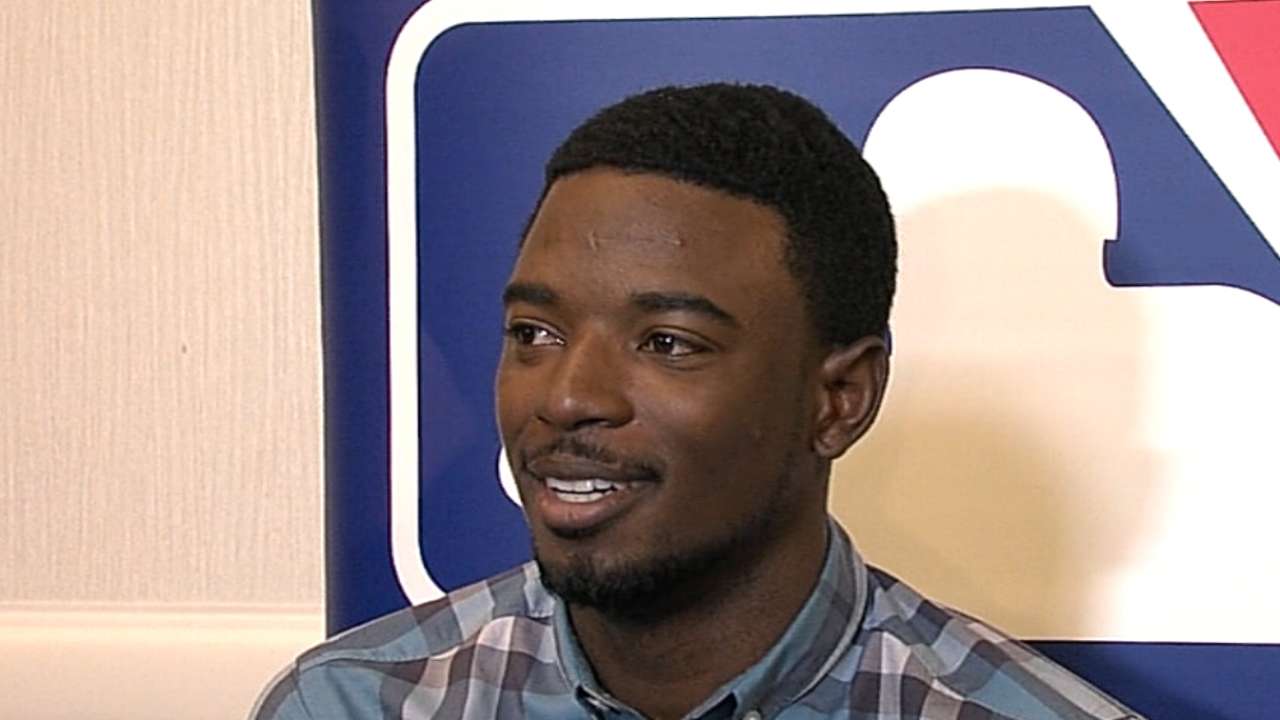 The Marlins landed Gordon in a seven-player blockbuster in which they also acquired veteran righty Dan Haren and shortstop Miguel Rojas. In exchange, they sent top prospect Andrew Heaney to Los Angeles, along with reliever Chris Hatcher, second baseman Enrique Hernandez and catching prospect Austin Barnes.
Gordon was a Dodgers team representative at a charity event at an elementary school when he heard the news.
"I was actually just getting happy about the Jimmy Rollins deal [to the Dodgers], and then I was finding out I ended up getting traded back to my home state of Florida," Gordon said. "I was definitely honored to play for the Marlins. I'm excited."
Think Gordon's excited? How about Marlins manager Mike Redmond, who doesn't have to find a way to manage against the speedster, who hit .407 and swiped five bags against Miami in six games for the Dodgers this past season.
"There wasn't a whole lot you could do," Redmond said of trying to counter Gordon's skill set. "I think we tried to pitch out a couple times, and that didn't work. That's his game. This guy is a legitimate whenever-he-wants-to-run basestealer. There's not too many of those guys out there."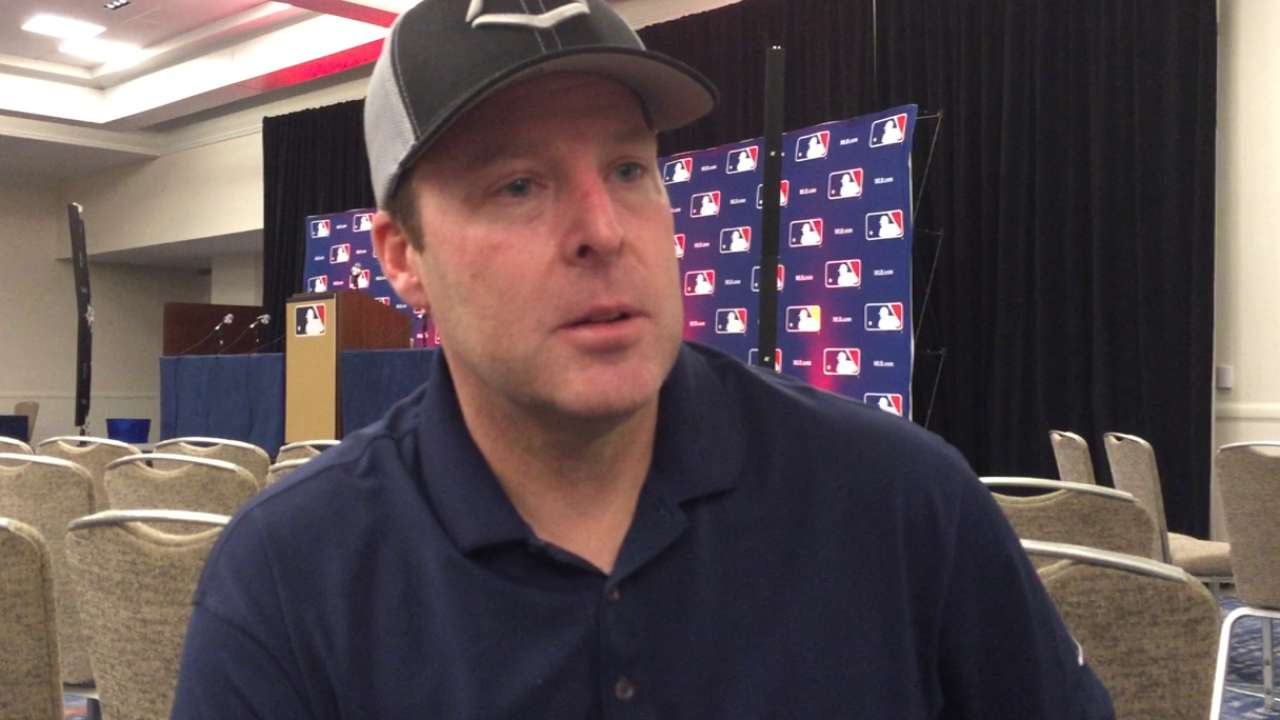 Redmond said Gordon projects as the Marlins' leadoff man, hitting ahead of Christian Yelich and Giancarlo Stanton, who Gordon recalled he first encountered at a Double-A game in 2010 when Stanton hit the longest home run he's ever seen.
Fair to say, Gordon will have a nice view of Stanton's moonshots this season. With the Marlins' top of the order now set, and a very talented young rotation to match, Gordon is excited at the prospect of playing for a team that's trending up.
"Being on a team on the rise, it's amazing," Gordon said. "Me and these guys are pretty much the same age. We can be a core group together. I'm not trying to be the man or anything. I just want to come in and be a part of what they already have established."
And that massive park in Miami, it should suit Gordon's game just fine. After all, he led the National League with 12 triples in 2014.
"I love the ballpark. It doesn't bother me at all," Gordon said. "Like I love playing in Coors Field. I'm not going to hit many home runs, but there are big gaps, so I can run a little bit."
Redmond praised Gordon's defensive prowess, too. By most metrics, Gordon is a fairly average second baseman who could use a bit more range. But those numbers were from 2014, which was, after all, Gordon's first season manning the position. Redmond was quick to note that there's plenty of room for development.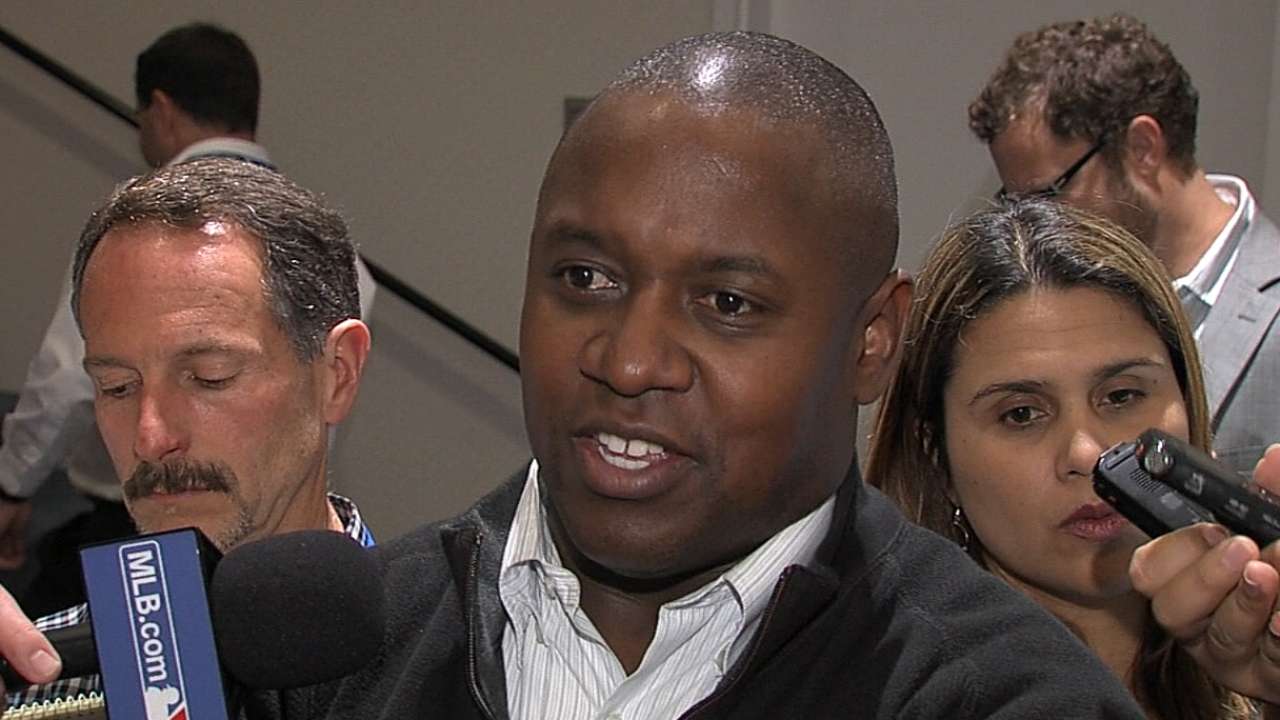 At second base, Gordon will form a double-play partnership with Adeiny Hechavarria, to which he said, "Hopefully we don't bump into each other, because that dude's got range."
Gordon, while still young, also brings a fair amount of postseason experience to the table over the past two seasons in Los Angeles. And of course, he adds 64 steals to a club that combined for just 58 this past season.
"He's going to bring an exciting dynamic with speed that we didn't have," Redmond said. "Like Giancarlo with his ability to hit the ball out of the park, he has the ability to change the game with his speed."
For the first three seasons of Gordon's career, however, there were questions about whether that speed would go to waste because of poor results at the plate. But Gordon pounded out 176 hits in 2014 for a .289 average, erasing most of those doubts.
"I'm more confident in my game than I have been at any other time in my career," Gordon said. "Knowing I'm in front of a team who wanted me to be here, and they want me to play -- it'll be awesome."
AJ Cassavell is a reporter for MLB.com. Follow him on Twitter @ajcassavell. This story was not subject to the approval of Major League Baseball or its clubs.