Santana ready to get started with Twins
Right-hander officially introduced, looks forward to helping rotation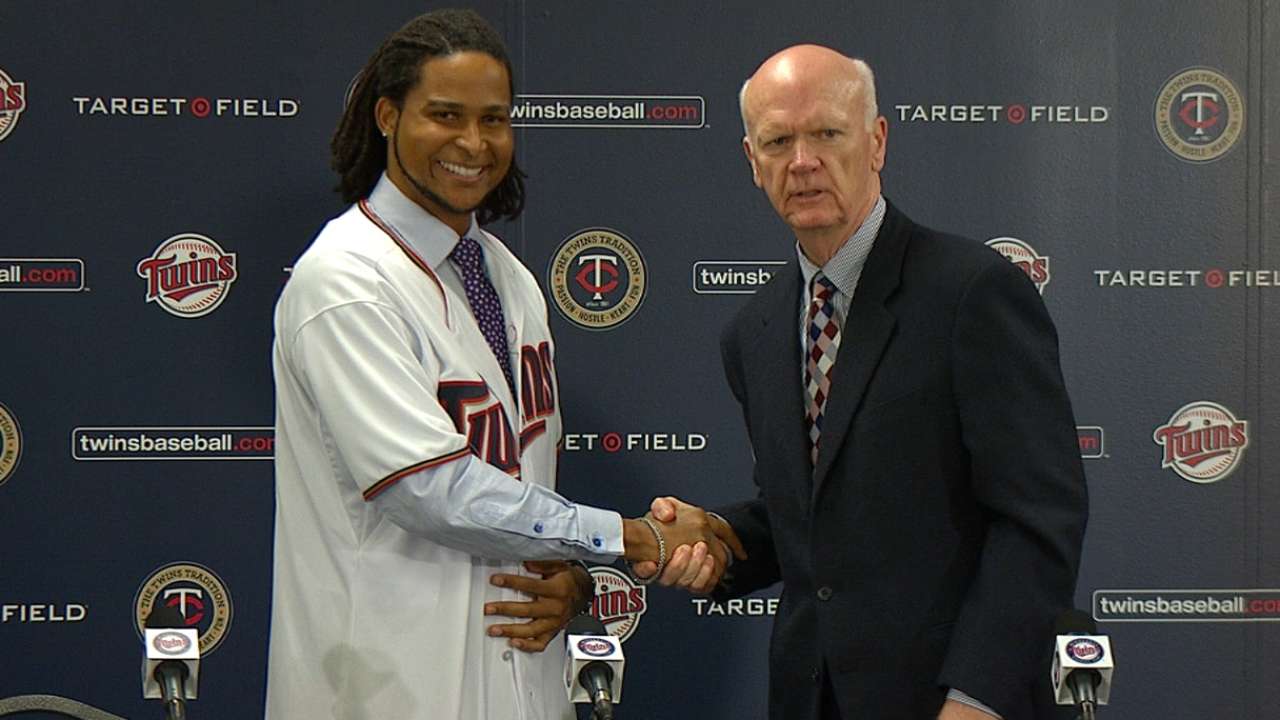 MINNEAPOLIS -- Intent on bolstering a starting rotation that owned the American League's highest ERA in 2014, the Minnesota Twins opted to make a major splash in the free agency market this offseason.
The result was the largest deal given to a free agent in franchise history as the Twins locked down right-hander Ervin Santana to a four-year, $54 million contract on the final day of the Winter Meetings on Thursday.
With the deal now official, the Twins introduced Santana on Saturday, decked out in his newly minted No. 54 jersey.
By signing Santana, the Twins hope they have found the additional veteran presence they need to anchor a rotation looking for an upgrade. And given the price tag that came with the contract, Minnesota is investing heavily on making that happen.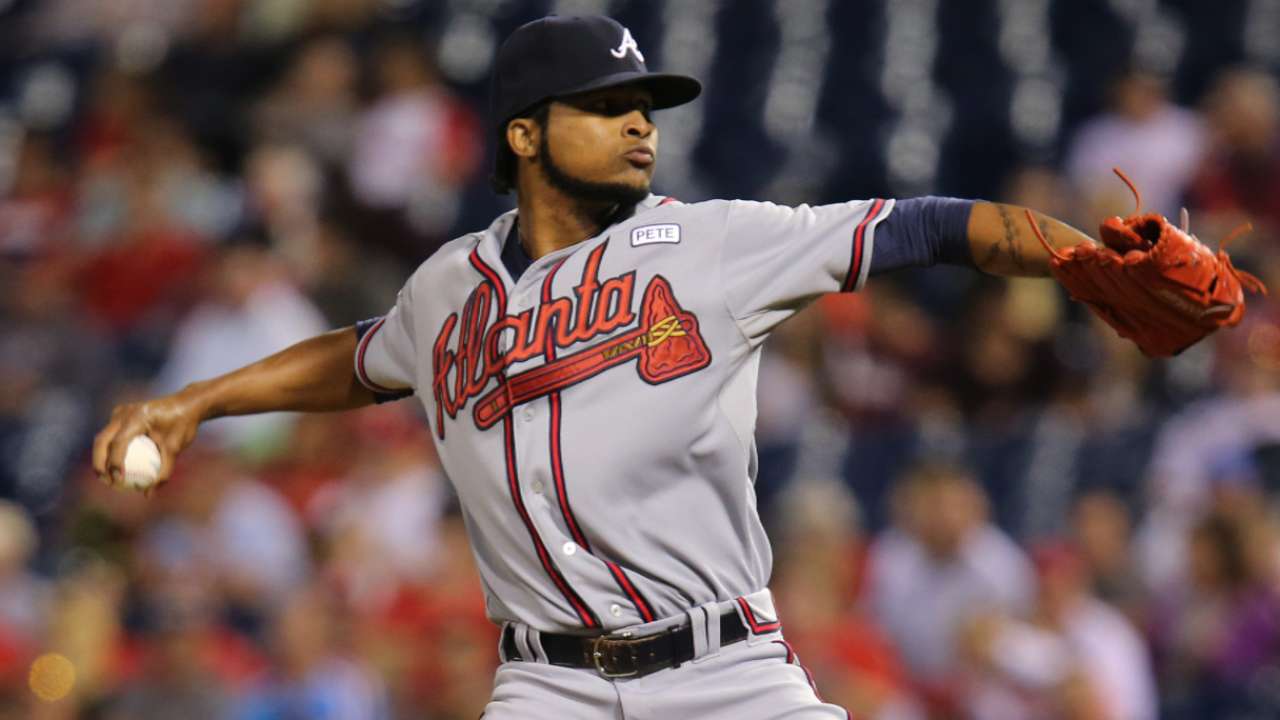 "We were looking at pitching and he was still on the board," general manager Terry Ryan said. "We had a lot of interest in him, not only this year, but last year as well. I want to thank the Pohlad family for allowing us to extend this contract to Ervin."
Santana has posted a career ERA of 4.17 with 1,507 strikeouts across 10 seasons that have included stops with the Angels, Royals and Braves.
The Twins pursued Santana a year ago, offering up a three-year, $33 million deal. Santana ultimately declined and chose to sign with the Braves on a one-year contract. For the 32-year-old starter, his lone season in Atlanta was about proving he could still reliably stack up among the best in baseball. He went on to go 14-10 with a 3.95 ERA and 179 strikeouts in 31 starts.
"It changed a lot," Santana said. "A lot people were saying I wasn't deserving of a three-year deal or anything like that. I just wanted to prove I was healthy. It was very good for me."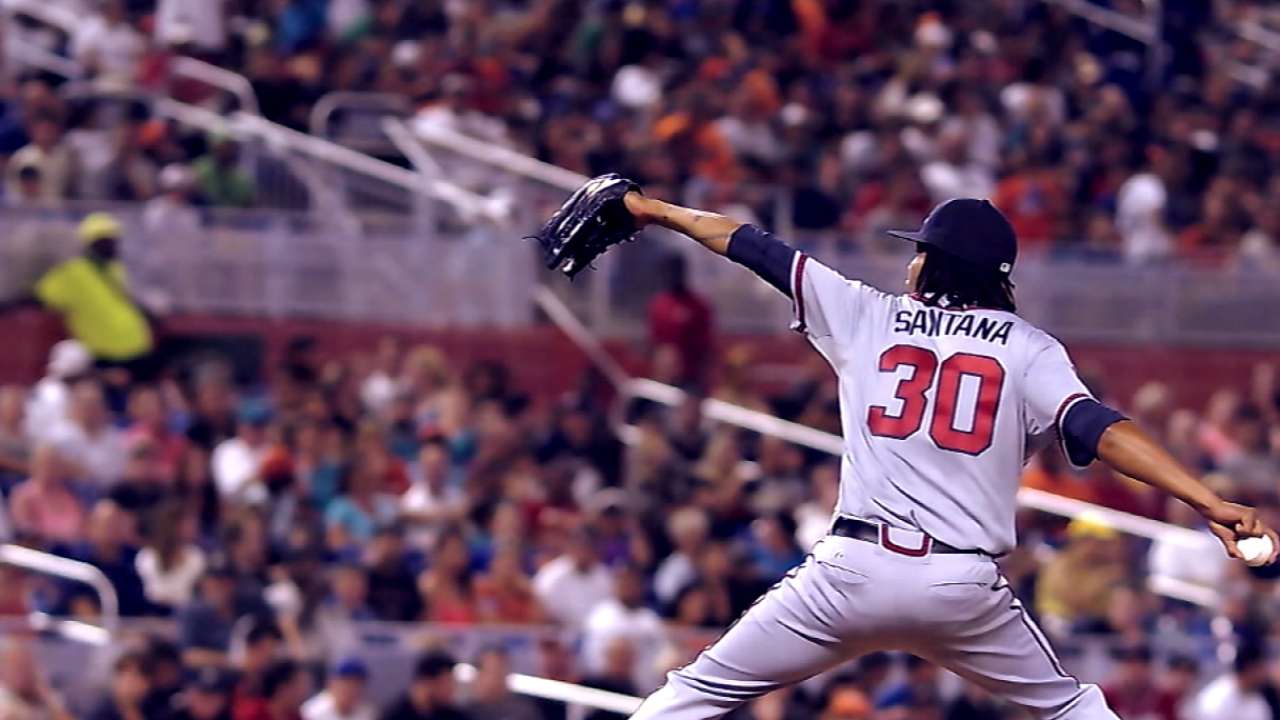 Santana is set to make around $13.5 million per season over the next four years. His contract includes a $14 million vesting option for a fifth year and a $1 million buyout that gives his deal a maximum value of $68 million.
Minnesota's push for Santana was helped along thanks to a couple of former Twins players. Paired with a strong recommendation from former Twins shortstop Alexi Casilla, Santana said he was a drawn to the Twins partly due to conversations with starting pitcher Francisco Liriano, who spoke highly of his seven years with Minnesota.
"I was asking about this team and he told me a lot of good things," Santana said. "That's one of the reasons I chose Minnesota."
Phil Hughes, owner of a 3.52 ERA in 209 2/3 innings last season, was the bright spot in a tough year for the Twins' rotation. The Twins went into the offseason still in need of additional help for a starting crew that also includes Kyle Gibson and Ricky Nolasco.
Ryan noted Santana's durability and familiarity with the American League as key reasons that fueled their interest in landing the veteran free agent.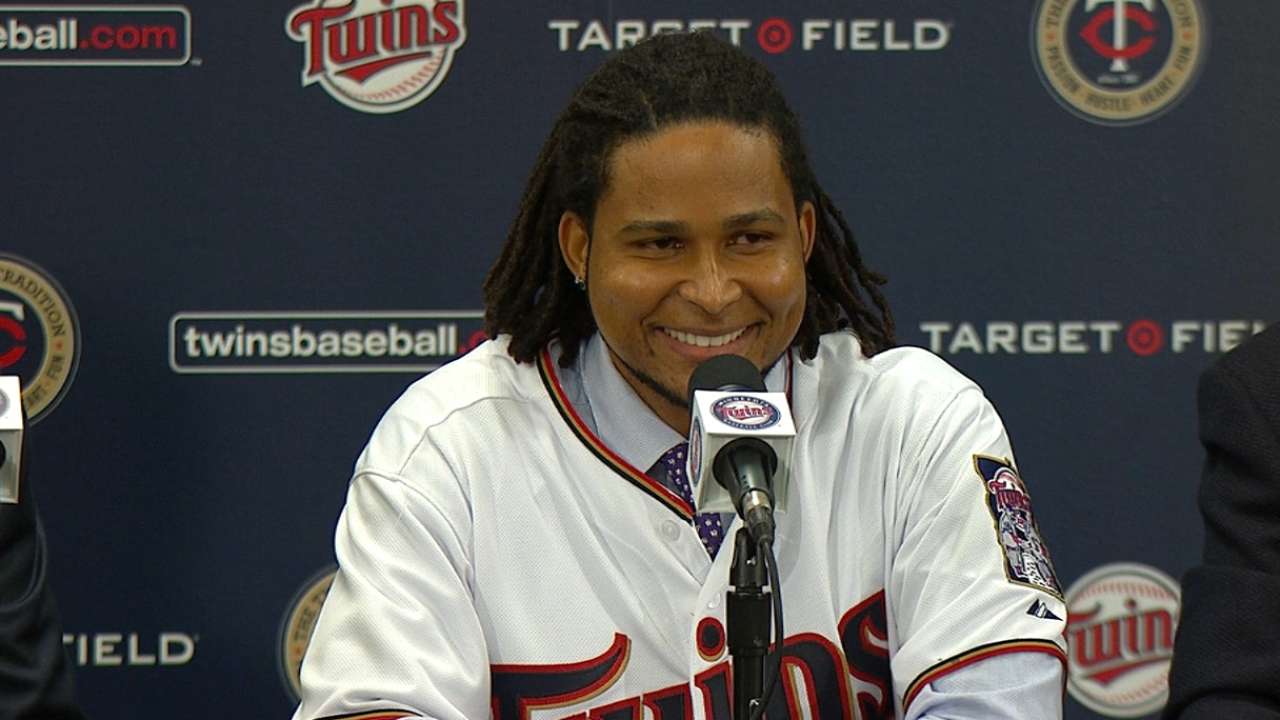 Santana, who spent his first eight seasons with the Angels after debuting in 2005, has made at least 30 starts in each of the past five seasons. He has pitched more than 200 innings in five of his 10 seasons, missing out on doing so in 2014 by only four innings.
The Twins haven't had two pitchers go for 200-plus innings in the same season since 2009. Santana could help change that this year paired with Hughes.
Santana has a no-frills attitude when it comes to how he has maintained his longevity.
"Work hard. That's my main thing," Santana said. "I always get to the stadium early, work hard and just pitch. I don't try to do too much."
The addition of Santana came as a welcomed boost for new Twins manager Paul Molitor, who is tasked with revitalizing a franchise that has lost more than 90 games in four straight seasons.
"It's obviously a huge upgrade," Molitor said. "As our interest increased, I got a chance to check out different things about him, his career, his video. Obviously, just tremendous stuff. ... It's just a great upgrade. Increasing the depth of our rotation is a big thing that we've been trying to do. Obviously, we landed a very solid guy, and we're very excited to have him."
To make room for Santana on their 40-man roster, the Twins designated Chris Parmelee for assignment on Saturday afternoon.
The Twins may still have a ways to go in their pursuit of the top spot in the AL Central, but Ryan said he feels the Santana signing could be a critical step forward.
"We're closer," Ryan said. "We've got some guys here that are just not quite ready. We need to ultimately get some direction here with a few veterans, but I would hope between some of the young position players and some of the young pitchers that we have coming that this will help the cause."
Nate Sandell is a contributor to MLB.com. This story was not subject to the approval of Major League Baseball or its clubs.