MLB.com Columnist
Lyle Spencer
Will Hollywood makeover work for Dodgers?
After another disappointing postseason showing, club looks to change chemistry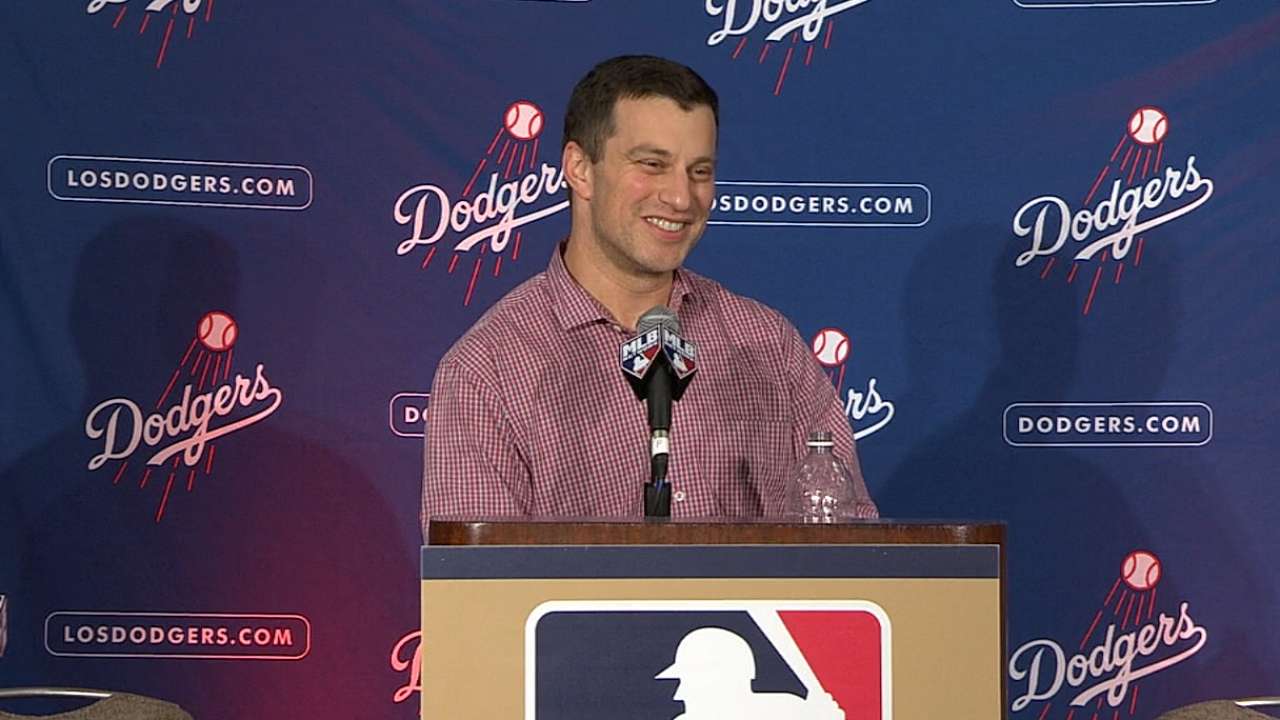 SAN DIEGO -- Don Mattingly is familiar with pressure. It has been his constant companion as manager of the high-payroll, high-profile Dodgers. That won't change now that the club has essentially torn up its old blueprints and created a bold, new design that has "Tampa Bay West" written all over it.
New Dodgers president of operations Andrew Friedman -- the primary architect of the Rays' rosters during their run as overachieving underdogs amid the American League East titans -- has brought his philosophy and methods to Los Angeles in the afterglow of a flurry of dizzying moves the past two days at the Winter Meetings.
In Florida, Friedman entrusted Joe Maddon with making his low-budget roster -- accenting young pitching and versatile position players -- work. Maddon is now in Chicago, at the wheel of an entirely different cruise ship, leaving Friedman to put his faith in the managerial acumen of Mattingly.
It will be Mattingly's challenge to mold and shape a new lineup, fitting all the pieces together, and manage a pitching staff that stacks up favorably with those Maddon had with the Rays.
Clayton Kershaw, Zack Greinke and Hyun-Jin Ryu at the top of the rotation, with Kenley Jansen closing, provide a formidable foundation for any manager. Whispers of a deal with the Phillies for Cole Hamels could turn it into a rotation without equal.
Even with the departures of Matt Kemp, Hanley Ramirez and Dee Gordon from the lineup, the Dodgers retain a collection of impressive weapons around newly acquired middle infielders Jimmy Rollins and Howie Kendrick and catcher Yasmani Grandal.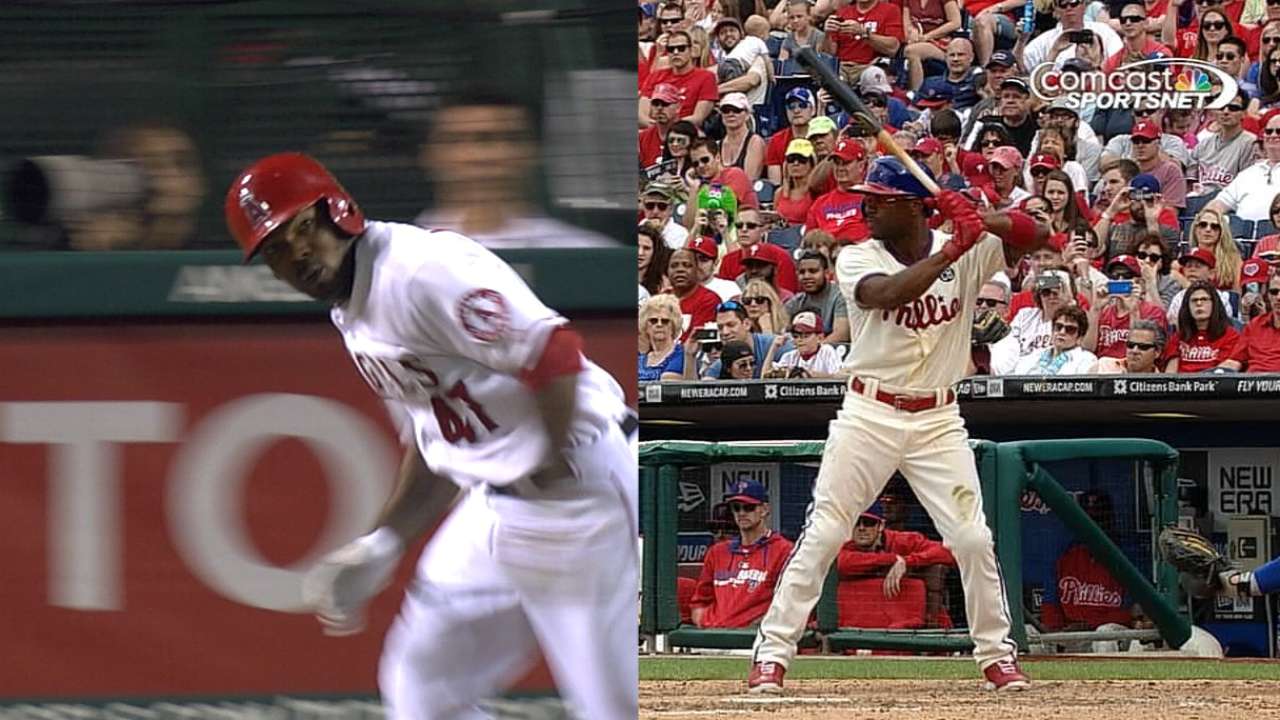 The challenge for Mattingly will be generating consistent offense without the thunder of Kemp and Ramirez and the blazing speed of Gordon. Maddon, with the Rays, was a master at making it happen with versatile players lacking star quality, platooning frequently.
The departure of Kemp to San Diego for Grandal and young arms Joe Wieland and Zach Eflin is classic Tampa Bay, serving several purposes at an obvious risk -- that Kemp will deliver huge numbers down Interstate 5.
Yasiel Puig moves back to right field from center, where heralded Joc Pederson -- a player Mattingly loves -- gets his chance to prove he's ready to play every day. Andre Ethier, Carl Crawford, Scott Van Slyke and Chris Heisey remain in the outfield mix for now, with the likelihood that at least one will be dealt. Rays-like platoons in left and center could materialize.
Rollins and Kendrick will replace Ramirez and Gordon in the middle of the infield, for one season at least. Rollins, still fast and explosive at 36, fills the Gordon void with more pop. Kendrick, a .292 career hitter who flourished hitting cleanup for the Angels in 2014, brings consistent production without Ramirez's game-breaking power.
With rock-solid Juan Uribe at third and Adrian Gonzalez at first, Mattingly will have a versatile, experienced infield.
There is now no reason to rush 20-year-old top prospect Corey Seager, who could evolve into a shortstop along the lines of a young Alex Rodriguez or an Evan Longoria type at third. The Dodgers repeatedly have expressed their commitment to Seager, Pederson and dynamic lefty Julio Urias, and Friedman and his staff have resisted any impulse to include them in deals.
Rollins, reunited with mentor Davey Lopes, the Dodgers' invaluable first-base coach, likely assumes the leadoff role. Pederson has the look of an ideal No. 2 hitter, disciplined and swift with power, and Crawford has a long history of excelling in this role.
Mattingly can mix and match with the balance of the lineup: Puig, Gonzalez, Uribe, Kendrick, Ethier or Crawfrd and Grandal -- the centerpiece of the Kemp deal, which freed up $75 million. Grandal has produced 24 homers and 94 RBIs in 657 career at-bats and figures to get the bulk of the starts at catcher, with Kershaw's guy, A.J. Ellis, in support.
The signing of Brandon McCarthy, who pitched a career-high 200 innings in 2014 at 31 for the D-backs and Yankees, fills the void created by Dan Haren's inclusion in the Marlins deal that landed the young pitcher (Andrew Heaney) flipped to the Angels for Kendrick.
Addition by subtraction was a common theme around the Dodgers following their second postseason flameout in two years against the Cardinals. There was a sense that the clubhouse had grown stale, that championship chemistry just wasn't there.
Rubbing salt in familiar wounds were the Giants, a National League Wild Card team who went on to claim their third World Series championship in five seasons after finishing six games behind the NL West-winning Dodgers.
On Wednesday, as Maddon was accepting congratulations from peers for his good fortune in acquiring Jon Lester for his Cubs, Giants manager Bruce Bochy was asked what made his club so hard to beat in October.
"I've actually thought about that," Bochy said. "I'll start with I think good players, great players have a way of elevating their game. Their focus and sense of purpose has a lot to do with that. And what I mean is it's a very unselfish group. They play for each other; they play for their fans. And they have a cause that is bigger than their own agenda. And that's hard to find on any professional level.
"The other clubs, who knows? There could have been more talent there. But I'll tell you, nobody wanted it more than [the Giants] did."
Lyle Spencer is a columnist for MLB.com. This story was not subject to the approval of Major League Baseball or its clubs.