Mets leave Winter Meetings with work to do
Club agrees with Mayberry, but still looking to trade starter and upgrade shortstop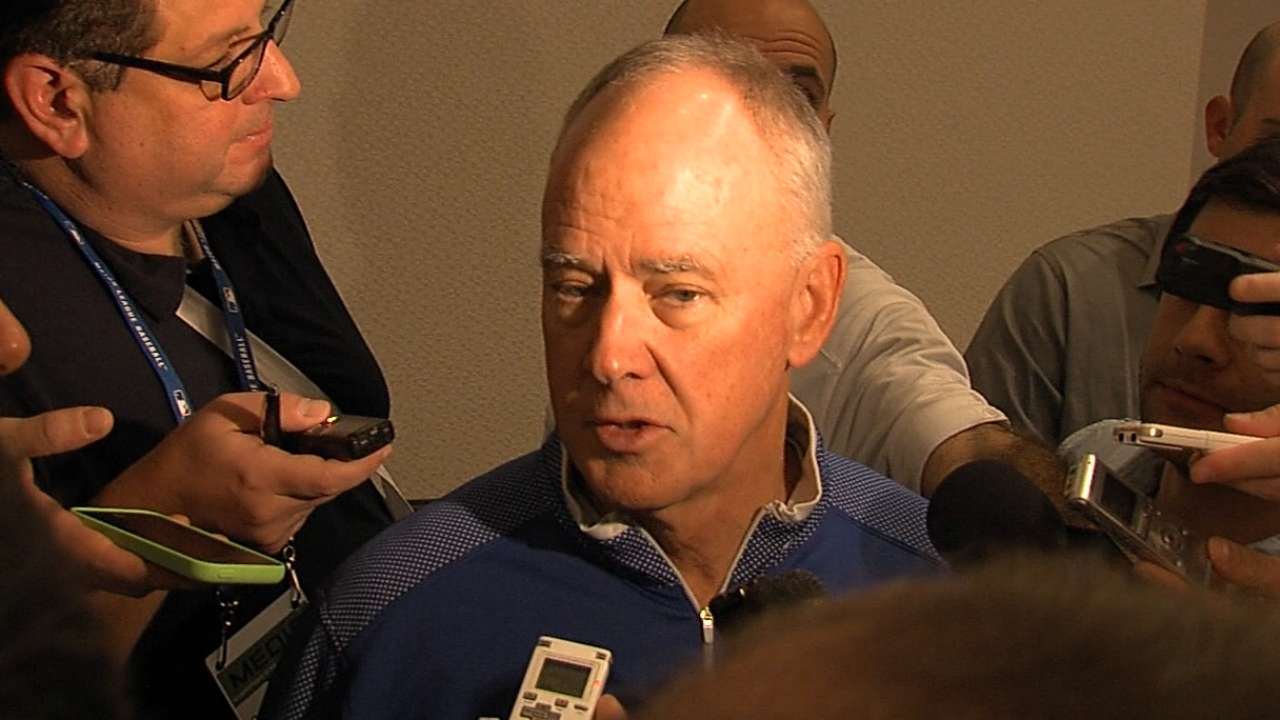 SAN DIEGO -- The first tangible product of the Mets' Winter Meetings work fell into place Thursday, shortly before the team's brass left the West Coast and flew back to New York. The Mets agreed to terms on a one-year deal with outfielder John Mayberry Jr., acquiring the right-handed bat that they coveted.
But the major items that populated their agenda coming into the Meetings remained unsolved. The Mets spent much of their time in San Diego discussing shortstop upgrades and ways to trade away starting pitching, but they did not complete anything on either front.
---
Winter Meetings action
Day 4: Dec. 11
Transaction
Official?
OF Matt Kemp
C Tim Federowicz
Traded to Padres
No
C Yasmani Grandal
RHP Joe Wieland
RHP Zach Eflin
Traded to Dodgers
No
OF Yoenis Cespedes
RHP Alex Wilson
Traded to Tigers
Yes
RHP Rick Porcello
Traded to Red Sox
Yes
RHP Ervin Santana
Four-year deal with Twins
No
LHP Mat Latos
Traded to Marlins
No
RHP Anthony DeSclafani
C Chad Wallach
Traded to Reds
No
RHP Justin Masterson
One-year deal with Red Sox
No
RHP Alfredo Simon
Traded to Tigers
Yes
RHP Jonathon Crawford
IF Eugenio Suarez
Traded to Reds
Yes
LHP Ross Detwiler
Traded to Rangers
No
OF John Mayberry Jr.
One-year deal with Mets
No
RHP Andre Rienzo
Traded to Marlins
Yes
LHP Dan Jennings
Traded to White Sox
Yes
"We had a few more conversations," said general manager Sandy Alderson, who will remain at his Southern California home through the weekend before heading back East. "Nothing materialized. So we'll see how things develop over the next couple of weeks."
For Alderson, the Winter Meetings allowed him to meet with multiple clubs regarding Dillon Gee, their starting pitcher most likely to be traded. But while the Rangers, Rockies and others showed various levels of interest, the Mets were not able to find a deal that suited them. Alderson was vague about when a deal could take place, knowing this week's flurry of signings and trades around baseball may reshape the market in unpredictable ways.
"I've refrained from making predictions, because you never know how these things are going to go," Alderson said. "There wasn't really any point during the week where we felt we were going to do something. We always work toward something, and we will continue to do that."
As for acquiring a shortstop, Alderson has said all along that he may not do anything. But that will not stop the Mets from exploring every option, unsure if an upgrade over Wilmer Flores will surface.
"We have to be realistic," Alderson said. "There just aren't a lot of options, or attractive options. So the idea of waiting is nice, but I think you have to be realistic about what we're waiting for. Options are limited. But I go back to our original position, and that is if we go into Spring Training with what we have, we won't be unhappy with that."
If nothing else over his first four winters in New York, Alderson has proven that he's content to wait for deals he truly likes. The Mets could trade Gee next week, for example, or they could wait until February. They could deal for a starting shortstop immediately. They could not deal for one at all.
Nearly two months remain for the Mets to answer those questions and others.
"We'll see what develops over the next few days, couple of weeks," Alderson said. "There's a long time between now and Spring Training."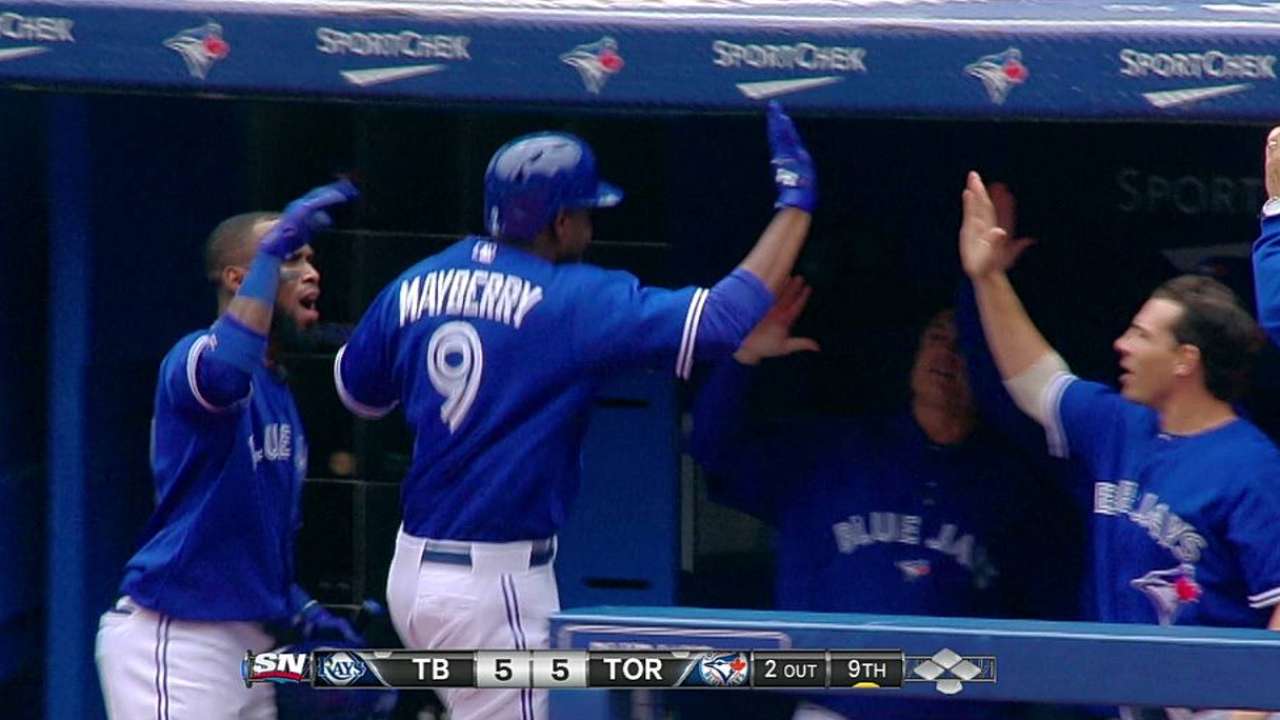 Deals done
The Mets agreed to terms with Mayberry on a one-year deal, though that signing will not be official until Mayberry undergoes a physical next week. They also signed left-hander Scott Rice to a Minor League deal with an invitation to Spring Training.
Rule 5 Draft activity
The Mets were a whirlwind in the Rule 5 Draft, selecting left-handed pitcher Sean Gilmartin from the Twins and losing right-hander Logan Verrett to the Orioles. The team also lost four players in the Minor League phase of the Draft.
Goals accomplished
In addition to filling out their bench with Mayberry, the Mets spoke with clubs and agents about their other more pressing needs. They now have a much better idea of the market for Gee, the starting pitcher they are most likely to trade.
Unfinished business
Most of the Mets' major business remains unfinished. The team still wants a shortstop upgrade over Flores, and it plans to trade one of its excess starting pitchers -- likely Gee -- before Spring Training. That could happen as soon as this month.
Team's bottom line
"We anticipated a crowded market, and that's what exists. It did exist at the beginning of the Meetings. It continues to exist. So I don't think that was a surprise." -- Alderson on his goal of trading away a starting pitcher
Anthony DiComo is a reporter for MLB.com. Follow him on Twitter @AnthonyDicomo. This story was not subject to the approval of Major League Baseball or its clubs.