Twins select righty Graham in Rule 5 Draft
Minnesota also loses left-hander Gilmartin to the Mets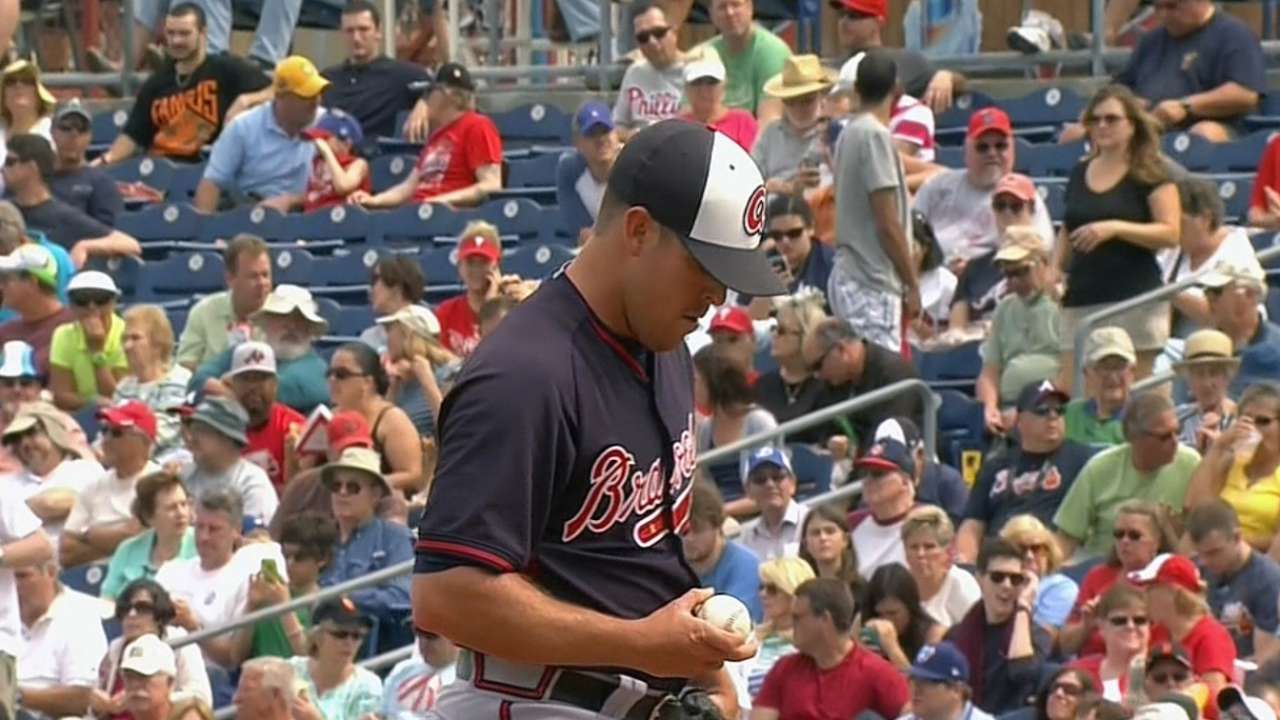 SAN DIEGO -- The Twins added a pitching prospect on the last day of the Winter Meetings, as they selected right-hander J.R. Graham from the Braves with the No. 5 pick in the Rule 5 Draft on Thursday. MLB.com ranked Graham as the Braves' No. 13 prospect.
Graham, a hard-throwing right-hander, has dealt with shoulder issues in his career, but the Twins believe he's past those injuries. The 24-year-old split time between starting and relieving at Double-A Mississippi last season, posting a 5.26 ERA with 43 strikeouts in 63 1/3 innings as a starter and a 7.88 ERA with seven strikeouts in eight innings as a reliever.
But the Twins plan to move him to the bullpen to give him a better chance to stick as a Rule 5 Draft pick. The 6-foot, 195-pound right-hander must remain on the Twins' 25-man roster for the entire season, or else he must be offered back to the Braves.
"He's a smallish-but-strong guy," said Twins director of pro scouting Vern Followell. "He's been a starter in his life, but obviously for him to get a chance with us, he'll probably be in the bullpen to make our club. It might, in the end, be a better fit overall."
While Graham had a 5.55 ERA at Double-A last season, he had plenty of success in his first two years in 2012 and '13, and he has a career 3.37 ERA in 312 2/3 innings in the Minors. Before suffering a season-ending shoulder injury in May 2013, Graham's fastball touched 98 mph, but he has seen his velocity dip a bit. Twins scouts, however, saw him reach 96 mph in an outing last season, giving them reason to believe he's healthy.
"We think he's fine," Followell said. "Just about every pitcher has something throughout their career. So it's not something we're worried about."
The Twins lost left-hander Sean Gilmartin to the Mets with the No. 10 pick in the Rule 5 Draft. Gilmartin posted a combined 3.71 ERA with 133 strikeouts in 145 2/3 innings at Double-A New Britain and Triple-A Rochester last season. He was originally acquired in the trade that sent Ryan Doumit to the Braves.
"We lost Gilmartin and we liked him," Followell said. "But you just have to make roster decisions down at the end there and you sometimes lose guys you don't want to lose."
The Twins also selected right-hander Greg Peavey, 26, from the Mets and lost left-handed pitcher Matthew Tomshaw to the Marlins in the Triple-A phase of the Rule 5 Draft.
Peavey fared well at Double-A Binghamton last year but struggled at Triple-A Las Vegas. The 6-foot-2 right-hander was 11-3 with a 2.90 ERA in 18 starts at Double-A, but he went 1-5 with an 11.62 ERA in six starts at Triple-A.
"He really had a fine year at Double-A," Followell said. "He's been a starter, and I think that's what he is because he doesn't have a dynamic pitch that leads him into the bullpen. So we're just hoping to try to get him over that hump and get lucky and get a starter."
Rhett Bollinger is a reporter for MLB.com. Read his blog, Bollinger Beat, and follow him on Twitter @RhettBollinger. This story was not subject to the approval of Major League Baseball or its clubs.