Winter Meetings pass without fanfare for Rays
Club has quiet week as expected, though acquiring catcher remains priority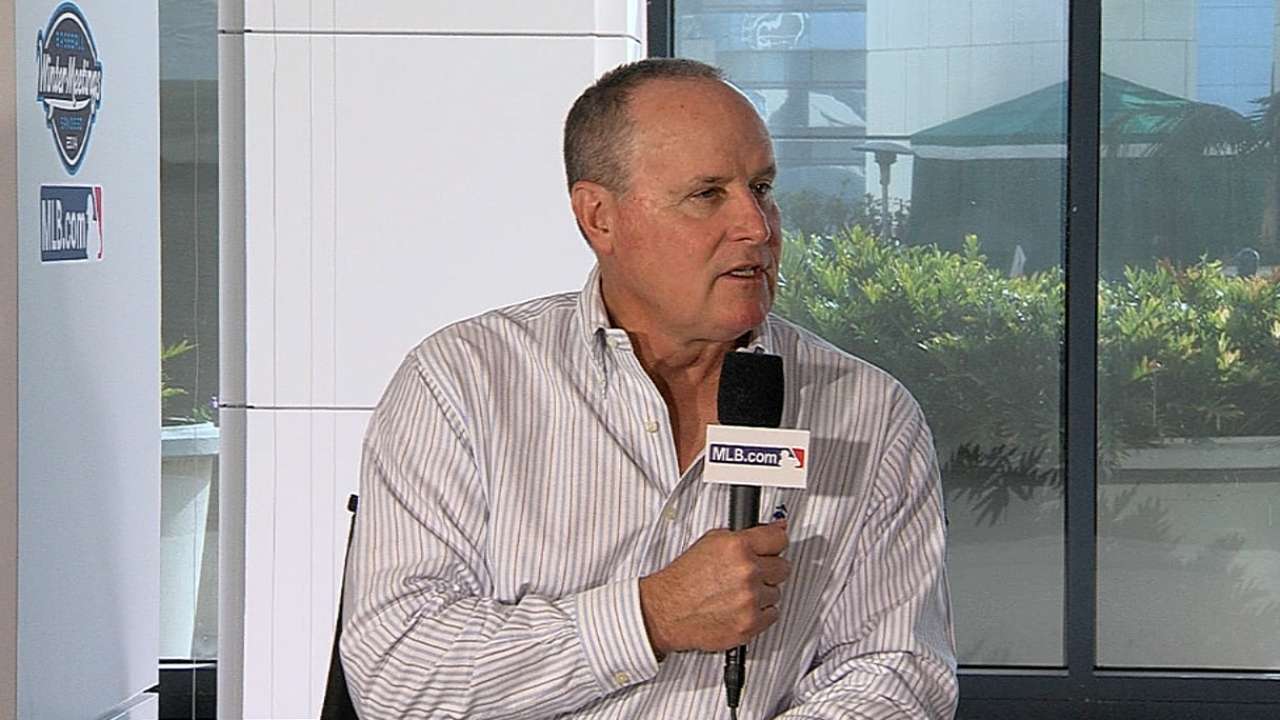 SAN DIEGO -- Making trades and signing free agents are the marquee attractions of the Winter Meetings. But wheeling and dealing is not always the order of the day for every team.
The Rays were one of those teams this year in San Diego.
"These Meetings make you feel like you have a lot to do when, in fact, so much of it is just conversation," said president of baseball operations Matt Silverman.
The Rays departed Port Charlotte, Fla., last spring picked by many to win the American League East -- and the World Series by some. That did not happen, which left Tampa Bay seeking answers in the offseason.
Given that many of the players they expected to do so well remain on the team, the Rays have spent much of their time this offseason deciding which of those players are likely to rebound in 2015 and which ones won't. In that vein, they arrived at the Meetings with a healthy start in the culling process in their rearview mirror. They have traded for prospects, sending out starter Jeremy Hellickson and relievers Joel Peralta and Cesar Ramos. Veteran catcher Jose Molina was designated for assignment -- meaning Tampa Bay will eat his $2.75 million 2015 contract -- and infielder Sean Rodriguez was traded to the Pirates.
In addition, the Rays signed veteran reliever Ernesto Frieri.
"We feel good about the club," Silverman said. "Heading into Spring Training, there are places we'd like to address, but don't necessarily need to address."
Based on the performance of 2014's squad, Silverman had to field a fair question regarding why he believes bounce-back seasons are in store for so many. Silverman did not hesitate with his reply.
"We believe in them," Silverman said. "We believe in their true talent level. And in many cases, the results on the field weren't consistent with some of the under-the-surface indicators that we have. Those indicators are often times a better indicator of future performance. For most of these guys, those indicators are there and point to a bounce-back season."
Silverman seemed to embrace the idea of the team returning to the familiar underdog role, as opposed to being the favorites last season.
"We have a lot of confidence in the players and the individual talents, and the way that they can come together for a team performance," Silverman said. "We had that last year and were very disappointed. Maybe we'll be more of a stealth team this year with lowered expectations externally while having very high internal expectations for the club."
While trying to polish off what Tampa Bay believes will be a contending team, the organization is also getting realigned after the departures of Joe Maddon, the team's manager for the past nine seasons, and Andrew Friedman, the executive vice president of baseball operations.
Silverman slid over from his role as team president to take over Friedman's job, and one of his first major decisions was to hire Kevin Cash to replace Maddon.
All of that activity at the top caused a chain reaction throughout the organization, prompting a period of adjustment. These Winter Meetings have facilitated some of that adjusting, though much is left to do.
"Frankly, a lot of work [for the remainder of the offseason] will be focused on organizational aspects and working with Kevin and the coaching staff to get all of us ready for Spring Training and the season," Silverman said. "That's something we haven't done in 10 years. It takes a lot of time, and we'll be shifting focus to that quite soon."
Deals done
The Rays did not make any deals at this year's Meetings. However, look for activity to take place in the coming weeks. Two years ago, they made a blockbuster deal immediately following the Winter Meetings that sent James Shields, Wade Davis and Elliot Johnson (the player to be named) to the Royals for Wil Myers, Jake Odorizzi, Mike Montgomery and Patrick Leonard.
Rule 5 Draft activity
The Rays went to the Winter Meetings with a no openings on their 40-man roster, so they were not active in the Major League phase, though they did lose Oscar Hernandez to the D-backs, who selected the catcher with the first pick.
The Rays were active in the Triple-A phase, selecting right-hander Luis Urena, a hard-throwing converted outfielder from the Pirates; and Michael O'Brien, a right-hander they plucked from the Orioles.
Goals accomplished
Unlike last year's Meetings, when Tampa Bay was the talk of the baseball world because of the speculation about David Price getting traded, the Rays conducted business in the background and did not make any deals. However, they did have many conversations with other teams about players and scenarios that might come to fruition prior to the 2015 season.
Unfinished business
The top priority is finding a catcher, even though this is not an emergency situation, since the Rays have Ryan Hanigan and Curt Casali returning. Tampa Bay also has a well-stocked cupboard in the outfield with Matt Joyce, David DeJesus, Brandon Guyer, Myers, Desmond Jennings and Kevin Kiermaier, and the club will likely move one or two of their outfielders due to the jam. Given their financial situations, Joyce and DeJesus are the most likely candidates to go. In an ideal world, the Rays could use one or two of their outfielders to acquire the catcher they want.
Though the Rays have expressed those needs, they are not dire needs. It would not be a surprise to see Tampa Bay stand pat heading into Spring Training.
"At this point, with our roster full, we're not looking to add anyone at the Major League level," Silverman said. "There are Minor League free agents that we might add. Spring Training invites to possibly dole out. But with the roster full, we don't have much flexibility today."
Team's bottom line
"We don't expect to do anything when we come to these Meetings," said Silverman. "We expect to have conversations to learn more about other team's needs -- to get a sense of how they value our players and potentially to lay the groundwork for deals. If something happens here, it's a bonus. But there are no expectations."
Bill Chastain is a reporter for MLB.com. This story was not subject to the approval of Major League Baseball or its clubs.