Pirates pleased in reaching goals at Winter Meetings
Bucs check off both pressing items with signing of Liriano, acquisition of Bastardo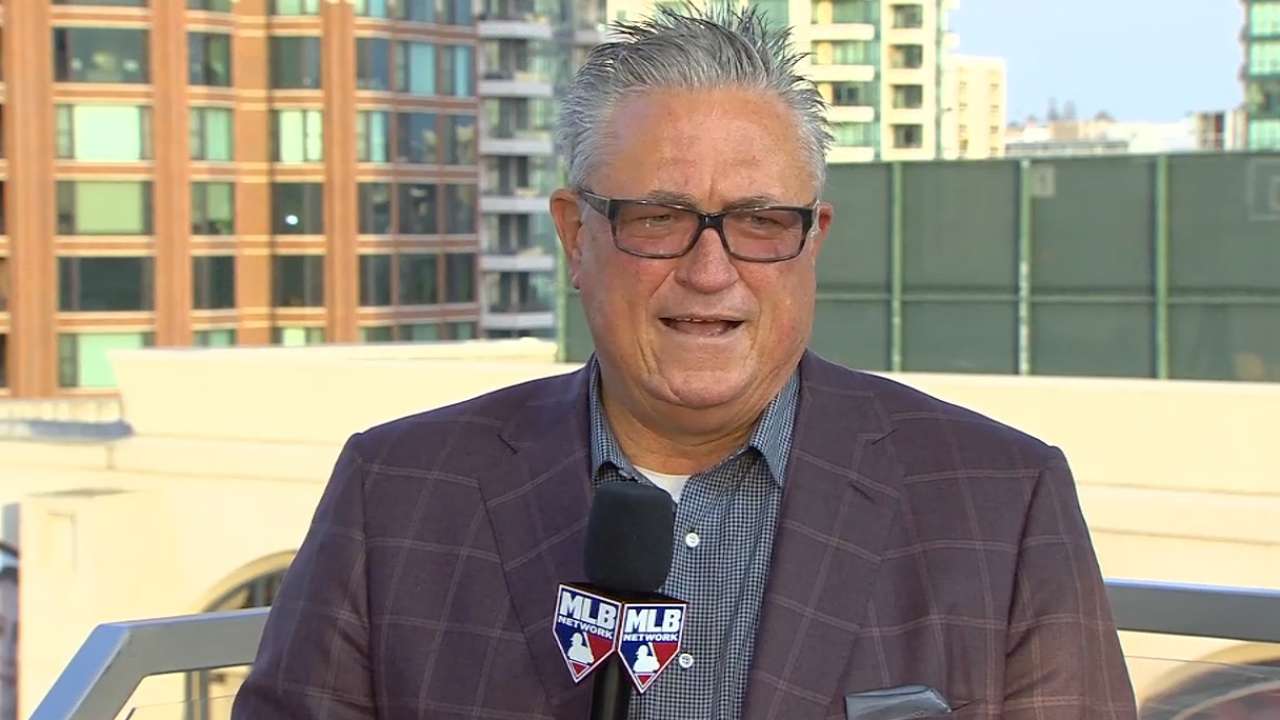 SAN DIEGO -- The Pirates did not arrive at the Winter Meetings with the most ambitious shopping list of the teams bent on roaring out of 2014. They do not leave as the busiest team, lost in the early frenzy of Chicago and the late dust of the Dodgers.
But -- perhaps no other team approached the Bucs' 1.000 batting average. General manager Neal Huntington knocked off both items on that short list, thus punctuating a satisfying offseason.
Francisco Liriano, check -- in-progress, still pending his physical.
---
Winter Meetings action
Day 4: Dec. 11
Transaction
Official?
OF Matt Kemp
C Tim Federowicz
Traded to Padres
No
C Yasmani Grandal
RHP Joe Wieland
RHP Zach Eflin
Traded to Dodgers
No
OF Yoenis Cespedes
RHP Alex Wilson
Traded to Tigers
Yes
RHP Rick Porcello
Traded to Red Sox
Yes
RHP Ervin Santana
Four-year deal with Twins
No
LHP Mat Latos
Traded to Marlins
No
RHP Anthony DeSclafani
C Chad Wallach
Traded to Reds
No
RHP Justin Masterson
One-year deal with Red Sox
No
RHP Alfredo Simon
Traded to Tigers
Yes
RHP Jonathon Crawford
IF Eugenio Suarez
Traded to Reds
Yes
LHP Ross Detwiler
Traded to Rangers
No
OF John Mayberry Jr.
One-year deal with Mets
No
RHP Andre Rienzo
Traded to Marlins
Yes
LHP Dan Jennings
Traded to White Sox
Yes
"Liriano was our main target. The guy we hoped had interest in coming back to Pittsburgh and hoped to be able to match his [salary] number," Huntington said on his way out the hotel door. "We're close to being able to do that."
Lefty reliever, in the person of Antonio Bastardo -- check.
"Bastardo was one of the relievers we identified. I can't say he was our top target," Huntington said, "but he was one of the guys we were hoping to have an opportunity to acquire."
Huntington was able to fulfill both of his wishes, without even having to spend any time on Santa's lap.
"Coming in here," Huntington said, "we felt like if the season were to start the day after the Winter Meetings, we'd be in a nice place as an organization. But we wanted to get better. We feel like -- if Liriano comes to fruition -- we did get better."
Deals done: Liriano has been tentatively brought back for three years and $39 million -- more than double the previous club record free-agent signing (Russell Martin's $17 million on a two-year deal). Bastardo was acquired from Philadelphia for lefty prospect Joely Rodriguez and steps into Justin Wilson's shoes as the second southpaw in the bullpen behind Tony Watson. The Bucs' shopping began with the claim of righty Josh Lindblom on waivers from Oakland; he becomes part of the bullpen depth being stockpiled for Spring Training.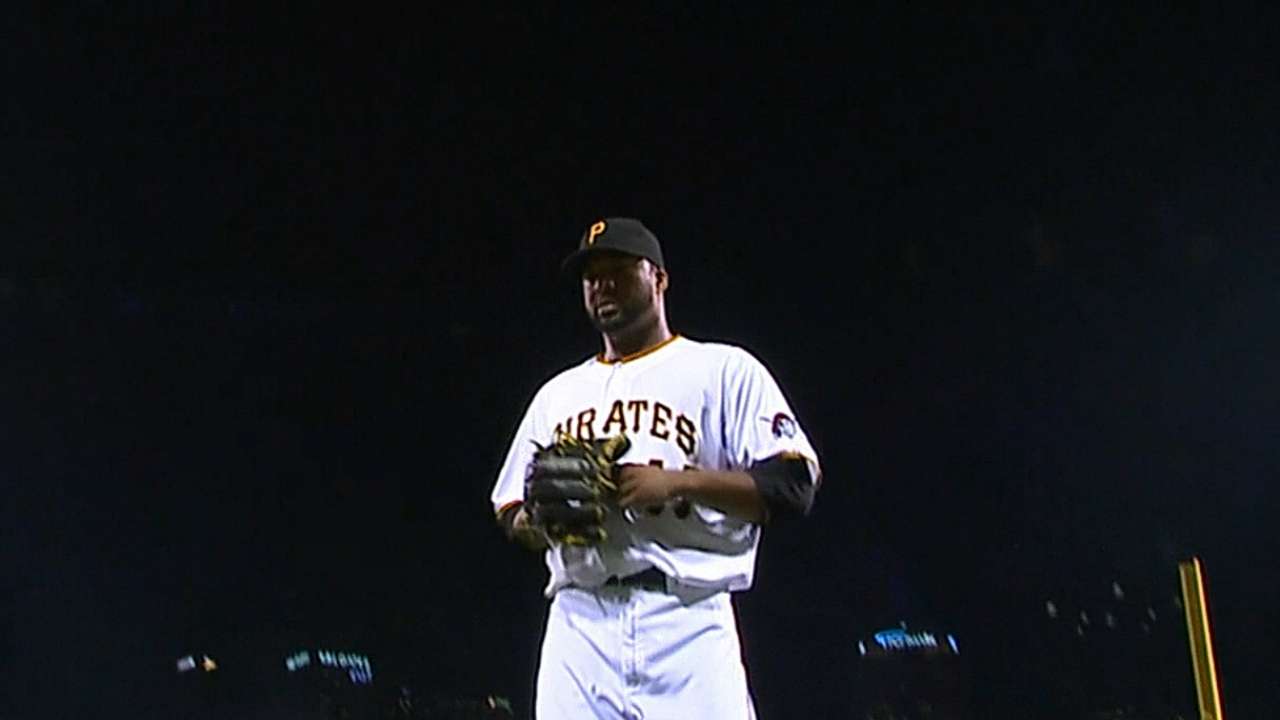 Rule 5 Draft activity: For the third consecutive year, the Pirates did not draft anyone, while losing three of their own. In the Major League phase, left-hander Andy Oliver was taken off Triple-A Indianapolis' roster by the Phillies. Two right-handed pitchers were taken off Double-A Altoona's roster in the Triple-A phase: Tyler Waldron by St. Louis and Luis Urena by Tampa Bay.
Goals accomplished: The rotation has been solidified, Liriano reuniting with the earlier homecoming vet, A.J. Burnett. Bastardo, a career reliever, is an upgrade over Wilson, a converted starter who was inconsistent in the bullpen. Most significantly, having taken care of their priorities, the Pirates can now turn their attention to other moves not deemed critical but could be finishing touches to further bolster team depth.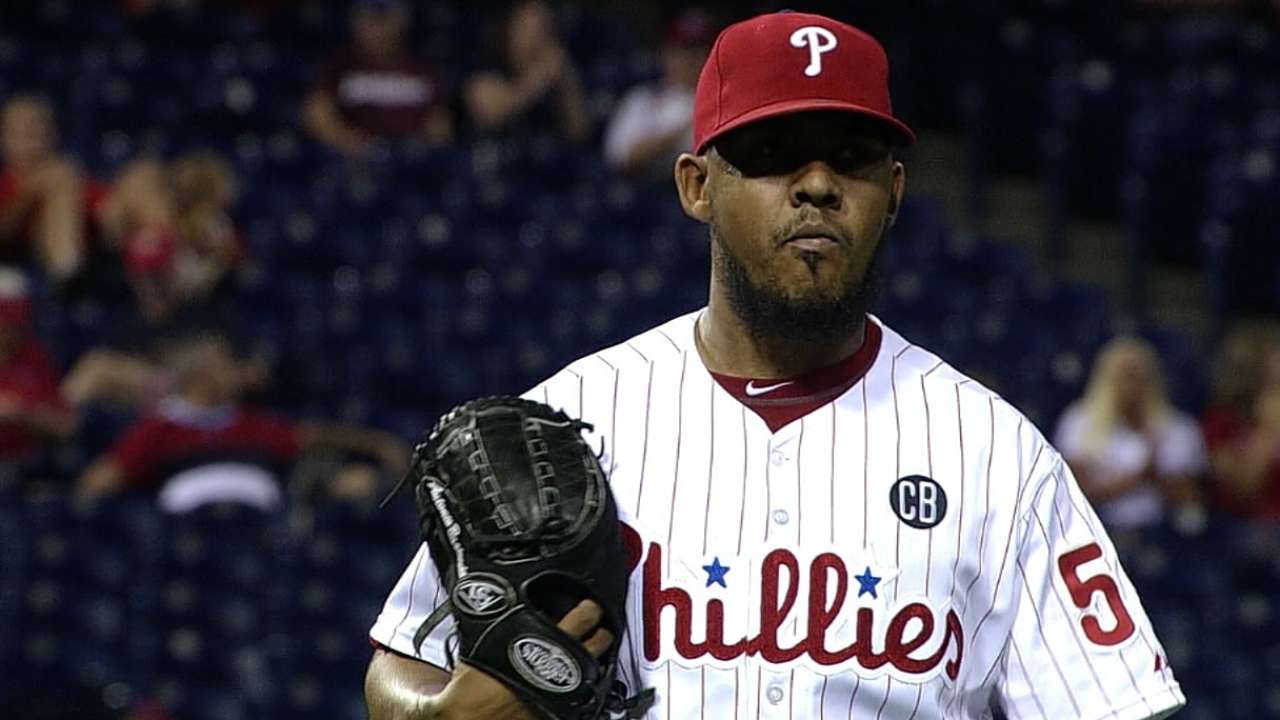 Unfinished business: Huntington does not seem prepared to sign off on the rotation. Even after striking the deal with Liriano, he was one of the finalists for free-agent righty Brandon McCarthy, who wound up signing with the Dodgers. The Pirates could also try to reignite talks for Nathan Eovaldi with Miami, which remains in the market for a left-handed-hitting first baseman such as Pedro Alvarez. And, of course, Edinson Volquez staying with buddy Liriano and the Pirates is a very real possibility -- Volquez's aired price of two years for $20 million is very much in the Bucs' doable range.
"We set out this offseason to protect ourselves in case we lost Russ [Francisco Cervelli became that protection], to add one or two quality starters, and to add to our bullpen," Huntington said. "We would like to continue to add to our bench options and find ways to continue to get better."
Team's bottom line: The Pirates scored major points with the successful retention of Liriano -- for their pitching staff, and even more importantly for their image. The fandom is stoked by this demonstration of turning greater revenue into bigger payroll commitments. For both Liriano and Burnett to want to return to Pittsburgh spoke volumes about the change in how the Pirates are perceived within and outside the game.
Tom Singer is a reporter for MLB.com and writes an MLBlog Change for a Nickel. Follow him on Twitter @Tom_Singer. This story was not subject to the approval of Major League Baseball or its clubs.