MLB.com Columnist
Jonathan Mayo
Bats in demand as Rule 5 bucks trend
First three picks are positional players, then pitchers go off the board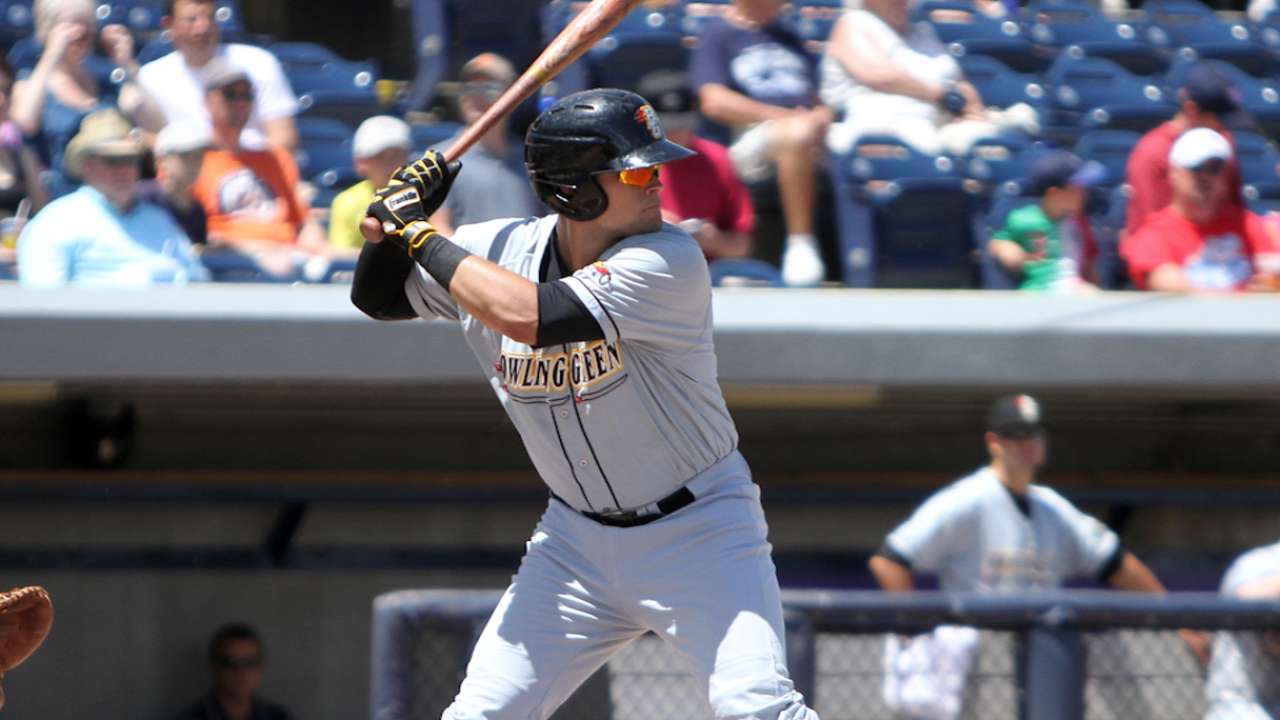 SAN DIEGO -- The buzz heading into Thursday's Rule 5 Draft was that this year's pool of eligible players was better than it had been in recent years. The activity in the Major League phase, at least compared to a year ago, did seem to reflect that.
The Arizona Diamondbacks took Rays catching prospect Oscar Hernandez with the top pick, the first of 14 selections made in the opening phase of the Draft. Hernandez is a very strong defender, one who has thrown out 42 percent of would-be basestealers in his career. He has yet to play above the Class A Midwest League, with a big leap to make to prove he's big league ready.
"Our scouts really liked him, the reports were good," said De Jon Watson, D-backs' senior vice president of baseball operations said. "I think the catch-and-throw is Major League ready now, I think the bat is a little behind. So I think that's the one area we'll have to try and assess and evaluate during Spring Training, but we're excited about getting a young catcher that has tremendous upside and game-calling ability. We think he's got a chance to be somebody."
"It's in the eyes of the beholder," Rays farm director Mitch Lukevics said. "You have X amount of openings on a 40 man roster. You go through a thorough evaluation of all of our players who are eligible. You prioritize. It hurts to lose Oscar, because we think he is a prospect. But again, it's in the eyes of the beholder. You only have so many spots."
Hernandez was the first of three straight position players taken atop the Major League phase in a Draft typically dominated by pitching. The Rockies took first baseman Mark Canha from the Marlins, then traded him to the A's. That was one of three trades made involving players taken, with the Astros selecting right-hander Jason Garcia from the Red Sox with the No. 4 pick, then sending him to the Orioles in a move announced before the Major League phase was even completed. The Red Sox nabbed right-handed pitcher Jandel Gustave with the No. 6 pick, then dealt him to the Kansas City Royals.
After five of the first eight picks were position players, pitching once again took over. The final six picks were pitchers, meaning nine of the 14 Major League phase selections will hope to make big league pitching staffs. Since 2006, 104 of 144 players taken in the opening portion of the Rule 5 have been pitchers.
To make a selection in the Major League phase of the Rule 5 Draft, a team must have room on its 40-man roster for the new player. Clubs pay $50,000 to select a player in the Major League phase. If that player doesn't stay on the selecting team's 25-man roster for the full season, he must be offered back to his former team for $25,000.
Changes to the Rule 5 Draft in 2006, giving teams an additional season to evaluate players before having to make roster decisions, have made it a little more difficult to find talent. Now, players first signed at age 18 must be added to 40-man rosters within five seasons or they become eligible to be drafted by other organizations through the Rule 5 process. Players signed at 19 years or older have to be protected within four seasons. That doesn't mean there wasn't talent acquired on Thursday. DeShields was the biggest name, ranked No. 12 on the Astros' Top 20 at the time of the Draft.
"We like the combination of now and the future," Rangers general manager Jon Daniels said. "He's got a chance to earn a role on the team and be another center-field option. He has a really unique speed tool with instincts to use it. He is a good fit for our roster. In the Rule 5 draft, you are usually looking to find a guy to fill a role right now or a guy who has upside for the long-term. We feel this checks both boxes."
Right-hander J.R. Graham, taken by the Twins from the Braves organization, was ranked No. 12 in that system. Shoulder issues have faded his star a bit, but Minnesota believes he has a future. Logan Verrett, taken by the Orioles with the 13th pick, came in at No. 19 on the Mets list before the Draft.
"He's a smallish but strong guy," said Twins director of pro scouting Vern Followell. "He's been a starter in his life, but obviously for him to get a chance with us, he'll probably be in the bullpen to make our club. It might in the end be a better fit overall. We think he's fine. Just about every pitcher has something throughout their career. So it's not something we're worried about."
The Houston Astros lost three players in the Major League phase in DeShields, Gustave and lefty David Rollins, who went to the Seattle Mariners.
"I think we knew there were a number of players we couldn't protect who had some level of selection risk," Astros assistant general manager David Stearns said. "We're not all that surprised. Certainly if you look at the past patterns in Rule 5 Draft, a large percentage of players who are selected are returned, but each case is different. Each team is going to evaluate players differently and we'll just let that process play out."
It costs $12,000 to take a player in the Triple-A phase of the Rule 5 and $4,000 in the Double-A portion. In these phases, there are no rules about what level the selected prospect must play to remain with his new organization. A total of 30 players were taken in the Triple-A phase while all teams passed on the opportunity to select players in the Double-A portion.
The biggest "name" taken in the Minor League phase was Brett Jackson, who has big league time with the Cubs in 2012 and with the D-backs last year, on his resume. Former supplemental first round picks Peter Tago (Rockies) and Kentrail Davis (Brewers) were also selected. The Mets lost four players off of their Minor League rosters.
"If there was anything unexpected, it was that we didn't lose more out of the Minor League phase," Mets GM Sandy Alderson said. "We lost Verrett and I'm sorry to lose him, but we lost four in the Triple-A phase. So we're a little leaner as an organization now than we were a few minutes ago, but it's expected. "
ROUND 1
1. Arizona Diamondbacks: C Oscar Hernandez, Rays
2. Colorado Rockies: IF Mark Canha, Marlins -- traded to the A's for Austin House
3. Texas Rangers: OF Delino DeShields Jr., Astros
4. Houston Astros: RHP Jason Garcia, Red Sox -- traded to the Orioles for cash or a player to be named later
5. Minnesota Twins: RHP J.R. Graham, Braves
6. Boston Red Sox: RHP Jandel Gustave, Astros -- traded to the Royals for cash considerations
7. Chicago Cubs: SS Taylor Featherston, Rockies -- traded to the Angels for cash considerations
8. Philadelphia Phillies: IF Odubel Herrera, Rangers
9. Miami Marlins: LHP Andrew McKirahan, Cubs
10. New York Mets: LHP Sean Gilmartin, Twins
11. Atlanta Braves: RHP Daniel Winkler, Rockies
12. Seattle Mariners: LHP David Rollins, Astros
13. Baltimore Orioles: RHP Logan Verrett, Mets
ROUND 2
14. Philadelphia Phillies: LHP Andrew Oliver, Pirates
TRIPLE-A PHASE
1. Arizona Diamondbacks: RHP Timothy Crabbe, Reds
2. Colorado Rockies: RHP Kyle Simon, Phillies
3. Texas Rangers: 1B Roderick Shoulders, Cubs
4. Houston Astros: C Luis Flores, Cubs
5. Minnesota Twins: RHP Greg Peavey, Mets
6. Chicago White Sox: RHP Peter Tago, Rockies
7. Chicago Cubs: OF Ariel Ovando, Astros
8. Cincinnati Reds: C Camden Maron, Mets
9. Miami Marlins: LHP Matthew Tomshaw, Twins
10. San Diego Padres: SS Juan Gamboa, Mets
11. Tampa Bay Rays: RF Luis Urena, Pirates
12. Atlanta Braves: C Steven Rodriguez, D-backs
13. Cleveland Indians: RHP Delvi Francisco, Phillies
14. San Francisco Giants: RHP Ramon Del Orbe, Marlins
15. Detroit Tigers: RHP Jheyson Manzueta, Marlins
16. St. Louis Cardinals: RHP Tyler Waldron, Pirates
17. Los Angeles Dodgers: OF Peter Lavin, Phillies
18. Baltimore Orioles: OF Sean Halton, Brewers
19. Los Angeles Angels: IF Chris Curley, White Sox
20. Texas Rangers: SS Hiram Martinez, Marlins
21. Cincinnati Reds: RHP Euclides Leyer, White Sox
22. Miami Marlins: 1B Harold Riggins, Reds
23. Tampa Bay Rays: RHP Michael O'Brien, Orioles
24. San Francisco Giants: CF Brett Jackson, D-backs
25. Los Angeles Dodgers: RHP Alexander Santana, Orioles
26. Los Angeles Angels: SS Pedro Ruiz, D-backs
27. Miami Marlins: LHP Alexander Burgos, Tigers
28. Los Angeles Dodgers: RHP Randy Fontanez, Mets
29. Los Angeles Angels: RF Kentrail Davis, Brewers
30. Los Angeles Dodgers: SS Nathan Samson, D-backs
Jonathan Mayo is a reporter for MLB.com and writes a blog, B3. Follow @JonathanMayoB3 on Twitter. This story was not subject to the approval of Major League Baseball or its clubs.