Mets select left-hander Gilmartin in Rule 5 Draft
Former first-round pick a candidate for bullpen role; club loses five players to other teams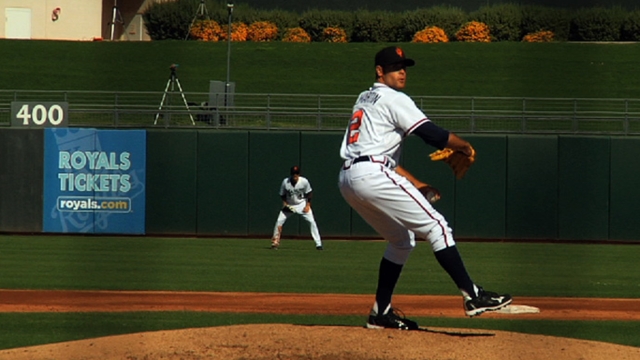 SAN DIEGO -- Still seeking to fill out their bullpen with a second left-hander, the Mets added a candidate to the mix when they selected Sean Gilmartin from the Twins in Thursday's Rule 5 Draft.
Gilmartin, 24, went 9-7 with a 3.71 ERA last season in 26 starts split between Double-A New Britain and Triple-A Rochester. The former first-round Draft pick held left-handed hitters to a .201 average with five extra-base hits (all doubles), while striking out 49 and walking five. Though he was not quite as effective against right-handed hitters, the Mets do not view him strictly as a specialist.
"We like his athleticism, we like his makeup and we think he's got a chance to pitch against righties and lefties," general manager Sandy Alderson said.
Alderson cautioned that the selection will not preclude the Mets from continuing to search for left-handed relief help. The team enters 2015 with right-handers Jenrry Mejia, Jeurys Familia, Vic Black and Carlos Torres all entrenched in the bullpen alongside Josh Edgin, the lone lefty.
"Obviously, we're looking for more depth and more competition," Alderson said, "so I think this is a plus for us."
Per Rule 5 Draft regulations, the Mets will need to keep Gilmartin on their 25-man roster or disabled list all season, or offer him back to the Twins for half of their $50,000 drafting fee.
The rest of the Rule 5 Draft was a raid on New York's farm system. The Mets lost right-handed pitcher Logan Verrett to the Orioles in the Major League portion of the Draft, then watched other teams draft away right-handers Greg Peavey and Randy Fontanez, catcher Cam Maron and shortstop Juan Carlos Gamboa.
Verrett, 24, went 11-5 with a 4.33 ERA last season for Triple-A Las Vegas, striking out 119 batters and walking 34 in 162 innings.
"If there was anything unexpected, it was that we didn't lose more out of the Minor League phase," Alderson said. "We lost Verrett and I'm sorry to lose him, but we lost four in the Triple-A phase. So we're a little leaner as an organization now than we were a few minutes ago, but it's expected."
Anthony DiComo is a reporter for MLB.com. Follow him on Twitter @AnthonyDicomo. This story was not subject to the approval of Major League Baseball or its clubs.