Chavez lends helpful perspective to Yankees
As special assignment scout, former third baseman's input has great value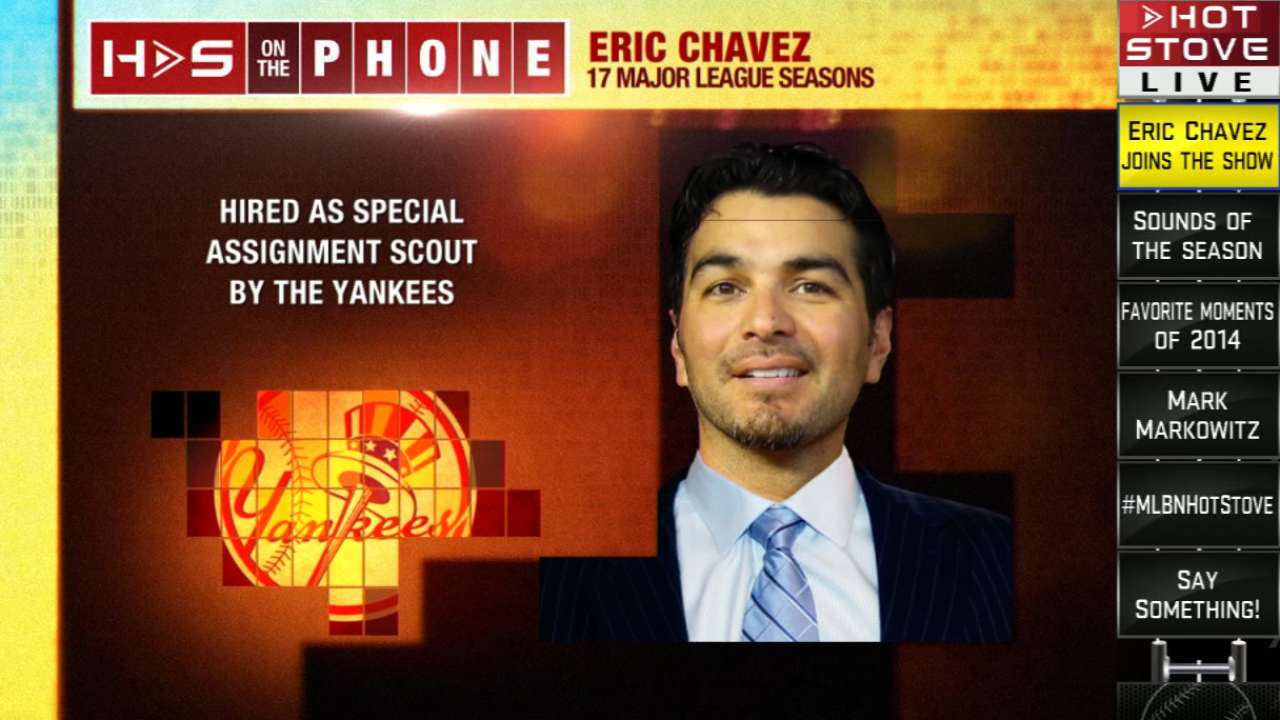 SAN DIEGO -- The Yankees' executive contingent huddled in their suites for this year's Winter Meetings and welcomed a new -- but very familiar -- voice to the crowd.
Eric Chavez, who retired this past year after 17 seasons in the big leagues, rejoined the Yankees as a special assignment scout this winter. Having turned in his uniform just six months ago, Chavez can provide the Yanks with real-time clubhouse analysis of any potential acquisitions.
"We're kind of just sitting around the room, talking about players and seeing how we can improve and build a team going into next year," Chavez said. "There's a lot of moving pieces and it doesn't seem to stop. You're always looking for ways to improve your team, and some are pretty creative. Some are off the wall."
The seeds for the position were sowed during Chavez's two seasons with the Yankees in 2011 and '12, when he spoke with general manager Brian Cashman and assistant general manager Billy Eppler about a desire to stay in the game when his last at-bats were in the books.
Those conversations weren't forgotten, and about two months after Chavez's nagging left knee proved too troublesome to stay on the field, Cashman and Eppler reached out to the 36-year-old to gauge his interest in moving upstairs with the Yankees' decision-makers.
"There are certain guys that have a great knowledge of the game, a tremendous demeanor," Cashman said. "You say, if this is someone that's interested in taking the back side of the game, he seemed to possess that type of DNA and had some interest in it. We're excited to have him as part of our scouting crew."
Chavez said that he did not expect to be back in baseball so quickly after his final innings, but the Yankees' proposal was one that he found exciting.
"I knew once January and February came back around, you can only be at the house and have nothing to do for so long," Chavez said. "Eventually, I wanted to be on the field coaching. I wanted to first see this side of the business, because obviously I've never seen it before.
"I just want to know how they think and what they look for, so when I do get back on the field, I'll have a better idea of what they expect."
Chavez's first official assignment with the Yanks came at the General Managers Meetings in Phoenix in November, where he joined Cashman and Eppler to get a lay of the land. Cashman said that Chavez's input has been helpful.
"He obviously has a great deal of connections," Cashman said. "He can reach out to various managers, coaches or players to find out the dope that's important and that we want to do before we conclude a deal."
Having played the last two seasons with Arizona, Chavez was able to offer a positive in-house endorsement for shortstop Didi Gregorius, whom the Yankees acquired in a three-team deal earlier this month.
"I was really high on him," Chavez said. "His defense is unbelievable, and hitting-wise, he has the potential to be a good hitter -- a good .275, .280 hitter, 12 to 15 home runs. His swing plays perfect for Yankee Stadium, he's kind of got that pull swing. Most of his home runs he hit, where he likes to hit them, I think he'll be pretty successful there."
The role of special assignment scout should provide Chavez with many different experiences to determine a future path in the game. While playing for the Yankees, Chavez spoke about hoping to manage in the big leagues, and he said that dream is still alive.
"It's definitely the first step to getting there," Chavez said. "The only thing that I regret, obviously, is not getting to a World Series. It doesn't mean that I can't do that as a coach or in some other capacity."
When Spring Training rolls around, Chavez will be in uniform as a Yankees coach for the first three weeks of camp before moving into the grandstands to evaluate players for exhibition games.
"I think he's got a lot of information that he can pass on to young players as he's looking at them, and talk about how to play the third-base position," manager Joe Girardi said. "Maybe you're making some adjustments on who plays third this year. I think he'll be very valuable."
During the season, the Yankees plan to dispatch Chavez for week-long stays with their Minor League affiliates. Five of the days will be spent evaluating players, and for the final two days, Chavez will be on the field as an extra coach to work with hitters and infielders.
"We're just trying to see what I'm comfortable with," Chavez said. "I'll just be evaluating and scouting. Maybe at the end of the year, I'll be able to come to Billy and tell him, 'This is what I really liked.' Or maybe I'll like it all. I'm able to get my hands into a lot of things."
Bryan Hoch is a reporter for MLB.com. Follow him on Twitter @bryanhoch and read his MLBlog, Bombers Beat. This story was not subject to the approval of Major League Baseball or its clubs.