Astros lose DeShields, two others in Rule 5 Draft
Houston selects righty Garcia from Boston, then trades him to Orioles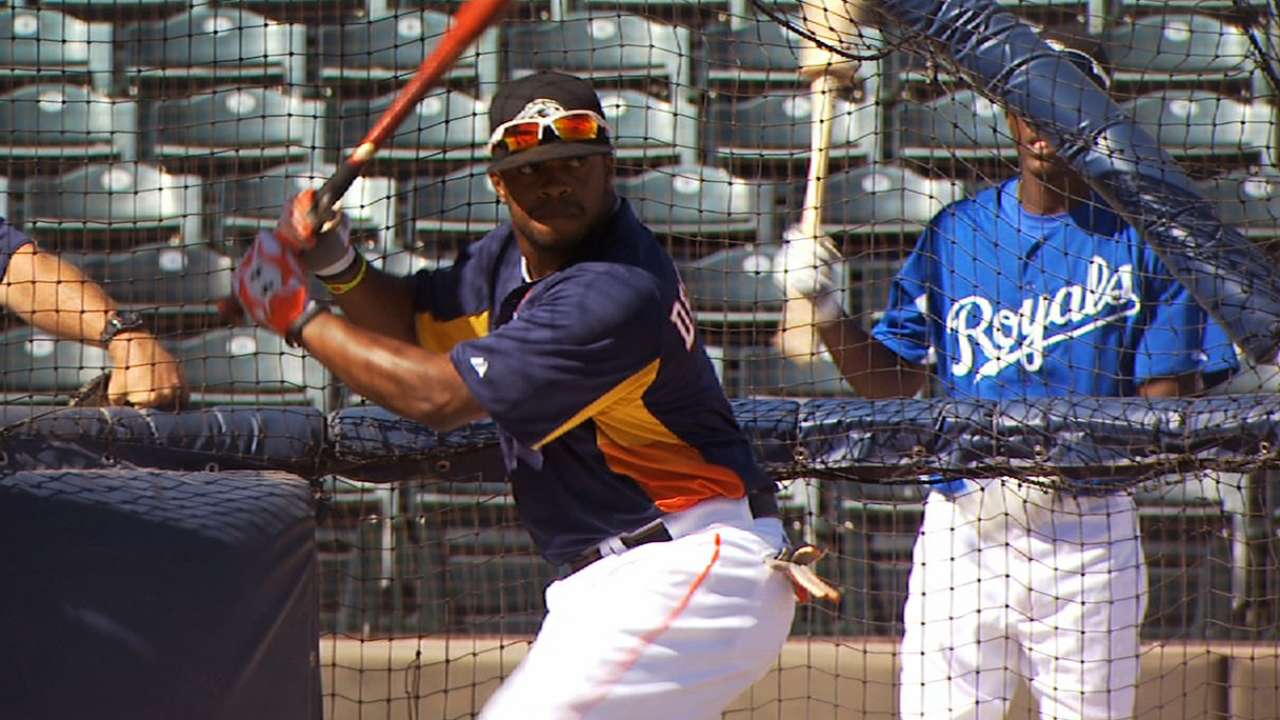 SAN DIEGO -- The improved depth of the Astros' farm system saw them lose three players in the Rule 5 Draft on Thursday, including former first-round Draft pick outfielder Delino DeShields Jr., who was taken by the Rangers with the No. 3 overall pick. They also lost right-handed pitcher Jandel Gustave (Red Sox) and left-handed pitcher David Rollins (Mariners).
All three players taken from the Astros must remain on the Major League roster of the teams that selected them for the entire season or be offered back to the Astros. It costs teams $50,000 to take a player in the Rule 5 Draft, and if he doesn't remain on the roster, he's offered back to his previous team for $25,000.
"I think there's always a selection risk whenever you have talented players who aren't protected," Astros assistant general manager David Stearns said. "We're at the stage in our organizational development where we've got a lot of players other teams want. You can't protect them all. This is a natural part of the process, and so we'll move on from here."
The Astros selected right-handed pitcher Jason Garcia from the Red Sox and then traded him to the Orioles. Houston received $75,000 from Baltimore, according to a source.
DeShields, 22, spent last season at Double-A Corpus Christi and hit .236 with a .346 on-base percentage and 54 stolen bases. Those numbers were down a bit from his 2013 season at Class A Advanced Lancaster, where he hit .317 with 51 steals, and his 2012 season, when he hit .287 with a .389 on-base percentage and stole 101 bases between Class A Lexington and Lancaster.
DeShields was drafted in the first round as an outfielder in 2010, moved to second base and then back to the outfield. His combination of speed and power made his enticing to the Rangers.
"I don't know really know what to think," DeShields said. "I mean, I'm excited that I got selected and everything. It's like bittersweet. I grew up in the organization that I wanted to be a part of and I'm glad for the opportunities and all that, but I guess it's time to try to move on and get a new start somewhere else. I'm just thankful for everything the Astros have given to me and the opportunity the Rangers have given to me."
DeShields was excited about the chance to make a Major League roster.
"That's all I ever wanted, was just get an opportunity to show guys that I belong and I could play in the big leagues," he said. "It's what I've lived for, for my whole life, and to be able to get the chance to play, and that's all I've ever wanted. I'm ready for the shot and the opportunity, and we'll see where it takes me."
The hard-throwing Gustave, 22, struck out 82 batters in 79 innings last season at Class A Quad Cities, but it wasn't too surprising someone would take a flier on his power arm. The Dominican went 5-5 with a 5.01 ERA in 23 games (14 starts) with Quad Cities.
Rollins, 24, spent the entire 2014 season at Corpus Christi and was 3-4 with a 3.81 ERA in 27 games (12 starts), striking out 77 batters in 78 innings.
"I think we knew there were a number of players we couldn't protect who had some level of selection risk, so we're not all that surprised," Stearns said. "Certainly if you look at the past patterns in Rule 5 Drafts, a large percentage of players who are selected are returned, but each case is different. Each team is going to evaluate players differently, and we'll just let that process play out."
In the Triple-A phase, the Astros selected catcher Luis Flores from the Cubs, who took outfielder Ariel Ovando from the Astros. Flores will likely begin the season at Triple-A Fresno.
"He's a guy we liked, a contact hitter with more walks than strikeouts," scouting director Kevin Goldstein said. "Not a big power guy, but good-makeup player and good receiver, and with [Carlos] Perez going somewhere else [in a trade with the Angels], we needed some depth at the upper levels and thought we could fill it here."
The Astros signed Ovando for $2.6 million out of the Dominican with much fanfare in 2010, comparing him in a release to Darryl Strawberry, Jason Heyward, Fred McGriff, Carlos Delgado and Cliff Floyd. He obviously fell well short of those expectations.
"I think he's a guy like a lot of Minor League players that have a lot of tools, and to this point he hasn't been able to put them together to reach the level of production that either he or we have hoped," Stearns said. "That certainly doesn't mean he's not going to reach it in the future, but to this point the level of production that was expected of him when he signed and received all those grand comparisons hasn't appeared."
The Cubs plan to convert Ovando into a pitcher.
Brian McTaggart is a reporter for MLB.com and writes an MLBlog, Tag's Lines. Follow @brianmctaggart on Twitter. This story was not subject to the approval of Major League Baseball or its clubs.