Unlikely trade partners team up for big Kemp deal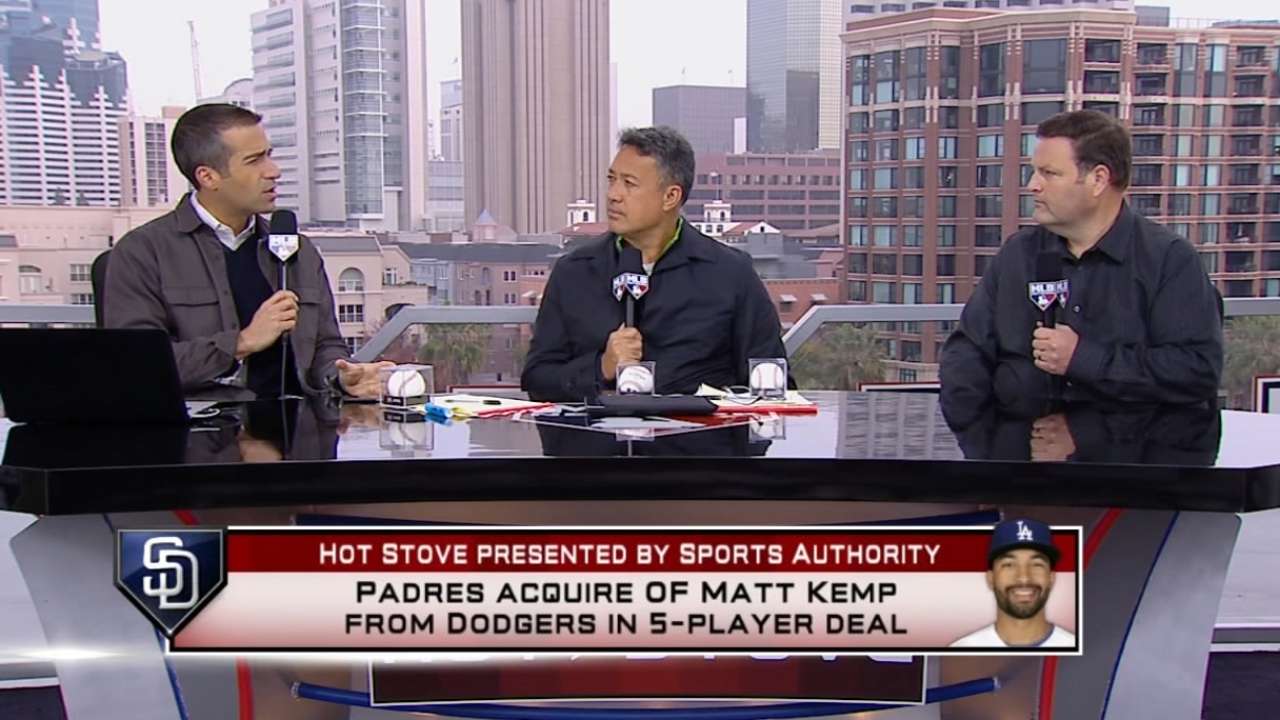 SAN DIEGO -- The Padres took a big swing late Wednesday and landed the much-needed bat that they have been seeking all offseason, landing star outfielder Matt Kemp from the Dodgers as part of a five-player deal, a baseball source told MLB.com.
The Padres will receive Kemp and catcher Tim Federowicz in exchange for catcher Yasmani Grandal, pitcher Joe Wieland and Minor League pitcher Zach Eflin.
USA Today first reported the deal and indicated that the Dodgers would send approximately $31 million of the remaining $107 million left on Kemp's contract to the Padres. Because of the money involved, the trade will need the approval of the Commissioner's Office. Physical exams also will need to be taken.
The trade has yet to be confirmed by either club.
This is the first significant trade completed by Padres first-year executive vice president and general manager A.J. Preller, who was hired in August and immediately charged with upgrading what was baseball's worst offense in 2014.
This was a deal the Padres and Dodgers kicked around for weeks, one that continued this week at the Winter Meetings in the Padres' backyard, just down the road from Petco Park.
Late Wednesday, it finally came to fruition.
As for the Dodgers, it was just another wrinkle in what has been a dizzying 24-hour stretch where the team also made trades with the Marlins and Angels, with perhaps more to come.
In terms of Kemp, he has a career .322/.372/.495 line, with 14 doubles, seven home runs and 34 RBIs in 234 career plate appearances at Petco Park. He immediately becomes the legitimate middle-of-the-order bat the Padres had been seeking -- something they haven't had since Adrian Gonzalez was with San Diego from 2006-10.
In addition to Kemp, the Padres get their backup catcher in Federowicz. The 27-year-old is a career .194 hitter in parts of four big league seasons, though his forte is game-calling and defense. He'll serve as the backup to Rene Rivera, who had a breakout season in 2014.
Wieland, 24, missed the entire 2013 season while recovering from Tommy John elbow surgery. He returned in '14, going 1-0 with a 7.15 ERA in four games. Last week, he avoided salary arbitration by agreeing to a one-year, $590,000 contract.
Eflin is a 20-year-old right-hander who was the 33rd overall Draft pick in the 2012. He has a 3.41 ERA in his first 50 professional games (49 starts) and likely would have started the season in Double-A. He was rated the 10th-best prospect in the Padres' system by MLBPipeline.com.
Kemp, who turned 30 in September, is owed $107 million over the next five seasons and will make a shade more than $21 million annually through 2019. He fits exactly what Preller has been looking for -- not just an offensive boost, but a cost-controlled player.
Grandal essentially became expendable due to the breakout year Rivera had in 2014, with many pitchers on the staff preferring to pitch to him.
Grandal, who had major surgery on his right knee in August 2013 and only caught 76 games last season, is a switch-hitter who batted .225 with 15 home runs and 49 RBIs this past season. He's been able to catch more this in winter ball this offseason and expressed interest in doing more in 2015.
This would be just the fourth trade between the Padres and Dodgers -- the last coming in 2008, when San Diego sent Greg Maddux to Los Angeles -- and there are no shortage of interesting ties between the teams as they relate to Grandal and Kemp.
It was former Padres GM Josh Byrnes who traded for Grandal as part of a five-player deal with the Reds in Dec. 2011. Byrnes, who was dismissed by San Diego in June, was hired by the Dodgers in November to be their senior vice president of baseball operations.
As for Kemp, he was drafted by the Dodgers by then-scouting director Logan White, who in October became the Padres' professional scouting director and senior advisor to Preller.
Preller indicated on Monday that the team was looking for "guys in a perfect world who would be a fit for us in a long-term type setting."
They have that control in Kemp, who the Padres are now on the hook to pay roughly $75 million the next five years -- the largest contract obligation in club history.
Kemp is coming off a big second half during which he hit .309/.365/.606 with 17 home runs and 54 RBIs in 263 plate appearances. That kind of production mirrored the kind he gave the Dodgers before hamstring and ankle injuries limited him to a combined 179 games in 2012-13.
The deal figures to be the first of at least two the Padres will make to improve an offense that ranked last in just about every pertinent offensive category a year ago.
Corey Brock is a reporter for MLB.com. Keep track of @FollowThePadres on Twitter. This story was not subject to the approval of Major League Baseball or its clubs.