White Sox acquire lefty Jennings from Marlins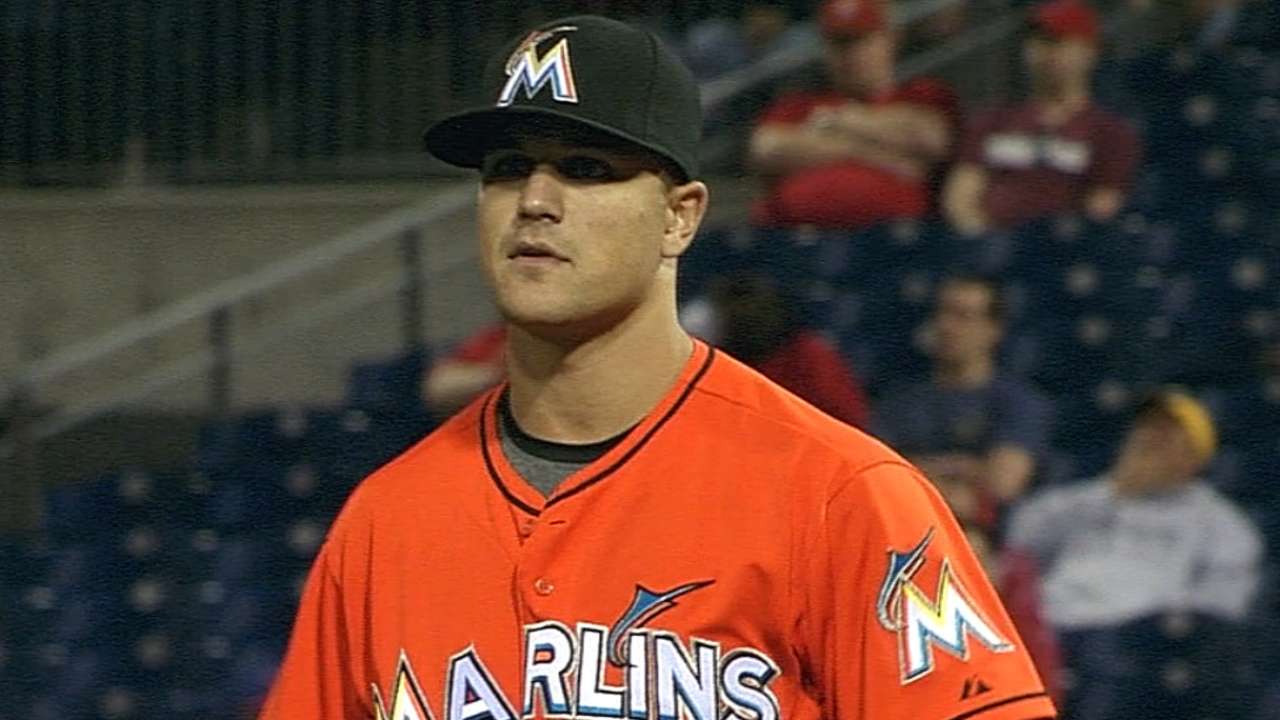 SAN DIEGO -- Dan Jennings became the latest addition to the White Sox push for 2015 contention, when the South Siders picked up the left-handed reliever from the Marlins on Thursday in exchange for right-hander Andre Rienzo.
The 27-year-old posted an 0-2 record with a 1.34 ERA over 40 1/3 innings for the Marlins in 2014, striking out 38 and recording three holds over 47 relief appearances. Thirty-eight of his 47 trips to the mound were scoreless, and he allowed three home runs.
With left-handed hitters posting a .299 average and a .364 on-base percentage against him in 2014, Jennings also qualifies in the talented project group for pitching coach Don Cooper.
"There's a mild bit of a project," said White Sox general manager Rick Hahn in discussing the trade after Thursday's Rule 5 Draft. "He's had some trouble with lefties from time to time. He's actually been more effective against right-handed hitters. But given the stuff, that really shouldn't be the case.
"We wanted to add another left-handed arm to the bullpen. With [Zach] Duke helping to solidify late game, we have a guy in Jennings who can slide in ahead of Duke and provide [White Sox manager] Robin [Ventura] with some more options to balance out the 'pen. I think I mentioned yesterday that when we entered the offseason, the hope was to add multiple relievers from both sides, and Dan was one of our targets from the left."
Cooper already has viewed tape of Jennings, and the White Sox believe they have acquired a lefty with two-plus pitches and a quality big league arm with some continued upside. The bullpen, which was a weak spot in 2014, now features closer David Robertson, Duke, Jennings, Jake Petricka and Zach Putnam. Daniel Webb, Javy Guerra, Maikel Cleto, Onelki Garcia, Eric Surkamp and Michael Ynoa remain in the mix for the final two spots, with Nate Jones rehabbing his way back from Tommy John surgery.
And Hahn doesn't appear to be done reshaping his relief crew.
A Major League source confirmed to MLB.com Thursday that the White Sox remain in serious talks with the Mariners on a deal sending outfielder Dayan Viciedo to Seattle and moving a bullpen piece to Chicago in return. It's a fluid part of an active and remarkably accomplished offseason that is not yet complete.
"I hope we have more left," Hahn said. "I think there are other areas that we would like to address.
"If there's an opportunity to add another arm or two that we feel will be an upgrade or provide additional depth, we certainly will explore that. We feel good about the three [bullpen] additions and obviously the internal options we have."
Jennings did not allow an earned run over 19 consecutive appearances covering 17 2/3 innings from April 20-July 4 last season, and over 13 straight games covering 9 2/3 innings from July 19-Sept. 11. He has a 2.43 career ERA in 100 innings over 116 games.
This addition also would seem to indicate that Carlos Rodon, the White Sox top prospect per MLB.com and the No. 3 overall pick in the 2014 First-Year Player Draft, would be focused on starting at some level and not considered for Major League relief at the season's outset. Hahn reinforced the point that the left-hander's career path remains being part of the starting rotation, but he did not rule out Rodon beginning his big league career in the bullpen.
It's a better proposition to be able to use Rodon there for development purposes, as opposed to forcing a prospect up for need.
"Having this depth in the bullpen now, as well as some veterans in the rotation, it allows us to ease in a young player, whether it's Rodon or [Frank] Montas or whomever else from our prospect stash on the timetable they dictate: not the needs of the big league club dictates," Hahn said. "We never want any of our prospects to be into the big leagues out of necessity. It has to be more about they are ready to contribute and ready to have success.
"Not that they are just ready to survive or that they could help the team in a pinch. It's that this is the stage of their development where it's time for them to be in the big leagues and contribute and succeed.
"Again, we view Carlos as a starter long term. It is conceivable that he joins the starting rotation after a stay in the big league bullpen, which we've talked about before," Hahn said. "But if he does, we feel that's best for the club and best for his development, not because there's a hole, so to speak. Now we have some options."
Scott Merkin is a reporter for MLB.com. Read his blog, Merk's Works, and follow him on Twitter @scottmerkin. This story was not subject to the approval of Major League Baseball or its clubs.