Mets sign Mayberry to one-year deal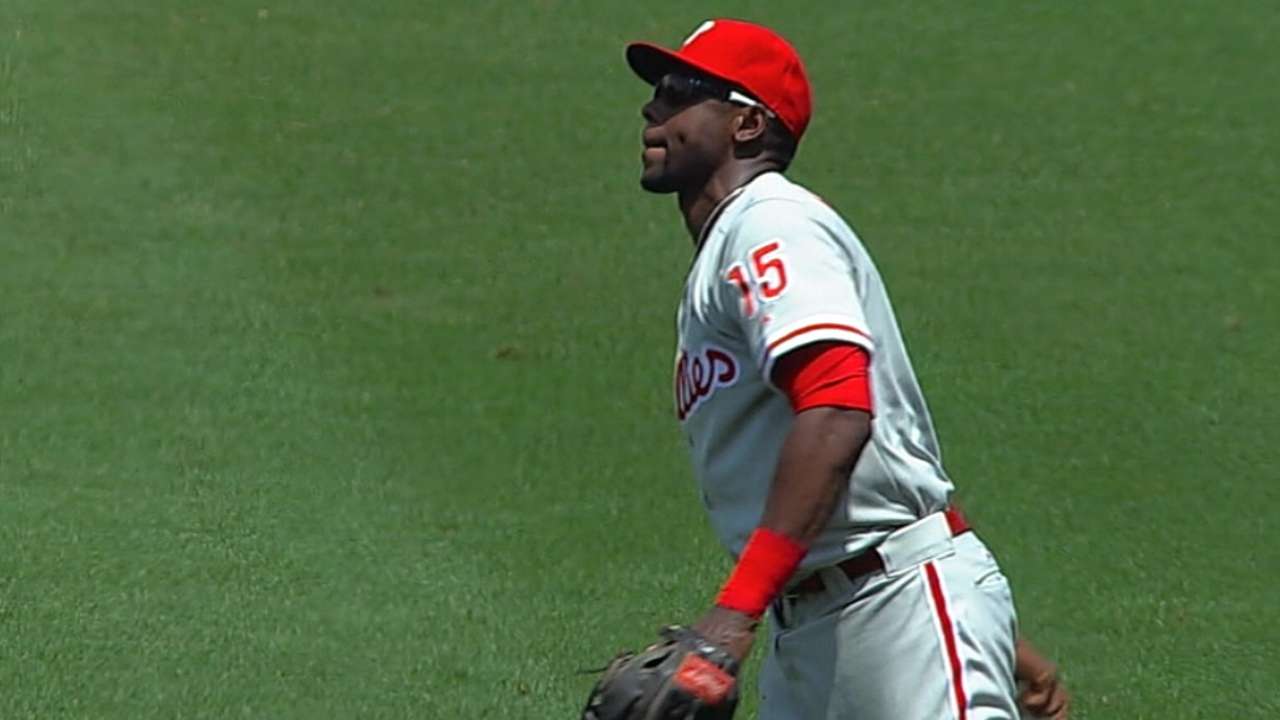 After agreeing to terms on a one-year, $1.45 million deal with John Mayberry Jr. at the Winter Meetings, the Mets made the transaction official on Monday afternoon.
In order to make room for Mayberry on the 40-man roster, the Mets designated right-hander Gonzalez Germen for assignment.
Mayberry, who turns 31 later this month, hit .212 with seven home runs last year in 168 plate appearances split between the Blue Jays and Phillies. He is a career .241 hitter with 53 homers, 30 of them versus lefties, resulting in a career slugging percentage 168 points higher against left-handed pitchers than right-handers.
In New York, Mayberry will give the Mets a bench option to neutralize lefty relievers, as well as a part-time starter capable of subbing for either Curtis Granderson or Lucas Duda. Against lefties, manager Terry Collins can either start Mayberry over Granderson in left field, or play both Mayberry and Granderson while starting Michael Cuddyer over Duda at first.
A former first-round Draft pick of the Rangers, Mayberry debuted for the Phillies in 2009 before moving on to Toronto midway through last season. He is a career .304 pinch-hitter with seven home runs in 121 plate appearances, often facing other clubs' lefty specialists late in games. In that sense, Mayberry figures to fill the role that Scott Hairston handled with aplomb for the Mets from 2011-12.
Though general manager Sandy Alderson did not acknowledge the Mayberry signing before leaving the Winter Meetings on Thursday, he spoke more generally of the importance of supplementing Granderson and Duda with a right-handed hitter.
"The reason we've been looking for a right-handed bat is to try to be more effective against left-handed pitching," Alderson said. "It would give us another option if we had another solid right-handed bat, and a guy to come off the bench as well."
The move all but finalizes the Mets' outfield situation heading into next year. Granderson, Juan Lagares and Cuddyer (from left field to right field) should start most games, with Mayberry serving as a right-handed sub. The Mets technically have two candidates for their final outfield bench job, though the fact that Kirk Nieuwenhuis is out of options should skew things in his favor over Matt den Dekker.
The Mets lost an outfielder earlier this month when they non-tendered Eric Young Jr., replacing his speed with Mayberry's power. Defensive metrics peg Mayberry as below average in the outfield, though most of that has been due to his struggles in center. With both Lagares and Nieuwenhuis capable of handling that position, Mayberry should spend most of his time in Flushing at the corners.
Mayberry's deal also puts the Mets' payroll squarely above $100 million heading into mid-December, but the team may fall back under that threshold if it trades Dillon Gee. Alderson has said that he does not envision the payroll creeping far into the nine-figure realm, and it could ultimately come to rest in the high $90-million range.
Anthony DiComo is a reporter for MLB.com. Follow him on Twitter @AnthonyDicomo. This story was not subject to the approval of Major League Baseball or its clubs.