In separate deals, Tigers land Cespedes, Simon
Detroit sends Porcello to Red Sox for outfielder, then deals for Reds righty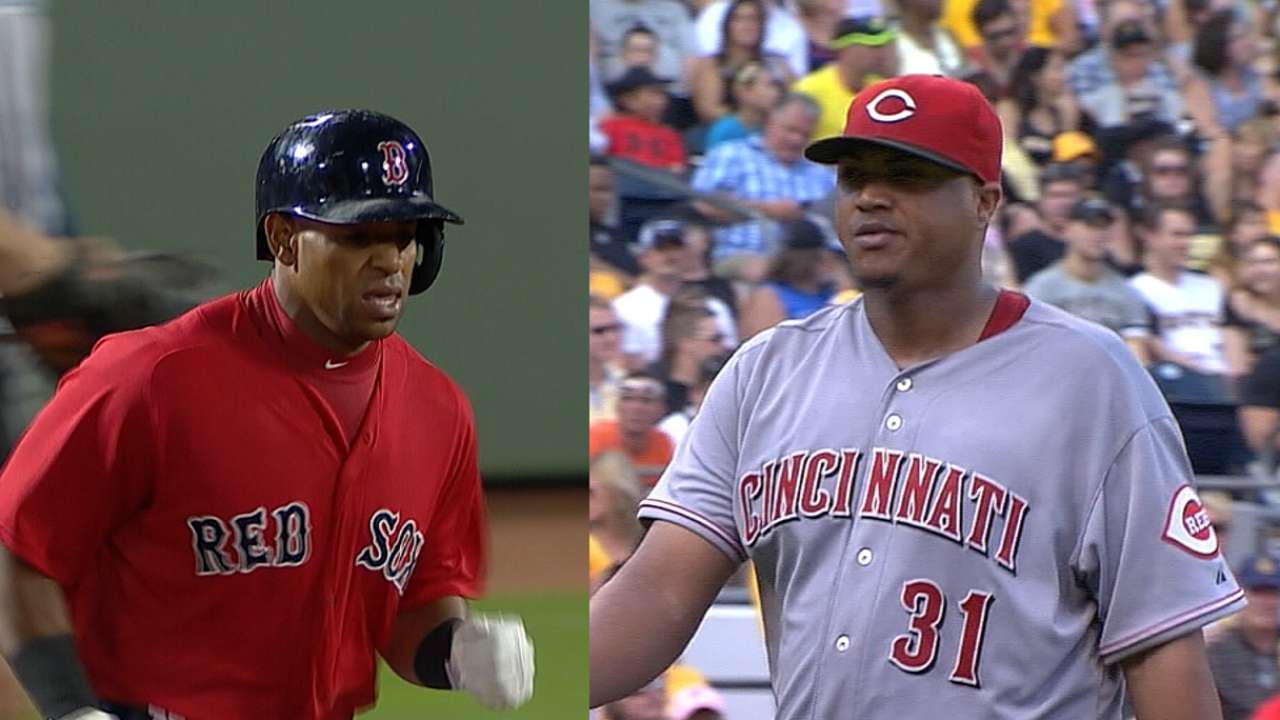 SAN DIEGO -- Once again, the Tigers made noise at baseball's Winter Meetings, this time waiting until its final hours.
By adding slugging outfielder Yoenis Cespedes for right-hander Rick Porcello on Thursday morning, then acquiring Alfredo Simon from the Reds for Eugenio Suarez and Jonathon Crawford, their parting shot at this year's Meetings answered the past few days of deals by the rest of the American League Central.
Detroit will also receive right-hander Alex Wilson, who made 18 outings for the Red Sox last season, and Minor League pitcher Gabe Speier, who appeared in nine games for Boston's rookie club in 2014.
"We proceeded more with [the Simon trade] when we had the opportunity to do something else," said Tigers president/general manager Dave Dombrowski at a Thursday morning press conference. "But we weren't going to do something else unless we could get starting pitching, which we've said all along. So once it looked like we had a chance that made sense for us, we then said, 'You know what, let's see if this works.'"
It took until the very end of the Winter Meetings. Once it came together, the Tigers had the right-handed hitter they had eyed ever since he defected from Cuba.
Though the Cespedes rumor had been a lingering all week, it didn't take motion until the Simon trade gained momentum. Once that happened, the Tigers spent Wednesday afternoon and evening making a push for the Red Sox slugger, according to sources, breaking only for a previously scheduled team dinner early Wednesday night. Dombrowski pushed back his regularly scheduled 4 p.m. PT meeting with Detroit reporters; the meeting was postponed to just before 11 p.m.
Tigers officials broke camp and went to bed just before midnight. By morning, they had their man.
"We like [Cespedes]," Dombrowski said. "He's a premium player. He's a good all-around player. He's a guy every time he's faced us, he's a threat to drive the ball out of the ballpark, a threat to drive in runs. You always fear him at the plate.
"He's a good all-around player. He's a very athletic guy who can play left field and cover ground out there. There's not a lot of offense that's around in the game. And so for us, when we start adding up all the dynamics of how our club fit together, he fit very well for us."
The Tigers nearly signed Cespedes during his free-agent courtship before the 2012 season. Victor Martinez's season-ending knee injury, however, changed their plans and directed them to Prince Fielder, whom they signed to a long-term contract.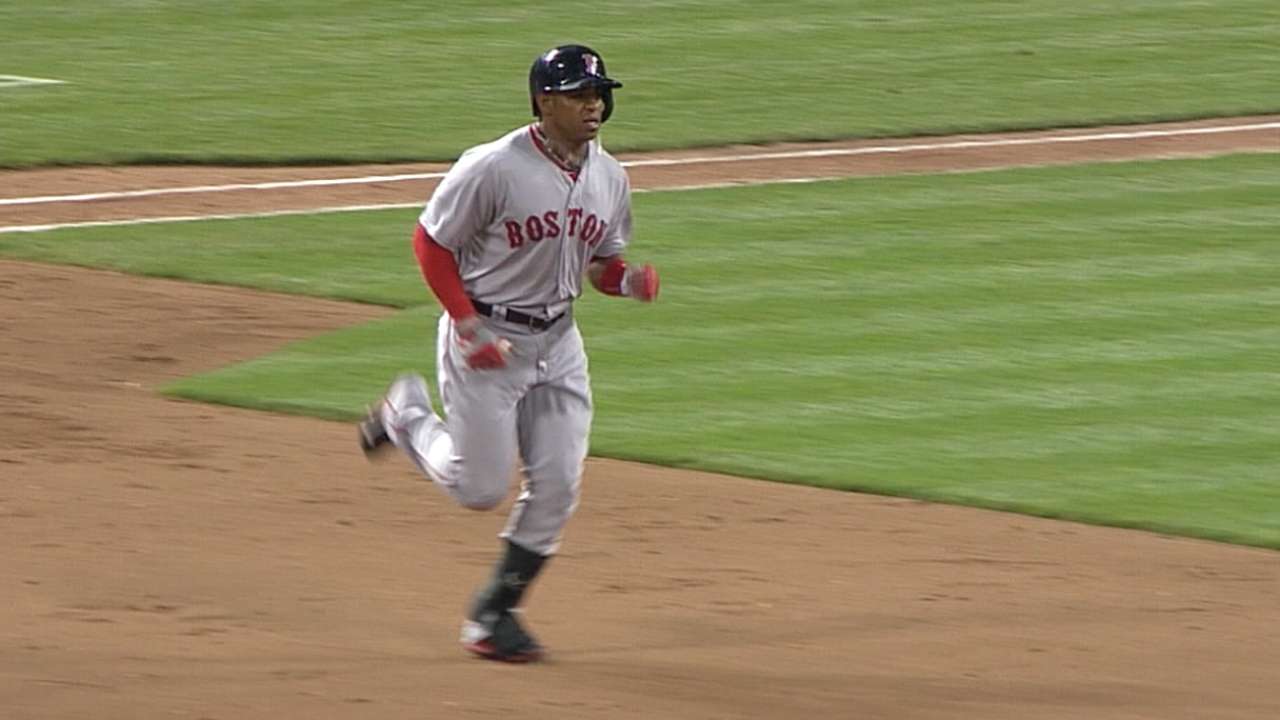 Cespedes signed a four-year, $36 million deal with Oakland, which won back-to-back AL West titles with the help of his right-handed power bat, before trading him to Boston at the July 31 Trade Deadline for left-hander Jon Lester. Cespedes enjoyed his first 100-RBI season in 2014, hitting the century mark on the nose to go with a career-high 36 doubles, but he hit .260 with 22 home runs and a .751 OPS.
"I think with Cespedes, what surprised us is how well he played quickly at the Major League level," Dombrowski said. "But he did come along very quickly. We've always liked him."
Once the Red Sox signed Rusney Castillo in the summer and Hanley Ramirez this offseason and welcomed back Shane Victorino from the disabled list, Cespedes entered his contract year as an expendable part in Boston's search for starting pitching. And the Tigers, who had an opening in their outfield after Torii Hunter's departure via free agency, had a second chance at Cespedes.
Three years into his Major League career, Cespedes is still an ultra-aggressive hitter, and his resulting on-base percentages led to an OPS that was lower than Hunter's in each of the past two seasons. Yet his impact power bat and his strong-armed defense, punctuated by a highlight throw on the fly to home plate from the left-field corner this past season, made him the kind of all-around contributor the Tigers couldn't pass up.
"He remembered us having lunch with him and his family," Dombrowski said. "We're happy to reunite with him at this point."
Cespedes joins a Tigers lineup that includes three-time batting champion and two-time AL MVP Miguel Cabrera, AL MVP runner-up Victor Martinez, breakout hitter J.D. Martinez and a supporting cast of speedy players.
"It's probably not going to end up being a prototypical lineup in the sense of having a prototypical two-hole hitter, so to speak, at this point," manager Brad Ausmus said. "But at some point, the opposing pitchers are going to have to go through that stretch of hitters, which is a pretty powerful part of the lineup, probably as powerful as any part of any lineup in the game."
Cespedes, who turned 29 in October, is expected to take his customary spot in left field, with J.D. Martinez moving to right.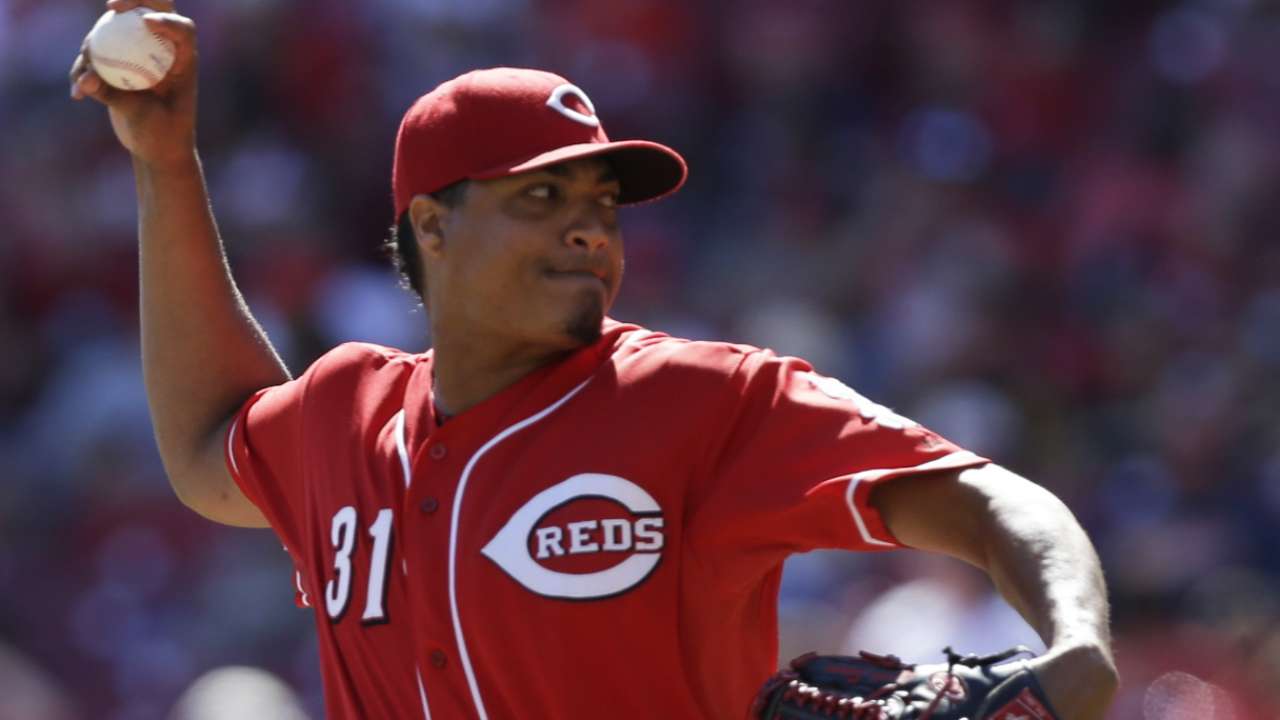 Taking Porcello's spot is Simon, who has spent most of his seven-year Major League career in relief between Baltimore and Cincinnati. After two years in the Reds' bullpen, however, the 33-year-old blossomed in Cincinnati's rotation this past season, going 15-10 with a 3.44 ERA in 32 starts and earning his first All-Star selection.
Simon allowed 181 hits over 196 1/3 innings, walking 56 while striking out 127. In many ways, he is the opposite of Porcello, with a 4.33 fielding independent pitching (FIP) nearly a full run above his ERA in 2014. However, 13 of the 22 home runs he allowed came at hitter-friendly Great American Ball Park. A move to Comerica Park should temper his home-run rate a bit.
Simon was one of four Reds starting pitchers eligible for free agency next winter. Of the four, Simon projected at a lower-end salary.
"He's always been a pitcher that had premium stuff," Dombrowski said. "He has got an above-average arm. He's got four pitches. He's got a split or a changeup that he throws -- slider, cutter. He's got quality pitches. He pitched a lot in the bullpen early in his career.
"[Simon] was always a guy that just never quite got over that hump of being a really good pitcher," Dombrowski said, "and then last year, his performance on the stuff matched his stuff. He has an above-average fastball and quality stuff, so he's a guy that fits into the rotation."
Simon is entangled in a civil suit involving an alleged sexual assault from an April 2013 incident in Washington. The case, filed last April, remains unresolved. He was acquitted of an involuntary manslaughter charge in his native Dominican Republic.
"We're totally aware of his situation," Dombrowski said. "I can't talk about his legal scenario, but we're aware of it and comfortable where it stands at this time."
All three of the major players in the two deals are eligible for free agency next winter. So from a contractual standpoint, the Tigers acquired one season of Cespedes for one season of Porcello, then replaced the latter with one season of Simon. Unlike Porcello, however, the Tigers cannot gain a Draft pick if Cespedes leaves as a free agent after the season, because his contract prevents his team from making a qualifying offer.
Porcello, meanwhile, becomes the second starter the Tigers have traded in the past 12 months. Unlike Doug Fister, however, Porcello netted an established player and a star on his way out.
Though Porcello turns just 26 later this month, the sinkerballer has been, for the most part, a fixture in Detroit's rotation since 2009, when he made the team out of Spring Training at age 20. He set career bests with 15 wins, 204 2/3 innings and a 3.43 ERA this past season, and he led the Majors with three complete-game wins.
"I had a lot of people call me about Rick, which would not surprise you," Dombrowski said. "He's a quality pitcher. It would make sense that they would inquire about him. But he's also one of the few guys that had the ability to be able to acquire Cespedes."
Jason Beck is a reporter for MLB.com. Read Beck's Blog and follow him on Twitter @beckjason. This story was not subject to the approval of Major League Baseball or its clubs.