Red Sox land Porcello from Tigers for Cespedes
As Winter Meetings conclude, Cherington still seeking additional starter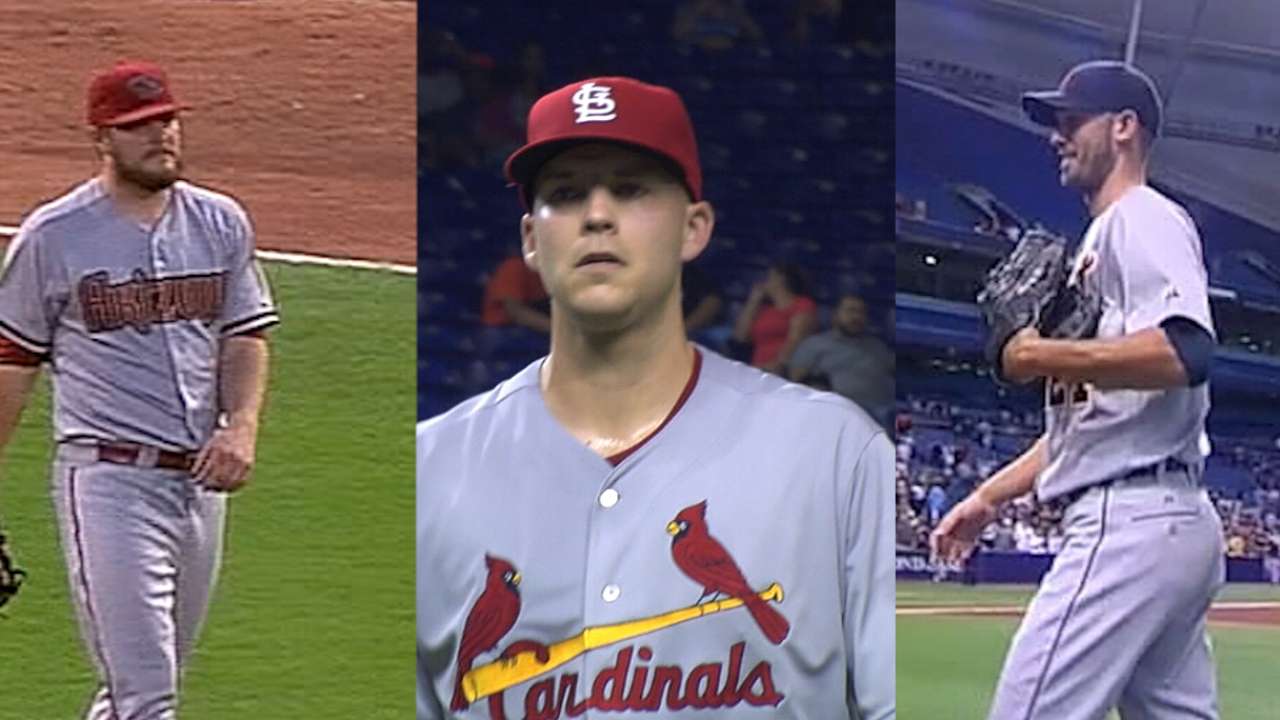 SAN DIEGO -- The Red Sox have traded the power bat of Yoenis Cespedes to the Tigers for a key rotation piece in right-hander Rick Porcello, completing a frenzied 24-hour period in which general manager Ben Cherington acted quickly after free-agent left-hander Jon Lester opted to sign with the Cubs.
Aside from completing the deal for Porcello, the Red Sox are on the verge of acquiring lefty starter Wade Miley from the D-backs, and they signed free-agent righty Justin Masterson to a one-year, $9.5 million contract.
Right-hander Alex Wilson, who has bounced between the Red Sox and Triple-A the past couple of seasons, also goes to Detroit, along with Minor League lefty Gabe Speier.
"No secret, obviously we were looking to add to the rotation," said Cherington. "Porcello is a guy we had targeted earlier in the offseason. A 26-year-old, soon-to-be 27-year-old who has kind of come into his own the last couple of years."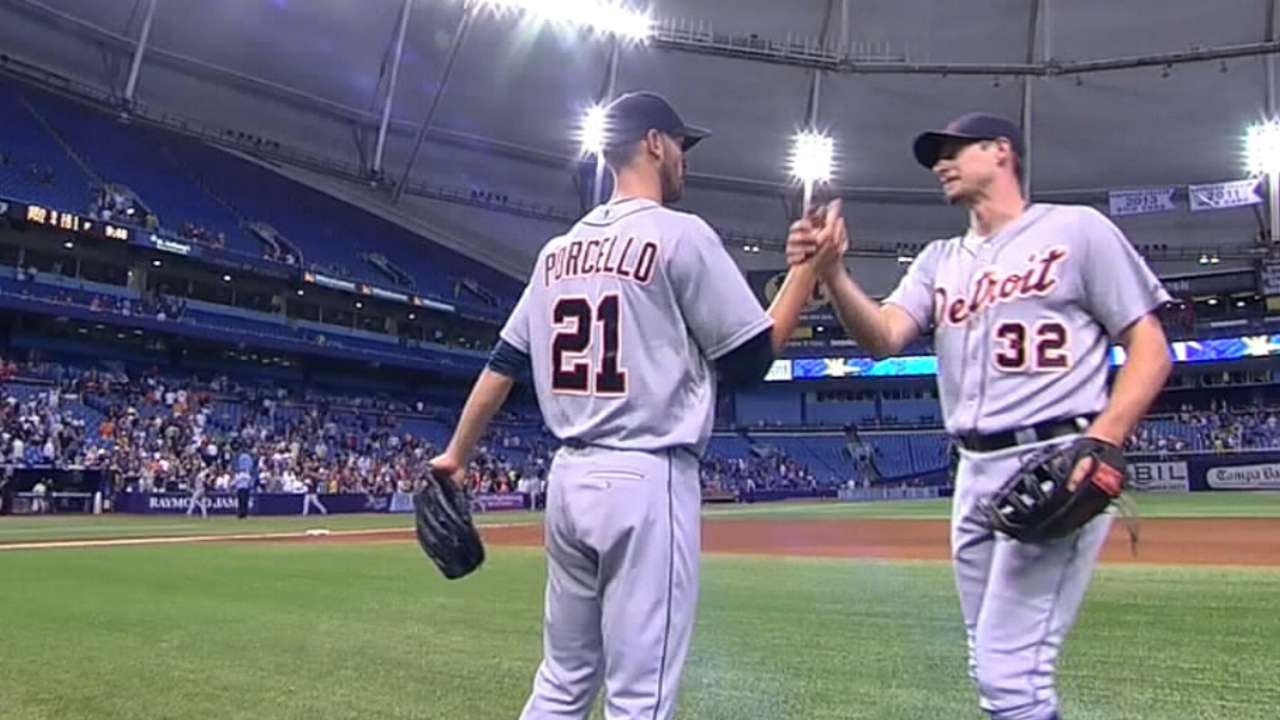 Cherington announced the acquisition of Porcello moments before getting ready to leave the Winter Meetings and fly back to Boston. The Miley trade isn't done yet, but it will be announced once the clubs decide on a Minor League prospect who will go to Arizona. The Red Sox will also send righties Rubby De La Rosa and Allen Webster to the D-backs in that deal.
Boston's three new additions will join Clay Buchholz and Joe Kelly in a rotation that lacks a true ace. Cherington didn't rule out making another addition to the rotation.
Thank you Detroit fans for everything! It's been a pleasure playing in front of you. Excited to start a new chapter in Boston!!!

- Rick Porcello (@RickPorcello) December 11, 2014
"I think we're going to keep working and see what comes to us," said Cherington.
Porcello is coming off a career-best season in which he went 15-13 with a 3.43 ERA. The righty is known as a ground-ball machine.
"We've had a pretty strong combination of scouting and analytics work on him," said Cherington. "Obviously he pitched on good teams, pitched in the American League. We think he's a good fit for Fenway. He'll go into the rotation and give us another strong starter."
Since signing Hanley Ramirez to play left field last month, it became clear that the Red Sox would look to trade Cespedes, who will be a free agent at the end of the 2015 season.
"As we got into the offseason and looked at what the alternatives were and the need to build a rotation and the depth we have in the outfield -- we feel good about the outfield group that we have, we just felt like it made sense," said Cherington. "Detroit's getting a good player, as you know. I expect him to have a very good year for them."
Though the Red Sox still have considerable depth in the outfield, the picture has cleared a little with Cespedes gone. Ramirez will play left. Center and right will be patrolled by some combination of Mookie Betts, Rusney Castillo and Shane Victorino.
If Victorino is healthy following back surgery, there's a chance Betts could open the season in the Minor Leagues.
"With those three guys, we feel confident we'll figure out a solution that works. I don't think we feel like we need to do it right now," said Cherington. "Obviously in Mookie's case, he's the youngest of the group. He came up and played very well and looked like he's going to be more than capable of playing center or right or any other positions potentially.
"Castillo's a natural center fielder, and [he] has looked really good defensively in Arizona and Puerto Rico now that he's down there. Obviously we made an investment in him and believe in him as a player.
"And then obviously Victorino is a huge part of the team and the best right fielder in baseball in 2013, and [he] went through a tough 2014 because of injuries. If he's recovered, and we expect him to be recovered, he can be a very good player. I just think it's something we'll figure out as we get closer to the season."
The Red Sox acquired Cespedes for Lester on July 31. With Thursday's trade, they used Cespedes as a chip to help replace Lester in the rotation.
Porcello is eligible for free agency after the 2015 season. Might the Red Sox discuss an extension?
"[Let's] just get to know him a little bit first," said Cherington. "I'm sure we'll have a chance to get him up to Boston sometime soon and introduce him to some of the things we do and get to know him a little better. I don't want to rule anything out, but that's not something we're talking about right now."
Signed by the Tigers as the 27th selection in the first round of the 2007 First-Year Player Draft, Porcello has made at least 27 starts and pitched at least 162 2/3 innings in all six big league seasons since his 2009 debut.
Porcello placed third in the American League Rookie of the Year Award voting in 2009 after going 14-9 with a 3.96 ERA in 31 starts for the Tigers. His 14 wins in 2009 remain the most for any pitcher in a season before turning 21 since the Mets' Dwight Gooden won 24 games in 1985.
"He's a guy who was a very high pick, got to the big leagues very quickly and was kind of learning how to pitch at the big league level for a while," said Cherington. "It seems like he was starting to turn a corner the last couple of years. Even 2013, we feel like look at the underlying numbers and our scouting reports, it was sort of better than what the raw ERA looked like. That carried into 2014. We think he's at a good point in his career and that he'll be a good, solid addition to the rotation."
Ian Browne is a reporter for MLB.com. Read his blog, Brownie Points, and follow him on Twitter @IanMBrowne. This story was not subject to the approval of Major League Baseball or its clubs.