Scherzer, Tigers keeping door open for return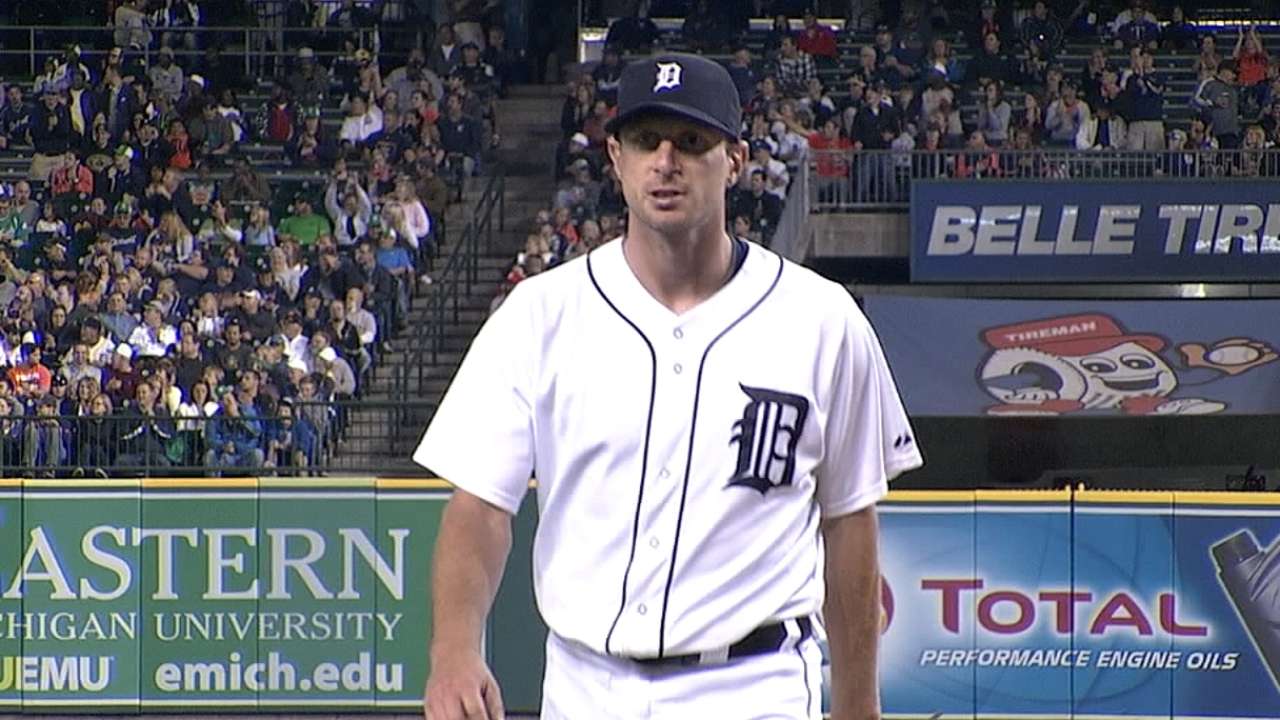 SAN DIEGO -- The binder that agent Scott Boras has put together for Max Scherzer is 45 to 50 pages long. It includes the much-publicized "pitching odometer" Boras has mentioned to note how few pitches Scherzer has thrown for his age. It has stats ranging from the advanced -- Fielding Independent Control -- to the traditional, such as the Tigers' winning percentage in games he pitched compared with everyone else in the rotation.
But the Tigers do not need a binder to know all they need to know about Scherzer. They've seen his impact over the last five seasons. They'd be interested in seeing him stay longer, whether it's a priority or not.
Whether there's any real chance of that happening, however, is a long way from apparent. Now that Jon Lester is off the free-agent market, having signed with the Cubs, Scherzer takes the spotlight among pitchers.
When asked about a desire for Scherzer to return, Boras talked about a willingness.
"Certainly I've had this conversation with the Tigers about his willingness to return, and that's been expressed at every level," Boras told reporters on Wednesday afternoon during the Winter Meetings. "He's had a great experience in Detroit. He thinks Detroit can be a winning team and he's very familiar with it, obviously. So he has certainly left that door open."
The "open door" analogy is one that the Tigers have also used, so at this point that seems to be the status between the two sides. Although team president/general manager Dave Dombrowski brushed back Tuesday's ESPN report that stated Scherzer is their focus and citing their willingness to spend "big, big dollars" to keep him, he has never closed the door on a return. That essentially leaves them where they were last week, with no ongoing talks, according to Dombrowski.
"We've had no further conversations as far as negotiations since Friday or an increase in offers. I can't say that anybody hasn't talked to anybody from their organization or if they've reached out to us, but our situation has not changed at all. We're very happy with our starting staff as we sit here right now."
Boras said that there's no timetable for Scherzer to make a decision, and when asked if the Tigers will have an opportunity to match any offer, he made it relatively clear.
"No. This is not church bingo," Boras said. "You pretty much are in the market, and a player will tell all the teams and anyone involved that he can sign at any time, and he's open to signing at any time. If we get in a room and we carry out a negotiation and he's pleased with it, it can be done without notice at any time."
• No timetable for Miggy: In other news, the Tigers have no firm timetable as to when Miguel Cabrera will be ready for game action next year following October surgery to remove a bone spur from his ankle and repair a stress fracture at the top of his foot. At some point they'll have to figure out how to proceed heading into Spring Training and whether they need a Plan B.
That point isn't now, but it could come up soon after the holidays. On Wednesday, manager Brad Ausmus said Cabrera's followup exam next month could determine whether the Tigers have to prepare for a stretch of time without him, at least in Spring Training.
"We've got to wait until January to find out where Miggy is at," Ausmus said. "If the report at that point is that it could be close in terms of time, then we might have to. But right now we'll just wait and see what happens."
Asked whether they can fill the void in-house, Ausmus said, "We've talked about the need to be able to move quickly on it if we have to."
Cabrera tweeted a photo a couple of days ago that showed him working out without a cast on his leg. He still wasn't putting weight on it, and he probably won't until January, but he didn't have to rest the leg on a scooter anymore.
The Tigers had a first-base prospect in camp last spring, Futures Game participant Jordan Lennerton, but he became a Minor League free agent this fall. They have another in former third-round pick Aaron Westlake, but the former Vanderbilt University slugger is coming off a tough year at Double-A Erie, having batted .236 with 15 home runs, 49 RBIs, a .689 OPS and a 32-to-120 walk-to-strikeout ratio.
American League MVP runner-up Victor Martinez is capable of playing first base, but the Tigers prefer the recently resigned Martinez, who turns 36 on Dec. 23, to not play there for a long stretch.
• No talks with Aoki: The Tigers have been linked at various points this offseason to former Royals outfielder Nori Aoki, who hit the free-agent market following a strong season in Kansas City. Manager Brad Ausmus seemed to quash that rumor in his media session on Wednesday, saying they haven't had any talks on him.
Aoki batted .285 with one home run, 43 RBIs and a .710 OPS this past season. Moreover, he's a left-handed hitter, something the Tigers have preferred to add to a predominantly right-handed-hitting outfield.
Once Detroit traded for Anthony Gose last month, however, that fit seemed iffy at best. Gose is a left-handed hitter with speed, which overlaps with Aoki's skill set.
Jason Beck is a reporter for MLB.com. Read Beck's Blog and follow him on Twitter @beckjason. This story was not subject to the approval of Major League Baseball or its clubs.