Rangers consider trading pick in Rule 5 Draft
Daniels said other clubs are seeking Texas' third overall selection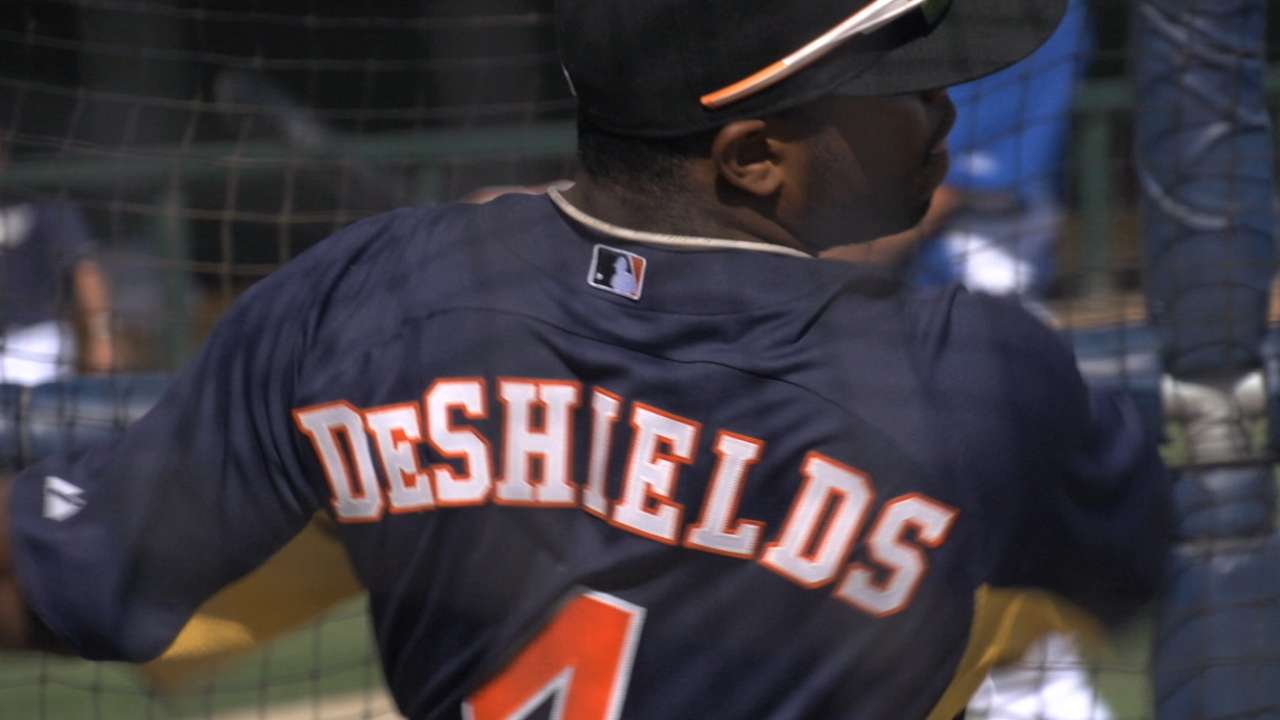 SAN DIEGO -- The Rangers have the third overall pick in the Rule 5 Draft and are considering the possibility of trading the pick.
The Rule 5 Draft is scheduled for 9 a.m. PT Thursday at the Winter Meetings.
---
Winter Meetings action
Day 4: Dec. 11
Transaction
Official?
OF Matt Kemp
C Tim Federowicz
Traded to Padres
No
C Yasmani Grandal
RHP Joe Wieland
RHP Zach Eflin
Traded to Dodgers
No
OF Yoenis Cespedes
RHP Alex Wilson
Traded to Tigers
Yes
RHP Rick Porcello
Traded to Red Sox
Yes
RHP Ervin Santana
Four-year deal with Twins
No
LHP Mat Latos
Traded to Marlins
No
RHP Anthony DeSclafani
C Chad Wallach
Traded to Reds
No
RHP Justin Masterson
One-year deal with Red Sox
No
RHP Alfredo Simon
Traded to Tigers
Yes
RHP Jonathon Crawford
IF Eugenio Suarez
Traded to Reds
Yes
LHP Ross Detwiler
Traded to Rangers
No
OF John Mayberry Jr.
One-year deal with Mets
No
RHP Andre Rienzo
Traded to Marlins
Yes
LHP Dan Jennings
Traded to White Sox
Yes
"We might be able to help our club more by trading it," Rangers general manager Jon Daniels said. "We have been hit by a bunch of teams looking to trade for it. We're not sure what we are going to do."
To make a selection in the Major League phase of the Rule 5 Draft, a team must have room on its 40-man roster for the new player. Clubs pay $50,000 to select a player in the Major League phase. If that player doesn't stay on the selecting team's 25-man roster for the full season, he must be offered back to his former team for $25,000.
Keeping Rule 5 picks on a roster for a full season is difficult. But the Rangers could draft a player and trade him to another team for someone not bound by the Rule 5 restrictions. The Rangers might be able to get a reliever or a utility infielder that way.
Unlike the First-Year Player Draft, clubs are allowed to trade Rule 5 picks. The Cubs were actually the team that selected outfielder Josh Hamilton in the 2006 Rule 5 Draft and then sold him to the Reds.
There are some interesting players available in this year's Rule 5 Draft, including power-hitting first baseman Mark Canha, catcher Steve Baron, athletic outfielder Delino DeShields Jr., and some power arms, like right-handers Edgar De La Rosa, Jandel Gustave and Gregory Infante, and left-handers Andrew McKirahan and Jarlin Garcia.
Worth noting
• Barry Zito, who did not pitch last season, is working out in Houston and wants to play again. Daniels said the Rangers will likely send somebody to watch him throw.
• Pirates manager on Clint Hurdle on losing his bench coach to the Rangers: "Jeff Banister was a good coach before I got there, it was fun in the four years. He made me better. Hopefully I was able to impact him and help him get a little bit better as well. The relationship was significant and special, and I will definitely be pulling for him.
"I think he's found a very good place to get his start, and he's with a very good group of people over there. I've got history with them as well, so he's got a good ballclub as well. So it should be an exciting time for him. I'll enjoy watching from afar."
T.R. Sullivan is a reporter for MLB.com. Read his blog, Postcards from Elysian Fields, and follow him on Twitter @Sullivan_Ranger. This story was not subject to the approval of Major League Baseball or its clubs.