Angels deal Kendrick, get Heaney, Rutledge
Left-hander adds to rotation depth; INF acquired from Rockies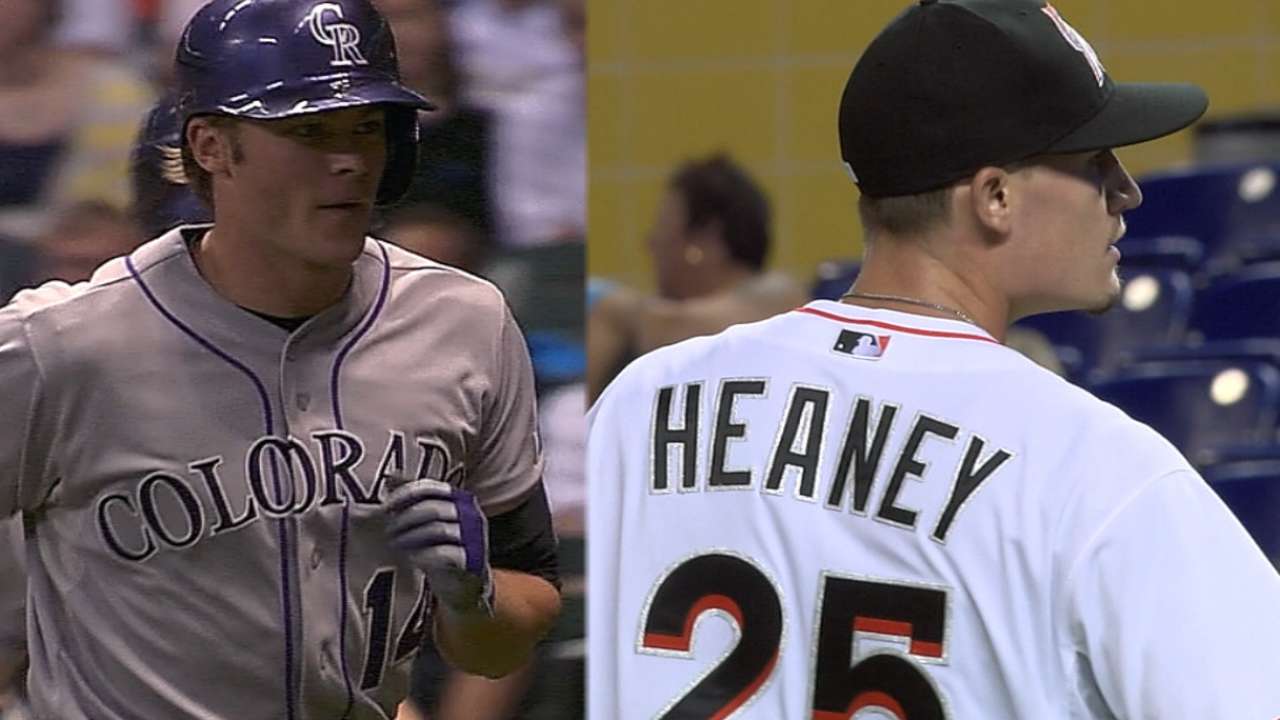 SAN DIEGO -- The Angels pulled off a couple of one-for-one trades just as the final full day of the Winter Meetings was winding down, sending homegrown second baseman Howie Kendrick to the Dodgers for starting pitching prospect Andrew Heaney and acquiring infielder Josh Rutledge from the Rockies for relief prospect Jairo Diaz.
Both moves shared a common purpose.
"The goal is to figure out how to get younger, better, more cost-effective; put yourself in a situation where you can sustain winning," Angels general manager Jerry Dipoto said from his suite late Wednesday night. "It's not to get a bunch of guys that everybody has heard of all the time and run them out there and let it flame out. We're trying to find a way to turn a veteran roster into a veteran roster that can compete now with the elements that are young and can continue to sustain moving forward."
Heaney, acquired minutes after the Marlins traded him to the Dodgers, is a 23-year-old who was drafted ninth overall by the Marlins two years ago and is deemed the 18th-best prospect in baseball by MLB.com. The Oklahoma City left-hander will compete for the fifth spot in the Angels' rotation along with Hector Santiago and Nick Tropeano, who was acquired from the Astros in early November.
Rutledge is a natural shortstop who has stood out with the bat in the Minor Leagues and has appeared in 266 games with the Rockies the past three years. The 25-year-old right-handed hitter currently projects to compete with Grant Green for the starting second base job.
The Angels shaved $9.5 million off their 2015 payroll by trading Kendrick, who was heading into his final year before free agency, and are now roughly $18 million below the luxury-tax threshold -- but that doesn't necessarily mean they're gearing themselves up for a free agency splurge.
"This has always been about finding ways to get younger, to get more sustainable, to build something that builds now and will extend onto the future," Dipoto said. "The fact that we have flexibility perhaps opens the door to things that didn't exist, but again, we're not in a rush to go out and spend money in the free-agent market."
Heaney has a 2.77 ERA and a 1.14 WHIP while striking out 9.1 batters per nine innings and sporting a walk rate of 2.4 in his three-year Minor League career. He also pitched in 29 1/3 innings in the Majors as a rookie this season, posting a 5.83 ERA.
Heaney throws his fastball mostly in the low 90s, but has good command of a changeup and also throws an above-average slurve. Dipoto called him "a premium prospect" and "a really polished left-handed Major League starter who we feel like has a chance to pitch in our rotation."
Heaney got a call from Marlins president of baseball operations Mike Hill telling him he was going to the Dodgers in a seven-player deal that sent second baseman Dee Gordon to Miami late Wednesday night.
Two minutes later, he got a call from Hill telling him he was going to the Angels.
The Dodgers never even called.
"It was all kinds of crazy," Heaney said in a phone conversation. "I had no preconceived notion of what was going to happen. I was excited to go to the Dodgers, and as soon as they told me it was the Angels, I was just as excited."
The Angels love Heaney, who they previously tried to acquire from the Marlins, but will miss Kendrick's steady production.
The 31-year-old -- originally a 10th-round pick in 2002 -- posted a .288/.332/.420 slash line with 56 homers, 334 RBIs and 62 stolen bases while appearing in an average of 145 games the past five years. But Kendrick was heading into his walk year, and in the end, "We just felt like with one year of control of Howie as a pending free agent after the '15 season, it was impossible to walk away from Heaney and six years of control," said Dipoto.
Now, barring the addition of a more established second baseman that Dipoto seemingly doesn't find necessary, the Angels' offense will have to pick up the slack.
"We understand the quality of what Howie did here and how difficult that is for us to reproduce," Dipoto said. "We'll be open to various ways we can do that, but as we discussed throughout, we make up for a lot of things with the general depth and consistency of our group. The desire is to extend that to 2015 and beyond."
Rutledge posted a .259/.308/.403 slash line in the Majors from 2012-14, but batted .328/.386/.506 in the Minor Leagues since the Rockies made him a third-round pick in 2010. The Angels would still like to bring back infielder Gordon Beckham, who was non-tendered in early November, but Dipoto seemed satisfied with what he has in-house with Rutledge on board.
"He's had extended streaks of performance that suggest he has a chance to be better than a Major League utility player," Dipoto said of Rutledge, "and we're going to give him the opportunity to show what he can do in Spring Training, but we have other players who are going to make it tough on him. We have a pretty good group now."
The Angels went into the Winter Meetings with a need for controllable infield depth, so they swapped one year of control with Kendrick for four years of control with Rutledge, while waiting to finalize a deal with 22-year-old Cuban Roberto Baldoquin and adding them to an organizational group that includes Green, Alex Yarbrough and Eric Stamets.
What has really come a long way is their starting pitching depth.
Since the end of the 2013 season, Heaney, Tropeano, Santiago and Tyler Skaggs have been added, and Garrett Richards and Matt Shoemaker have emerged, giving the Angels up to seven options for their Opening Day rotation (including Jered Weaver and C.J. Wilson and excluding Skaggs, who will spend 2015 recovering from Tommy John surgery).
Dipoto is trying to ensure that the Angels aren't just built for now.
"The heaviest criticism of the Angels over the last 10 years is that we're getting older, or that we're in a short window to win," Dipoto said. "I think we're more sustainable than that."
Alden Gonzalez is a reporter for MLB.com. Read his blog, Gonzo and "The Show", and follow him on Twitter @Alden_Gonzalez. This story was not subject to the approval of Major League Baseball or its clubs.