MLB.com Columnist
Jim Callis
Scouts of the Year honored at Winter Meetings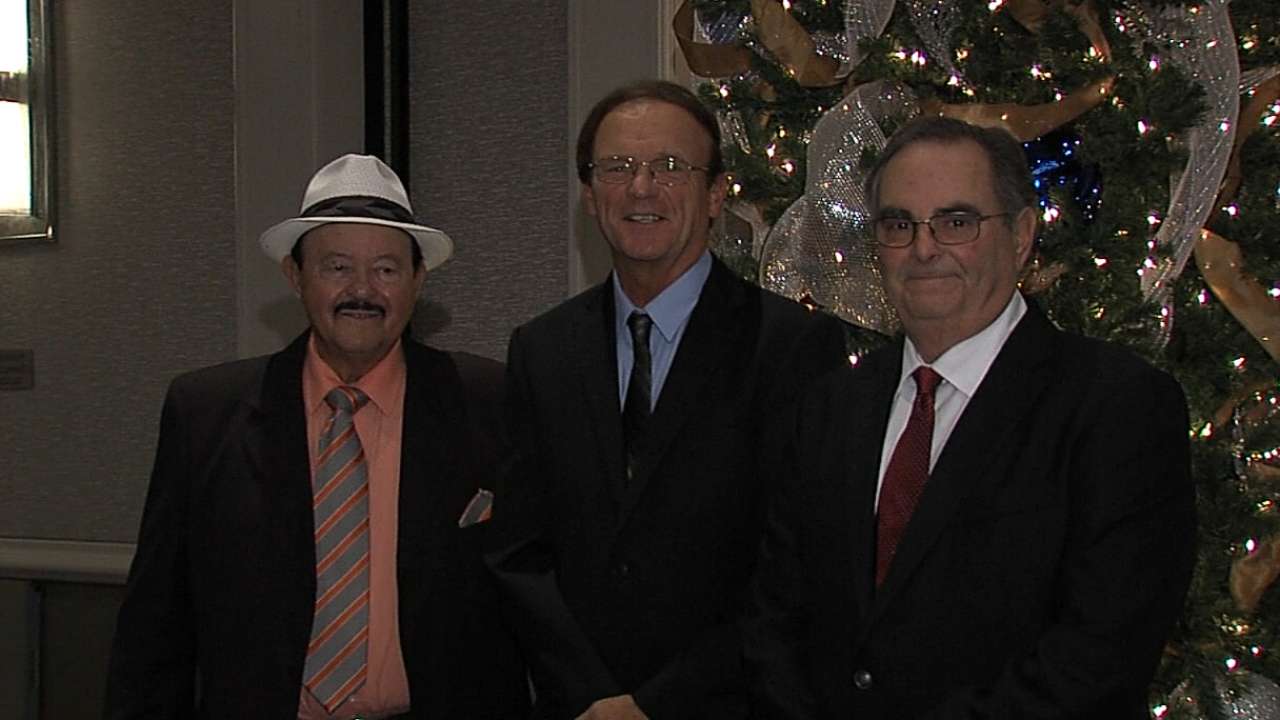 SAN DIEGO -- Mike Brito didn't know it at the time, but striking out in the ninth inning with the bases loaded would launch a productive Major League scouting career.
Brito was playing semipro ball in 1976 in Los Angeles when he faced Bobby Castillo, recently released by the Royals. Brito was so impressed when Castillo fooled him with a screwball that he hooked him up with a Mexican League club. When Castillo excelled there, the Dodgers took note and offered Brito a scouting job -- provided he could land Castillo for them.
Brito delivered Castillo, who reached Los Angeles three months after joining the organization in June 1977. Castillo spent parts of six seasons with the Dodgers, but he had a greater impact on another Brito signee than he did on the mound. Castillo taught Fernando Valenzuela how to throw the screwball and Valenzuela became the first pitcher to win a Cy Young Award and Rookie of the Year Award in 1981, when Los Angeles won the World Series.
"Fernando for me has been the main thing that changed my career," Brito told LasMayores.com's David Venn. "Thank God I signed Fernando Valenzuela, who introduced me to the baseball world."
Brito was honored Wednesday night at the Winter Meetings, when he was named International Scout of the Year at the 31st annual Scout of the Year banquet. He became the fourth recipient of that award, following Ralph Avila of the Dodgers (2006), Epy Guerrero of the Blue Jays (2008) and Fred Ferreira of the Orioles (2012). Orrin Freeman (West Coast) of the Marlins, Tom Kotchman (East Coast) of the Red Sox and the late Paul Provas (Central) won Scout of the Year awards as well.
Castillo and Valenzuela are just two of the 21 big leaguers signed by Brito, who's known for his trademark Panama hat and radar gun that can be seen behind home plate at most Dodgers home games. He helped sign Yasiel Puig after the Cuban defector showcased his skills in Mexico in the summer of 2012, and on the same trip Brito landed Julio Urias, who now ranks as the best left-handed pitching prospect in baseball. Other Brito finds include Antonio Osuna, Joakim Soria and Ismael Valdes.
Freeman enjoyed success as a college player and coach before getting into scouting. He was part of three College World Series championships as a pitcher at Southern California in 1968, '70 and '71, and was an assistant coach on two more Trojans championship clubs in '72 and '73. He moved on to Arizona and recruited many of the players on its '76 national title team before moving onto UC Santa Barbara as an assistant and San Francisco State as a head coach.
Freeman showed an eye for scouting in football, too, as he hired Mike Holmgren for his first college coaching job at San Francisco State. Holmgren would go on to win a Super Bowl coaching the Green Bay Packers and reach another at the helm of the Seattle Seahawks.
"I told my father I was leaving college coaching and becoming a big league scout," Freeman said. "He asked me, 'You can call any big league club and sit behind home plate, and they feed you and they pay you? You better not get fired.' And now to get honored like this, it's amazing."
Freeman moved from coaching to scouting after the 1982 season at San Francisco State, first joining the Major League Scouting Bureau and then the Yankees a year later. He moved onto the Expos in '88 and the Marlins in '92, signing five big leaguers in his decade as an area scout, most notably Andy Stankiewicz. He became the Marlins' assistant scouting director in '93, scouting director in '96 (his picks included Mark Kotsay and Josh Beckett), a Major League scout in 2000 and a special assistant to the GM in 2001.
"There are people in this game who can measure and there are people in this game who can evaluate, and this guy can evaluate," Marlins general manager Dan Jennings said. "He's a Picasso with words. You want guys who can say a lot with a few words in a report, and he can paint a picture."
Kotchman entered pro ball as a third baseman in the Reds system in 1977, then became a Minor League manager at age 24 two years later. He advanced to Triple-A in the Angels system in '87 but after three seasons in Edmonton he was struggling with being so far away from his family and home in Florida.
"Edmonton was closer to Russia than Florida, so I was seeing my family for three weeks in a seven-month stretch," Kotchman said. "[Angels scouting director] Bob Fontaine Jr. approached me about scouting for nine months in Florida and managing for three. I didn't really want to do it at first, but I called some people I know and they said do it. It gave me a chance to be a better husband and father."
It also gave Kotchman a chance to have one of the most successful dual careers in scouting and player development. As an area scout in Florida from 1990-2012 with the Angels and the last two years with the Red Sox, he has signed 19 Major Leaguers, including Orlando Palmeiro (as a 33rd-rounder), Eduardo Perez, Scot Shields (as a 38th-rounder), Jeff Mathis, Howie Kendrick (as a 10th-rounder), Darren O'Day (as a nondrafted free agent) and Patrick Corbin. The two signings dearest to his heart, however, are his son Casey (a 2001 first-rounder who spent a decade in the big leagues) and Carmine Giardina, a 2010 15th-rounder who has reached Double-A -- and married Kotchman's daughter Christal this November.
As a manager, Kotchman has won nine league championships and 1,740 games with a .544 winning percentage in 35 seasons. His most recent league title came this summer in the Rookie-level Gulf Coast League. Red Sox general manager Ben Cherington said his organization was thrilled to add Kotchman in both roles after he resigned from the Angels in 2012 when they asked him to focus on scouting.
"There are great development people in the game, and there are great scouts in the game," Cherington said. "Very few people in the game have made the impact in both areas as Kotch has."
Provas died Oct. 23 at the age of 63 after a long battle with brain cancer. He broke into scouting with the Cubs in 1983 and joined the White Sox in 1993, serving as an area scout in the Midwest for 10 years and a Midwest crosschecker before becoming a pro scout in 2005. He signed 10 big leaguers, including Joe Crede, Boone Logan and Kip Wells, and was instrumental in Chicago's trade for John Danks.
"Paul was a scout," White Sox senior director of baseball operations Dan Fabian said. "Early on, he had a high school kid in Missouri from a town so small I couldn't find it on a map. That kid was Joe Crede, who 10 years later was the starting third baseman on our World Series team.
"It wasn't just breaking down players for Paul. It was getting all the information he could on them. He had a knack for finding everything out about a kid."
Jim Callis is a reporter for MLB.com and writes a blog, Callis' Corner. Follow @jimcallisMLB on Twitter. This story was not subject to the approval of Major League Baseball or its clubs.