Boras attempts to sell Cashman, Yankees on Scherzer
Unable to finalize deals at Winter Meetings, club's GM remaining patient
SAN DIEGO -- Taking his annual place as the center of attention at the Winter Meetings, agent Scott Boras looked through the crush of cameras and microphones on Wednesday, fielding an inquiry concerning the odds of the Yankees actually sitting out the sweepstakes for Max Scherzer.
The Yanks would prefer not to issue another nine-figure contract to a starting pitcher, but some rival executives believe that the Yanks ultimately won't be able to resist the temptation. Boras opined that the Yanks need someone like Scherzer to get back to the playoffs and beyond.
"I can't predict what the Yankees are going to do," Boras said, "but I can tell you that a guy like Max fits into their starting rotation to develop a World Series-caliber set that is similar to what they've had in the past when they won."
Informed of that earlier exchange from the lobby of the hotel, Cashman replied: "Good, that means he likes the four we've got!"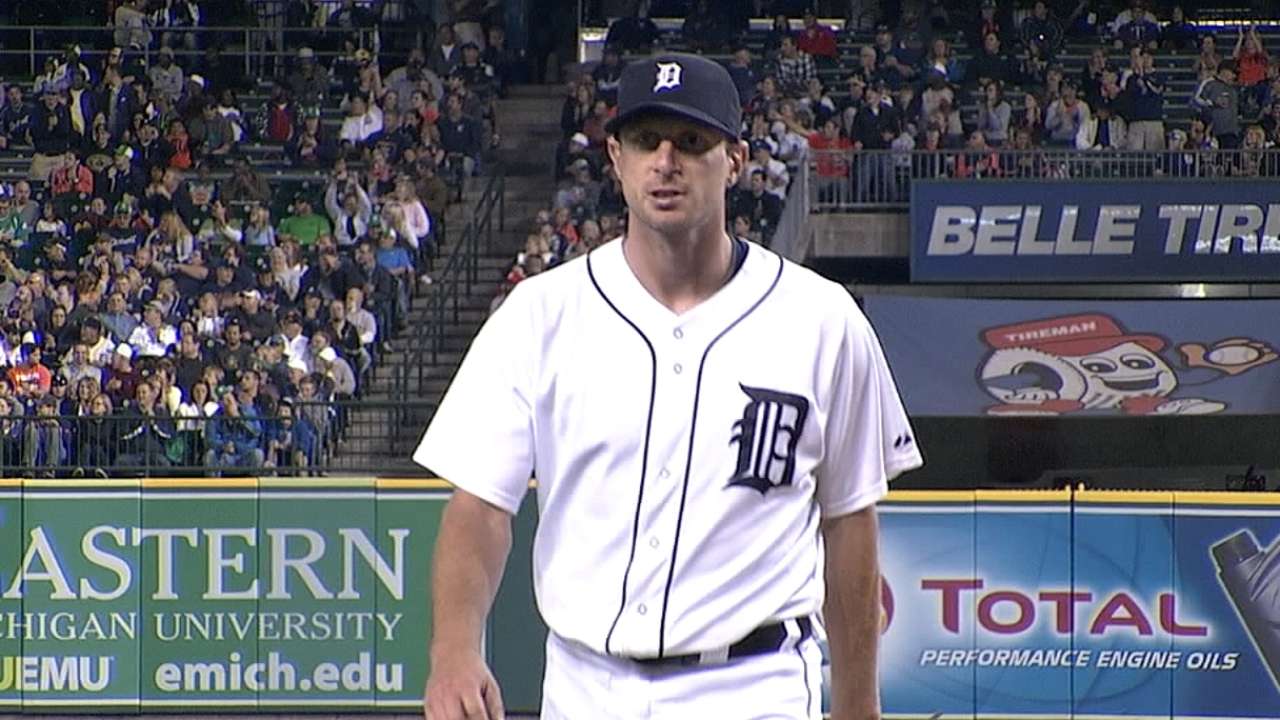 Boras believes that the Yanks' most recent dynasty years were built on the theory that the top three starters must combine for 45 to 50 wins and 600 innings, rattling off names like Roger Clemens, Mike Mussina and Andy Pettitte.
The Yankees aren't there at the moment, as even their perpetually optimistic manager Joe Girardi acknowledged this week that there were question marks in the back of his mind. CC Sabathia, Masahiro Tanaka and Michael Pineda project to head the starting five.
Scherzer would be a prize, but one year after agreeing to spend nearly a half-billion dollars on major free agents, it remains to be seen if the Yanks have the stomach for another major expenditure. Boras, of course, would prefer to have their money in the pot.
"I think going into this year Max is kind of a Peyton Manning, No. 1 kind of guy," said Boras, who noted that Scherzer turned down a seven-year, $160 million proposal from the Tigers last season. A package targeting the $200 million level is certainly on Scherzer's radar.
While that market simmers, Cashman peered through a hotel window at the San Diego skyline and vowed to keep his patience, though he acknowledged that there has been frustration building in not being able to cross the finish line on deals at the Winter Meetings.
Pitching was the main focus when arriving here, and Jon Lester's six-year, $155 million deal with the Cubs should help nudge the market for free agent Brandon McCarthy -- one of the Yanks' top targets, coming off his strong half-season in New York -- into motion. Late Wednesday, McCarthy reportedly agreed to a deal with the Dodgers.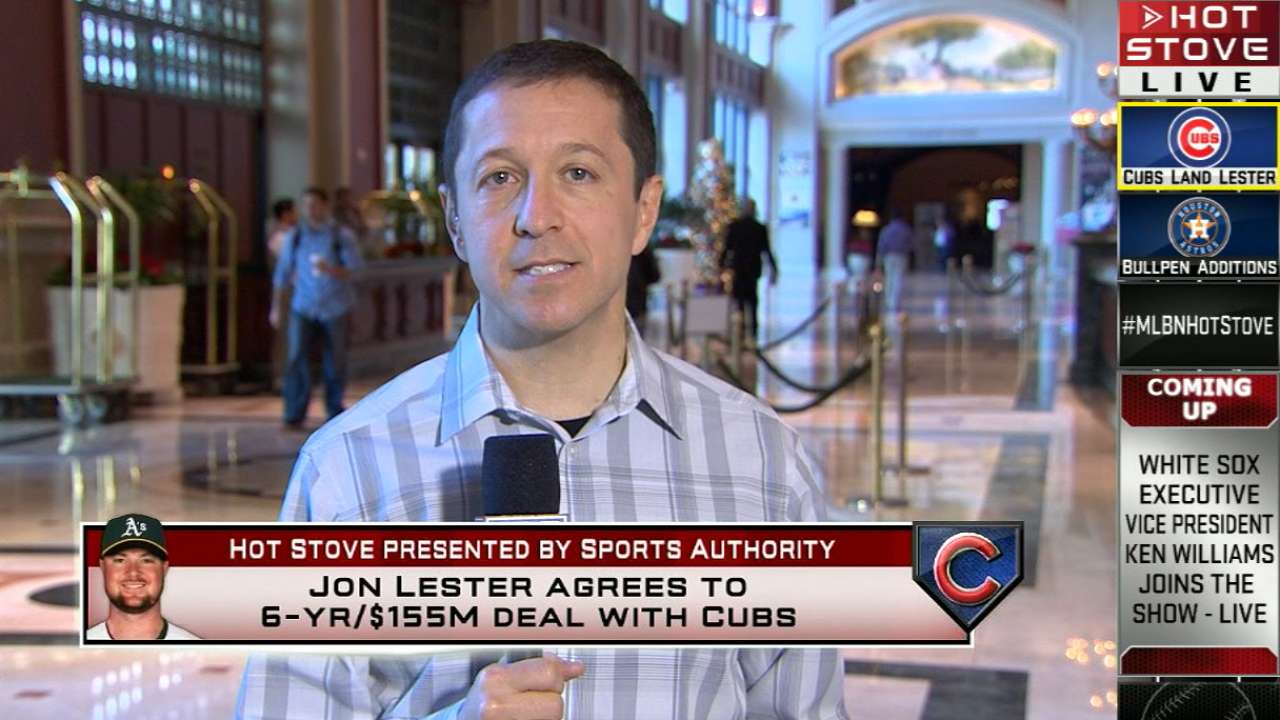 "I can't speak for [McCarthy], but I've got to believe without a doubt that it has affected his situation," Cashman said earlier Wednesday. "I think he's probably been waiting for that to declare itself. That pitching market is going to go fast."
The Yanks are also gauging the closer market and have checked in with at least two free agents, Sergio Romo and Jason Grilli, to supplement a group now paced by Dellin Betances and Andrew Miller.
Chase Headley's market is also taking shape, and the Yankees are continuing to talk with the free-agent infielder. Headley's return would stabilize third base, where the Yanks are unsure of what to expect from Alex Rodriguez, but they have an insurance policy in the versatile Martin Prado, plus prospects Rob Refsnyder and Jose Pirela to compete for second base.
"We're good to go as is, if that's the way we go, but we're exploring ways to make us better -- if there's alternatives," Cashman said. " ... As of right now, we have a third baseman, and we have two young kids ready to compete for second.
"Clearly, we have the open-mindedness to discuss -- and we have -- whether it's best served to pursue Chase or an alternative with the remaining money that we have in our budget. But we've got to measure that with everything else in play."
In the wake of Wednesday's trade between the Phillies and Dodgers, Cashman revealed that he had checked in on both Jimmy Rollins and Dee Gordon, who went to the Marlins in a six-player trade. He said that the Phillies "would want more than we would pay," so talks never progressed into specific players.
There was no traction to be found in this week's discussions with Los Angeles, so the Yanks abandoned those ideas and moved down the list, ultimately pulling off a three-way trade with the D-backs and Tigers to land Didi Gregorius.
"Which is better for us in the long term, regardless," Cashman said. "We have an under-control shortstop. [Rollins] was a one-year situation. It probably worked out for everybody, regardless."
Cashman said that, based on his conversations, he expects more moves around the league to be pushed through before the Winter Meetings conclude on Thursday. He was unsure if the Yanks would be among the clubs joining the transaction logs before checkout.
"We're in San Diego, so I'll use a surfing analogy," Cashman said. "If we see the right wave, we'll get on the board and ride it. Otherwise we'll just sit and wait for the next wave to come."
Bryan Hoch is a reporter for MLB.com. Follow him on Twitter @bryanhoch and read his MLBlog, Bombers Beat. This story was not subject to the approval of Major League Baseball or its clubs.