Wild West Coast rules Day 3 of Winter Meetings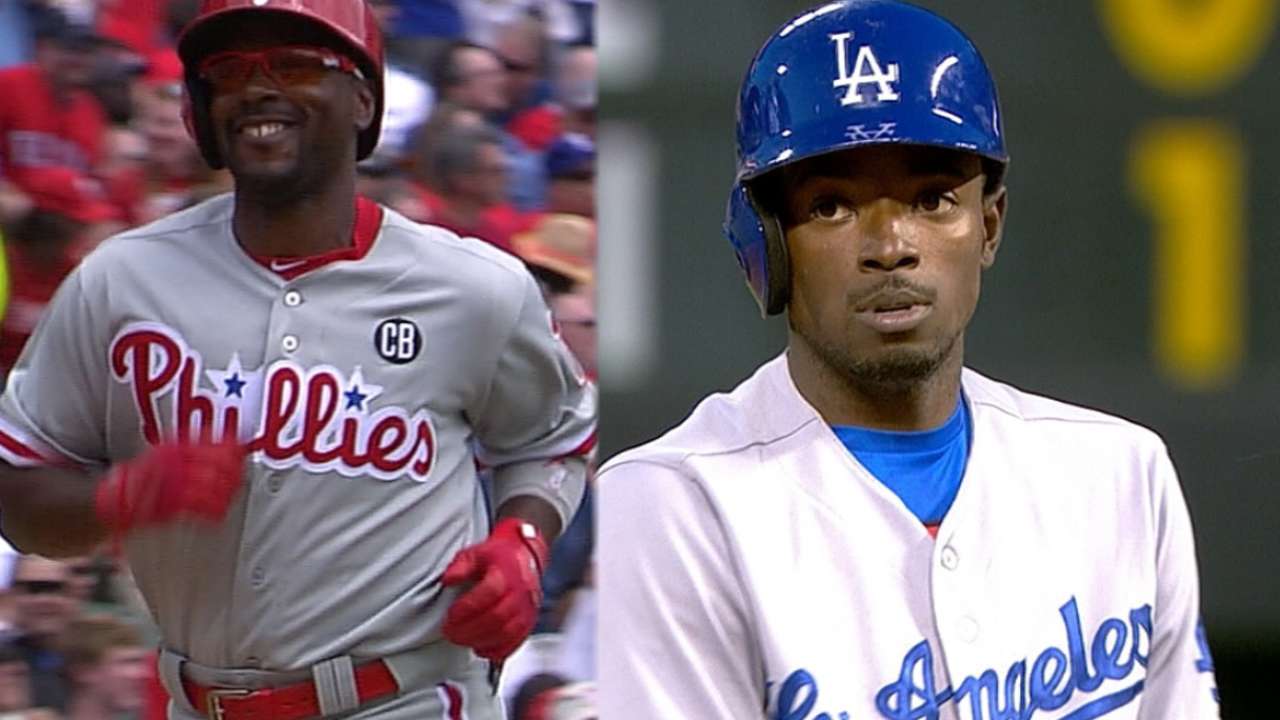 One day, it was the Windy City blowing everybody away with all the major moves. The next, it's the City of Angels -- and Dodgers -- making headline after headline. The 2014 Winter Meetings are heading for destinations unknown as the final day of the annual convention of decision-makers dawns, but the two teams from Los Angeles -- particularly those boys in Dodger blue -- took over the proceedings being held just down the road in San Diego as the Meetings entered their last overnight session of wheeling and dealing.
The Dodgers put their stamp on Day 3 of the Winter Meetings with a run of moves that shook things up well beyond Southern California. With a pending but unofficial deal to receive Phillies icon Jimmy Rollins, done deals to ship Dee Gordon to Miami and fill second base with Angels lifer Howie Kendrick, and a reported deal with free-agent starter Brandon McCarthy, the team from Chavez Ravine and its new baseball braintrust of Andrew Friedman and Farhan Zaidi painted the buzzing lobby of the Meetings Dodger blue as Wednesday night wore on toward Thursday's getaway day.
The Angels got in on the action by taking starting pitcher Andrew Heaney, acquired just hours earlier from the Marlins in the Gordon deal, in exchange for Kendrick, who figures to join with Rollins for a new Dodgers double-play tandem next year. And the Dodgers aren't done, what with outfielder Matt Kemp reportedly headed to the Padres as part of a five-player swap that would send Yasmani Grandal to Los Angeles. The prospects accumulated in some of the deals the Dodgers have made puts them in position to go after another big prize -- the Phillies' Cole Hamels is among the top targets available, and apparently he is on the Dodgers' radar.
The historic six-year, $155 million deal left-hander Jon Lester agreed to with the Cubs as Tuesday turned into Wednesday still stands as the biggest deal of this edition of the Winter Meetings. But the Dodgers put on quite the run of deals in just one day -- and there's plenty more on the horizon to go with those and other moves that made Day 3 another busy one by the San Diego Bay.
The pending Rollins trade started the flood of Dodgers news. A Rollins deal had been a matter of conjecture this offseason, but it became an apparent reality with little warning, as the Dodgers and Phillies agreed to send the Phils' all-time hits leader to the West Coast -- perhaps just the first in what could be a series of moves to reshape the Phillies' roster.
Could Hamels be next? The Red Sox, who lost out on Lester, and the Dodgers are said to be gathering what it would take to get him in terms of prospects, and the Giants figure to make a bid as well after coming up short in the Lester sweepstakes, too. What about Chase Utley? How far will the Phillies go in changing direction?
Asked about how much interest he has received about Rollins and Utley, Amaro said, "Plenty. A lot."

- Todd Zolecki (@ToddZolecki) December 11, 2014
While those questions await answers, there was plenty that went down Wednesday, led by another pending trade that seemed to go hand in hand with the pending Rollins deal. In a trade made official late Wednesday night, Gordon was dealt to Miami along with veteran starter Dan Haren and infielder Miguel Rojas for Heaney, reliever Chris Hatcher, catcher/infielder Austin Barnes and utility man Enrique Hernandez.
The Dodgers then flipped Heaney straight up to the Angels for Kendrick, who has been a mainstay of the Angels' infield for years, while also closing in on a deal with McCarthy.
Well, @Dodgers we had a good run! Great to be a part of such a storied franchise. #thanksforthememories

- Andrew Heaney (@Heandog8) December 11, 2014
Andrew Heaney got a call from Mike Hill that he's going to the #Dodgers. Two minutes later, gets call he's going to #Angels. "Crazy, man."

- Alden Gonzalez (@Alden_Gonzalez) December 11, 2014
Also on Wednesday:
* Sources told MLB.com late Wednesday night that D-backs lefty Wade Miley could be headed to the Red Sox in a deal for right-handers Rubby De La Rosa and Allen Webster, but details still had to be worked out.
* The Astros doubled down on relievers by agreeing to deals with right-handers Luke Gregerson (three years, $18.5 million) and Pat Neshek (two years, $12.5 million). Both deals are pending physicals, but clearly the Astros intend to have some leads to hold late in games in 2015.
---
Winter Meetings action
Day 4: Dec. 11
Transaction
Official?
OF Matt Kemp
C Tim Federowicz
Traded to Padres
No
C Yasmani Grandal
RHP Joe Wieland
RHP Zach Eflin
Traded to Dodgers
No
OF Yoenis Cespedes
RHP Alex Wilson
Traded to Tigers
Yes
RHP Rick Porcello
Traded to Red Sox
Yes
RHP Ervin Santana
Four-year deal with Twins
No
LHP Mat Latos
Traded to Marlins
No
RHP Anthony DeSclafani
C Chad Wallach
Traded to Reds
No
RHP Justin Masterson
One-year deal with Red Sox
No
RHP Alfredo Simon
Traded to Tigers
Yes
RHP Jonathon Crawford
IF Eugenio Suarez
Traded to Reds
Yes
LHP Ross Detwiler
Traded to Rangers
No
OF John Mayberry Jr.
One-year deal with Mets
No
RHP Andre Rienzo
Traded to Marlins
Yes
LHP Dan Jennings
Traded to White Sox
Yes
* The Phillies moved a veteran before the Rollins news broke, sending reliever Antonio Bastardo to the Pirates in return for left-handed prospect Joely Rodriguez.
* Sources told MLB.com that the Twins have expressed interest in Ervin Santana but a deal isn't in place.
* The Mets' Dillon Gee has become a pitcher of interest to several teams, reportedly as many as a half-dozen: The Rockies, Rangers, Padres, Twins, Giants and Royals have all been linked to Gee.
* Away from the rumor mill, an "Oh, My!" moment as Dick Enberg was named the 2015 recipient of the Ford C. Frick Award for broadcasting excellence. Enberg, who has broadcasted baseball in Southern California for some 20 seasons and has been a prominent national broadcaster, will be honored at the National Baseball Hall of Fame next July alongside any players who earn election.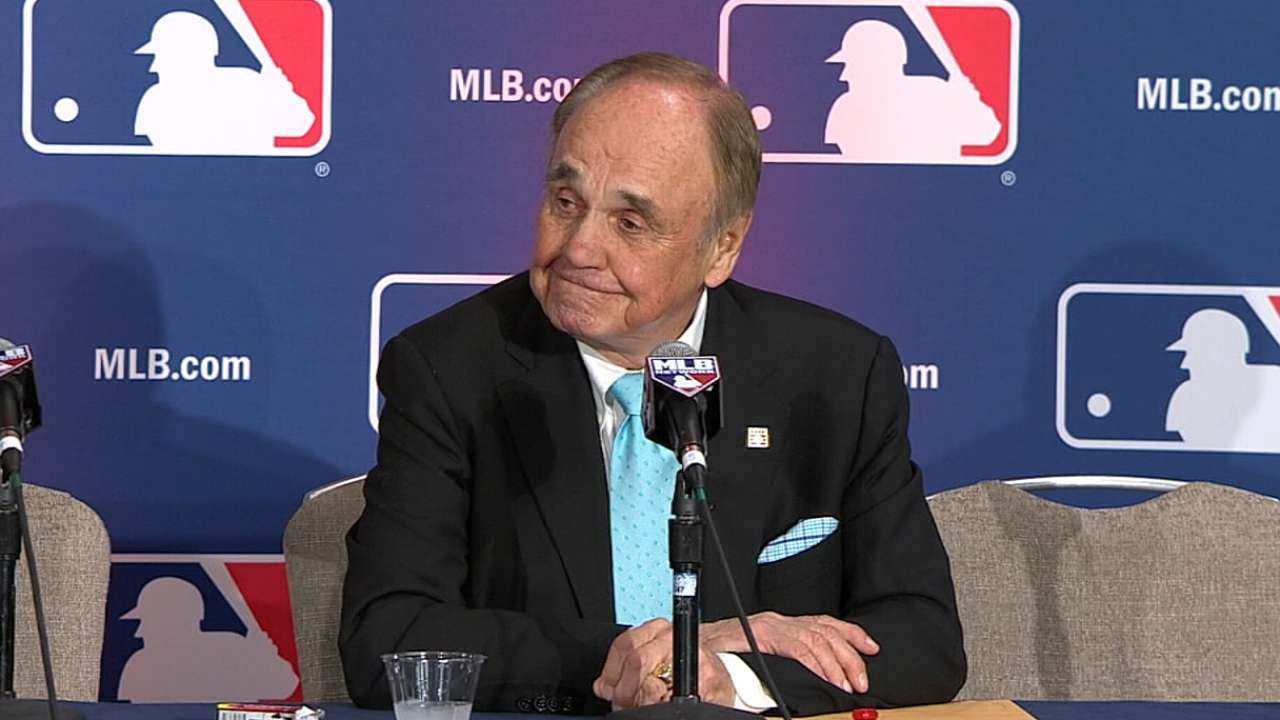 Wednesday also saw what has become an annual event at the Winter Meetings -- the Scott Boras scrum. The agent always draws a big crowd of media, and this year he has one of the top free agents in the class in right-hander Max Scherzer, who is seeking a contract that is expected to exceed the high bar set by Lester, perhaps both in value and term.
Calling Scherzer a "Peyton Manning, No. 1 kind of guy," Boras framed his client's situation but didn't get into specifics on what teams are lining up for his services. Boras noted the Tigers' offer that Scherzer turned down heading into 2014 was seven years for $160 million, but he says the Lester deal doesn't change anything about Scherzer's pursuit of a lucrative multiyear deal that could reach record heights.
"Going into this, we knew that there really was not going to be any other pitcher that would impact his free-agent pursuit and the fact that his pitching odometer is so different and so unusual for a No. 1 pitcher," Boras said of the 30-year-old Scherzer.
Wherever the Scherzer market goes, there already was fallout from Lester's deal with the Cubs, with the Red Sox and Giants moving on after putting on a full-court press to get him. Lester confirmed that he'd chosen the Cubs in a Wednesday morning tweet, but the deal has yet to be announced by the club -- well, other than new manager Joe Maddon telling everyone who'd listen late Tuesday night.
Extremely difficult decision for me and my family but we love the outcome and couldn't be more excited to join the Cubs organization! #NVRQT

- Jon Lester (@JLester31) December 10, 2014
The Red Sox were immediately linked to Hamels, moving on after not quite convincing Lester to return to the place of his Major League beginnings. The Giants also were said to be interested in Hamels, but they also met with representatives for free agent Ervin Santana and are reportedly ready to go in a little higher on the ladder by going after James Shields. But nothing earth-shattering appears imminent for either of the teams that fell short on Lester.
There's still plenty of time to sign or trade for players once the Winter Meetings wrap up Thursday with a shortened session that features the annual Rule 5 Draft. Just a matter of hours of face time remained heading into one last overnight session, and the atmosphere is ripe for some last-minute dealing.
John Schlegel is a national reporter for MLB.com. You can follow him on Twitter @JohnSchlegelMLB. This story was not subject to the approval of Major League Baseball or its clubs.