Black expects front office will find bat or two
Talks continue with LA about Kemp; Grandal likely part of potential trade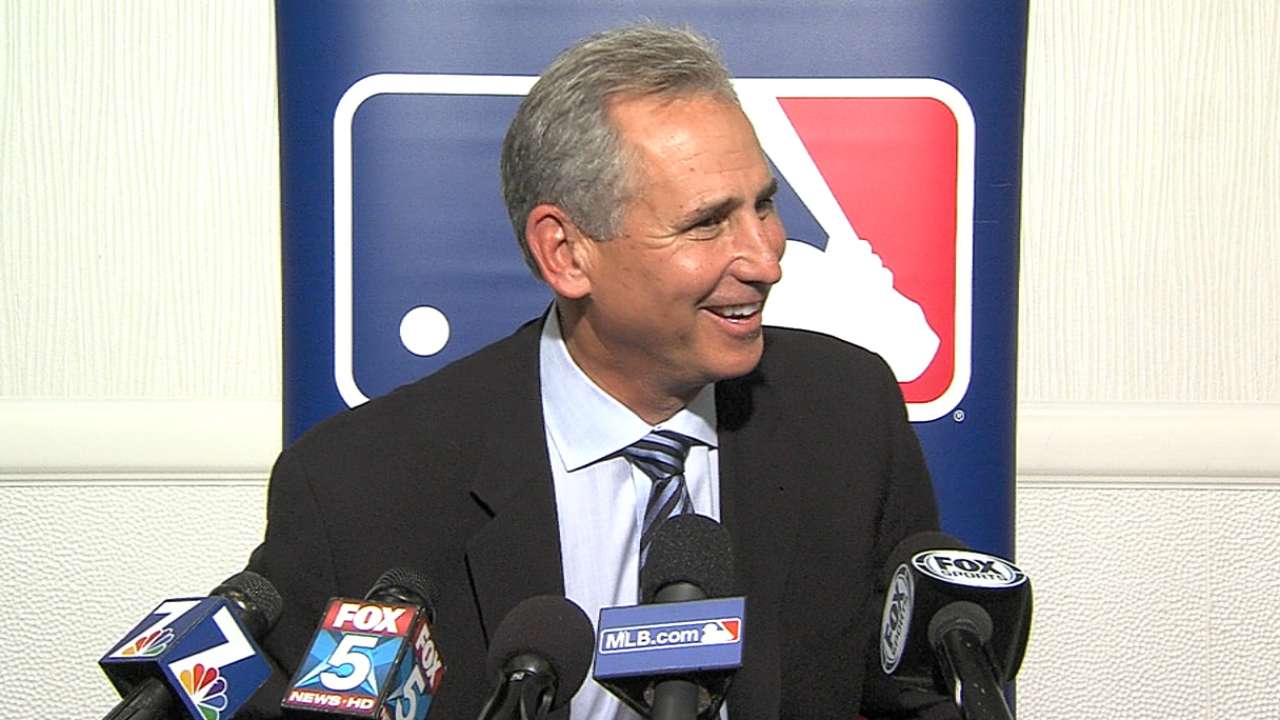 SAN DIEGO -- You can believe Padres manager Bud Black when he says he would like to sit down at some point this winter, put pen to paper, and begin the process of piecing together what the starting lineup might look like for Opening Day.
But it wasn't Wednesday. And, chances are, it won't be Thursday, either.
The Padres have yet to fully wade deep into the waters of roster reshaping, unlike their National League West brethren up Interstate 5 -- the Dodgers, who appear hell-bent on retooling their 40-man roster.
---
Winter Meetings action
Day 4: Dec. 11
Transaction
Official?
OF Matt Kemp
C Tim Federowicz
Traded to Padres
No
C Yasmani Grandal
RHP Joe Wieland
RHP Zach Eflin
Traded to Dodgers
No
OF Yoenis Cespedes
RHP Alex Wilson
Traded to Tigers
Yes
RHP Rick Porcello
Traded to Red Sox
Yes
RHP Ervin Santana
Four-year deal with Twins
No
LHP Mat Latos
Traded to Marlins
No
RHP Anthony DeSclafani
C Chad Wallach
Traded to Reds
No
RHP Justin Masterson
One-year deal with Red Sox
No
RHP Alfredo Simon
Traded to Tigers
Yes
RHP Jonathon Crawford
IF Eugenio Suarez
Traded to Reds
Yes
LHP Ross Detwiler
Traded to Rangers
No
OF John Mayberry Jr.
One-year deal with Mets
No
RHP Andre Rienzo
Traded to Marlins
Yes
LHP Dan Jennings
Traded to White Sox
Yes
But Black, under-supported in terms of impact position players in his first eight seasons as manager, said he's still hopeful the team and first-year general manager A.J. Preller will land a bat or two to bolster what was the worst offense in baseball last season.
"I'm optimistic," Black told reporters. "I think A.J. has come in and has evaluated the roster. He's looked at our Minor League system. He's looked at our Major League club, he has looked at our pitching, he's looked at our position-player group, and he feels, like a lot of us, that another bat or two combined with our pitching can make a world of difference going into '15."
The Padres, who continued dialogue with the Dodgers on Wednesday about outfielder Matt Kemp, likely have at least two moves to make -- in terms of adding position players -- before the start of Spring Training.
Preller said that he's continued to "work through some things" and the team keeps looking at different trade scenarios with a handful of clubs that have offensive pieces the Padres find attractive: long-term, cost-controlled fits that Preller finds the most appetizing.
Kemp, of course, continues to be the talk of the Meetings for the Padres and its tempestuous fan base, starving for offense -- moves that they hope could help the team make a push for its first playoff berth since 2006.
"I think it's no secret that the Dodgers have been talking about their outfielders and we've examined all possibilities," Preller said, declining to get into specifics.
To land a bat -- or bats -- the Padres will have to part with assets, especially after they whiffed on free-agent third baseman Pablo Sandoval -- though they offered in excess of $100 million -- and Cuban outfielder Yasmany Tomas.
If a deal with the Dodgers is made, it will certainly include catcher Yasmani Grandal and at least two pitchers, though likely none from the team's current starting rotation.
Preller has stated that he'd like to keep Andrew Cashner and Tyson Ross together at the top of the starting rotation. Black would love to have Cashner and Ross -- an All-Star for the first time in 2014 -- return as well. The same goes for Ian Kennedy, who eclipsed the 200-inning and 200-strikeout mark this year.
"I think in a scenario that works best for us that would be the case, to keep those three guys, Cashner, Ross and Kennedy," Black said. "I think that is something A.J. would like to do. And in the trade market itself, I think there has been some momentum to have that happen, keep our guys and still acquire."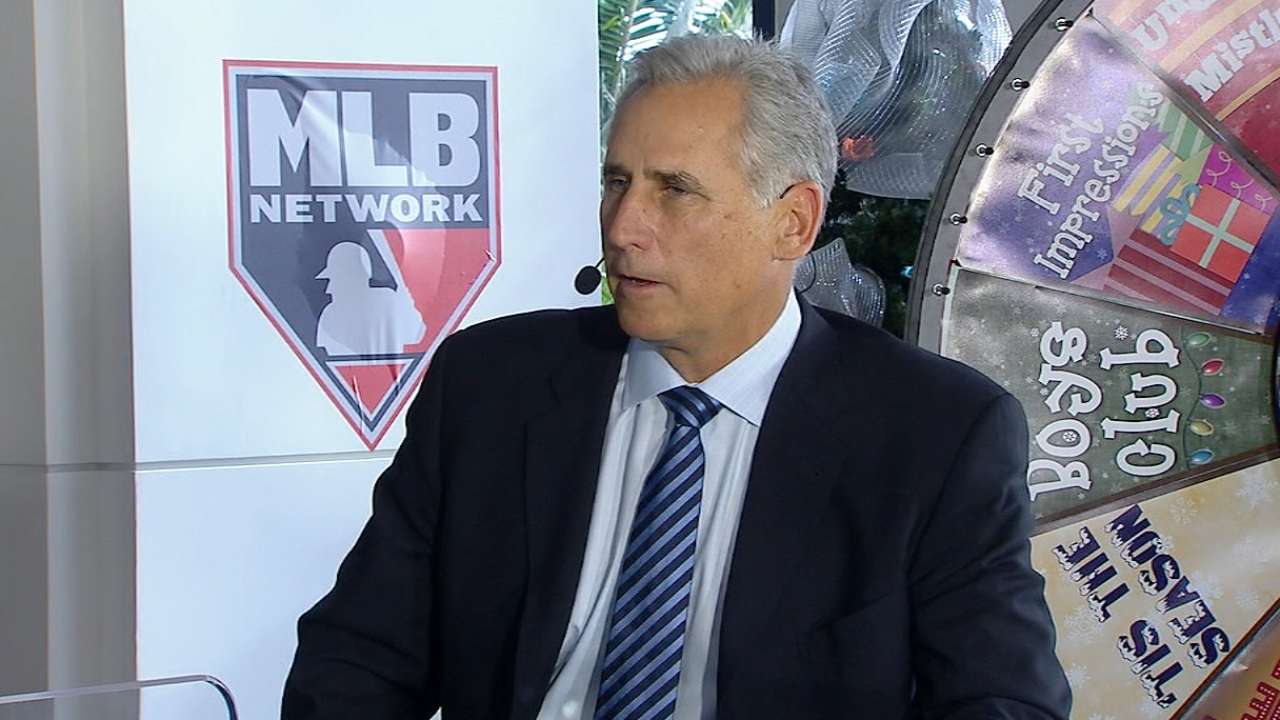 The Padres do not have a lot of trade chips -- at least not Major League ready -- other than Grandal, though Preller is said to be receptive to moving any and all Minor League prospects in the system.
What the Padres don't want to do is weaken their pitching staff greatly in order to land offensive help.
"If you have an imbalance right now, you don't want to flip it too far the other way," Preller said. "We're trying to get more of a balanced club."
The Padres aren't just looking to add bats. They'll meet again late Wednesday with the agent for left-handed Korean pitcher Kwang-Hyun Kim. The team has until 2 p.m. PT on Thursday to reach a deal with Kim, otherwise he'll go back to his Korean team or can pursue an opportunity in Japan.
Kim was in San Diego recently to undergo a physical and meet with team officials. Preller has said that if Kim signs with the team, he'll be given a chance to start in Spring Training, though Black made it sound like relief might be a better fit.
Corey Brock is a reporter for MLB.com. Keep track of @FollowThePadres on Twitter. This story was not subject to the approval of Major League Baseball or its clubs.