Past Meetings a harbinger of Royals moves to come
Moore remains focused on improving AL champions heading into 2015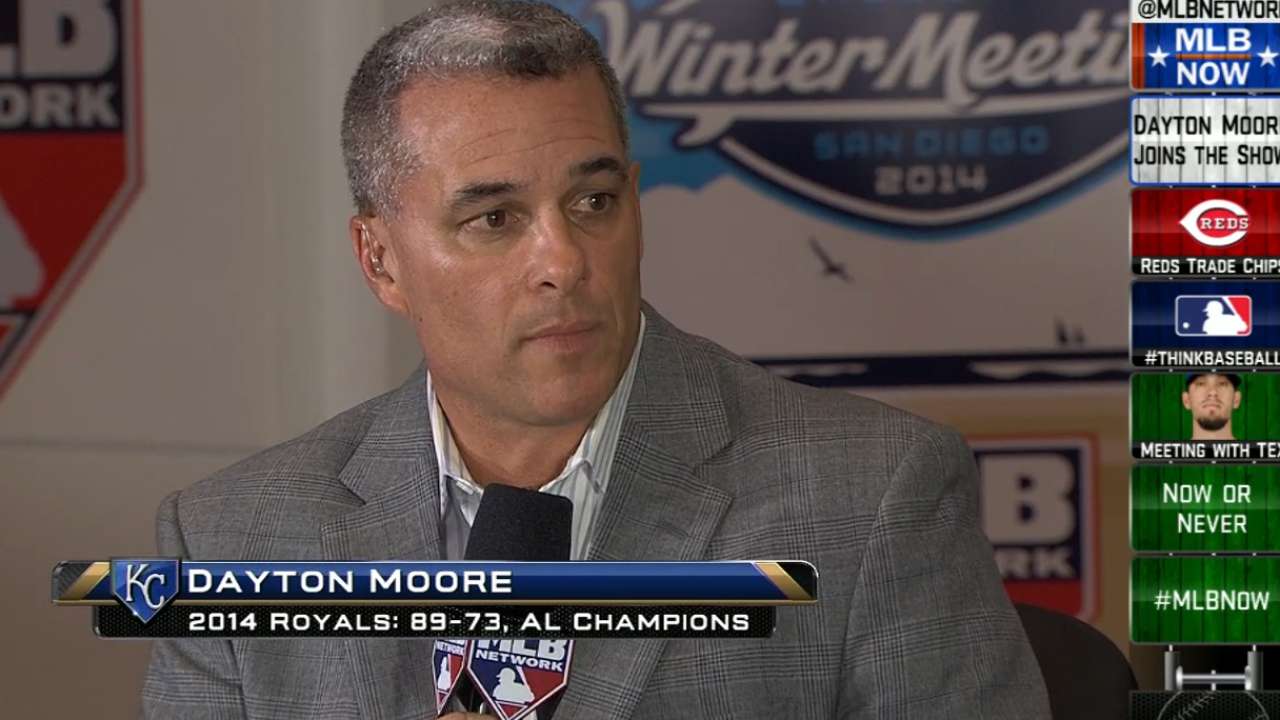 SAN DIEGO -- On the first day of the Winter Meetings, Royals manager Ned Yost said he wouldn't lose sleep if he was forced to put his current, slightly incomplete roster on the field for Opening Day 2015.
On Wednesday evening, as the sun went down on the last full day of action here, Yost's boss said the opposite.
"I would," general manager Dayton Moore said. "We've got to do better. And whether it's today or tomorrow or prior to Spring Training or prior to Opening Day or prior to sometime in June, we've got to improve our team."
Wednesday brought about more conversations and more confidence that the Royals will eventually be successful in landing a bat or two and a starting pitcher, the needs that they've outlined very clearly since the end of October, when they finished one win shy of a World Series title.
---
Winter Meetings action
Day 4: Dec. 11
Transaction
Official?
OF Matt Kemp
C Tim Federowicz
Traded to Padres
No
C Yasmani Grandal
RHP Joe Wieland
RHP Zach Eflin
Traded to Dodgers
No
OF Yoenis Cespedes
RHP Alex Wilson
Traded to Tigers
Yes
RHP Rick Porcello
Traded to Red Sox
Yes
RHP Ervin Santana
Four-year deal with Twins
No
LHP Mat Latos
Traded to Marlins
No
RHP Anthony DeSclafani
C Chad Wallach
Traded to Reds
No
RHP Justin Masterson
One-year deal with Red Sox
No
RHP Alfredo Simon
Traded to Tigers
Yes
RHP Jonathon Crawford
IF Eugenio Suarez
Traded to Reds
Yes
LHP Ross Detwiler
Traded to Rangers
No
OF John Mayberry Jr.
One-year deal with Mets
No
RHP Andre Rienzo
Traded to Marlins
Yes
LHP Dan Jennings
Traded to White Sox
Yes
Moore said the last 24 hours were more active and more productive, and that the Royals were gaining enthusiasm for their chances of getting what they want.
"We're optimistic about some things on the trade front and through free agency," Moore said. "We're looking to improve our team in both ways, both avenues. There's only so many different ways to acquire players. ... I feel like we're moving closer in some areas."
The Royals have been linked to two of their former players this week -- starter Ervin Santana and outfielder Melky Cabrera -- but both are still seeking multi-year offers that might be out of Kansas City's price and years range. There were reports on Wednesday that the Twins made an offer to Santana, but as of Wednesday night, nothing had come to fruition there.
"We have to consider everything," Moore said. "Erv was a highly successful pitcher for us, although being one year, but he still performed very well for us, had a good year this past season, so we've got to consider everything. But again, it always comes down to the finances ... the long-term contract aspect of it, so we'll just continue to evaluate it.
"We're very candidly pursuing different trades and maybe some lower-risk options for us. Not that Erv's a high risk, but the length of contract is always something you have to consider."
Otherwise, an MLB.com source said the Royals were not one of the teams currently inquiring about free-agent outfielder Alex Rios but that they were still involved in discussions about designated hitter Kendrys Morales. Other possibilities include a reunion with outfielder Nori Aoki, although Moore indicated the club would continue to be patient and explore all options.
"I think there's more groundwork being laid," Moore said. "Even if we don't get anything done here, I'm optimistic that we'll land some quality players that enhance the abilities of our current group and blend in well with our current group. So it may not happen here in San Diego, but we'll be able to execute that at some point in time.
"There's a lot of noise, a lot of activity, a lot of interference here, and sometimes you get back home and you get a chance to unpack things and let things settle, and think on it, and both parties become a little more comfortable, and deals get executed."
Moore brought up the Zack Greinke trade he orchestrated with Milwaukee and netted the Royals shortstop Alcides Escobar and outfielder Lorenzo Cain in December 2010, and the 2012 blockbuster that shipped top prospect Wil Myers and others to Tampa Bay for starter James Shields and reliever Wade Davis as examples of work that started at the Winter Meetings and was completed in Kansas City. Moore said the same strategy could very well pay off this year.
"We know who we are, and we have to use our farm system aggressively to make things happen," Moore said. "And we'll continue with that. It's never easy to deal your homegrown players, but at the same time, it's part of the game and how we have to operate. We'd love to be able to go out and outspend everybody, but it's just not how we operate.
"There's a lot of urgency to get back to [the World Series], so we're going to be as aggressive as we can. Are we going to mortgage the [future]? No, we're not going to do that. ... When we don't have opportunities to use our farm system wisely to acquire talent, then we've got issues. Because again, that's how we have to operate. That's who we are."
Doug Miller is a reporter for MLB.com. Follow him on Twitter @DougMillerMLB. This story was not subject to the approval of Major League Baseball or its clubs.