Sox thrilled to finalize deal for established starter Miley
Club deals De La Rosa, Webster, Minor Leaguer for lefty; also brings in Spruill from D-backs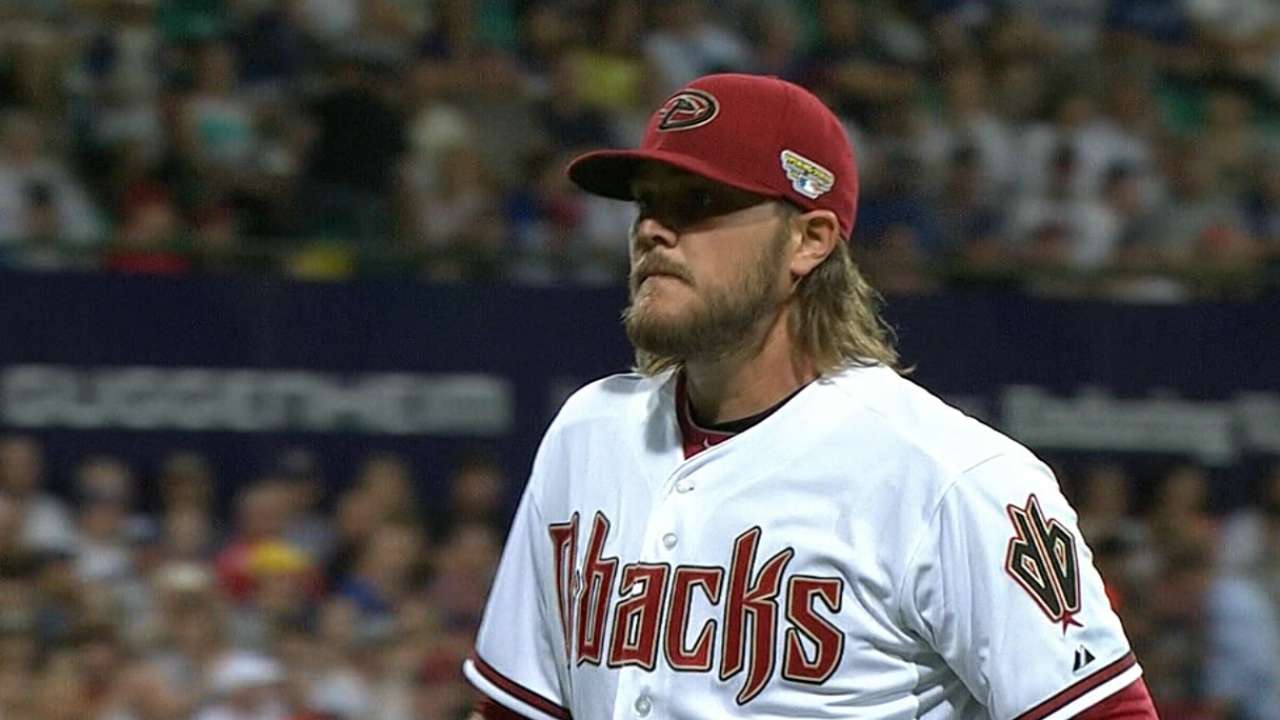 BOSTON -- It took a couple of days to finalize the details, but the Red Sox completed the trade with the Arizona Diamondbacks for lefty starter Wade Miley.
"Excited about the opportunity," Miley said. "I talked to my agent a couple of times and he said there might be something in the works, really didn't know what it was. Everything was a little hectic but it's a great opportunity, and I'm looking forward to this chapter."
Young right-handers Rubby De La Rosa and Allen Webster, who were traded together from the Dodgers to Boston in August 2012, were again packaged in the same deal, this time to the D-backs for Miley. Minor League infielder Raymel Flores also goes to Arizona.
The Red Sox feel that Miley, an All-Star in 2012, could become a key piece to their retooled rotation.
"Wade was on a list of guys that we had identified at the beginning of the offseason that we wanted to check in on at least," said Red Sox general manager Ben Cherington. "[He's a] 28-year-old, left-handed pitcher who has already has three very successful seasons in the big leagues as a starter."
For the same reasons Cherington targeted Miley, so, too, did some other teams.
"We checked in and had a series of conversations maybe going back even before the GM Meetings ... a lot of back and forth," said Cherington. "Probably a lot of hot and cold at times and we thought it might be possible and other times it would seem to go away, and then fortunately it kind of came back to us this week."
Miley, a Louisiana native, was selected by the D-backs with the 43rd overall pick in the 2008 First-Year Player Draft out of Southeastern Louisiana University.
"There's a lot we like about him," Cherington said. "We've known him since the Draft. He's a guy we saw a lot in college as an amateur and in the Cape League and have followed him ever since. Again, he's obviously established himself in the big leagues and we see him being an important part of our rotation."
Since Jon Lester signed with the Cubs late Tuesday night, the Red Sox have acquired three new pieces to their rotation in Rick Porcello, Justin Masterson and Miley.
All three are sinkerball pitchers, which will make strong infield defense a vital factor for the Red Sox in 2015.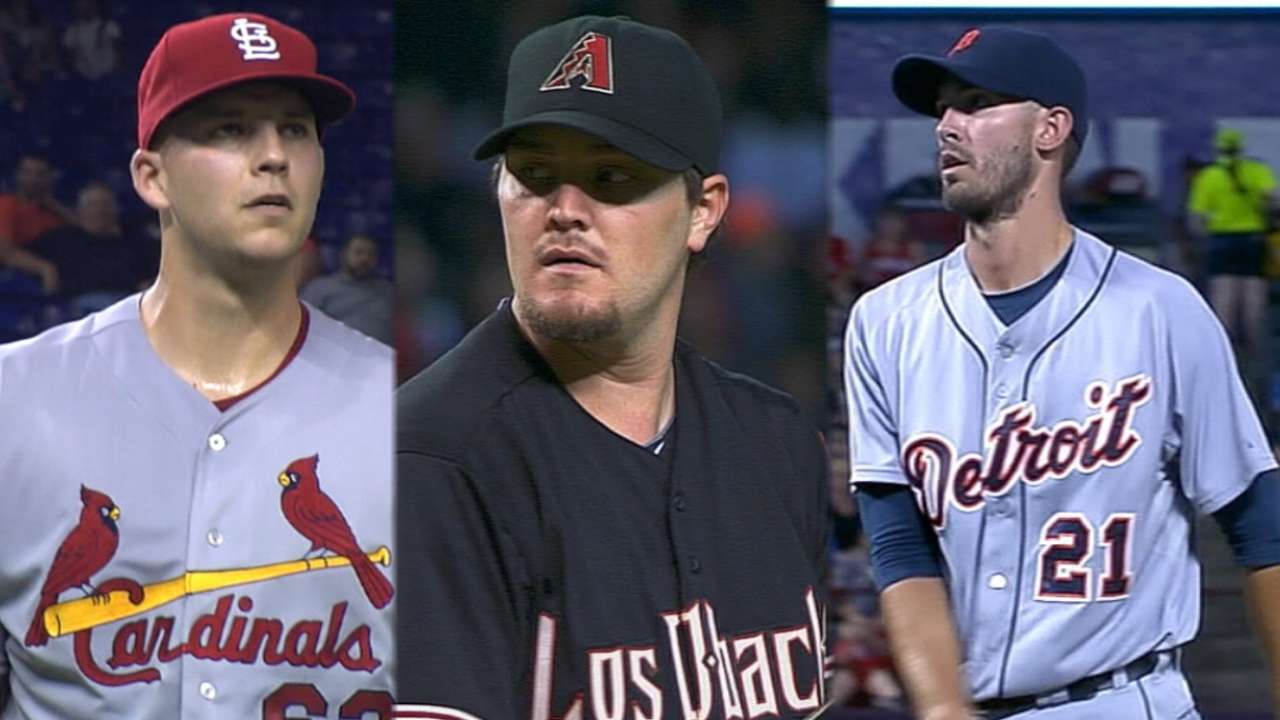 "We feel like the five guys that we have that are here right now in the rotation, Wade included, any of those five guys can help us win a game on any given day," said Cherington.
De La Rosa and Webster were the two most significant pieces the Red Sox received in the blockbuster trade with the Dodgers for Adrian Gonzalez, Carl Crawford and Josh Beckett.
"Rubby and Webby are both young, talented guys and we still expect they're going to turn into good big league pitchers, and they developed in their time in Boston and are probably closer to being good big league pitchers than they were a couple of years ago," Cherington said. "That said, we're in position, as everyone knows, where we need to add good Major League starting pitching this winter -- established Major League starting pitching. Wade is that guy.
"To get a good left-handed Major League starter like Wade, who still has three years of control, three years of arbitration left, you have to give up something. They don't just give guys like Wade away. You have to pay a cost."
Miley has logged 200-plus innings the last two seasons and worked 194 2/3 innings in 2012.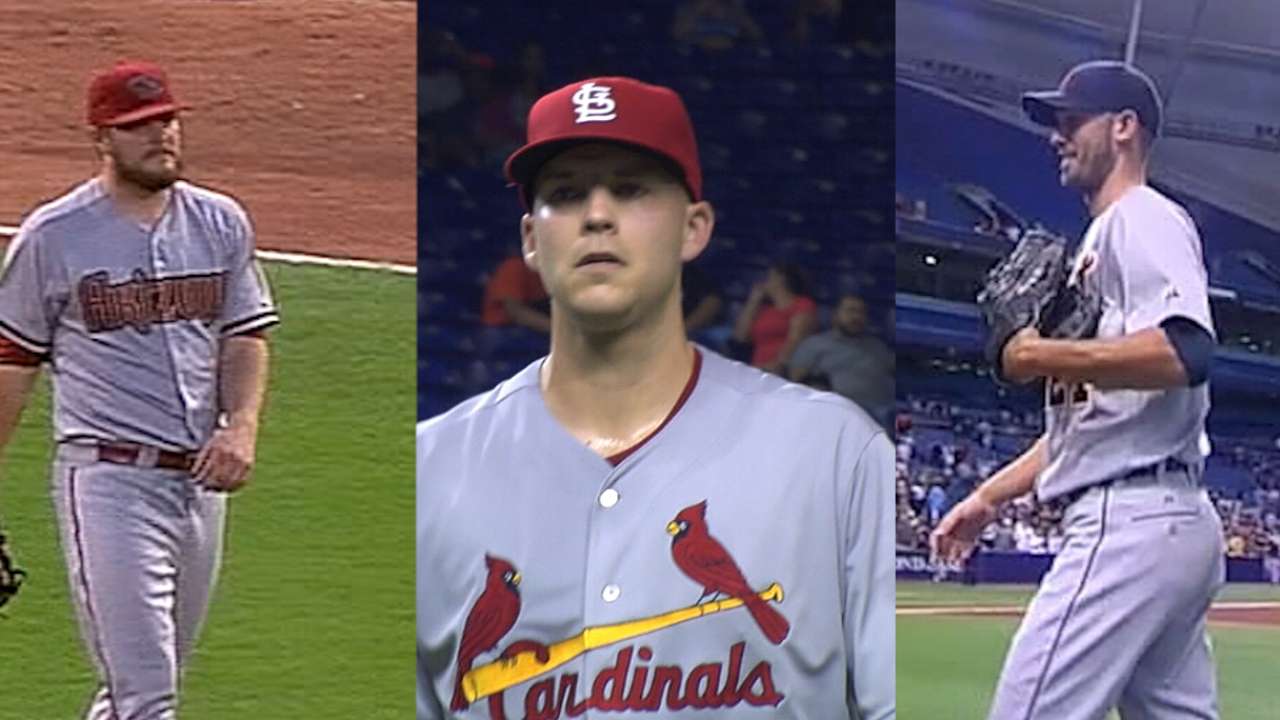 "I really enjoy taking the mound," said Miley. "Like you said, I would like to think of myself as a pretty serious competitor. Every time I get the opportunity to have the ball, I'm going to try to go as deep as I can and give our team every chance to win."
In 2014, Miley started Opening Day for Arizona and finished the season with an 8-12 record and a 4.34 ERA.
His best season was '12, when he went 16-11 with a 3.33 ERA.
Miley's 66 starts over the last two seasons are the most in the Majors by a southpaw and trail only right-handers R.A. Dickey (68), James Shields (68) and Chris Tillman (67). He is the only lefty pitcher, and one of only six Major Leaguers overall, to make at least 33 starts in both 2013 and 2014.
Earlier this week, Red Sox manager John Farrell spoke about the importance of getting some innings-eaters for the rotation.
"Very important," said Farrell. "We always go through an exercise in budgeting, or coming up with a budget number of innings that need to be accounted for. You take into account what individual pitchers have done in previous years and what you project them to be able to provide. We knew going in that there were going to be a couple of spots needed for innings eating and very quality innings pitched. Ideally, if you can get a couple of 200-inning pitchers -- they don't grow on trees, but that's the goal."
The 25-year-old De La Rosa made a career-high 18 starts for the Red Sox in '14, and finished 4-8 with a 4.43 ERA. The righty had showed flashes of brilliance earlier in the season but seemed to wear down late. De La Rosa throws in mid to upper 90s and has solid changeup.
Webster, 24, was the reverse of De La Rosa last season. He started slow but finished strong, going 5-3 with a 5.03 ERA in 11 starts. The lanky North Carolina native is known for his heavy sinker. He has struggled mightily with his command at times in the Majors.
In a separate transaction, the Sox acquired right-handed pitcher Zeke Spruill from the D-backs in exchange for Minor League right-hander Myles Smith.
Ian Browne is a reporter for MLB.com. Read his blog, Brownie Points, and follow him on Twitter @IanMBrowne. This story was not subject to the approval of Major League Baseball or its clubs.