Rangers meet with Shields but deal 'very unlikely'
Daniels reaffirms club not in position to pursue top free agents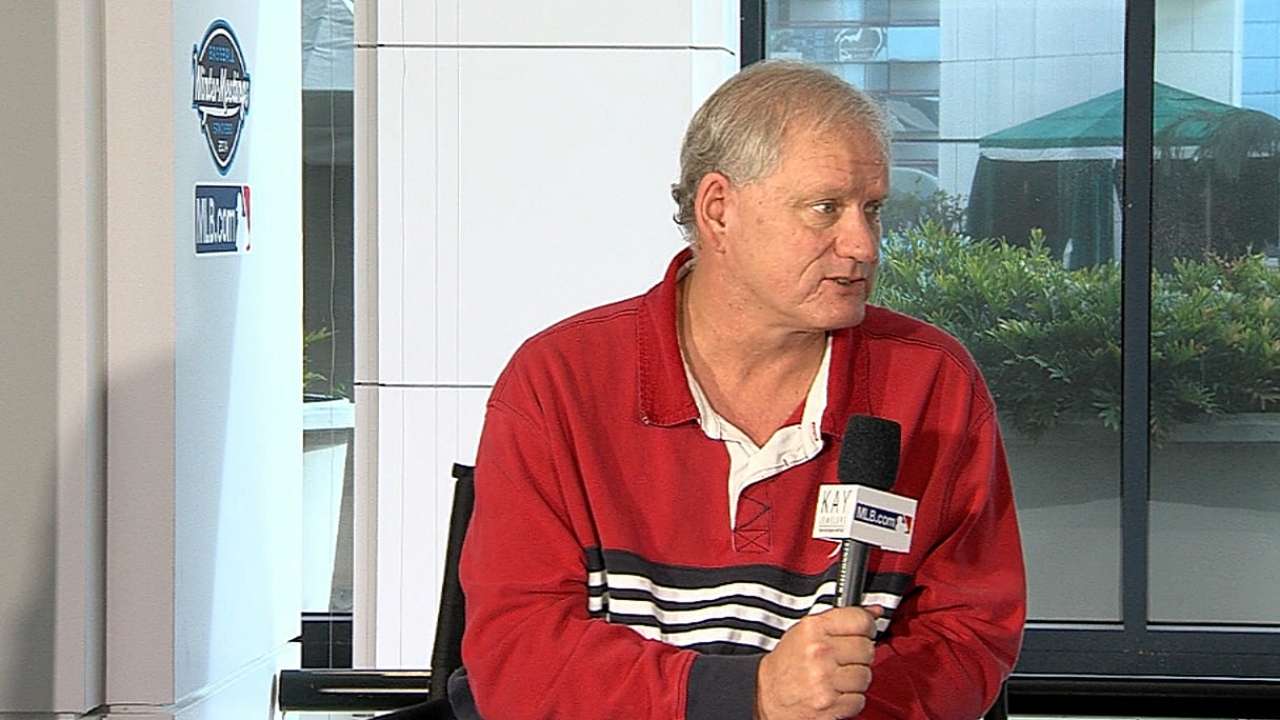 SAN DIEGO -- The Rangers have been insistent they are not pursuing the top free agents available this winter.
But that didn't keep them from having a face-to-face meeting with pitcher James Shields and his agent Page Odle on Sunday after arriving in San Diego. Rangers general manager Jon Daniels said the meeting was held because Shields lives in San Diego and it gave them a chance to really get to know him.
But Daniels said it's "very unlikely" the Rangers will be able to get involved in the bidding for Shields.
---
Winter Meetings action
Day 4: Dec. 11
Transaction
Official?
OF Matt Kemp
C Tim Federowicz
Traded to Padres
No
C Yasmani Grandal
RHP Joe Wieland
RHP Zach Eflin
Traded to Dodgers
No
OF Yoenis Cespedes
RHP Alex Wilson
Traded to Tigers
Yes
RHP Rick Porcello
Traded to Red Sox
Yes
RHP Ervin Santana
Four-year deal with Twins
No
LHP Mat Latos
Traded to Marlins
No
RHP Anthony DeSclafani
C Chad Wallach
Traded to Reds
No
RHP Justin Masterson
One-year deal with Red Sox
No
RHP Alfredo Simon
Traded to Tigers
Yes
RHP Jonathon Crawford
IF Eugenio Suarez
Traded to Reds
Yes
LHP Ross Detwiler
Traded to Rangers
No
OF John Mayberry Jr.
One-year deal with Mets
No
RHP Andre Rienzo
Traded to Marlins
Yes
LHP Dan Jennings
Traded to White Sox
Yes
"I don't think it will come about," Daniels said. "We wanted to be prepared if anything changes drastically. We enjoyed it, we like the guy a lot. In other circumstances we would like to have him. It was a function of him living out here so we took advantage of it.
"We're not going to be in the top level of free agents. It would take something substantial to change to get involved with those free agents."
The situation would change dramatically if the Rangers were able to trade shortstop Elvis Andrus. His eight-year, $120 million contract extension begins in 2015, but the Rangers don't appear able or motivated to move Andrus.
"I would doubt that," said his agent Scott Boras. "I think his standing with the Rangers is one where they really admire him as a player, and he enjoys playing there. So I have no belief that he would be traded."
One other unknown is the status of pitcher Matt Harrison, who has missed most of the past two seasons because of back problems. Harrison underwent lumbar spinal disk fusion surgery on June 3 and there is still considerable doubt about him being able to pitch again.
Harrison is due $39.6 million over the next three years, but if he is physically unable to pitch again, the Rangers could collect insurance and have more to spend in the free-agent market. But Harrison is intent on pitching again and is expected to begin a throwing program in January.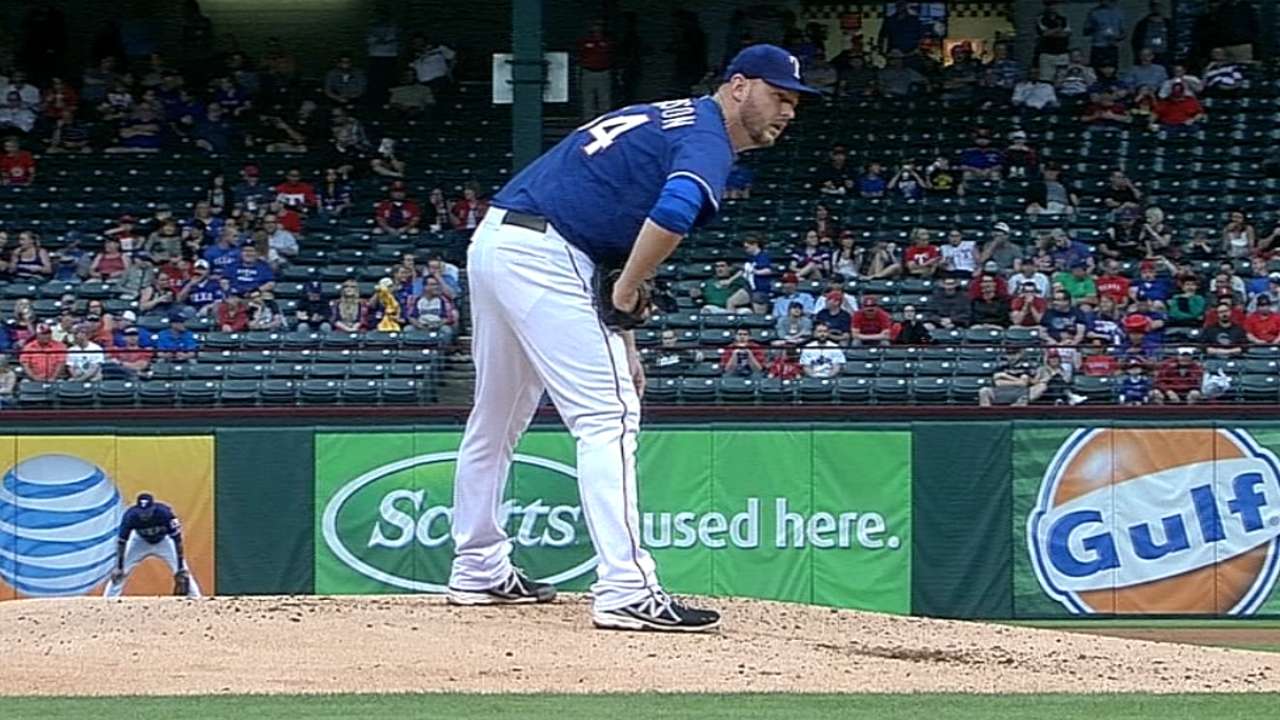 Shields was 14-8 with a 3.21 ERA in 34 starts and 227 innings for the Royals this past season. He has never been on the disabled list in his nine-year career and over the past eight full seasons, he has averaged 33 starts, 223 innings and 13.5 wins. His 1,785 2/3 innings pitched over those eight seasons are the most in the Major Leagues.
Shields could join Yu Darvish and Derek Holland to give the Rangers three proven options at the top of their rotation. That's one of the selling points Boras is using to market free-agent pitcher Max Scherzer. Shields, Scherzer and Jon Lester, who agreed to a six-year, $155 million contract with the Cubs, are considered the top three starters in free agency.
"I just think that for any team that wants to win a World Series, you're going to have about three starters who are going to have to have 45-50 wins, 600 innings, and you're probably going to have to have a No. 1 starter carry the load for about 230 innings during the season and postseason," Boras said.
The Rangers continue to have trade discussions with other teams and came close to acquiring pitcher Wade Miley from the D-backs. But those talks fell apart Wednesday and the Rangers' search continues.
"There were some opportunities that we explored that didn't work out and others we're still working on," Daniels said. "There have been some things that got close and didn't get done. That's the nature of the beast."
The Rangers are still looking for catching help and possibly a right-handed bat. Daniels also said the Rangers are close to signing a free-agent right-handed reliever, although the deal won't get done until next week, if at all.
But starting pitching is still the top priority, and that's why they couldn't resist flirting with Shields while in San Diego.
T.R. Sullivan is a reporter for MLB.com. Read his blog, Postcards from Elysian Fields, and follow him on Twitter @Sullivan_Ranger. This story was not subject to the approval of Major League Baseball or its clubs.