A's quiet on final full day of Winter Meetings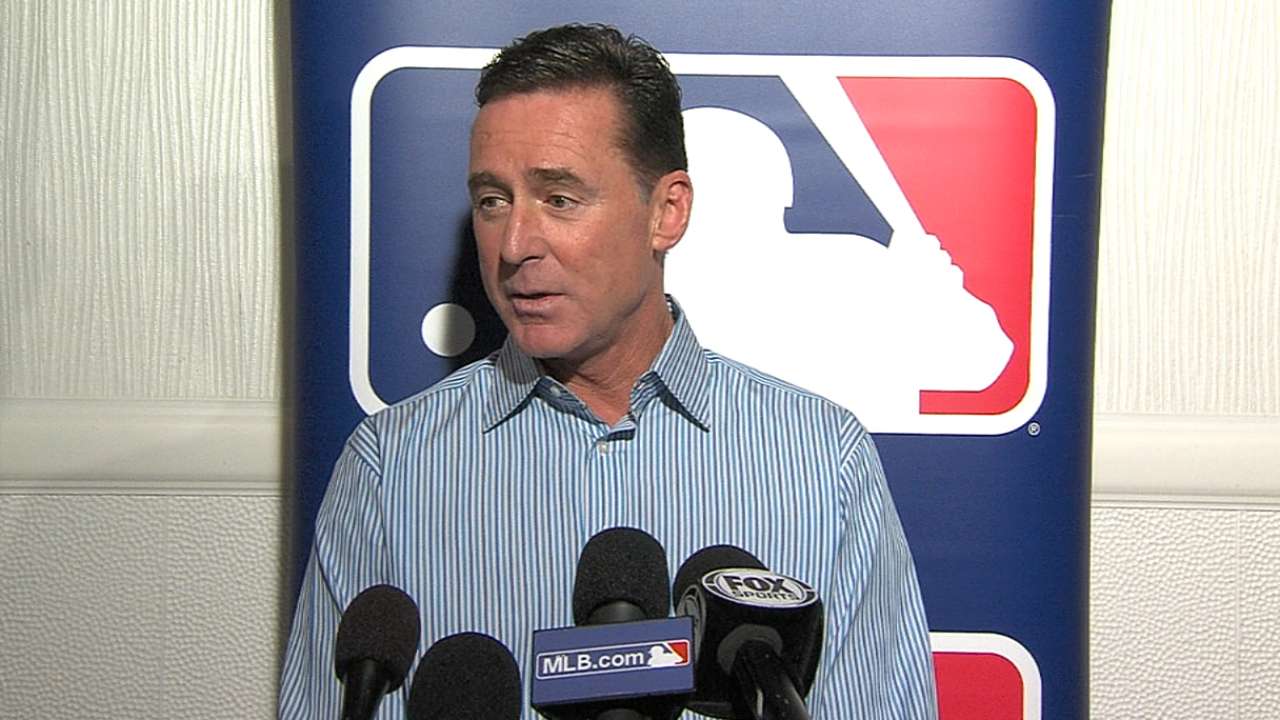 SAN DIEGO -- After grabbing all of the headlines in the early goings of these Winter Meetings, the retooling A's have slowly but surely eased their way out of the spotlight.
Two significant trades in as many days, with Brandon Moss moving to Cleveland on Monday and Jeff Samardzija returning home to Chicago the following morning, was followed by utter silence on Wednesday, as general manager Billy Beane and Co. prepared to return home without making much more of a peep.
If a move was to be made before their flight back to the Bay Area, it would be minor, and only to make room on their 40-man roster ahead of Thursday morning's Rule 5 Draft.
---
Winter Meetings action
Day 4: Dec. 11
Transaction
Official?
OF Matt Kemp
C Tim Federowicz
Traded to Padres
No
C Yasmani Grandal
RHP Joe Wieland
RHP Zach Eflin
Traded to Dodgers
No
OF Yoenis Cespedes
RHP Alex Wilson
Traded to Tigers
Yes
RHP Rick Porcello
Traded to Red Sox
Yes
RHP Ervin Santana
Four-year deal with Twins
No
LHP Mat Latos
Traded to Marlins
No
RHP Anthony DeSclafani
C Chad Wallach
Traded to Reds
No
RHP Justin Masterson
One-year deal with Red Sox
No
RHP Alfredo Simon
Traded to Tigers
Yes
RHP Jonathon Crawford
IF Eugenio Suarez
Traded to Reds
Yes
LHP Ross Detwiler
Traded to Rangers
No
OF John Mayberry Jr.
One-year deal with Mets
No
RHP Andre Rienzo
Traded to Marlins
Yes
LHP Dan Jennings
Traded to White Sox
Yes
Agent Scott Boras told reporters Wednesday he was gearing to meet with Beane and, when specifically asked about a possible Stephen Drew reunion in Oakland, Boras replied, "Stephen played very, very well there. Billy and I are scheduled to talk soon, so we'll see."
However, a Drew return appears highly unlikely. Boras and Beane typically meet around this time of year, anyway, if only to chat, and Beane already has a shortstop he likes on his roster: Marcus Semien, acquired in the six-player Samardzija deal.
"Marcus is going to play," said Beane, who expects to receive a good dose of pop from his newest infielder.
Semien is one of nine players acquired by Beane in the trades involving Moss, Samardzija and Josh Donaldson, giving the A's much more depth in their previously deflated farm system. But work still remains for the big league roster, and the A's are expected to seek upgrades at certain positions -- none of which Beane has specifically named -- ahead of Spring Training.
The A's are not in the market for short-term help but, rather, less expensive, long-term assets that can help the club contend in 2015 and beyond. There's no question they now have the dollars for such pieces, with their current 25-man roster combining to make less than a $70 million. Last year's Opening Day payroll was above $80 million and soared even higher during the season, and Beane has maintained he's not trying to cut payroll amid his latest offseason project, which figures to continue over the course of the next two months.
Jane Lee is a reporter for MLB.com. This story was not subject to the approval of Major League Baseball or its clubs.