MLB.com Columnist
Lyle Spencer
Gordon's electric play will bring jolt to Miami's lineup
Newest member of Marlins provides perfect complement to Stanton's power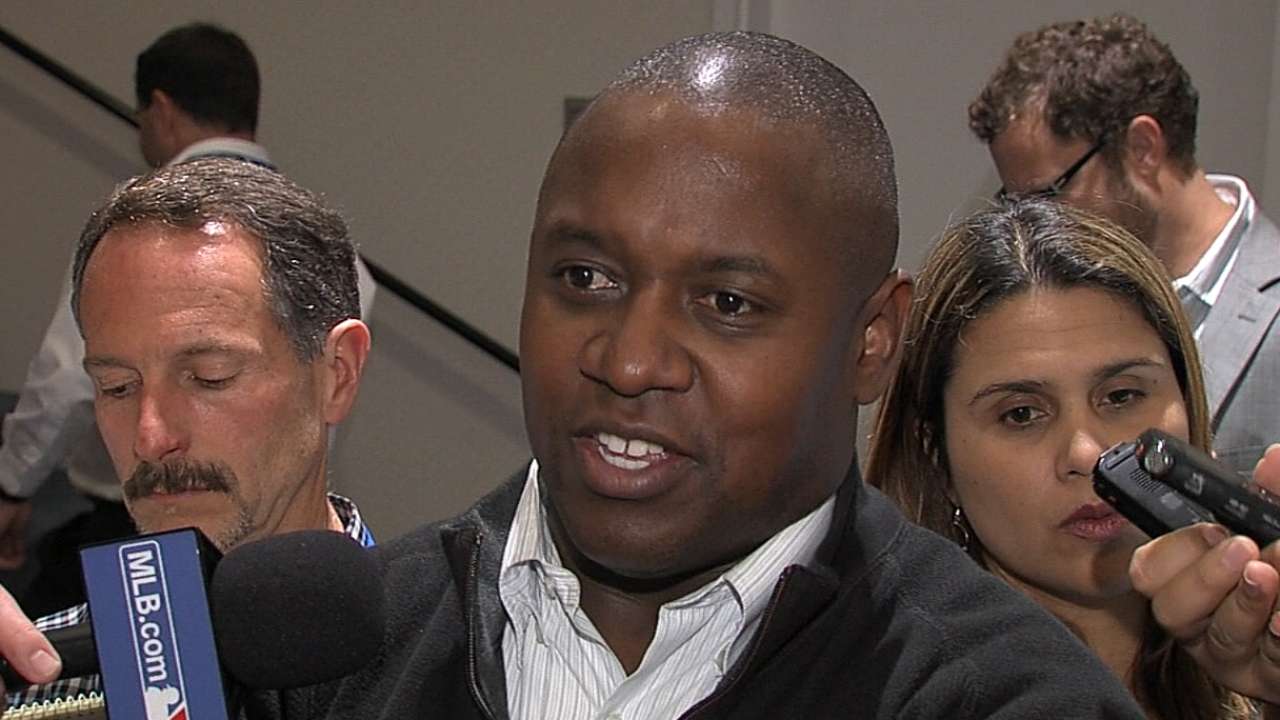 SAN DIEGO -- Thunder and lightning in human form are about to hit Miami from April through September, with a chance of even more explosive activity in October.
Dee Gordon, with his thrilling, game-breaking speed, is joining the Marlins to reshape the lineup and crank up the electricity in the wake of a blockbuster Winter Meetings swap that rocked both coasts on Wednesday.
At the cost of highly regarded southpaw Andrew Heaney and three other prospects, Gordon leaves the Dodgers and slides into Miami's leadoff spot in front of Christian Yelich and Giancarlo Stanton. This is a top third that could be as productive -- and destructive -- as any in the game.
Veteran right-hander Dan Haren comes along with Gordon from Los Angeles to provide quality innings and expertise to a young Marlins staff loaded with power arms. Heading to the Dodgers with Heaney are reliever Chris Hatcher, catcher/infielder Austin Barnes and utility man Enrique Hernandez.
The Marlins came to the Winter Meetings determined to produce upgrades in the afterglow of Stanton's historic contract extension. If the splash they made on Wednesday isn't the anticipated power bat behind Stanton, it is equally if not more beneficial.
Certainly no team in the Majors will have a power/speed tandem to match Thunder (Stanton) and Lightning (Gordon) in Miami. And Yelich should flourish dropping into the No. 2 hole. He'll see quality pitches with Stanton behind him while exploiting opportunities to drive home Gordon after the leadoff catalyst walks or singles and steals a base -- or lashes an extra-base gapper.
A former shortstop who claimed the Dodgers' second base job after a strong spring showing, Gordon, 26, took flight as an All-Star in a breakout 2014 season.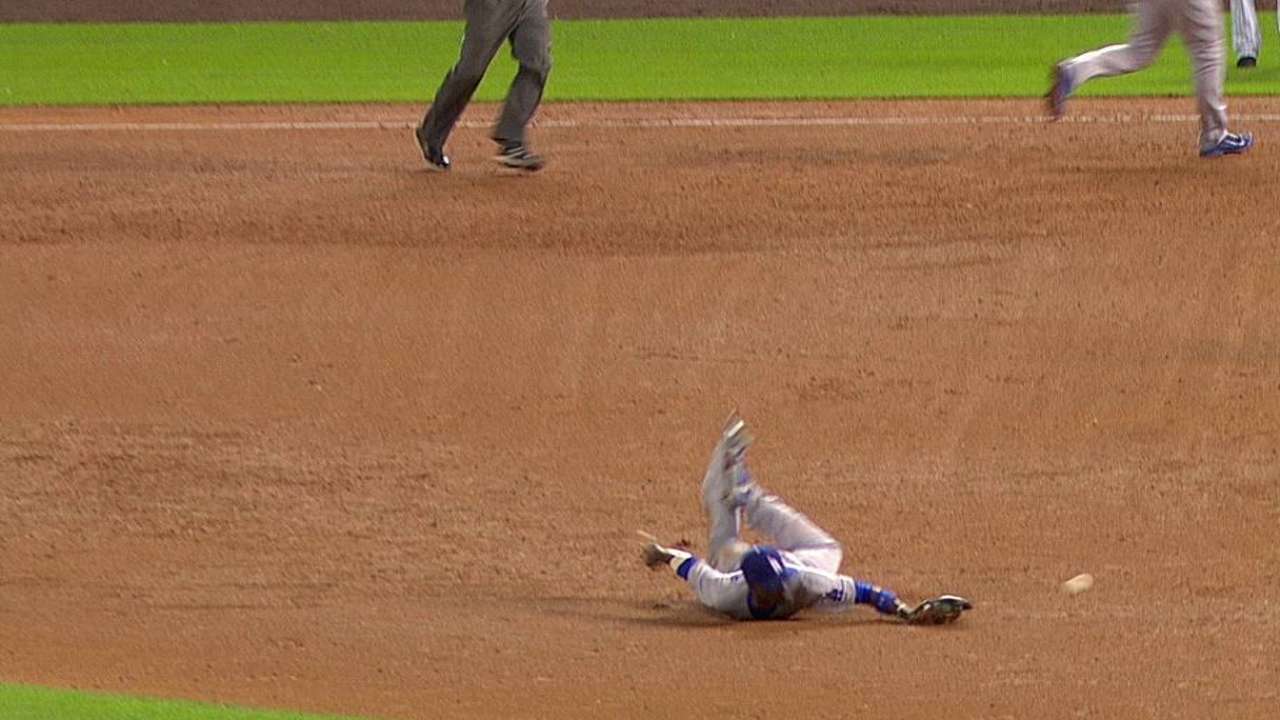 Gordon batted .289 and scored 92 runs in 148 games, leading the Majors with 12 triples and 64 steals to underscore his blinding speed. While his .326 on-base percentage might not impress the analytics crowd, it figures to rise with his natural growth and confidence level. The disruptive impact of Gordon's speed on pitchers, catchers and middle infielders can't be underestimated.
"A guy like that causes a lot of havoc with his legs," Giants manager Bruce Bochy said. "He definitely catches your attention. He's a hard guy to throw out."
The son of Tom Gordon, who was known as "Flash" as a dominant Major League pitcher in his heyday, Dee is returning home to Florida to bring an excitement level few players can match.
On that short list of high-end entertainers is Stanton, who has to be thrilled with Gordon's arrival. The right fielder is capable of raising his 2014 production numbers after leading the National League with 37 homers while driving in 105 runs in 145 games.
A Gold Glove left fielder at 22, Yelich is ideally suited for the second spot. He put together an impressive .284/.362/.402 line in 2014, stealing 21 bases and scoring 94 runs in 144 games. With Stanton looming in the on-deck circle, his numbers are expected to improve.
Dodgers general manager Farhan Zaidi seemingly dismissed the notion of dealing Gordon on Tuesday when he said, "He's a cost-controlled, All-Star second baseman that teams would have four more years of control, a tremendous player -- and anybody like that teams ask for," he said. "We're not dangling him. Like I said, he is our second baseman."
Not anymore. He's Miami's second baseman now, a wondrous athlete destined to produce breathtaking plays similar to those of new teammate Adeiny Hechavarria at shortstop. With Marcell Ozuna in center and Jarrod Saltalamacchia and the superb Jeff Mathis behind the plate, the Marlins are in great shape up the middle, the heart of any defense.
Marlins fans fondly recalling the 2003 World Series champions might see some parallels in what the front office is putting together for manager Mike Redmond.
Juan Pierre, with 65 steals and 100 runs scored, was a dynamic leadoff man in the Gordon mold that magical season. Luis Castillo (99 runs, .314 batting average) was an effective No. 2 hitter in front of sluggers Derrek Lee and Mike Lowell, with young Miguel Cabrera arriving to add power.
Featuring the likes of Dontrelle Willis and Josh Beckett, the rotation was young and upwardly mobile, much like the current group fronted by the superlative Jose Fernandez and Henderson Alvarez.
Haren, 34, has been among the game's most durable and efficient starters since 2005. His 186 innings last year for the Dodgers were his most since 2011, and he finished 13-11 with a 4.02 ERA in 32 starts.
The primary lure for the Dodgers clearly is Heaney, the Oklahoma State product ranked by MLB.com as the Majors' No. 18 prospect. But as promising as Heaney is, the Marlins were dealing from an area of strength for immediate dividends.
Their vow to surround Stanton with the talent to contend for titles when he autographed that 13-year, $325 million extension wasn't hollow. The franchise's first winning season since 2009 seems well within reach with Fernandez's anticipated return and Stanton's thunder backed by the lightning supplied by Gordon.
Lyle Spencer is a columnist for MLB.com This story was not subject to the approval of Major League Baseball or its clubs.