Moves will come, but preserving Longo tops discussion on Day 3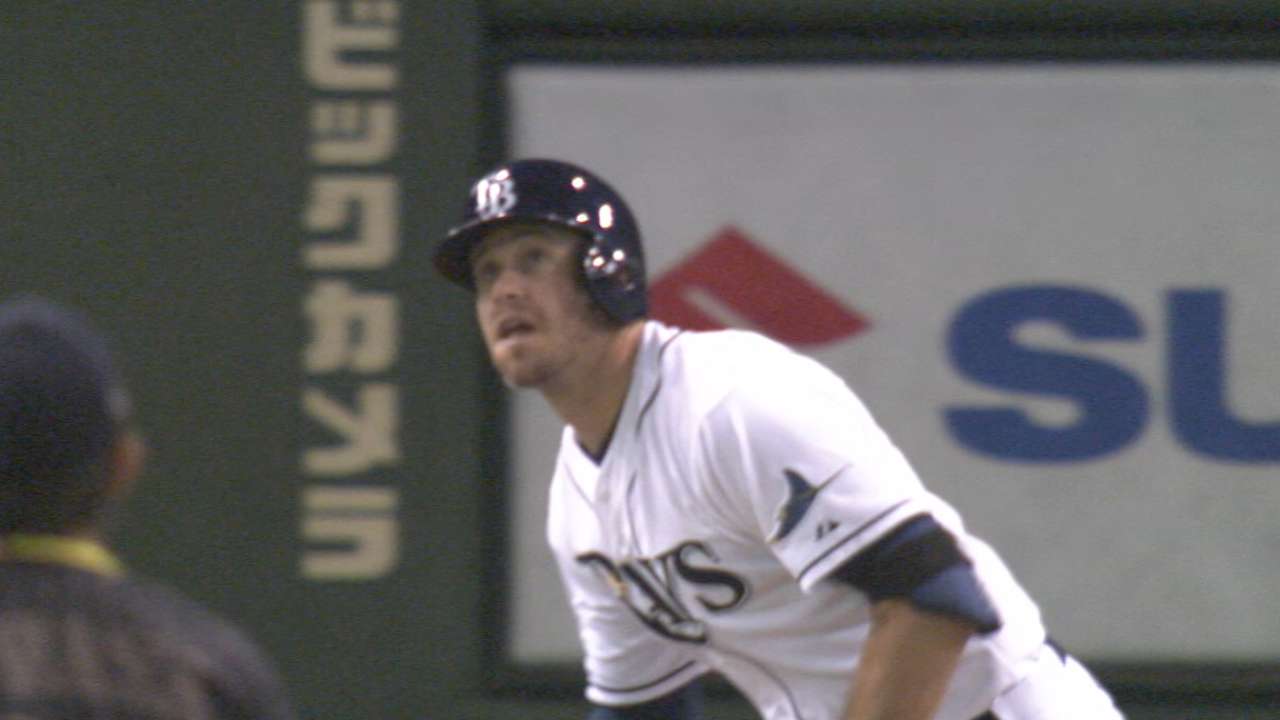 SAN DIEGO -- With the Winter Meetings winding down, a player who is staying with the Rays, and not ones who might potentially go elsewhere, became a topic of conversation on Wednesday.
Evan Longoria was on the lips of both Rays president of baseball operations Matt Silverman and Kevin Cash, the team's manager for less than a week.
After the managers' luncheon Wednesday afternoon, Cash fielded a question regarding the need for somebody in the Rays' lineup to step up and protect Longoria if he is to return to form in 2015.
"You know what? I've watched a lot of great hitters," Cash said. "You have the great hitters that take the protection and you have the great hitters that are the protectors. I think Evan has kind of set himself as both. He's extremely talented.
"Just from briefly talking to him and hearing what Matt and the group have said, it sounded like he put a lot on his shoulders to take the responsibility and the burden last year. So I think just getting some rest, and then a fresh start, he's going to benefit from it."
Cash's response was brought to Silverman's attention later in the afternoon, prompting Silverman to note that there were "very lofty standards" that the Rays hold Longoria to "for good reason."
"And he probably holds himself to an even higher standard," Silverman said. "He wasn't satisfied with his year last year. He was as healthy as he's ever been. And playing every single game may have done himself a very slight disservice. But knowing that he can go out there every single day and that health isn't a concern is a big plus. And we all know his work ethic. We all know his dedication. He's going to come in ready for a big season."
Longoria's production was down in 2014 when he hit .253 with 22 home runs and 91 RBIs. Silverman was asked if Wil Myers needed to return to form to protect Longoria.
"It's imperative for our players to play to their true skill level," Silverman said. "And if they do, we'll be a very competitive team. Last year it didn't happen and that's the reason we only won 77 games."
Longoria's health had been an issue prior to the 2013 season. But he played in 160 games in '13, hitting .269 with 32 home runs and 88 RBIs. He then played in 162 games in '14, but saw the downturn in his production, which suggests Longoria might need more rest during the season.
"It's a conversation for Evan to have with the training staff and the coaches," Silverman said. "If he can play every single day and can provide his peak performance, that's plan A. If it requires a couple of days off for him to maintain the level that he expects for himself, then it's a conversation to have.
"But health isn't a question. It's just a matter of the grind of the 162-game season and what's best for his body -- any player's body. ... He can't play more than 162, and maybe 163 if there's a playoff. But he can't play more than every game and the question is, if that's optimal. Or it might be slightly less."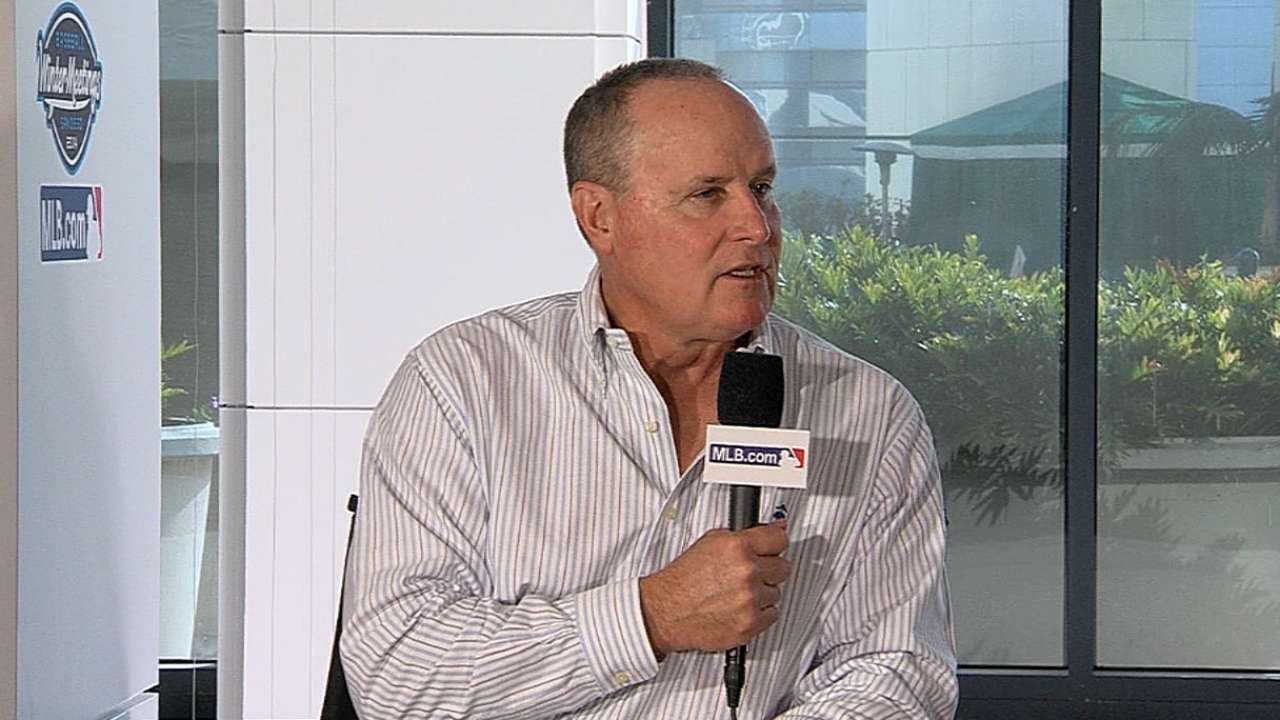 Whacky Wednesday
Silverman shared the opinion on Tuesday that once free-agent Jon Lester found a home, many conversations and opportunities would open up at the Winter Meetings.
Well, Lester signed a six-year, $155 million contract late Tuesday night, which brought to fruition the forecast by Silverman.
"Today is whacky Wednesday," he said. "This is the day when all of the crazy, bigger scenarios seem to come out. It's quite entertaining. It keeps us busy and it keeps our minds pretty active just thinking through possibilities. But often times, there's very little substance to the ideas floated out there."
While the landscape might have loosened a great deal, the Rays did not appear any closer to making a deal before leaving San Diego.
"The conversations persist," Silverman said. "The phone continues to ring and beep. But we're still in the conversation phase on many aspects."
Rule 5 Draft
The Rays' 40-man roster is at the limit, so unless some unforeseen occurrence comes about, the Rays will not be participating in the Major League phase of Thursday's Rule 5 Draft.
However, there are concerns that the organization might have one of its players plucked from its ranks.
"There's always a question as to whether we're going to lose a player in the Rule 5 Draft," Silverman said. "In the past we haven't been great predictors of who gets taken and who doesn't. It's rare for a player to stick. This is just the first part of a very long process for a player to stick. But I'll be very curious to see who gets picked, if anyone."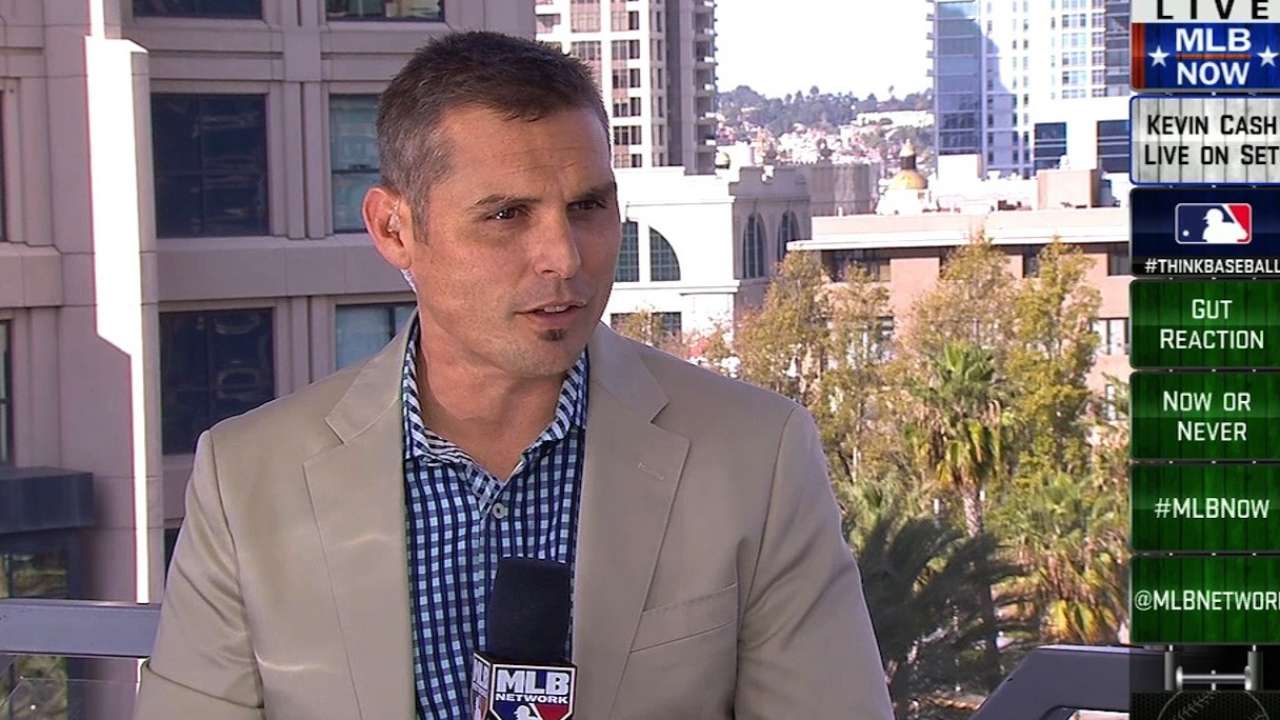 Coaching Staff
Cash's staff remains one coach short given bench coach Davey Martinez's departure for the Cubs in the aftermath of his not being selected to become the Rays manager.
"We wanted to have a manager before the Winter Meetings," Silverman said. "We barely did, but we did. Our timetable on the coaching side is sooner rather than later, but there isn't a firm deadline."
Currently, Silverman said there are no candidates for the job. He also noted there are no "hard and fast rules" of how they will round out the staff.
Cash characterized their thinking about finding a coach as "pretty wide open and trying to keep all factors open."
"I know we all feel that we want to get it right, because it means a lot to the staff and the players," Cash said.
Cash made it clear that he doesn't feel the Rays need to bring aboard a bench coach with whom he has a previous relationship.
"You know, I want a bench coach who is going to help us whether the relationship is there or not," said Cash, noting he's confident they would build a relationship. "… Let's get the right guy to help the club."
Silverman does not feel like the next coach needs to have a relationship with Cash, either.
"If Kevin didn't have the familiarity with our organization it might be a different conversation," Silverman said. "But he's very comfortable with the staff in place and some of the relationships he already has with them."
Bill Chastain is a reporter for MLB.com. This story was not subject to the approval of Major League Baseball or its clubs.