Zduriencik: Mariners 'very pleased' with Walker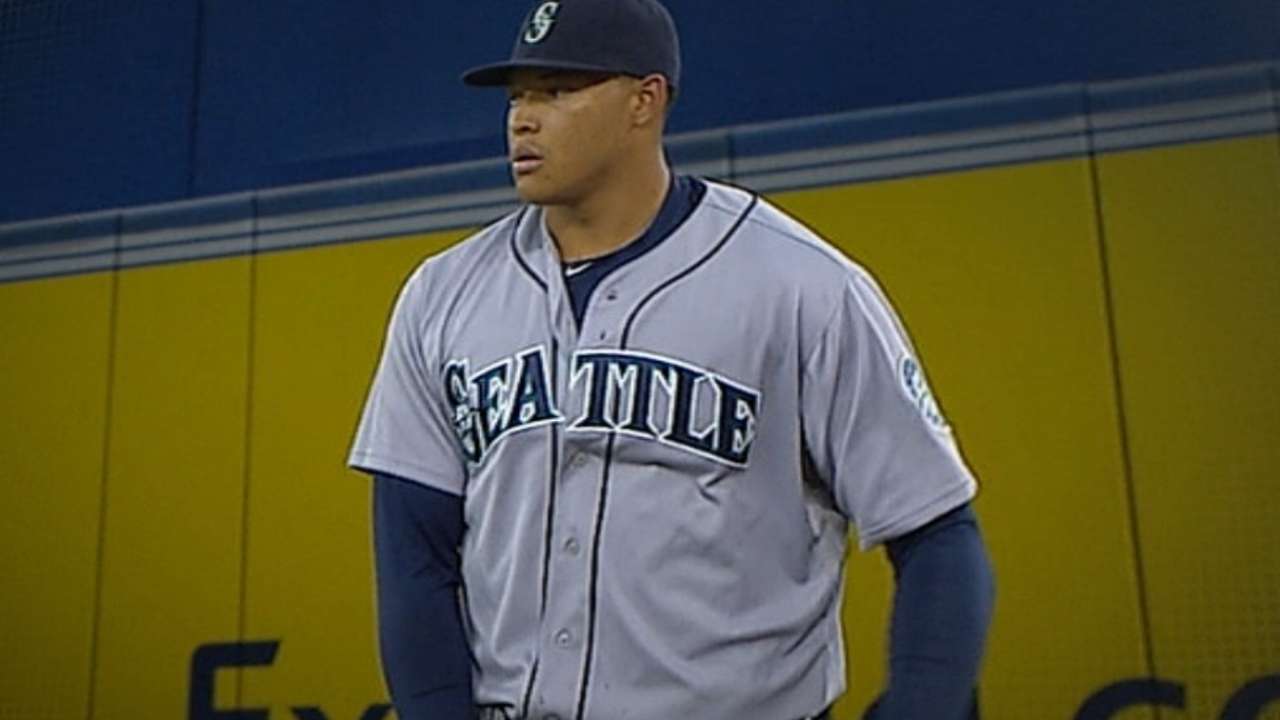 SAN DIEGO -- The Mariners likely will leave the Winter Meetings on Thursday without having made any further moves, but they'll also leave with their stable of talented young pitchers intact and the ability to still add a needed right fielder in the coming days.
And that's just fine with Mariners general manager Jack Zduriencik, who made it clear Wednesday that Taijuan Walker, the talented young right-hander most often named in trade rumors, remains an integral part of his club going forward.
Zduriencik responded strongly to a tweet by ESPN.com analyst Keith Law saying he'd been told by several baseball executives that the Mariners had "soured" on Walker's makeup, in part due to his behavior in the Arizona Fall League.
The 22-year-old made two strong starts in the AFL in October, then told the team he wanted to take the rest of the winter off to work out and prepare for next season. Walker missed the first few months of 2014 with shoulder problems, then split time between Triple-A Tacoma and Seattle. He went 2-3 with a 2.61 ERA in six games for Seattle and finished with a complete-game four-hitter in a 1-0 loss at Toronto.
Zduriencik said the Mariners have no problems with Walker or his work ethic.
---
Winter Meetings action
Day 4: Dec. 11
Transaction
Official?
OF Matt Kemp
C Tim Federowicz
Traded to Padres
No
C Yasmani Grandal
RHP Joe Wieland
RHP Zach Eflin
Traded to Dodgers
No
OF Yoenis Cespedes
RHP Alex Wilson
Traded to Tigers
Yes
RHP Rick Porcello
Traded to Red Sox
Yes
RHP Ervin Santana
Four-year deal with Twins
No
LHP Mat Latos
Traded to Marlins
No
RHP Anthony DeSclafani
C Chad Wallach
Traded to Reds
No
RHP Justin Masterson
One-year deal with Red Sox
No
RHP Alfredo Simon
Traded to Tigers
Yes
RHP Jonathon Crawford
IF Eugenio Suarez
Traded to Reds
Yes
LHP Ross Detwiler
Traded to Rangers
No
OF John Mayberry Jr.
One-year deal with Mets
No
RHP Andre Rienzo
Traded to Marlins
Yes
LHP Dan Jennings
Traded to White Sox
Yes
"There is no truth in that whatsoever," he said. "That's ridiculous. We'd have maybe liked Taijuan to pitch a little more, but he really didn't feel he was where he needed to be to pitch, for other reasons. But physically, he was throwing 100 mph, he'd given us two really good starts at the end [of the regular season], and two really good starts in the Arizona Fall League, and he was at the point where he was ready to get into his offseason program.
"There was great logic after our discussions with him at the time. We knew what was going on, and he'd pitched great. He had four very successful outings at the end, and all that set him up for the coming year. So we're very pleased with Taijuan Walker. This is a great young arm; a very talented kid that is going to be a part of this for years to come."
Zduriencik noted that Walker began pitching in the Majors at age 21, and manager Lloyd McClendon pushed Walker at times last season with some tough love to keep him focused, but called Walker "a great young man and an excellent worker."
McClendon met with Walker in Arizona several weeks ago and told Zduriencik he was extremely pleased with their conversation. The Mariners have six strong candidates for five rotation spots at the moment, but McClendon feels Walker is in the thick of the competition.
"He needs to continue to work on his game, become very consistent with what he's doing with his approach and how he goes about his business," McClendon said. "Quite frankly, I thought he did a tremendous job in September for us, and certainly has earned the right to come into Spring Training and compete for a starting position."
Pitching remains the Mariners' strength, and Zduriencik doesn't seem inclined to take away from that in any deals. Seattle continues searching for a right fielder, the one remaining need following the signing last week of right-handed designated hitter Nelson Cruz, but the club won't panic if nothing gets done before team executives fly home on Thursday.
Top free-agent outfielders Melky Cabrera and Alex Rios remain available, and Seattle has had talks with representatives for both veterans. There also are trade options, with multiple sources indicating the Mariners have inquired about White Sox outfielder Dayan Viciedo.
The White Sox are seeking bullpen help, and Seattle has depth and some strong power arms to offer. Viciedo, 25, brings right-handed power and averaged 20 home runs and 64 RBIs over his first three full big league seasons, but he is regarded as a below-average defender and put up a .231/.281/.405 slash line last season in 145 games.
Cabrera appears to remain the top target for now, with Rios as a fallback option. Agent Scott Boras, who represents Rios, said several teams are expressing increased interest in his 33-year-old client now that most of the premier free-agent hitters are off the board.
"Quite a bit now as the outfield tiering has unfolded," Boras said. "He certainly is a guy who had two really good seasons in '12 and '13. He averaged about 20 home runs, hitting .290, steals about 20 bases. He gives you defense, offense, he's really a two-way player. So we're starting to see a number of the clubs come to us, and we've had meetings on him here in just the last few days."
But Zduriencik is in a stronger position now that the club has signed Cruz to fill its greatest need and is willing to let things play out a little longer to make the right deal for his final offensive piece.
"I don't feel hurried or rushed here, quite honestly," Zduriencik said. "I don't feel I have to make a decision today, or if I get on the plane back to Seattle tomorrow night [without a deal in place] that it hasn't been successful, no.
"We've done a couple things that are good. We have really good pieces. We have a bullpen that is inexpensive. We have depth. We've got players on our club that are still growing, and we've added some nice free-agent pieces. We've made a trade already. We think all those things are positive, and we'll continue to try to add in a positive fashion."
Greg Johns is a reporter for MLB.com. Follow him on Twitter @GregJohnsMLB as well as his Mariners Musings blog. This story was not subject to the approval of Major League Baseball or its clubs.